Streaks stopped cold
Forks loses first to a section foe since 2000

By Kevin Stevens
Binghamton Press & Sun-Bulletin

TOWN of CHENANGO -- Two-touchdown margins of victory do not come a whole lot more convincing than the 14-0 shutout Corning East pitched Chenango Forks' way Saturday afternoon.

Forks' football win streaks of 55 against Section 4 opponents, 46 in the regular season and 27 on its home field were squelched by a Corning East squad that did to the Blue Devils what the Devils did to more than a few during their five-season stretch of brilliance that began in 2001.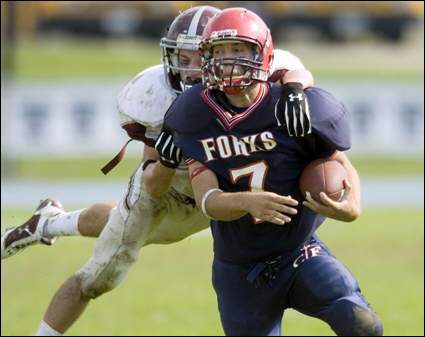 The Blue Devils (1-1) were limited to four first downs and 88 rushing yards by a crew of Corning East defenders that caught an earful following what their coach determined to be a lackluster effort in Week 1.

"Last week, we told our kids that against Owego, we put the F-I-Z-Z in physical," said Trojans coach Randy Holden. " ... (Saturday), I think we really picked up the physical end of it and I think we had a good defensive game plan -- so did Forks."

Indeed, Forks was up to the task defensively against East's defending Section 4 Class A champions, who may not be limited to a 14-point total the rest of the season. However, it was an output plenty good to deal Forks its first home-field loss since Sept. 24, 2000.

That day, it was Corning East 13, Forks 7.

Fullback Alex Hamilton scored from half-a-yard out midway through the second quarter and from 10 yards with 2:45 remaining in the third on his way to a 75-yard total that was the game's high.

The two TDs held up just fine on a day Forks failed to penetrate East's 40-yard line.

"They're very fast and they're very physical up front," said Jud DuBois, a two-way Forks lineman. "They seem to swarm to the ball pretty well."

"They're real fast, quick and pretty smart," said Josh Cary, another of the Devils' two-way linemen. "They don't have many mental breakdowns, don't make too many errors. We just made too many mental mistakes. I think we matched up pretty well with them physically."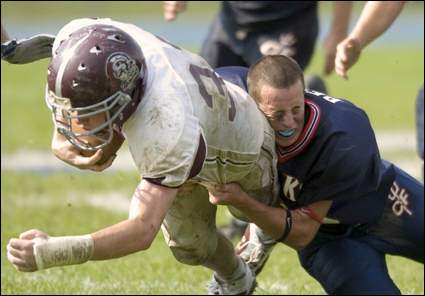 In a game delayed about 40 minutes at the start by inclement weather, the teams traded first-quarter punts before East began its second possession at its 31-yard line late in the opening quarter. It was soon after that the Trojans discovered they could make a little hay with the passing game.

Quarterback Coleman Flory was 3-for-3 through the air on the drive, the last of the three a 7-yarder to Shawn Roe that brought the football to Forks' 11-yard line. An offside penalty moved the ball to the 6, and three plays and another offside penalty later, Hamilton crashed over the goal line to make it 6-0 with 6:34 to play before halftime.

Forks went three-and-out its next two possessions, and took to the locker room to regroup from a rare scoreless half.

The Devils showed some life with back-to-back 9-yard rushes from quarterback Bryan Lance and running back Joe Nicholson to open third-quarter play, but shortly after punted from East's 43-yard line.

The Trojans started at their 17, and after four running plays crossed midfield when a 19-yard Flory-to-Brad Comfort pass play -- on second-and-15 -- brought the ball to Forks' 47. Four rushes and a pass advanced the guests to Forks' 10-yard line, from which point Hamilton broke through the line into inexplicably spacious running room for the second score.

Flory ducked inside on an option play for the two-point conversion -- the game's final points.

The Blue Devils generated a single first down thereafter, that when Lance scooted 15 yards on an option play the first play after East's second TD.

"Their team speed is a lot of it," Forks coach Kelsey Green said, articulating just what was the root of East's defensive superiority. "I'm not sure we sustained our blocks very well. We'd have a couple plays, then we'd have something for nothing. Then we had a couple open opportunities that we didn't take advantage of throwing the football. But overall, we never got anything going."

Green added, "We felt we played a nice football game defensively, just never got anything going on offense and put too much pressure on our defense. You can't stay out there that long against that team, they're going to find something, break something. They've got too many weapons."

Place mouse over photos to read caption
All Photo credits above and below by Diogenes Agcaoili Jr. - Binghamton Press & Sun-Bulletin
---
Trojans ends Forks' win streak

Devils had won 28 straight on home field

By SHAWN VARGO
The Leader - Corning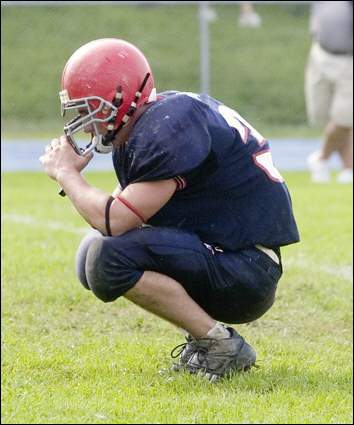 CHENANGO FORKS | Corning East did something at Chenango Forks that no other team has done since 2000 - that's win a football game.

The Trojans (2-0) ended the Blue Devils' 28-game home winning streak with a 14-0 shutout Saturday, in a game that was delayed nearly an hour because of thunderstorms.

Ironically, Chenango Forks' last home loss was at the hands of the Trojans on Sept. 23, 2000. Between those losses, the Blue Devils (1-1) have won five Section IV, Class B titles.

"That's an awesome football team over there. This was an awesome game. Awesome football game," East head coach Randy Holden said. "I'm ecstatic that we won, but there was nothing easy or cheap or non-challenging about the whole game. Forks is Forks.

"I tip my hat to (Chenango Forks' head coach) Kelsey (Green) and his kids, but I also have to say our kids played inspired football and we found a way to get a W."

Saturday's game lived up to the billing, as both clubs battled hard in the trenches from the opening kickoff. The first quarter saw both teams complete one possession apiece - both ending with punts.

East's second possession ended with the game's first score, as the Trojans drove the ball 69 yards in 12 plays. The highlight was a 12-yard completion from Coleman Flory to Brad Comfort on a 4th-and-6 play from the Blue Devils' 30-yard line.

Flory was a perfect 3-of-3 passing on the drive for 24 yards.

Alex Hamilton punched it in from a yard away on East's second fourth down play of the drive.

A missed extra point gave the Trojans a 6-0 lead.

The scored held up until halftime as East's defense didn't allow a Chenango Forks first down in the second quarter and just two in the first half.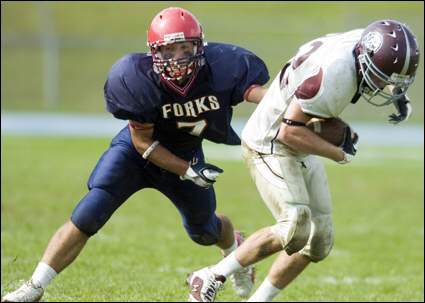 "Last week, I told the kids we put the fizz in physical with an F-I-Z-Z. I thought we didn't play with any passion. We didn't try to really hit people and punish people when they had the ball," Holden said. "I thought we really picked up the physical end of it and we had a good defensive gameplan. But physically, our kids took a big step up."

The end result was just 88 yards of offense by Chenango Forks on the day.

After East forced a Blue Devils' punt to start the third quarter, the Trojans marched for their second score, led by Flory and Hamilton. Flory ran the ball four times and connected on a pair of passes, while Hamilton popped off runs of 16 and 10 yards. The 10-yarder, which saw him disappear into a crowd of players, only to break into the daylight, put him into the end zone for the second time.

"I think they were keying on the Flory brothers, since everyone knows they're really good," Hamilton said. "That just opened up the hole for me and I was just able to pound the ball into the end zone."

Hamilton finished with 76 yards rushing, followed by Flory with 63 on 20 totes. Flory completed seven passes for another 74 yards. Brad Comfort pulled down four passes for 42 yards, while Shawn Roe added two catches for 23 yards.

"I thought the difference in the game was our ability to throw the football - hand's down. We got the yards when we needed it," Holden said.

"We have a lot of good receivers and they played well today," Flory said.

Flory scooted in for the 2-point conversion, giving East a 14-0 lead with 2:45 remaining in the third quarter.

From there, Chenango Forks tried to make something happen through the air, which it wasn't able to do all day. Every time quarterback Bryan Lance rolled out, the Trojans kept his receivers covered and him pressured, hindering his ability to throw.

When East recovered a Blue Devils' fumble midway through the fourth quarter, the Trojans were able to work off all but 30 seconds off the clock.

When the final horn sounded, East celebrated at midfield, giving the Week 2 game a playoff game feel.

"We're going to let these kids enjoy this game, but we're going to Maine-Endwell next week and everybody knows how they feel about us and how prepared and well-coached they are," Holden said. "It doesn't get any easier for us, so we don't want to get a fat hat.

"If we do, this win will be dissolved in a heartbeat and that's my No. 1 concern."

The Trojans will travel to Maine-Endwell for a 1:30 p.m. game Saturday.
---
East ends Forks' streak with 14-0 win
By Stephen P. Jensen
Special to the Elmira Star-Gazette

KATTELVILLE -- That Corning East beat five-time defending Section 4 Class B champion Chenango Forks 14-0 on Saturday, ending the Blue Devils' winning streak against Section 4 foes at an astounding 55 games, may not be the greatest shock to the region's more educated football fan.

That the Trojans completely dominated Forks from kickoff to buzzer was the surprise.

After running away with the season opener against Owego last week, 34-14, East (2-0) stepped into the Devils' den. Once there, neither a 45-minute lightning storm delay, a subsequently malfunctioning scoreboard, nor a meaty CF defensive line, led by mountainous senior, 6-foot-6, 315-pound Josh Cary, could turn away the Trojans' multifaceted attack.

And Class A's Corning was just as good on defense.

The skeptical fan need only review the following supporting evidence to be convinced this was no fluke:
East ran a total of 57 plays, amassing 260 yards. Forks, meanwhile, ran just 27 plays on offense. East limited the Blue Devils to 79 yards in the game.

Trojans running back Alex Hamilton, who scored both of East's touchdowns on the ground -- from inside the 1-yard line in the second quarter, and from 10 yards out in the third quarter -- by himself out gained Forks (1-1) in the first half, 42 yards to 38. He led East with 75 rushing yards despite nursing an old-but-healing left wrist injury and a newly dinged left shoulder.

And East moved the ball consistently throughout, gaining 15 first downs, seven in the first half, eight more after the break. Forks managed just four first downs, tried throwing the ball only twice and gained no ground through the air.
Still, it was Corning East head coach Randy Holden who was in line along with his players after the game ended. After screaming at his players, "You haven't won anything yet -- we haven't played Maine-Endwell yet," Holden toned it down as he greeted Forks player after Forks player with, "You know I respect you," and, "We wanna be like you -- we're not yet."

"It was an awesome football game," said the intense Holden afterward. "It was an awesome football game. Awesome. I'm ecstatic we won, but there was nothing easy about it. It's a non-league win, but now we can measure ourselves against one of the best football teams maybe in the history of Section 4."

But he shied away from calling this an upset.

"Forks' offense and our offense, they're really quite similar," said Holden, whose East squad was the last visiting team to win on Chenango Forks turf, a 13-7 win on Sept. 24, 2000. Saturday's victory ended the Blue Devils' 27-game home winning streak. "They run a lot of counters and misdirection, too, but we both smash you in the mouth on the line of scrimmage."

Two muddy and bloody East players walked toward the visitors' locker room together late Saturday afternoon. Senior quarterback Coleman Flory put his arm around classmate Hamilton. "We did it," Flory said.

Flory, who gained 64 yards rushing and kept the Forks bull rush honest with a 7-for-9, 73-yard day throwing the ball, had high praise for his backfield mate.

"Today he was a warrior," Flory said of Hamilton, who had splotches of dried blood up and down his battered arms. "He has a hurt wrist and a hurt shoulder ... I'm so proud of him."

Hamilton said his wrist, heavily taped to help protect it after summer surgery, wasn't the problem against Forks. Two minutes into the game, a hard hit left his left arm numb. He went the next five plays that way, he said, getting one carry for 4 yards in the span. His teammates knew, but he never mentioned it to his coaches.

"It's moving," he said when asked how his arm and shoulder were holding up. He grinned, but he didn't offer to raise it.

"He was the tip of our spear today," Holden said of the 6-foot, 185-pound Hamilton, whose aggressive defense also punctuated East's stinginess. "We're used to being smaller. It's always been that way. We don't have one player who can match up with Cary, one-on-one. So I told them they had to be technicians today."

"You can't call it an upset," said Kelsey Green, Chenango Forks veteran head coach. "Their program and ours, the last two years, are carbon copies. And they might have had more experience coming back."

Indeed, both programs have experienced remarkable success. Entering this matchup, Forks was on a 63-3 tear since the start of 2001, while East, a state finalist in 2003 and a semifinalist last fall, is now 32-4 in its last 36 games. Three of those losses have been to eventual state champions.

"They threw the ball on us today. When you have to defend the line the way you do, you can't leave a crease or they're in there," Green said of the option-heavy East backfield. "That allowed them to complete some things. We had a couple chances, but we just couldn't get anything started.

"We were impressed watching (Hamilton) against Owego," Green added, noting that the senior had been banged up but never left the game. "We know the type of kids they have in Corning, so I wasn't surprised at all."
---
Loss puts Forks in unfamiliar territory
By Kevin Stevens
Binghamton Press & Sun-Bulletin

TOWN OF CHENANGO -- Not since September of 2000 had a scoreboard outside the confines of the Carrier Dome displayed a game-ending tally that did not favor Chenango Forks' football team.

Not until Saturday afternoon, that is, when the inevitable finally took place.

Corning East is, at present, simply that much better than Forks -- maybe better than any other Section 4 has to offer, too.

And so the record for the Blue Devils, who lost no more than a single game in the 2001, 2002, 2003, 2004 and 2005 seasons, drops to 1-1 with a 14-0 setback against Corning East.

Shutout notwithstanding, East's victory should come as a surprise to no one familiar with what's been going on of late over in the Western end of the section.

East, you see, is 32-4 in its last three dozen football games. The Trojans reached the Class A state final in '03, made it to the semifinals last November. The minute schedule-makers saw fit to throw the two together for a non-leaguer in Week 2, the end of Forks' streaks was a distinct possibility.

Fifty-five victories in a row against Section 4 opposition; 46 straight regular-season successes; 27 in succession on the home field they've protected so well.

Those are finished.

So be it.

How the 2006 version of the Blue Devils will ultimately be judged begins Monday, following what promises to be a less-than gleeful off day for those who wore the red helmets Saturday against East.

At Forks, they've not gathered for film study or practice the Monday after a loss since falling by 21-13 at Oneonta on the eve of October, 2000. So what comes Monday will be ground not visited for some time.

The three defeats dealt Forks' way in the period from 2001 through 2005 came in state championship contests, after which gear was collected, hugs were exchanged, tears rubbed from cheekbones and the next formal get-together came at the team banquet.

This Monday will be different.

"It doesn't feel too good right now, but we're going to have to overcome it, play tough against Owego," said junior lineman Jud DuBois. "Just come together as a team, help each other up when we're feeling down."

"You know what? That's neither here nor there," Forks coach Kelsey Green said of the streak-buster and all that went with it. "It's all a part of what you do when you coach high school ports. We'll find out what this does in terms of our effort, our enthusiasm, bring the football team a little closer together, we hope."

And how the Blue Devils will be judged should not necessarily be tied entirely to the wins and losses that may come from this day forward. Their division is no joyride, to be sure.

Owego, from the other Class B division, is no slouch, and that's the squad coming to Forks on Saturday. The tail end of Forks' schedule is nasty, calling for visits to Norwich, then Windsor. In the interim will come a meeting with those boys from across the river, who're craving an ending to their 0-for-too-long slide against Forks.

It'll be a tough road.

However, Forks has earned a reputation as a class outfit during its stay at the pinnacle of Section 4. If there has been a word to the contrary, it has not been offered my way.

No program wants to be known only as good front-runners. And so come what may, the '06 Blue Devils have a good bit to uphold that has zero to do with streaks and the like.
---