...
2006 Chenango Forks Varsity Football
Game 1 vs Maine-Endwell

Blue Devils kick Maine-Endwell 19-16!
Last second field goal preserves in-section win skein!

Articles courtesy of the Binghamton Press & Sun-Bulletin
Place mouse over photos to read caption
Photo credit Wayne Hansen - Binghamton Press & Sun-Bulletin
---
Forks' streak still kicking

Field goal gives Devils 55th straight Section 4 win

By Kevin Stevens
Binghamton Press & Sun-Bulletin

ENDWELL -- The crapshoot that is overtime loomed, and with it the very real possibility of a streak-busting loss.

But the Blue Devils of Chenango Forks responded, erasing their final deficit with 5 1/2 minutes to play and putting up the winning points with a second remaining for a scintillating 19-16 football season-opening victory Saturday at Maine-Endwell.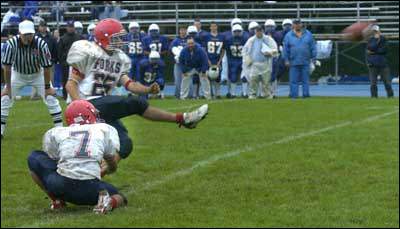 Dylan Warner converted a 30-yard field goal on the final play from scrimmage on a gloomy, rainy afternoon to decide a contest in which Forks was pushed to the limit by a well-prepared M-E squad that turned to its playmaker-supreme for a pair of long touchdowns.

Through three quarters of play, Maine-Endwell held a 16-9 lead and was in possession of the football at its 35-yard line. But across the line of scrimmage were representatives of a program that had generated 54 consecutive wins against Section 4 opposition -- and clearly had no intention of seeing a 55th derailed.

"Fourth quarter, that showed what Forks football is," said Warner, a senior and key contributor to the Devils' 12-win season of 2005.

On a third-and-20 play from the Spartans' 36-yard line with 10 minutes remaining, Forks' Drew Pero intercepted a pass to give his team possession at its 38.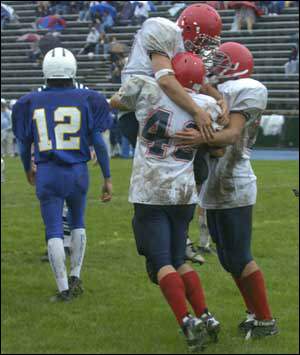 What followed was a drive on which Warner rushed three times for 36 yards, made a reception for 11 more, and was finished when Joe Nicholson crashed through the line for a 4-yard touchdown rush with 5:34 to play.

Warner added the PAT kick -- with maybe the length of the football to spare -- and it was 16-apiece.

The teams then traded nothing-happening possessions and subsequent punts, leaving M-E facing first down from its 19-yard line with 39 seconds to play.

Two plays netted minus-2 yards and on third down, the Blue Devils' Bryan Lance picked off a pass near midfield and returned to the Spartans' 12 1/2 yard line.

Forks called timeout, and opted to put the outcome in Warner's hands -- rather, his very capable foot.

Josh Cary snapped, Lance was the holder and Warner the Man of the Hour.

The decisive kick appeared to sneak over the crossbar with little more cushion than did Warner's most recent extra point. The ensuing Forks celebration was short-lived, as officials determined the game clock ran out prematurely and ordered one second put back.

Warner kicked off short, and the game ended when M-E's return man was judged to be down after minimal advancement -- to the chagrin of Spartans faithful.

"We're trying to get a personality, and that's a nice beginning to one," Forks coach Kelsey Green said.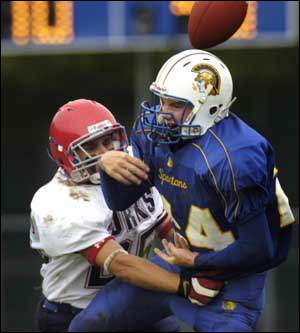 "I thought the teams were pretty even coming in and, the game's over, and I think the teams are pretty even coming out. We play 10 times, it's probably five and five. We're thankful we just play one and we got that one."

Blue Devils defenders will be thankful, too, that they'll not oppose M-E blur Jesse Stephens another time this season.

The Spartans' standout tailback doesn't so much as run with the football as he glides, and at a rate of speed that Saturday's pursuers found beyond their means.

Stephens put M-E on the board in the first quarter on a 43-yard burst, catching open space near the 30-yard line and distancing himself from Forks players from there to the goal line. Dan Reynolds' two-point run made it 8-0 with 4:11 left in the first quarter.

Forks made it 8-2 when an errant snap from center with M-E in punt formation was alertly kicked out of the end zone by punter Reynolds, and took a 9-8 lead when Warner rushed in from 20 yards and added the PAT 4:44 before halftime.

M-E went ahead 4:16 into the third when quarterback Steve Yeager dropped off a little swing pass that Stephens turned into a 75-yard touchdown. Yeager's two-point run made it 16-9.

"He's fast," Warner said of Stephens, a 195-pound senior. "He looks like, if you just coast you can get him. But you get to him and he's seven steps by."
---
Place mouse over photos to read caption
Photo credit Wayne Hansen - Binghamton Press & Sun-Bulletin
---
| | | | | | | |
| --- | --- | --- | --- | --- | --- | --- |
| | 1 | 2 | 3 | 4 | | Tot |
| Chenango Forks | 00 | 09 | 00 | 10 | - | 19 |
| Maine-Endwell | 8 | 0 | 8 | 0 | - | 16 |
M-E - Stephens 43 run (Dan Reynolds run)
CF - Safety (punt snap booted out of end zone by M-E punter)
CF - Warner 20 run (Warner kick)
M-E - Stephens 75 pass from Yeager (Yeager run)
CF - Nicholson 4 run (Warner kick)
CF - Warner 30 FG
TEAM STATISTICS
| | | |
| --- | --- | --- |
| | M-E | CF |
| First Downs | 8 | 13 |
| Rushes-Yards | 34-100 | 45-175 |
| Passing Yards | 100 | 12 |
| Comp-Att-Int | 3-9-2 | 2-8-1 |
| Total Offense | 43-200 | 53-187 |
| Punts-Ave yards | 4-28.8 | 4-36.2 |
| Fumbles-Lost | 2-1 | 1-1 |
| Penalties-Yards | 4-20 | 2-6 |
| | | |
.
INDIVIDUAL STATISTICS
Maine-Endwell rushing
Jesse Stephens 16-75, 1 TD
Madison Trill 6-30
Dan Reynolds 6- (-1)
Steven Yeager 6- (-4)
Chenango Forks rushing
Dylan Warner 11-78, 1 TD
Joe Nicholson 15-47, 1 TD
Bryan Lance 10-21
Jarred Wells 6-17
Maine-Endwell passing
Steven Yeager 3-for-8, 100 yards, 2 int, 1 TD
Joe Battaglini 0-for-1
Chenango Forks passing
Bryan Lance 2-for-8, 12 yards, 1 int
Maine-Endwell receiving
Jesse Stephens 2-89, 1 TD
Garrett Sweezy 1-11
Chenango Forks receiving:
Dylan Warner 1-11
Jarred Wells 1-1
JV Score: Maine-Endwell won 7-6.
---
Preview Article:

Devil of a debut
Wagstaff starts M-E tenure against perennial power Forks

By Kevin Stevens
Binghamton Press & Sun-Bulletin

Kevin Wagstaff's official greeting to the head coaching ranks will come at 1:30 Saturday when his Maine-Endwell squad plays host to Chenango Forks on the opening weekend of football in New York.

A long-time assistant who last season served as defensive coordinator at Union-Endicott, Wagstaff's first assignment as head man comes against a program that has compiled a 62-3 record since the start of the 2001 season, and which has participated in the last five Class B state championship games.

"What we've said is this: Forks is the benchmark of Section 4 for football," Wagstaff said. "We'll know real quickly come Saturday how we stack up against the benchmark.

"We're going to find out that we're good at things and not so good at other things-- but so is Forks. We'll line up, play our game, and hope that we make fewer mistakes than they do."

The young Spartans return tailback/defensive end Jesse Stephens, a senior who last spring finished fourth in the state track & field championships' 200-meter final. As a junior, he rushed for 115 yards in a 21-7 loss at Forks.

The Blue Devils counter with a backfield that includes Jarred Wells and Joe Nicholson -- who teamed for better than 1,000 rushing yards a season ago -- running behind a line that returns 315-pound Josh Cary and 228-pound Jud DuBois.

"Usually in Week 1 and Week 2, the team that makes the fewest mistakes gives itself a better chance of winning," Wagstaff said. With that in mind, the Spartans' preparation included the "Rumble, Stumble, Anti-Fumble" drill, for which ball carriers run through defenders pawing and tugging and yanking at the football.

"Turnovers in Week 1, they just kill you," Wagstaff said.

For Forks, Saturday marks the first of back-to-back games against Class A competition. The Devils are at home against Corning East in Week 2.
---
Post-game Article:

Fifth Quarter:

Published Tuesdays in the Binghamton Press & Sun-Bulletin

From staff reports

Warner keeps his cool in hitting winning field goal

The young man walking through the corridors from class to class Wednesday at Chenango Forks High sure to draw the most congratulatory high-fives is Dylan Warner.

As Blue Devils football coach Kelsey Green sees it, the atta-boys should be equally distributed among all 11 on the field for the winning field goal in Saturday's 19-16 victory at Maine-Endwell.

Warner converted the decisive 30-yard field goal on the final play from scrimmage after Bryan Lance intercepted a third-and-12 pass and returned it to the 12 1/2-yard line.

"Everybody puts it on the kicker, and it is," Green said, "but it's 11 guys.

"We talk special teams all the time, and special teams was the difference (Saturday). And not just that play, it was our punt-return team a couple of times, too."

Maine-Endwell called timeout before the telltale kick, in hopes of making Warner sweat out the moment just a tad.

Nothing doing.

"Now, I know they don't have any timeouts left and the next time we line up, I'm kicking," said Warner, a 5-foot-10, 163-pound senior.

Asked what Warner's field goal range might be, Green said, "We don't know.

"He practices and he knocks 40-yarders through. Thank God the wind stopped because that would have been into the wind."

Green added, "There's so much to it. There's the snap (from Josh Cary), there's the hold (by Lance), and everybody up front has to get that block."

The narrow escape came with Forks putting its fewest points on the board in any regular-season game since Oct. 3, 2003, and a 17-0 win at Dryden.

Ahead for the Blue Devils is a 1:30 Saturday contest at home against reigning Section 4 Class A champion Corning East.


---