Aston's 3 TDs help Forks bounce back
Blue Devils gain 291 yards rushing against Owego

by Mike Mangan
Binghamton Press & Sun-Bulletin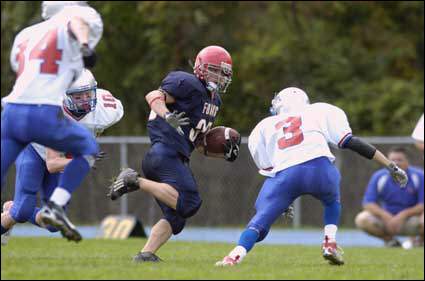 TOWN OF CHENANGO -- Its 55-game winning streak against Section 4 competition may have come to an end last week at the hands of Corning East, but the Chenango Forks football team gave notice Saturday that another streak could be alive and well come November.
That being a sixth consecutive trip to the state playoffs.
In a rematch of last year's Section 4 Class B title game, the Blue Devils scored on their first four possessions en route to a 35-7 victory over Owego in a high school football game Saturday.
Joe Aston ran for three touchdowns and Forks limited Owego to 143 yards of offense in bouncing back from a 14-0 loss last Saturday to Corning East, its first loss to a Section 4 foe since 2000.
"In the locker room before the game, we tried to get the guys to know that we needed to re-establish ourselves," Forks senior Dylan Warner said. "We're not a team from the past, we need to have our own identity and I think we had a good start with that today."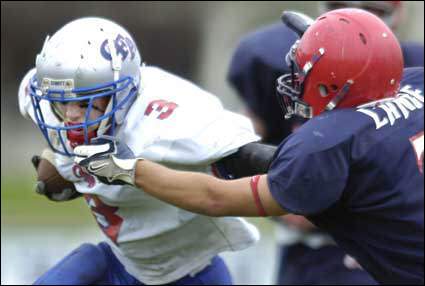 Forks (2-1) beat Owego, 25-13, in last year's Section 4 Class B title game, the Blue Devils' fifth consecutive Section 4 title.
Many figured Saturday's game would be as competitive, but Forks had different plans.
The Blue Devils needed just four plays to get their first touchdown as Aston rumbled in from 21 yards out to cap a 55-yard drive for a 6-0 lead just 1:32 into the game.
Forks made it 14-0 on its ensuing drive, a 13-play, 87-yard drive that chewed up over six minutes and culminated with Aston's 12-yard run with 50 seconds left in the first quarter.
Owego began its next possession on its 18-yard line, and promptly turned the ball over on its first play as Colin Lounsberry fumbled, the ball recovered by Forks' Nick Stephens at the Owego 18.
Five plays later, Aston had his third touchdown of the day, a 3-yard run that made it 21-0 with 10:18 left.
Bryan Lance's 33-yard touchdown to Warner with 7:22 left in the second quarter put Forks up 28-0.
Forks tallied 329 yards of offense, including 291 rushing on 48 carries.
Last week against Corning East, Forks mustered just 88 total yards.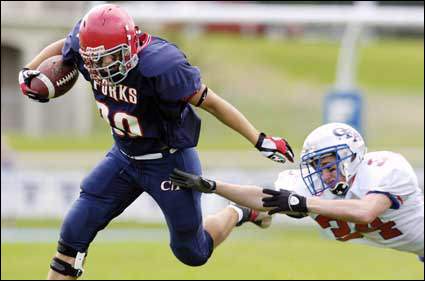 "We weren't to the point of questioning our offensive ability," Forks coach Kelsey Green said. "Being shutout, and not really moving the ball at all against Corning East, we wanted to come out, get a few first downs and get things going.
"We had that great first drive and that really set the tone."
Meanwhile, Owego had little success moving the ball against Forks' usual stout defense.
The Indians failed to pick up a first down on three of their five first-half possessions, the other two ending with turnovers.
Further hindering Owego's cause offensively was the loss of 5-foot-10, 260-pound lineman John Conklin, a two-way starter, midway through the first quarter with a knee injury.
Conklin did re-enter the game in the second quarter for a few plays, but the injury kept him out the remainder of the game.
"I thought they absolutely dominated the line of scrimmage on both sides of the ball," Owego coach Steve Virkler said. "They were just shoving it down our throats."
---