...
2005 Chenango Forks Varsity Football
Game 4 vs Waverly

CF de-claws the Wolverines 52-7!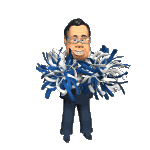 Articles courtesy of the Binghamton Press & Sun-Bulletin the
Sayre Morning/Evening Times and the Elmira Star-Gazette
Place mouse over photos to read caption & photo credit
---
Forks strikes quickly in rout of Waverly

By Jeff Matolka
Binghamton Press & Sun-Bulletin

WAVERLY -- Chenango Forks turned four Waverly turnovers into 26 first-half points as they romped in their Section 4 Division IV opener, 52-7, Friday night.

Chenango Forks (4-0 overall, 1-0 division) scored on its first two offensive plays to take a 12-0 lead against the Wolverines (2-2, 1-2) less than two minutes into the game. The victory extended the Blue Devils' winning streak to 30 games overall and 48 straight against Section 4 opponents.

Bryan Lance intercepted quarterback Robert Fiske on the Wolverines' 46-yard line on Waverly's first possession. Lance returned the ball inside the 20, but a holding penalty moved the ball back to the 36.

On the first offensive play for the Blue Devils, Tyler Spencer took a handoff around the left side for a 36-yard touchdown run. On the ensuing kickoff, Waverly's Ivan Tunicliff fumbled and Dylan Rittenburg recovered for Forks on the Wolverines' 35-yard line.

On the next play, Jim Nicholson took a handoff around the right side, broke a tackle and cut back to the middle of the field for a 35-yard TD run for Forks' second touchdown in a 22-second span.

"Our split ends were doing a great job on the end and the (offensive) line was getting a good push on the linebackers," said Spencer, who had 96 yards and two touchdowns on six carries. "They were perfect holes for a running back."

Waverly drove to Forks 10-yard on its next possession, but fumbled. The Blue Devils used three plays to push the ball to the 14-yard line, then Forks quarterback Rick Mirabito kept the option around the right side and sprinted through the Waverly secondary untouched for a 86-yard touchdown run.

It was a pleasant change for Forks, which gave up the first points in two of its first three games this season.

"After three weeks of getting scored on early, we knew we had to come out firing, and that's what we did," said Spencer.
---
Waverly falls to Forks

By GORDON COOPER--For the Sayre Morning Times

WAVERLY -- There are times in life when the challenges seem insurmountable and the foes seem unbeatable. It is at those times champions forge forward and although the final score may not be in their favor and the record books will not acknowledge their efforts as victorious. they claim moral victories and garner lessons to make themselves better.

The Waverly Wolverines' face a large banner on the fence near their scoreboard admonishing them to fight like champions, and although the final score was 52-7 in favor of the visiting Blue Devils of Chenango Forks, the hometown team can claim a moral victory and a valuable lesson learned.

"We're going to learn a lot from this game," head coach, Jason Miller said. "I think we'll look at the film and say this is where we broke down. It comes down to that there is such a different talent level and if we are out of position, they are going to exploit it, and they did."

"We just ran into a buzz saw." Miller said.

Although the Wolverines were able to put together some extended drives and accounted for 246 yards of total offense to the Blue Devils total of 333*, some costly mistakes and some missed tackles gave the advantage to the guests.
( * Website editor note - CF's total offense was 459...this guy needs a new calculator)

The scoring came early in the contest when Waverly quarterback, Robert Fiske was intercepted by Forks' defensive back, Brian Lance on the home team's 35. An 11-yard interception return was negated by a holding penalty on the Blue Devils which pushed them back to the Wolverines' 36. It only took one play from scrimmage to take advantage of the short field as Forks' running back, Tyler Spencer took the handoff the 36 yards to paydirt with 10:38 still left in the first quarter. The PAT kick attempt from Ed Samson failed and the score was 6-0.

The visitors got their second score just 19 ticks of the clock later when the kickoff return was fumbled by Colin McDonald. This time the scrimmage was the home team's 35 and the ball was pitched to Jim Nicholson on the option from Rick Mirabito, Nicholson took it to the outside and then made a great cutback move to the center of the field where he found nothing but green between him and the end zone.

Another PAT kick attempt from Samson failed and the scoreboard read 12-0 with 10:07 remaining in the first.

Waverly progressed to the the CF 11-yard line on the ensuing drive and had the appearance of cutting the lead in half when a fumble gave the Blue Devils another scoring opportunity.

CF took advantage of the opportunity and extended the lead again before the teams changed direction when Mirabito called his own number on the option play and split the Wolverine backfield and ran 86 yards for the touchdown at the 3:35 point of the first. Mirabito followed the TD run with a 2-point run to make the score 20-0.

The scoring continued in the second quarter when Nicholson scored his second TD on a 3-yard run and another fumble by the Wolverines was recovered and carried into the end zone from the home team 4-yard line to give the guests a healthy 33-0 lead as they headed to the locker rooms for half-time break.

The second half started much the same as the first with CF scoring on their first possession. A 45-yard scamper by Spencer gave him his second TD and a successful PAT kick from Samson made it 40-0.

The score reached 46-0 when Dylan Warner ran in from the 3 following an impressive six-minute drive that covered 60 yards and ate much of the third quarter clock.

Waverly avoided the shutout when Fiske hit A.J. Aronstam for an 8-yard scoring pass and the PAT from Colin McDonald cut the lead to 46-7 with a little over eight minutes left in the game.

The Blue Devils scored again five minutes later when Justin Allen ran in from 9 yards out to make the final 52-7 after another failed PAT from Samson.

Waverly faces Sayre next week at Lockhart Street Bowl.
---
Elmira Star Gazette -

Chenango Forks 52, Waverly 7: Defending state Class B champion Chenango Forks scored the game's first 46 points and piled up 468 rushing yards against Waverly.

Chenango Forks, which is 54-2 over the last four seasons, won its 30th straight game to extend the state's longest winning streak. Forks did not attempt a pass Friday. (Website editor note - yeah they did. It was just one though, so it was easy to miss it)

"They're an extremely well-coached and well-trained football team," Waverly coach Jason Miller said. "The bright spot about the game is that when you prepare for a team that good, you become a better team."

Waverly got on the board in the fourth quarter when Bobby Fiske found A.J. Aronstam for a 9-yard touchdown pass.

The Wolverines rushed for 174 yards and drove deep into Forks' territory, only to suffer costly turnovers.

"We fumbled the ball in bad spots on the field," Miller said. "We had the ball inside their 10-yard line twice and fumbled."

Waverly travels to Sayre next Saturday for an important rivalry game.

"We'll pick ourselves up," Miller said.

Place mouse over photos to read caption & photo credit
---
| | | | | | | |
| --- | --- | --- | --- | --- | --- | --- |
| | 1 | 2 | 3 | 4 | | Tot |
| Chenango Forks | 20 | 13 | 13 | 06 | - | 52 |
| Waverly | 0 | 0 | 0 | 7 | - | 7 |
CF - Tyler Spencer 36 run (kick failed)
CF - Jim Nicholson 35 run (kick failed)
CF - Rick Mirabito 86 run (Mirabito run)
CF - Nicholson 2 run (Ed Samson kick)
CF - Nicholson 4 fumble recovery (kick failed)
CF- Spencer 45 run (Samson kick)
CF - Dillon Warner 2 run (kick failed)
W - AJ Aronstam 8 pass from Bobby Fiske (Colin McDonald kick)
CF - Justin Allen 9 run (run failed)
TEAM STATISTICS
| | | |
| --- | --- | --- |
| | Waverly | CF |
| First Downs | 14 | 16 |
| Rushes-Yards | 42-184 | 45-459 |
| Passing Yards | 99 | 0 |
| Comp-Att-Int | 6-14-1 | 0-1-0 |
| Total Offense | 56-283 | 46-459 |
| Punts-Ave yards | 3-31.7 | 1-36 |
| Fumbles-Lost | 4-3 | 5-2 |
| Penalties-Yards | 5-49 | 2-19 |
| | | |
.
INDIVIDUAL STATISTICS
Waverly rushing:
Robbie Williams 12-53
Colin McDonald 8-51
Jeff Velardo 5-44
Robert Fiske 8-28
Derrick Morris 3-5
Zach Beeman 3-4
Ivan Tunicliff 3-(-1)
Chenango Forks rushing:
Rick Mirabito 4-98, 1 TD
Tyler Spencer 6-96, 2 TD
Joe Nicholson 1-79
Jim Nicholson 6-57, 2 TD
Dylan Rittenburg 5-31
Brian Lance 2-27
Dylan Warner 6-27
Alex Sabo 3-14
Ray Lord 3-10
Justin Allen 1-9, 1 TD
Chris Kwartler 1-9
Jared Wells 3-2
Jason Gildea 2-2
Tim Green 2-(-2)
Waverly passing
Robert Fiske 6-14, 99 yards, 1 int, 1 TD
Chenango Forks passing:
Waverly receiving:
Scott Sinsabaugh 3-39
Jeff Velardo 1-29
Beeman 1-23
A.J. Aronstam 1-8, 1 TD
Chenango Forks receiving:
JV Score: Chenango Forks 35-34
---
Preview Articles:

Binghamton Press & Sun-Bulletin

Chenango Forks (3-0) looks to make it 30 straight victories when it visits Waverly (2-1, 1-1) in a Division IV game at 7 tonight.

The Blue Devils are coming off an impressive 28-14 victory over Norwich on Saturday, a game in which they limited the Purple Tornado to 140 yards of total offense. In fact, Forks is holding teams to an average of 10 points and 154 yards of offense per game.

The Wolverines, trying for back-to-back winning seasons after going 0-18 from 2002-03, are averaging 32.3 points per game.
---
By Dave Post
Sports Editor
Sayre Evening Times

Things are taking shape in the local world of high school football, with Athens rolling, Waverly doing well and Tioga joining Sayre in struggling.

Now it gets a little more interesting.

Athens is at North Penn tonight to face a tough Panthers team with a strong running game. Sayre hosts Montgomery in the first Northern Tier League Small-School Division game in history for both schools. Neither has a win thus far and both are hungry.

Tioga hosts Edison in what may well be a playoffs elimination game and will have to do so without quarterback Chris Klossner.

Waverly is hosting one of the best teams to play on a local field in two-time defending New York state Class B champion Chenango Forks.

Chenango Forks (3-0, 0-0) at Waverly (2-1, 1-1)

Okay, this appears to be a mismatch.

The Wolverines began the road back to respectability last season with a 5-4 campaign (after two 0-9 years) against an independent schedule.

The Blue Devils have won back-to-back New York state Class B championships and had another team in 2001 that was at least a New York state finalist. The Devils' last four seasons have been 12-1, 12-1, 13-0, 13-0.

It's also a Section IV Football Conference Division IV game and gives the home-standing Wolverines an opportunity to test their mettle against the best.

Jason Miller wants to build the Wolverines' program into what the Blue Devils are and the only way to get there is to play them.

One thing is for certain: The Wolverines will throw everything they have at Chenango Forks for a full 48 minutes. As long as that's the case, they will all be able to walk off the field with their heads held high -- whether it's after a win, a close loss or a blowout loss.

Forks is physically impressive, averaging 280 along the lines with a host of guys who can move. To illustrate how tough this squad is, the Devils held defending New York state Class A champion Maine-Endwell to 118 yards rushing and 27 passing in a 21-7 win two weeks ago. Forks only had 134 yards rushing itself with 10 yards passing in that game. Against Johnson City in the opening week, Forks had 362 yards rushing.

Waverly is a running team. The Wolverines like to pound on teams, which will be a tall order tonight. Fullbacks Robby Williams, Colin McDonald and Derek Morris have combined for 536 yards rushing and wingback Jeff Velardo also has over 100 yards on the ground. Waverly has 839 yards on the ground on 134 carries (6.3 yards per run) but has been ineffective through the air so far.

Waverly's run defense has been good so far (336 yards on 103 rushes, 3.3 yards per run), but will be sorely tested by the Devils.

If you want to see what may be the best high school team you've ever seen, Waverly is the place to be. It'll be very interesting to see how the local squad measures up and whether they can withstand the attack, both offensively and defensively, the Devils will bring.
---
Post-game Article:

Fifth Quarter: Published on Tuesdays, no article this week.
---