...
2005 Chenango Forks Varsity Football
Game 3 vs Norwich

CF defeats Norwich 28-14!



Articles courtesy of the Binghamton Press & Sun-Bulletin
Place mouse over photos to read caption & photo credit
---
Forks overcomes slow start

Blue Devils top feisty Norwich

By Kevin Stevens
Binghamton Press & Sun-Bulletin

KATTELVILLE -- Chenango Forks' football win streak made it through another weekend, through another deficit, and on this occasion through an uncharacteristic batch of turnovers


The Blue Devils struck for three touchdowns of 30-plus yards Saturday in a 28-14 victory over Norwich that extended the longest active football win streak in New York to 29 games.

This one was not easy -- nor was it supposed to have been against a sound Norwich squad that had won each of its first two by shutout. In fact, Forks didn't have it sewn up until Joe Nicholson sprinted 62 yards for the game's final touchdown with 2:13 remaining.

Four Forks players scored touchdowns, three on the ground and one through the air to put the hosts ahead once and for all as they stretched to 25 games their home-field win streak.

"We scored against them, and then they showed why they're where they're at," Norwich coach John Pluta said of the top-ranked Class B team and its 21-point second-quarter response to the Purple Tornado's opening score.

With Norwich defenders clearly primed for the occasion, and repeatedly clogging up running lanes on the interior, Forks made a perfect mess of the opening quarter. The Blue Devils' first three possessions closed with a punt, a lost fumble and an intercepted pass, respectively.

The interception -- Alex Paula's fabulous diving snatch of the ball on a first-down play from Forks' 18-yard line -- put Norwich in position for a seven-play drive that ended with quarterback Robert Martin sneaking over the goal line from 10 or so inches out with 76 seconds remaining in the opening quarter. Brennan Ryan's extra point made it 7-0.

In Quarter No. 2, Forks demonstrated the makings of its superiority of late over all Section 4 foes.

The Devils (3-0) got on the scoreboard when, on the third play of the second quarter, Jarred Wells took a pitch toward Norwich's sideline and scooted 49 yards for a TD. Ed Samson's PAT tied the game.

Josh Cary's second-down sack of Martin highlighted the ensuing defensive series, Norwich punted from its 33-yard line, and Forks took the ball at midfield. Jim Nicholson's 17-yard rush started the march, Rick Mirabito's 32-yard touchdown pass to Samson ended it three minutes later and Forks had a 13-7 lead.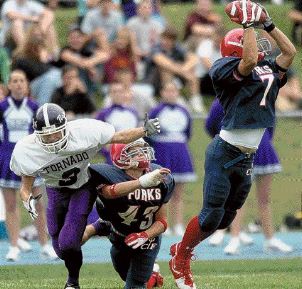 On the next play from scrimmage, Forks' nose tackle Tyler Spencer smacked Martin as he let go of a pass and Bryan Lance intercepted to set up Forks at its 46-yard line. The ninth running play of a nine-play drive was Mirabito's sneak in from the 1-yard line, and a Mirabito-to-Adam Stampfler two-point pass made for a 21-7 advantage that would stand through the opening half.

"I'll take the rap for that one," Pluta said. "That (play call) is just not normally me, but I thought we had something."

After a scoreless third period in which Forks snapped the football six times, botched one punt attempt and lost another fumble, the teams traded turnovers in the early moments of the fourth quarter. The second miscue left Norwich in possession at Forks' 27-yard line.

Seven plays brought the football to the 1½-yard line, and the Tornado's Ryan crashed in for a touchdown. He tacked on the PAT and it was 21-14 with 7:35 to play.

Forks gained a single first down on its next possession, punted, and Norwich had the ball at its 36 with 4:49 remaining.

Enter Matt Faughnan, Forks' 300-pound senior tackle. He made three consecutive tackles, last of which was a chase-from-behind sack of Martin for a 5-yard loss that forced the Tornado to punt from its 31-yard line. On the second play after Forks took possession, Joe Nicholson followed the blocking of Samson and went 62 yards for the lights-out touchdown with 2:13 to play.

"We were trying to move the chains, hold onto the ball," Nicholson said. "But I saw open field, so I just broke it."

Of the Grade-A defensive effort that preceded the score, Faughnan said: "They were running the ball a little bit, gaining yardage, getting first downs. I just decided, it's my turn now, better start getting the engine going. I just started throwing some people around and making some tackles."
---
Place mouse over photos to read caption & photo credit
---
| | | | | | | |
| --- | --- | --- | --- | --- | --- | --- |
| | 1 | 2 | 3 | 4 | | Tot |
| Chenango Forks | 00 | 21 | 00 | 07 | - | 28 |
| Norwich | 7 | 0 | 0 | 7 | - | 14 |
N - Robert Martin 1 run (Brennan Ryan kick)
CF - Jarred Wells 49 run (Ed Samson kick)
CF - Samson 32 pass from Rick Mirabito (run failed)
CF - Mirabito 1 run (Adam Stampfler pass from Mirabito)
N - Ryan 2 run (Ryan kick)
CF -Joe Nicholson 62 run (Samson kick)
TEAM STATISTICS
| | | |
| --- | --- | --- |
| | Norwich | CF |
| First Downs | 9 | 9 |
| Rushes-Yards | 46-122 | 37-274 |
| Passing Yards | 18 | 32 |
| Comp-Att-Int | 2-7-2 | 1-3-1 |
| Total Offense | 53-140 | 40-306 |
| Punts-Ave yards | 4-34 | 2-29.5 |
| Fumbles-Lost | 2-2 | 5-3 |
| Penalties-Yards | 4-20 | 5-35.5 |
| | | |
.
INDIVIDUAL STATISTICS
Norwich rushing:
Alex Paula 12-56
Brennan Ryan 15-34, 1 TD
Chris Mattingly 10-33
Ryan Benenati 3-12
Robert Martin 6-(-13), 1 TD
Chenango Forks rushing:
Joe Nicholson 8-96, 1 TD
Jarred Wells 5-62, 1 TD
Jim Nicholson 10-58
Rick Mirabito 9-38, 1 TD
Tyler Spencer 4-24
Ed Samson 1-(-4)
Norwich passing
Robert Martin 2-for-7, 18 yards, 0 TD, 2 int
Chenango Forks passing:
Rick Mirabito 1-for-3, 32 yards, 1 TD, 1 int
Norwich receiving:
Alex Paula 1-10
James Bates 1-8
Chenango Forks receiving:
JV Score: Norwich won 22-12
---
Preview Article:
Forks, Norwich ailing for football showdown

Undefeated teams deal with key injuries


By Kevin Stevens
Binghamton Press & Sun-Bulletin

And so they meet again, the Purple Tornado of Norwich and its nemesis of recent football seasons, Chenango Forks.


Kickoff is scheduled for 1:30 Saturday at Forks for this clash between programs that have met to decide Section 4's Class B championship each of the last three seasons -- with the Blue Devils victorious in each. In fact, exclude Forks from the equation and Norwich is unbeaten each of the last two seasons, once-beaten over the last three. The Blue Devils knocked of Norwich twice each of the last two years.

"You want to find a reason to hate them or whatever, but Gosh-darn-it, they just do things the right way," said Norwich coach John Pluta. "They come out and they play football, just go about their business."

For Saturday's renewal of the rivalry, each side comes in with a 2-0 record. Forks has settled into its familiar No. 1 Class B ranking in the season's first New York State Sports Writers Association rankings. Norwich is No. 9.

Notably, the next point scored against Norwich will be the first of 2005.

"We know about Forks and their ability to score," said Pluta, whose team has blanked Elmira Southside and Windsor, respectively. "We don't have any delusions about what we're getting into.

"We'll just go down and do battle."

Forks, winner of 28 consecutive games, has allowed a touchdown in each of its two games.

Suffice to say the game will be largely decided via the ground game, as that remains each team's strength. Question is, which defense refuses to break?

"They are all over the place, very quick," Forks coach Kelsey Green said of the Tornado defense. "They put a lot of pressure on at the point of attack. They've got good speed and good size.

"And they run that offense. We know what we're going to see but, can you stop it? They execute it very well."

Neither side will be at full strength.

Forks will be without end/cornerback Mark Burns, his season ended by a neck injury sustained Saturday against Maine-Endwell. And the Devils are preparing to play without fullback/nose tackle Tyler Spencer, who injured an ankle against M-E.

Norwich's Vinny Angelino, starting linebacker and reserve fullback, broke his leg last week against Windsor. Mike Abbott, who was to be the Tornado's fullback as well as play in the secondary, had reconstructive knee surgery and is likewise out for the season.

"You try to convince (reserve players) during the course of a week that they're one play or two plays from maybe being in there," Green said of a scenario that has come to fruition on both fronts.
---
Post-game Article:

Fifth Quarter: Forks shows it has ability to win even on an off day

Chenango Forks demonstrated one quality of an established champion on Saturday: The ability to put away a worthy opponent while playing at something far short of peak efficiency.

The Blue Devils (3-0) overcame an unsightly slew of blunders -- some clearly induced by Norwich, others not -- for a 28-14 victory that ran the two-time defending Class B state champions' win streak to 29 games.

"We didn't do a lot of things right, but when all was said and done we must have done enough things right to carry us through a good opponent," said Blue Devils coach Kelsey Green.

The Blue Devils turned over the football four times on their half of the field, and failed to get off a punt on a play that went for a 4-yard loss from their 39-yard line.

But for a dominant second quarter and a clinching touchdown by Joe Nicholson with 2:13 to play in the game, it was for the most part not pretty offensive football being played by Forks. Of course, a Norwich squad that didn't allow a point until its 10th quarter of football in 2005 had a little something to say about it.

"We haven't done that since we got beat in 2000, up in Oneonta we played something like this," Green said of the turnovers. "It just seemed like, whatever could happen did happen for awhile."

Forks gained 169 yards of offense and scored three TDs in the second quarter, turning a 7-0 deficit into a 21-7 advantage.

"We got off them pretty good early, but they started to wear on us," Norwich coach John Pluta said. "Once they got on our guys outside, that gave them those alleys they need to run.

"They're a strong, physical team. We knew they were bigger than us. They're well-coached and they're going to find something, that's the nature of the option."

Both sides credited the blocking of Forks split ends Ed Samson and Chris Kwartler for their role in helping spring their backfield mates for large chunks of yardage.

On the defensive side, Forks' standouts were many-- from big men Matt Faughnan and Josh Cary, to Bryan Lance and his two interceptions, and assorted others. But as impressive as any given the circumstances was Tyler Spencer.

After he'd sustained a painful high ankle sprain the previous week, Spencer wasn't cleared to play until the day before the game. His presence on the interior was huge the game long.

"What he did out there on one foot, we were just thrilled with that," Green said. "He made a lot of plays in the middle, and if he wasn't making the play he wasn't being moved that much. He's a great kid and just a solid person. To step in there and play like that, we're proud of him."
---