...
2005 Chenango Forks Varsity Football
Game 5 vs Chenango Valley

Blue Devils rule the Valley 48-7!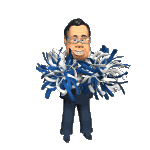 Articles courtesy of the Binghamton Press & Sun-Bulletin
Place mouse over photos to read caption & photo credit
---
Forks bounces back and romps after sloppy first half

Third-quarter flurry finishes CV

By Kevin Stevens
Binghamton Press & Sun-Bulletin

Town of Chenango -- Once Chenango Forks got out of its own way, smooth sailing it was Saturday to a 48-7 breeze past visiting Chenango Valley that extended the Blue Devils' streak to 11 victories in this football rivalry

Forks capitalized on a muff of an attempted CV punt return for a touchdown in the final minute of the first half for a 21-0 advantage, and then dialed up 20 consecutive points in the first five minutes of the second.

When it was over, roughly 2 hours and 20 minutes after opening kickoff, the Blue Devils had secured their 31st consecutive victory and fourth of five this season in which an opponent has failed to put a 10th point on the scoreboard. Three wins in succession would pull Forks even with Delhi atop Section 4's list of football victory streaks.

A dozen Forks ball carriers contributed to a 413-yard rushing total, Jim Nicholson and Tyler Spencer heading the charge with 92 and 91 yards, respectively. Quarterback Rick Mirabito ran for two TDs and passed for another.

It was a contest that saw Forks' most staunch resistance come from within-- eight penalties for 75 yards in the first half alone.

"We had a barrage of them, and they were all different types," Forks coach Kelsey Green said. "That's stuff we can take care of in a hurry, but that was frustrating, real frustrating. We were fortunate to get a nice break at the end of the first half and get that touchdown."


It was a mere 14-0 lead for the hosts when, with 1:25 to play in the half, Ed Samson punted from the Devils' 8-yard line. Chenango Valley, eye-to-eye at the time with very real opportunity against the two-time defending state champions, failed to field the punt and Forks regained possession at its 34-yard line.

And as much as said, enough is enough.

Mirabito connected with Samson on a second-down pass play of 48 yards to CV's 14, and next Mirabito passed with near-perfect precision to Chris Kwartler behind a defender in the right side of the end zone with 29 seconds remaining. Dylan Warner's PAT kick made it 21-0.

And then came the outburst.

Though denied an apparent 85-yard kick-return score from Nicholson by an illegal block, Forks needed but two plays of the third period to make it a four-TD difference when Spencer started through the middle of the line, broke into the secondary and finished off a 52-yard scoring run. Many a fullback is caught from behind in that situation. Speedy-wheels Spencer, all 222 pounds of him, is from a wee different mold.

CV punted after gaining a yard in three plays, Forks set up at the Warriors' 40, and rushed six plays for another TD. This one was Mirabito's, from 4 yards out, to go with his 25-yard pick-up on the second play of the drive.

Chenango Valley had a pass intercepted by Warner on its next play from scrimmage, the Devils took the football at CV's 26, and Nicholson took a toss toward the home sideline and scored on the next play. Warner's PAT made it 41-0, 4:58 into the third quarter.

"We were making a lot of mental mistakes," Nicholson said of the early going. "Our offense could score, we just wanted the offense on the field."

CV coach Jay Hope said, "Defensively, we were too easy on them. That's where a lot of our youth is, on the defense."

Warriors quarterback Greg Baxter, who missed the second quarter after absorbing a whack that left him "a little fuzzy," Hope said, scored on a first-down rush of 72 yards late in the third quarter.

Forks reserves took the field on each side of the ball beginning with about five minutes remaining in the third quarter. Among those who will relish in Monday's film session will be Justin Allen, who rushed 9 yards for his team's final TD and made two tackles for negative yardage.

Place mouse over photos to read caption & photo credit
---
| | | | | | | |
| --- | --- | --- | --- | --- | --- | --- |
| | 1 | 2 | 3 | 4 | | Tot |
| Chenango Forks | 07 | 14 | 20 | 07 | - | 48 |
| Chenango Valley | 0 | 0 | 0 | 7 | - | 7 |
CF - Rick Mirabito 10 run (Dylan Warner kick)
CF - Jim Nicholson 6 run (Warner kick)
CF - Chris Kwartler 14 pass from Mirabito (Warner kick)
CF - Tyler Spencer 52 run (run failed)
CF - Mirabito 4 run (Warner kick)
CF - Jim Nicholson 26 run (Warner kick)
CV - Greg Baxter 72 run (Nick Dadamio kick)
CF - Justin Allen 9 run (Ed Samson kick)
TEAM STATISTICS
| | | |
| --- | --- | --- |
| | CV | CF |
| First Downs | 10 | 20 |
| Rushes-Yards | 29-161 | 51-413 |
| Passing Yards | 19 | 62 |
| Comp-Att-Int | 2-17-2 | 2-2-0 |
| Total Offense | 46-180 | 53-475 |
| Punts-Ave yards | 4-37 | 2-36 |
| Fumbles-Lost | 1-1 | 1-1 |
| Penalties-Yards | 3-23 | 10-100 |
| | | |
.
INDIVIDUAL STATISTICS
Chenango Valley rushing:
Baxter 16-125, 1 TD
Adam Puzio 3-27
Dan Cooper 7-11
Trevor Cola 1-2
Matt Schaffer 2-(-4)
Chenango Forks rushing:
Jim Nicholson 11-92, 2 TDs
Tyler Spencer 5-91, 1 TD
Mirabito 9-67, 2 TDs
Alex Sabo 4-33
Allen 2-32, 1 TD
Joe Nicholson 5-28
Jarred Wells 4-26
Warner 3-19
Dylan Rittenburg 3-11
Jason Gildea 2-7
Ray Lord 2-6
Bryan Lance 1-1
Chenango Valley passing
Baxter 2-for-13, 19 yards, 0 TD, 1 int.
Schaffer 0-for-3, 0 int.
Cola 0-for-1, 1 int.
Chenango Forks passing:
Mirabito 2-for-2, 62 yards, 1 TD, 0 int.
Chenango Valley receiving:
Nathanial Fisher 1-12
Dadamio 1-7
Chenango Forks receiving:
Samson 1-48
Kwartler 1-14, 1 TD
JV Score: Chenango Forks 20-6
---
Preview Articles:

Kevin Stevens
Binghamton Press & Sun-Bulletin

Despite winning streak, Chenango Forks players leery of rival CV

Devils have won 10 straight against Warriors

A pair of Section 4 football squads ranked atop the state in their respective enrollment classifications will have something more significant than No. 1 status on their minds this weekend

For Chenango Forks, this is Chenango Valley week.

And for Walton, this is Delhi week.

The Blue Devils, 4-0 atop the New York State Sports Writers Association's Class B tabulation, play host to CV (1-3) at 1:30 Saturday in a Division IV contest.

Walton, 4-0 and No. 1 in Class D, visits Delhi for a 1:30 non-league game Saturday. The Bulldogs (4-0) are ranked fourth among Class C schools.

On the surface, one appears the far more competitive matchup than the other.

The last time CV got the better of Forks on the football field, prospective jurors were being questioned for the O.J. Simpson trial.

On Oct. 22 of 1994, the Warriors captured their most recent victory in the rivalry, a 14-13 squeak past the Blue Devils sewn up when Dan Clark hit Jake Sheehan with a 17-yard touchdown pass on fourth-and-4 in the waning minutes of play, and the two then collaborated on the go-ahead two-point pass.

On Saturday, CV will look to halt a 10-game skid against Forks.

"I don't really have to sell this week to the kids; it's pre-sold," said CV coach Jay Hope.

On the other side, despite what has transpired during the last 10 years, CV will likewise have Forks' full attention.

"If we were to go 12-1 and that one loss was to CV, I'd look at that as a failed season because that loss was to CV," said Blue Devils tackle Matt Faughnan, who's preparing for his third Forks-CV contest at the varsity level.

Chenango Forks has won 30 consecutive games and last failed to complete a season with a winning record in 1992. Chenango Valley has surrendered an average of 35þ points per game this year -- Forks has allowed 37 all year -- and CV has been outscored by Forks 327-102 during the losing streak.

Those given to the "throw the records out the window" mentality would have a hefty pile to pitch.

However, as Hope notes, "The kids still get excited for (the rivalry game). Games at the JV level have been very close over the last couple of years, so that has helped. I think the kids bring that up with them. It's still CV-CF."

Faughnan said, "Even though they haven't been beating us in football, (coach Kelsey Green) will say every year that when we play them, it's just like you're both 0-0. With the intensity both teams bring, it's like a state championship game."
---
---
Post-game Article:

Fifth Quarter: Published on Tuesdays

None this week.
---