...
2005 Chenango Forks Varsity Football
Game 2 vs Maine-Endwell

CF defeats M-E 21-7 for 28th straight win!


Articles courtesy of the Binghamton Press & Sun-Bulletin
Place mouse over photos to read caption & photo credit
---
Forks passes test in battle of champs with M-E

First completion of year sparks Blue Devils' victory

BY Mike Mangan
Binghamton Press & Sun-Bulletin

KATTELVILLE -- It took nearly seven quarters of football for Chenango Forks quarterback Rick Mirabito to complete his first pass of the season

Better late than never.

Mirabito's 10-yard touchdown pass to Kyle Firmstone with under a minute left in the third quarter gave the Blue Devils the lead for good en route to a hard-fought 21-7 victory over Maine-Endwell in a non-league high school football game Saturday.

Saturday's contest marked the first time in Section 4 football history that two defending state champions -- M-E in Class A and two-time title-winners Forks in Class B -- squared off against each other.

With the score tied at 7 and Forks facing a fourth-and-5 at the Spartans' 10-yard line, Mirabito faked a handoff before lofting a pass to the left corner of the end zone to a wide-open Firmstone, who made the grab to give Forks a 14-7 lead with 55 seconds remaining in the third quarter.

It was the first completion in six pass attempts this season for Mirabito, the play following 12 consecutive runs in a 7½-minute drive that started at Forks' 44-yard line.

"We had been pounding it all day, so we figured we'd try a little play-action off the same look," Forks coach Kelsey Green said. "Fortunately, we got behind them and Rick laid it right out there real nice."

Forks (2-0) put the game away almost midway through the fourth quarter when Mirabito scored on a 1-yard run with 7:34 remaining, the score coming one play after M-E's Eugene Lyons had his punt blocked from his own end zone, the low kick caroming off a Spartan teammate before Forks recovered at the M-E 1.

It was the second blocked punt suffered by M-E (0-2), who was also plagued by seven penalties, four of those coming in the second half.

"The team that makes the fewest mistakes is going to win nine times out of 10," M-E coach Jack Touhey said. "We played a great first half, but unfortunately there are two halves."

The hard-hitting game started ominously for Forks.

After the Blue Devils went three-and-out on their first drive, M-E stormed down the field, moving 58 yards in 10 plays with Jesse Stephens capping the drive on a 2-yard run that give M-E a 7-0 lead with 4:09 remaining.

Then, on Forks' ensuing drive, senior Tyler Spencer -- one of Forks' primary ball-carriers and a standout defensively at nose tackle -- was knocked out of the game after suffering what Green optimistically hoped was a left-ankle sprain following a 2-yard run.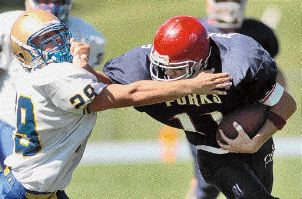 But as Forks has proven over the course of what are now winning streaks of 28 games overall and 46 games against Section 4 competition, in the rare times it has faced adversity there are no shortage of players who can rise to the challenge.

Two plays after Spencer exited, Joe Nicholson broke a tackle near the line of scrimmage and rumbled 17 yards for a touchdown that tied the score at 7 with 9:30 left in the second quarter.

Meanwhile, Nicholson, Spencer's replacement Josh Preston, and defensive tackles Matt Faughnan and Josh Cary helped the Forks defense buckle down after the loss of Spencer.

In the ensuing seven M-E drives following its opening score, the Spartans managed just one first down and 25 yards of total offense.

"Myself, personally, I consider myself a leader," said the 6-foot-3, 301-pound Faughnan after another stellar performance. "When Spencer went down, I knew I had to pick it up, and I told Joey, Jim (Nicholson), all those guys, we had to pick it up another level."

Added Joe Nicholson, who blocked M-E's first punt and also had a pair of sacks: "After (Spencer) went down, I knew it was going to be a hard game, so I had to step up and make some plays."

Forks' stifling defensive performance proved necessary, as M-E's defense was equally impressive, limiting the Blue Devils to 144 total yards of offense.

But M-E's offense struggled, with the final blow to the Spartans' victory hopes coming when Nicholson sacked Barrett for an 11-yard loss on a third-and-9 play from the Spartans' 15-yard line early in the fourth quarter.

A blocked punt followed, and Mirabito's 1-yard touchdown run a play later gave Forks a two-touchdown lead.

"The kids, they rallied around Ty," Green said. "The kids stepped up and played well. Our big kids up front, they're not only big, they're athletic and well-conditioned.

"We saw that last week (in a 26-9 win over Johnson City) and now this week, so we hope that's a trend."
---
Place mouse over photos to read caption & photo credit
---
| | | | | | | |
| --- | --- | --- | --- | --- | --- | --- |
| | 1 | 2 | 3 | 4 | | Tot |
| Chenango Forks | 00 | 07 | 07 | 07 | - | 21 |
| Maine-Endwell | 7 | 0 | 0 | 0 | - | 7 |
M-E - Stephens 2 run (Barrett kick)
CF - Joe Nicholson 17 run (Samson kick)
CF - Firmstone 10 pass from Mirabito (Samson kick)
CF - Mirabito 1 run (Samson kick)
TEAM STATISTICS
| | | |
| --- | --- | --- |
| | M-E | CF |
| First Downs | 7 | 9 |
| Rushes-Yards | 36-118 | 41-134 |
| Passing Yards | 27 | 10 |
| Comp-Att-Int | 2-5-0 | 1-4-1 |
| Total Offense | 41-145 | 45-144 |
| Punts-Ave yards | 5-9 | 2-35 |
| Fumbles-Lost | 1-1 | 1-1 |
| Penalties-Yards | 7-45 | 2-10 |
| | | |
.
INDIVIDUAL STATISTICS
Maine-Endwell rushing:
Jesse Stephens 19-115, 1 TD
Jon Kolba 4-8
Eugene Lyons 2-6
Drew Fessenden 2-2
Pat Barrett 9-(-13)
Chenango Forks rushing:
Joe Nicholson 6-38, 1 TD
Jim Nicholson 14-36
Rick Mirabito 9-22, 1 TD
Tyler Spencer 7-22
Jarred Wells 4-14
Chris Kwartler 1-2
Maine-Endwell passing
Barrett 2-for-5, 27 yards
Chenango Forks passing:
Mirabito 1-for-4 10 yards, 1 TD, 1 int.
Maine-Endwell receiving:
Garrett Sweezy 1-17
Fessenden 1-10
Chenango Forks receiving:
Kyle Firmstone 1-10, 1 TD
JV Score: Tie with M-E, 22-22
---
Preview Article:
By Kevin Stevens
Binghamton Press & Sun-Bulletin

A Section 4 first -- defending state champions playing one another -- will play out beginning at 1:30 Saturday when Class A kingpin Maine-Endwell visits two-time Class B titleist Chenango Forks.

The Blue Devils scrapped their way past Johnson City in their opener, 26-9, with three unanswered second-half touchdowns. Maine-Endwell defenders will have an eye out for quarterback Rick Mirabito, who averaged 9 yards per carry on his way to a 207-yard rushing outing against JC.

---
Post-game Article:

Fifth Quarter:

Norwich, Forks lose key players to injuries

Teams ailing for Saturday game

Staff Reports
Binghamton Press & Sun-Bulletin

Chenango Forks and Norwich will each be at less than full strength when they meet at 1:30 Saturday on the Blue Devils' turf.

Forks lost senior end/cornerback Mark Burns -- for the season, coach Kelsey Green said -- when Burns sustained a fracture to his neck. Burns was injured while blocking in the second quarter of Saturday's 21-7 victory over Maine-Endwell.

Tyler Spencer, Forks' senior fullback/nose tackle, suffered what is believed to be a high ankle sprain as he was tackled on a second-quarter carry.

"Spence looks a lot better than we originally thought," Green said, though he added it'd be "surprising" if he were available against Norwich.

The Purple Tornado lost linebacker and reserve fullback Vinny Angelino to a broken tibia and fibula in the fourth quarter of Friday night's 14-0 victory over Windsor. He was hurt while carrying the football. That follows the loss of versatile senior Mike Abbott, who underwent reconstructive knee surgery before playing a game this season.

Most frightening was the injury to Burns, who collided on the run with an M-E player.

"The play broke down, field got reversed and he hit one of their big defensive linemen up the field," Green said. "He must have hit the kid the wrong way, and that kid didn't give much.

"The prognosis is, he'll be OK. But he won't play anymore football this year."

Norwich coach John Pluta said, "It's the part of the game you hate, quality kids who've put so much into it with season-ending injuries."

NICHOLSON DELIVERS

He's listed as 5-foot-10 and 178 pounds on the Chenango Forks roster, but Blue Devils senior Joe Nicholson came up large in his team's victory over Maine-Endwell.

Nicholson's 17-yard touchdown run in the second quarter tied the score at 7. Later in the quarter, Nicholson blocked an M-E punt before sacking Spartans quarterback Pat Barrett twice in the fourth quarter to help preserve a Forks lead.

Now a starter after seeing reasonable playing time as a reserve on last season's state Class B championship team, Nicholson has emerged as a key cog for Forks this season.

"Joey's one of those kids, you'd love to have 40 of him," Forks coach Kelsey Green said. "He's a tough, tough young man who plays the game at 100 miles per hour. Every team wants to have a Joey Nicholson, and thank goodness we do."

"He really stepped up and played a great game. He's a good one."

NEW SEASON FOR M-E

After going 12-0 last season en route to a state Class A football championship, Maine-Endwell finds itself 0-2 after losing to Chenango Forks on Saturday and Section 3 Class AA squad Fayetteville-Manlius a week earlier.

On the bright side, however, M-E remains 0-0 in Section 4 Division II play -- its first league contest coming this Friday night at Corning West -- and the Spartans' defense allowed them to stay within striking distance of Forks for much of Saturday's game.

Those are facts not lost upon M-E coach Jack Touhey.

"I told them I was proud of them, they played very good," Touhey said of his team's performance against Forks. "We just didn't do the things we needed to do in the second half to be successful.

"But we're done with F-M and Chenango Forks now. Our season really begins (this week)." ...

One area that M-E needs to have shored up before Friday's game is the punting game.

After having a punt blocked and another long snap go over the punter's head in the season-opening 47-6 loss to F-M, M-E had two more punts blocked and another one go for 4 yards in the 21-7 loss to Chenango Forks.

The second blocked punt, in which M-E punter Eugene Lyons booted a low kick off the back of a teammate, proved costly as it gave Forks the ball at the M-E 1-yard line. One play later, Forks quarterback Rick Mirabito sealed the Blue Devils victory when he scored on a 1-yard run with a little over eight minutes remaining in the fourth quarter to give Forks a two-touchdown lead.
---