...
2005 Chenango Forks Varsity Football
Game 1 vs Johnson City

Blue Devils declaw the Wildcats 26-9!

Articles courtesy of the Binghamton Press & Sun-Bulletin
Place mouse over photos to read caption & photo credit
---
Forks thwarts JC upset bid

Mirabito runs for 207 yards, three touchdowns in victory

BY Mike Mangan
Binghamton Press & Sun-Bulletin

JOHNSON CITY -- Absent for Chenango Forks for much of Saturday's non-league football game at Johnson City was the dominance that has been commonplace for the last four years in Section 4.

As for the outcome, it was still very familiar to the Blue Devils.

Rick Mirabito ran for 207 yards and three touchdowns, including a game-turning 84-yard touchdown run early in the fourth quarter, as Forks overcame a halftime deficit to defeat the Wildcats, 26-9.

It was the 27th straight victory overall and 45th straight against Section 4 competition for Forks, which is vying for a third straight state title and fifth consecutive Section 4 Class B title this season.

"We shot ourselves in the foot a few times in the first half," Forks coach Kelsey Green said. "We challenged the kids to overcome that, and they did."

Indeed, the combination of Forks miscues -- most notably two turnovers -- and JC's big offensive plays contributed to the Wildcats' 9-6 halftime lead.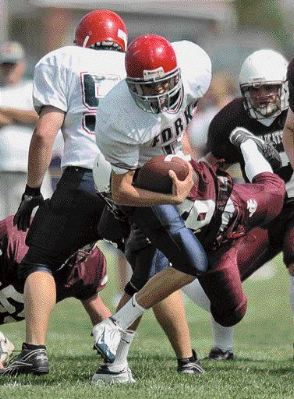 But even after Mirabito's 3-yard touchdown run with 1:22 remaining in the third quarter gave Forks a 13-9 lead, JC put itself in position to take back the lead, driving to the Forks' 1-yard line with just over 10 minutes left in the fourth quarter.

However, on fourth-and-goal from the 1, JC quarterback Milton Harding was stuffed for no gain on a keeper. Five plays later, Mirabito busted up the middle for his 84-yard jaunt that put Forks up 20-9 with 8:26 remaining.

JC turned the ball over on the first play of its next drive when Ryan Robinson's pass was intercepted by Dylan Warner, and minutes later Jim Nicholson tacked on a 19-yard touchdown with 4:27 left to ice the victory for Blue Devils.

"I told the boys 'I'll take the three quarters and four minutes every time," JC coach Mike Widenor said. "I thought they did awesome, I don't know if we ran out of gas ...

"I think our kids played marvelously, but let's be honest, that's the greatest team in the state, they play power football and they moved our boys around."

JC took a 3-0 lead on the game's opening drive when Jared Manzer connected on a 26-yard field goal with 9:40 left in the first quarter. The big play on the drive was a 33-yard pass from Robinson to Manzer.

Forks answered on its next possession with a workmanlike, 12-play, 54-yard drive -- only one play went for more than 10 yards -- capped by Mirabito's 6-yard to take a 6-3 lead with 3:12 left in the first quarter.

Forks was set up to add to its lead after Nicholson intercepted a Harding pass and returned it to the JC 20-yard line.

But on the second play of Forks' second drive, Nicholson fumbled the ball away, with Harding recovering on the JC 17.

The Wildcats then embarked on a 13-play, 83-yard drive, the final play a 25-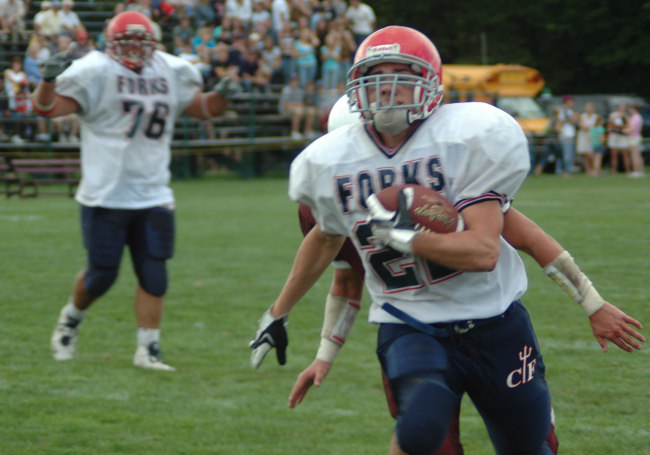 yard touchdown pass from Harding to Manzer on fourth-and-8. On the play, Manzer made a nice over-the-shoulder grab in the end zone after Forks' Jarred Wells had tipped the ball.

The touchdown gave JC a 9-6 lead with 7:35 left in the second quarter and had many wondering if Forks would suffer its first Section 4 loss since 2000.

The Blue Devils further fueled such thoughts with two more miscues. Tyler Spencer fumbled at the JC 31-yard line with 2:05 left in the second quarter and Forks fumbled the snap inside the JC 5-yard line with seconds left in the first half to stall a potential go-ahead drive.

However, JC would not score again, and Forks piled up 233 of its 362 rushing yards in the second half en route to scoring 20 unanswered points to take command.

"We have some great senior leadership and it showed, and we're a big, physical football team and that also showed," Green said. "JC number-wise didn't have a lot, and we were able to run some guys in there, which helped us at the end of the game.

"But JC played very well. We might have looked slow, but they had a lot to do with that. They were all over the place."
---
Place mouse over photos to read caption & photo credit
---
| | | | | | | |
| --- | --- | --- | --- | --- | --- | --- |
| | 1 | 2 | 3 | 4 | | Tot |
| Chenango Forks | 06 | 00 | 07 | 13 | - | 26 |
| Johnson City | 3 | 6 | 0 | 0 | - | 9 |
JC - Manzer 26 field goal
CF - Mirabito 6 run (run failed)
JC - Manzer 25 pass from Harding (kick blocked)
CF - Mirabito 3 run (Samson kick)
CF - Mirabito 84 run (Samson kick)
CF - Jim Nicholson 19 run (kick blocked).
TEAM STATISTICS
| | | |
| --- | --- | --- |
| | JC | CF |
| First Downs | 8 | 20 |
| Rushes-Yards | 21-50 | 62-362 |
| Passing Yards | 127 | 0 |
| Comp-Att-Int | 8-15-2 | 0-2-0 |
| Total Offense | 36-177 | 64-362 |
| Punts-Ave yards | 1-33 | 1-37 |
| Fumbles-Lost | 1-0 | 3-2 |
| Penalties-Yards | 7-35 | 6-33 |
| | | |
.
INDIVIDUAL STATISTICS
Johnson City rushing:
Milton Harding 8-40
Chris Edmondson 8-17
Ryan Robinson 4-9
Jared Manzer 1-(-16)
Chenango Forks rushing:
Rick Mirabito 23-207, 3 TDs
Jim Nicholson 13-69, 1 TD
Tyler Spencer 12-48
Jarred Wells 5-30
Ray Lord 2-10
Dylan Warner 1-7
Joe Nicholson 2-2
Dylan Rittenburg 1-2
Justin Allen 1-(-3)
Chris Kwartler 2-(-10)
Johnson City passing
Robinson 6-for-10, 100 yards, 1 Int
Harding 2-for-5, 27 yards, 1 TD, 1 Int
Chenango Forks passing:
Mirabito 0-for-2, 0 yards
Johnson City receiving:
Manzer 5-86, 1 TD
Edmondson 2-33
Matt Holden 1-8
Chenango Forks receiving:
JV Score: Chenango Forks 14-10
---
Preview Articles:

Defending state champ Forks seeks to extend winning streak

By Kevin Stevens
Binghamton Press & Sun-Bulletin

For what is arguably the most daunting opening-day assignment in New York state football, have a look Johnson City's way.

The Wildcats, seven seasons removed from the program's most recent winning campaign, will play host to Chenango Forks at 1:30 Saturday. That is, two-time defending Class B state champion Chenango Forks, owner of a 26-game win streak that is twice as long as next-best in the state.

The next loss dealt the Blue Devils will be their first since Dec. 2002, a fact that likely has not escaped many in Johnson City quarters.

"We have a great opportunity to try to beat the best team in the state," said JC senior Ryan Robinson. "If we beat them, we end the longest winning streak in the state-- that's pretty exciting.

"I think it puts a little more pressure on us, but we thrive on pressure because we're a senior-oriented team."

Forks has a 44-game win streak against Section 4 opposition, and for that to change, Johnson City would have to find a way to deal with one of the biggest, toughest offensive lines in the section, as well as the wealth of rushing options at coach Kelsey Green's disposal.

---
Post-game Article:

Fifth Quarter: Heavy workload a surprise to Forks' new QB Mirabito

From staff reports - Binghamton Press & Sun-Bulletin
9/6/2005

A season after tallying a mere 11 carries on a state Class B championship Chenango Forks football team loaded with capable ball-carriers, senior quarterback Rick Mirabito looked forward to an increased role in the Blue Devils' offense this season.

But even Mirabito couldn't have anticipated the 23 carries he would get Saturday in Forks' 26-9 victory at Johnson City, a contest that despite the final score was in doubt early in the fourth quarter.

Mirabito made good use of those carries, running for 207 yards and three touchdowns, including an 84-yard touchdown run with a little over eight minutes remaining in the fourth quarter that gave Forks some breathing room, 20-9.

"I didn't expect (23 carries) at all," said Mirabito, who took over the quarterback reigns for the departed Tim Batty, a two-year starter. "I thought maybe 10 or 11 carries, but we had to what we needed to do to win.

"I'm tired and beat up ... but I'll be all right."

Mirabito's workload was noteworthy in part because of Forks' success on the ground last season, one in which only Batty managed at least 10 carries in any game.

The Blue Devils still figure to be among the top teams in Section 4 again this season, but Saturday's game showed that things may be a little tougher at times for Forks than during its back-to-back state title seasons.

That is why Forks coach Kelsey Green took comfort in the performance of Mirabito.

"He might not look it from the outside, but he's a tough kid, and if he gets a crack he can break one," Green said. "He made the big plays when we needed it, and that's a great start for him."

JC encouraged despite loss

A yard away from taking the lead in the fourth quarter against Forks, things spiraled out of control shortly thereafter for Johnson City.

Trailing 13-9 with about 10 minutes remaining and facing a fourth-and-goal at the Forks' 1-yard-line, Wildcats' quarterback Milton Harding was stuffed for no gain.

Five plays later, Rick Mirabito scored on an 84-yard touchdown run to put Forks up 20-9. Two JC turnovers followed later in the quarter, effectively ending JC's victory hopes.

Regardless, it was a solid performance for a team seeking its first winning season since going 7-4 in 1998.

"We got banged up at the end, and I think mentally (Forks) got us a little bit in the fourth quarter because of who they are," JC coach Mike Widenor said. "This would have been a great win, but I still think our best game is coming."

Though Forks ran for 362 yards against JC, the Wildcats managed to limit Forks' big plays through three quarters.

Offensively, JC's quarterback duo of Harding and Ryan Robinson combined to throw for 127 yards and run for 49 yards.


---