Binghamton Press & Sun-Bulletin game article #1 (Front page)-

All below photos by Thomas Labarbera - Binghamton Press & Sun-Bulletin. For captions place your mouse over the picture.
Forks advances to football finals
Batty scores 10 points in game's final minutes
BY KEVIN STEVENS
Press & Sun-Bulletin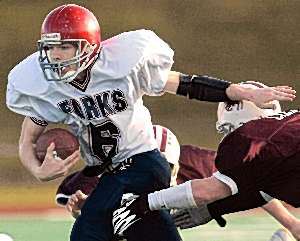 ROCHESTER -- Chenango Forks High advanced to New York's Class B football final for a third consecutive season with a 19-9 semifinal victory Sunday over Erie County opponent Eden High.

Junior Tim Batty scored 10 points in the final six minutes of play at the University of Rochester, helping Chenango Forks to a 12th consecutive victory before a sizable and vocal cast of supporters.

The Blue Devils will take on Rye High at 1 p.m. Saturday in the Carrier Dome on the campus of Syracuse University, seeking the program's first state championship.

"This is unbelievable, awesome ... the best feeling in the world," said Matt Faughnan, a sophomore lineman for the Blue Devils.

"We had a really great game; words can't express how well we did today," said Batty, Forks' quarterback and kicker, and the young man who accounted for every offensive point his team scored on Sunday.

Batty supplied the go-ahead touchdown on a 19-yard run with 5 minutes, 50 seconds remaining in the final quarter, and his point-after kick made it a 16-9 lead. He added a 21-yard field goal with 1:22 remaining on a freakishly warm and gorgeous afternoon.

"That group deserved to win because they outplayed us, from the opening kickoff to the end of the game," said Doug Beetow, coach of Eden High -- located 18 miles south of Buffalo. It was the Raiders' first loss of the season.

Not lost on Chenango Forks' players and coaches was the customary backing by a community that continues to embrace its football team.

"Every game we play is a home game; I mean that," Forks coach Kelsey Green said, alluding to the many who made the trip from Broome County. "Every time we go somewhere, we're the home team when it comes to the crowd. This is a three-hour ride, and we had a lot of people here today."



Binghamton Press & Sun-Bulletin game article #2 (sports page)-
Forks reaches title game
Batty's stellar effort leads Blue Devils to third straight
chance at state crown
BY KEVIN STEVENS
Press & Sun-Bulletin

ROCHESTER -- Find-a-Way Forks did it again.

On Sunday, a panacea cooked up at halftime in the laboratory that was its Fauver Stadium dressing room unlocked the secret to offensive success and lifted Chenango Forks to a 19-9 victory over Eden and into a third consecutive berth in the Class B state football final.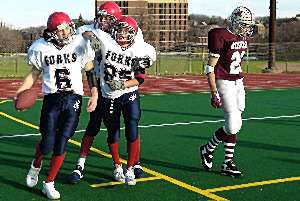 Junior quarterback and playmaker Tim Batty rushed for 130 of his team-high 150 yards and produced two field goals, a touchdown and a PAT kick after halftime as the Blue Devils earned a title-game start against Rye High at 10 a.m. Saturday in the Syracuse Carrier Dome.
That the Blue Devils never did trail in the contest at the University of Rochester was a tribute to yet another stupendous defensive effort.
But that they pulled out their 12th victory in as many games this season was the doing of Batty with substantial assistance from the presence of fullback Joe Babcock and the brute force demonstrated by offensive linemates Matt Faughnan, Adam Phoenix, Chris Pease, Alex Williams and Jon Preston.
At halftime, Forks had picked up one first down, had been outgained by 143 yards to 40, possessed the football for just over eight minutes to Eden's 15:47 -- yet held a 6-3 advantage on the strength of Zach Vredenburgh's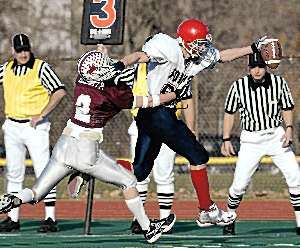 29-yard interception return for a touchdown with 2:21 elapsed.
During the break, the Blue Devils tinkered in hopes of finding a way to move the football against the unbeaten Raiders.
"We just put together a different scheme during halftime, how to block different things, especially the mid-line," said Faughnan, a 268-pound sophomore and two-way tackle. "It worked out, we were getting big gains of it."
Specifically, Batty was the big gainer.
Excluding the final two plays of the ballgame, on which he accepted the snap from center and dropped to a knee, Batty carried the football eight times in the second half. Five of those rushes gained 17 or more yards.
It was a 19-yard rush by Batty -- on a play that repeatedly and inexplicably got the better of Eden defenders -- with 5:50 to play in the game that put Forks ahead to stay. Batty tacked on the PAT kick for a 16-9 advantage.
It all seemed so elementary, a garden-variety fake to the fullback/quarterback keeper on which the Blue Devils made hay, again and again and again and again.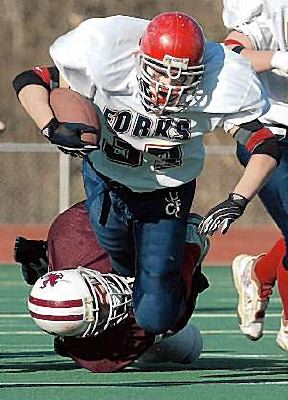 Suffice to say, fullback Babcock's reputation preceded him to Fauver Stadium.
Without the threat of Babcock, who'd rushed for triple-digit totals in seven games this season, Eden might not have been forced to respect the space between the tackles.
And without the path-paving of Messrs. Faughnan, Phoenix, Pease, Williams and Preston, Batty's running room would not have been so gaping.
As it was, the combination -- coupled with Batty's uncanny game-breaking ability -- carried the Blue Devils to a second half in which they gained 186 yards and shifted the weight of Eden defenders to their heels.
"Joe's been our No. 1 guy all year," Batty said. "We knew they'd been keying on him so we'd just fake it to him and I'd take it around the end and our line did the rest.
"We ran the same play a bunch of times in a row, they didn't adjust, so we kept going back to what was working."
On the drive for the go-ahead touchdown, Batty rushed for 24 yards on that very play and, after a 6-yard keep-'em-honest rush by Babcock, Batty did it again for the 19-yard scoring run.
Then, 16-9 lead in hand and facing a prolific offense led by tireless back Keien Williams, Forks defenders forced Eden to turn over the ball on downs at at the Raiders' 43-yard line with 4:45 remaining.
And it was back to the dive fake/QB keeper -- for 17 yards, 7 yards and 20 yards, helping Forks to fourth-and-goal from the 4-yard line. From there, Batty booted home a 21-yard field goal for the final points with 1:22 remaining.
Of the second-half offensive resurgence, Forks coach Kelsey Green said, "We talked about just a few tweaks in the blocking. They have some physical kids in that front eight. We watched them last week shut down a good Bath team and we were concerned coming in that it could happen to us, and it certainly did the first half.
"But we made a couple modifications and we got smart. We said get the ball in Timmy's and Joey Babcock's hands. Timmy made some great reads. He's just a winner. Certain kids are very talented but this kid, when you need it he just does it."
Eden coach Doug Beetow called the play that so often stung his defense "just a simple dive fake, the quarterback off to the side, and he did an outstanding job doing that.
"That's a special kid they've got there."
Forks, as it has done so frequently this season, won the race to the scoreboard with a defensive gem turned in by junior end Vredenburgh, the young man whose last-minute TD reception saved the day in the quarterfinal round against Syracuse Westhill.
With Eden facing third-and-8 from its 32-yard line on its opening possession, quarterback Charlie Karstedt faded patiently back and lobbed a screen pass. But there was Vredenburgh to pick it off and meander his way through traffic into the end zone for a 6-0 lead.
"Hey, he's going to catch the ball from somebody," Green said. "If it isn't us, sometimes it's the other team. The beauty of that was, he finished it. If he gets tackled on the 30, maybe we go four-and-out the way things were going."
Instead, Forks' defense made the TD stand for a 6-3 halftime lead despite a 22-carry, 117-yard effort by 190-pound senior Williams. He finished with 216 yards on 44 carries, but his 3-yard rush for a fourth-quarter score to make it 9-9 represented the lone TD for a team that came in averaging 33.7 points per game.
"Just don't let up," Faughnan said of the approach to defending Williams. "Keep running at him, keep hitting him and keep popping him. Eventually, he'll go down and he'll stay down. He's a heck of a player."
Batty was chosen by a state football committee as Forks' Most Valuable Offensive Player, and linebacker Babcock -- second on the team to Faughnan with seven tackles -- was selected as the Devils' Most Valuable Defensive Player.
Another big-play defender for Forks was junior cornerback Ben Farnham, who returned a first-quarter interception from Forks' 20-yard line to Eden's 35, and who drew raves from Raiders coach Beetow upon conclusion.
"No. 21 did a heck of a job," Beetow said. "There's been no one in our league who's been able to tackle Keien one-on-one. Yet this kid, who's half his size, came in and just laid him down. That was very impressive."

All above photos by Thomas Labarbera - Binghamton Press & Sun-Bulletin. For captions place your mouse over the picture.
---
Buffalo News game article-

Batty helps Chenango Forks fly past Eden

By KEITH McSHEA
News Sports Reporter
11/24/2003

Rochester - Tim Batty drove the Eden football team you-know-what Sunday afternoon.

Batty, a junior quarterback for Chenango Forks, rushed for 150 yards and the game-winning touchdown and kicked two field goals as the Blue Devils ended Eden's dream of a state championship with a 19-9 decision in the Class B state semifinals at the University of Rochester's Fauver Stadium.

A crowd of about 2,000 watched Eden move the ball well behind senior running back Keien Williams (216 yards on 44 carries) and own a statistical edge in most categories, but the Raiders failed to convert several long drives into touchdowns, threw three interceptions against the top-ranked Class B team in the state, and couldn't stop Batty.

"They outplayed us. Maybe we were thinking a little too far ahead," said Eden coach Doug Beetow. "I guess that happens when you get a group of guys who see that goal right in front of them, and they wanted to go to the Carrier Dome (for the state final) so bad, that they might have overlooked this team a little bit. Chenango Forks did an outstanding job."

Eden, which entered the game ranked third in the state, finishes the best football season in school history at 11-1.

"They just came out with more intensity than us," said Williams, who earned Eden's offensive MVP award while senior linebacker Craig Leibler (81/2 tackles) was the defensive MVP. "They came out ready to play and we didn't and it showed."

Chenango Forks, a Section IV school located about 10 miles north of Binghamton, reached its third straight state championship game. The Blue Devils (12-0) will take on Section I champion Rye (12-0) at 10 a.m. Saturday in the Carrier Dome.

Particularly damaging to Eden was a quarterback option play in which Batty faked a handoff but kept the ball for a run up the middle. While Batty was only 2 for 8 passing for 16 yards, he used the option keeper play to gain three critical first downs in the second half, each of which led to scores. Two of those scores were Batty field goals while the other was another option keeper run, a tiebreaking, 19-yard touchdown that gave Forks a 16-9 lead with 5:50 left.

"Timmy made some great reads - he's just a winner," said Chenango Forks coach Kelsey Green. "If Timmy has a crack, he knows what to do with it. He's been doing that all year long for us, making the big play."

With Williams leading the way, Eden outgained Chenango Forks (229-210), had more first downs (16-11) and possessed the ball more (27:31 to 20:29). After Williams' 1-yard touchdown with 7:14 to play tied the game at 9-9, it appeared Eden was about to take control. But Pat Beckett's kick went wide left, and Forks charged right back.

Batty used the keeper for a 24-yard gain to put Forks at the 25, and one play later he used it on the 19-yard TD. He faked a handoff, ducked to the right and sped into open space while Eden defenders tackled a running back who didn't have the ball.

"We kept giving the ball to Joe (Babcock - 21 carries for 59 yards), and they kept keying on him so it freed me up and the line did the rest," said Batty. "So we kept on running it."

Eden's attempt to tie the game ended in four plays. On fourth-and-7 at the Eden 46, Williams was caught behind the line of scrimmage by Jason Chier with 4:45 left. A 20-yard keeper by Batty helped set up his 21-yard field goal that gave Forks its 10-point lead with 1:22 left.

A Batty keeper also went for 48 yards on the first play of the second half, which ended with Batty's 23-yard field goal with 8:56 left in the third quarter. Eden responded with a drive of its own with Williams carrying on nine of 10 plays, but on fourth-and-4 at the 14, Williams was dragged down by Forks junior Ben Farnham on a leg tackle.

Eden's next drive was another long one that put the Raiders in another fourth-and-4 at the Forks 14. This time, Williams took an option pitch left and charged inside the 5. On the next play, Williams followed a great Eden surge at the line and stretched the ball across the goal line to tie the game.

Williams had 22 carries for 117 yards in a first half in which Eden outgained Forks, 143-40, nearly doubled the time of possession (15:47-8:13), and allowed the Blue Devils just one first down.

But Forks had a 6-3 lead due to one mistake on the Raiders' first possession. On third-and-9 at the Eden 34, Zach Vredenburgh made a one-handed interception of senior Charlie Karstedt's screen pass. The 6-2, 187-pound junior's receiver skills took over from there, dodging a few tacklers on a 29-yard return for a touchdown.
---
Binghamton Press & Sun-Bulletin preview article Sunday 11/23-

Forks' challenge: Stop Eden running back

2,000-yard rusher Williams poses threat to Blue Devils' title run

BY KEVIN STEVENS
Press & Sun-Bulletin

A weekend ago, Chenango Forks football defenders tangled with a running back deemed by their head coach to be the premier player at the position the Blue Devils had faced this season.

We found another one in a hurry," said coach Kelsey Green, whose top-ranked Forks squad will oppose third-ranked Eden High of Erie County in a Class B state semifinal at 1 this afternoon at the University of Rochester's Fauver Stadium.

Keien Williams, a 6-foot, 190-pound Eden High senior, rushed for a combined 506 yards and scored nine touchdowns in the Raiders' two most recent games.

"He's got a lot of speed, but he's a big kid, too," Green said. "He's 190 pounds with a set of legs on him. He runs between the tackles without any hesitation and if there's nothing there, he'll make something outside."

Just how?

"By taking it to the other guys, hopefully knocking them down before they knock him down," Eden coach Doug Beetow said of Williams.

In last week's 34-8 rout of Bath -- Forks' semifinal victim each of the last two seasons -- Williams rushed for 206 yards to eclipse the 2,000-yard mark for the season. The first of his four TDs came on the final play of a 15-play, 99-yard scoring drive on the game's opening possession.

The previous week in the Section 6 title game, Williams established Ralph Wilson Stadium high school playoff records for rushing yardage (300), total yardage (300), touchdowns (5) and points (30) in the Raiders' 48-33 victory over Southwestern High of Jamestown.

Too, his defensive contributions have come from the end, tackle, linebacker and defensive back positions.

Eden (11-0) has scored 109 more points this season than Chenango Forks, but has allowed 13.2 per game to the Devils' 7.5. In fact, all three of Forks postseason opponents have failed to put an eighth point on the scoreboard -- most recently, Syracuse Westhill, despite a 196-yard rushing game by Joe Casey.

Green and his scouting companions watched Eden play a base 5-3 defense against Southwestern, with Williams at nose tackle. Linebacker Craig Liebler was named defensive player of the game with 14 tackles, and fellow 'backer Kevin Gellerson made eight tackles upon return to the lineup following a game away with a thigh injury.

"Bath double-teamed (Williams) the whole time. We hope we won't have to," Green said. "They've got a lot of speed on the defense. They'll kick back into a 4-3 and make (Williams) a linebacker. And their pass coverage was great."

Forks' ordinarily run-oriented offense produced just its third triple-digit passing output of the season against Westhill. Eden scouts came away from that game particularly impressed with a Tim Batty-to-Zach Vredenburgh connection that accounted for all but 14 of those yards.

Fullback Joe Babcock has topped 130 rushing yards in each of the last two games, though by the end of the Westhill game was said to be running on fumes as result of his 22-carry load coupled with full-time duty at linebacker.

For the Eden game, the Blue Devils will regain the services of Tyler Spencer, a 212-pound sophomore who'd been ticketed for occasional fullback detail -- as well as a steady diet of defensive-line play -- until sustaining a broken collarbone in the second game of the season. Spencer was cleared to resume full-contact drills on Monday.
---
Binghamton Press & Sun-Bulletin preview article Saturday 11/22-

Should have seen Forks' success coming

Kevin Stevens
Commentary

Know this about Chenango Forks' football program:
At just about noon on the first of December, 2002, a starting lineup devoid of underclassmen commenced pad-banging against a cast from Harrison High with New York's Class B football championship at stake.
That day's outcome in the Carrier Dome, a 22-21 victory for the lads from Westchester County, turned on a last-play field goal that undid all that went Forks' way -- a 19-9 advantage in first downs, more-than-double time of possession, etc., etc.
Fast-forward to the present, to Forks' perfect record, its No. 1 state ranking, and yet another quest to secure the state title that eluded the program each of the last two seasons.
Step 12 comes Sunday, a 1 p.m. kickoff at the University of Rochester's Fauver Stadium that will set in motion a semifinal contest against Eden High, an Erie County school located 18 miles south of Buffalo that has matched Forks win-for-win.
Who'd-a-thunk-it?
This was not to be THE YEAR for Forks. No, 2002 was to be THE YEAR, and nearly was, but for the 30-yard field goal off the shoe of Harrison's Peter Kohlasch, which split the Dome's uprights and skewered a second consecutive 12-0 Forks season.
Wasn't this supposed to be the season Forks was tugged back to the pack? Shouldn't the Blue Devils, with just three regular contributors per side of the scrimmage line returning, have dipped a little?
Some of us chuckled when the initial state rankings fit Forks in at No. 3 -- no more than a tribute to the 2002 and 2001 squads' collective success, we believed. And when the Devils were elevated to the top spot, the ranking still seemed to some out of touch with reality.
Some of us hadn't taken into account the fact teams come and go, programs sustain excellence.
I asked Kelsey Green, head coach of a program that has won 35 of 37 contests over the last three seasons: Has his staff allowed itself the opportunity to step back and utter a collective, "We've coached our buttocks off this year?"
His matter-of-fact reply: "I know what we've said to each other is, 'We're having a heck of a lot of fun this year.'
"It's the unknown and the excitement of that and watching the kids get better and grow and believe in themselves ... It's been a whole lot of fun."
For Green and the rest of Forks' knowledgeable and devoted brain trust, it is, has been and will continue to be about the teenagers in uniform. It is not that way on all sidelines or benches or dugouts or mats and the like.
At Forks, it is about Joe Babcock, who has so effectively manned the critical fullback and linebacker positions; and about Tim Batty, quarterback, safety, punter, kicker, sometimes game-breaker; and Chris Pease, dependable two-way lineman; and the rest with numbered jerseys who have, to date, refused to let the program regress one solitary step.
Unlike in 2002, when the regular season was a relative formality preceding the state-playoff berth that anyone who knows a counter play from a counter top knew was coming, there have been real tests this time around.
Through each, Forks has passed successfully.
There was the season opener, when Elmira Free Academy's reigning Class A champions paid a visit and boarded the bus afterward having absorbed a 19-0 loss. And Game 2, when Norwich came and went and the Devils' goal line remained uncrossed. And Game 6 at Elmira Notre Dame, when the Devils grew seemingly stronger on their way to 28-21 survival.
Section 4's playoffs started with a 13-7 victory over Whitney Point, continued on to a stunningly simple 35-7 crunching of Norwich, and then it was on to last weekend's state quarterfinal matchup with Westhill High of Syracuse.
Frankly, Westhill may have been the superior squad last Saturday morning in the Dome.
However, with under half-a-minute remaining and with winter-sports season seemingly beckoning, Batty threw a "Take that, critics" 42-yard touchdown pass to Zach Vredenburgh and Forks aced another exam, 12-7.
This squad -- this program -- won't go away.
"Obviously, winning in the last few seconds was a huge thrill for them and those kids should be very proud," said Doug Beetow, coach and director of athletics at Eden High. "It shows the character of that team. That never-quit attitude is probably a reflection of their coaching staff.
" ... I was very impressed with that never-quit attitude. A couple of times in the fourth quarter, it was fourth down, they needed something and they got it."
Forks will, by all accounts, have to play its best football to make it through Sunday afternoon with stainless record intact. Eden features a 2,000-yard running back and plentiful athletes surrounding him.
"It was a very quiet ride home from Rochester," Green said, alluding to the tone of the coaching staff after it had scouted Eden 34, Bath 8.
Forks' football season, extended to a 12th week for a third consecutive season, will end either on Sunday, or a week from today in the Carrier Dome.
Come August of 2004, the program will take to the practice field once again, coming off another Section 4-championship season and with a dozen or so players who were starters the season before to mix together with components up from a heralded junior varsity.
Expectations will be, should be, mountain-top high.
But that will be a challenge for another time.
Dead ahead is Sunday's clash with Eden High's 33.7-points-per-game machine, presumably the toughest test of 2003 for a Forks squad that has come up aces thus far.
---
Buffalo News preview article-

Eden faces mighty 'Forks' on road to title

By KEITH McSHEA
News Sports Reporter
11/22/2003
Doug Beetow has spent quite a bit of time this week at www.forksfootball.com.

The Eden football coach has been learning all about Chenango Forks, a team with so much history it has its own Web site.

"It's pretty impressive," said Beetow, who was even perusing the site during a recent phone interview. "You want to know anything about this team, it's here."

Included is how the Blue Devils, the top-ranked Class B football team in the state, will face fellow 11-0 team Eden in the state semifinals at 1 p.m. Sunday at the University of Rochester's Fauver Stadium. The winner plays for the state championship at 10 a.m. next Saturday in Syracuse's Carrier Dome against either No. 2 Rye (11-0) or No. 4 Peru (11-0), who meet at 3 p.m. today at Kingston's Dietz Stadium.

A few mouse clicks will tell you that Forks - located about 10 miles northeast of Binghamton - has won three straight Section IV titles and has gone 35-2 over the last three seasons, with those two losses coming in the last two Class B state championship games. And that they've had 11 straight winning seasons, haven't lost a regular season game since 2000, and has outscored opponents, 262-83, this season.

"There's a link to every game, and I've seen every statistic," said Beetow. "I don't think they know as much about us as I know about them, but sometimes when you have too much information you start to outthinking things. Our philosophy is we're going to keep doing what got us here. We're playing really good football right now and the kids are having fun."

Eden, ranked third in the state, is appearing in the school's first final four. Last week it rolled to a 34-8 victory over Bath. Bath lost to Forks in the last two state semifinals (28-14 last year and 7-0 in overtime in 2001).

Eighth-year coach Kelsey Green (68-15), a 1970 Forks graduate, and the Blue Devils made it 42 wins in 46 games in dramatic style last week. The Blue Devils came from behind to beat Section III (Syracuse area) champion Westhill, 12-7, as Eden coaches looked on at the Carrier Dome.

With Forks trailing in the final minute, 6-foot, 175-pound quarterback Tim Batty hit fellow junior Zach Vredenburgh for a 42-yard touchdown. Batty, who is also a threat to run, has completed 31 of 69 passes this season for 639 yards while throwing 11 touchdowns and eight interceptions. It was no surprise that the 6-2, 188-pound Vredenburgh was on the other end of last week's big play; he has caught 17 of Batty's passes for 406 yards and eight touchdowns (four in the last three games).

Forks' rushing workload is carried by 6-0, 183-pound senior fullback Joe Babcock (236 carries, 1,230 yards, 10 TDs), who also leads the defense from his linebacker spot. In 22-carry outings the past two weeks, Babcock rushed for 131 yards against Westhill and had 136 yards and two TDs in a 35-7 victory over Norwich in the Section IV final.

"They've got an outstanding quarterback who can run just as well as he can throw," said Beetow. "They've got a big fullback who they've allowed to run a lot more than we see around here, but he's shifty and he can make some moves."

Eden has rolled behind a senior-laden lineup led by running back Keien Williams (2,147 yards), who is coming off a 300-yard game in the Section VI final against Southwestern (48-33) and a 206-yard game versus Bath. Mark Schichtel has been a great second option out of the backfield and a force on defense with Craig Liebler and Kevin Gellerson. Quarterback Charlie Karstedt is also able to make the big play, and the offensive line is surging right along with Williams.

"As a group, they're jelling," said Beetow. "In practice, there are no letdowns, and the kids are having a good time. There's not a negative attitude on the team. Even with the JV kids we brought up - the older kids are leading by such great examples. The younger kids are seeing what it takes to be a champion."

While most of Eden's key players are seniors, Beetow also pointed to how junior reserves like Jeff Kester (linebacker), Dustin Zampogna (running back) and Brian Bove (lineman) have contributed. "Those kids fill in and we really don't lose much."

The community has rallied behind the Raiders, with signs being displayed throughout the town and cheerleaders putting signs on the front yards of players' homes. "Those little things help make it a special season," Beetow said. "From kids to parents to the whole school and the whole town, everyone is wrapped around it."
---
Binghamton Press & Sun-Bulletin Tuesday post-game article-