Binghamton Press & Sun-Bulletin game article-
Forks' late TD pass caps Dome thriller
Vredenburgh's catch vaults Devils to semis
BY KEVIN STEVENS
Press & Sun-Bulletin

SYRACUSE -- Forty-two yards of Carrier Dome turf separated the line of scrimmage from the white stripe Chenango Forks needed to cross to prolong its unbeaten football season. Twenty-five seconds remained in the ballgame.

What, the Blue Devils worry?

Junior quarterback Tim Batty delivered a strike to classmate Zach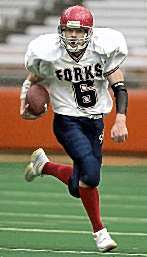 Vredenburgh, who made the reception in stride, just inside the sideline and across the goal line to pull out a 12-7 squeak past Syracuse Westhill in a Class B state quarterfinal Saturday.
The breathtaking pass play finished off an eight-play, 72-yard drive that began with 70 seconds to play, and propelled the 11-0 Blue Devils into the semifinal round for a third consecutive year.
Their next test will come a week from today, at the University of Rochester's Fauver Stadium, where the opponent will be Eden or Bath.
But first, Forks will savor this one. That much, the Blue Devils earned.
The Devils played exquisite defense, even though the stat sheet revealed a monster game for Westhill running back Joe Casey, and despite the fact the Warriors penetrated Forks' 25-yard line on four possessions.
Too, Forks advanced the football in decent fashion, with fullback Joe Babcock rushing for 131 yards in the face of some of the best defense the Blue Devils have encountered during the autumn of 2003. Problem was, the Devils turned it over three times, blunder No. 1 setting up Westhill's first TD.
But in the end, the Devils -- who've made a significant statewide reputation as a running team -- were forced to the forward pass with their season in the balance.
"We run it so much that, even in a passing situation, (Westhill) has played run, played run, played run," Forks coach Kelsey Green said. "So now, they know we're going to throw, but they haven't played throw."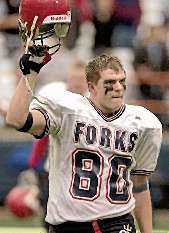 The put-up or pack-up-the-equipment drive started at Forks' 28-yard line following a superb defensive stand capped by Steve Samson's sack of Patrick McAnaney for a 7-yard loss. Westhill punted on fourth-and-24.
The Blue Devils went to work.
Batty hit Jason Chier for 14 yards on second down. Three plays and a Forks penalty later, the Devils faced fourth-and-6 from its 46-yard line, from which point Batty faked a handoff inside, kept around left end and gained 12 yards to Westhill's 42.
Batty then threw incomplete on first down, his pass intended for Ben Farnham falling short.
Next: Trips Right, Speed Right Option Pass.
"I go straight down the field," said 6-foot-2 Vredenburgh, who did just that, zooming past Westhill back Bryan Perry between Perry and Forks' sideline.
"As soon as I saw it up in the air, I thought it was going to come right to me in stride," Vredenburgh said.
Indeed, the picturesque play came off precisely as designed, with Vredenburgh never forced to deviate from his appointed path.
"I saw the ball up there and I was just praying to God, 'Come down with it,' " said linebacker Matt Stephens, one of Forks' captains.
"I just knew Zach would be one-on-one with that kid," said Batty, who with that singular piece of brilliance atoned for two passes picked off by Westhill defenders -- the second an apparent crusher with 2:46 to play in the game. "Zach is as good an athlete as anyone in the state. I knew if I could put it out there, he could go get it."
On Westhill's final possession, Forks escaped -- hearts sharing space with Adam's apples -- when on the second-to-last play, a 47-yard Warriors pass play to the 18-yard line was wiped away by a holding penalty.
The Blue Devils, top-ranked in Class B by the New York State Sports Writers Association, had survived.
"They're quite a crew," Green said of his Devils, three-time reigning Section 4 champions. "They've got a lot of resolve. They believe in themselves."
Forks was forced to call upon every bit of that belief Saturday. In just two other games this season, the Devils trailed an opponent.
Westhill got on the scoreboard 3:29 into the second quarter when, four plays after Forks mishandled a punt reception at its 17-yard line, quarterback McAnaney -- a University of Virginia-bound baseball pitcher -- rushed in from the 8-yard line. Brian Fischer added the PAT kick.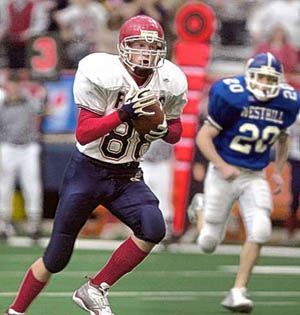 Forks made it a 7-6 game with 1:01 to play in the half on a 41-yard Batty-to-Vredenburgh slice of cake. From a formation the Devils debuted on that third-and-12 play, Vredenburgh made the reception wide open at the 18-yard line and cruised in to finish a seven-play, 78-yard drive.
But Batty, so reliable this season converting PAT kicks, booted one low and the ball caromed high off a Westhill player. The score remained 7-6.
Westhill's second second-half possession ended with back-to-back pass incompletions from Forks' 16-yard line. With just over three minutes to play, Samson sacked McAnaney 3 yards behind the line, forcing Westhill to punt from the Devils' 41-yard line.
But on the very next play, Perry -- the young man later beaten by Vredenburgh -- picked off a pass from Batty to give the Warriors the football at their 41-yard line.
After a 16-yard, first-down gain by Casey -- who closed with 196 on 30 carries, going over 2,000 yards for the season -- Forks tightened.
"We had scoring chances, we were down in their end I don't know how many times," Casey said. "We just didn't capitalize."
Of Forks' last-gasp drive, starting nearly three-quarters of the field from points with 70 seconds remaining, McAnaney said:"I didn't think there was any way, no way at all."
Forks found a way, just as it has in 35 of its last 37 football games.
"We proved ourselves today. I think we proved ourselves, big-time," Stephens said.

All photo's by Kathryn Deuel - Binghamton Press & Sun-Bulletin. For captions place your mouse over the picture.
---
Syracuse Post-Standard game article-

Late pass ends Westhill run

November 16, 2003
By Neil Kerr - Staff writer

With less than one minute left to play Saturday, Section 3 Class B football champion Westhill was clinging to a 7-6 lead over Section 4 champion Chenango Forks in a state quarterfinal game in the Carrier Dome.

All the Warriors needed to do was stop one last-gasp 72-yard drive by the unbeaten Blue Devils. Do that, and Westhill would advance to the state semifinals next weekend in Rochester.

Then it happened.

After advancing to the Westhill 42-yard line, Chenango Forks was facing a second-and-10 situation with no timeouts left. Only 25 seconds remained on the Dome scoreboard clock. Calmly, Forks' junior quarterback Tim Batty faded back to pass. Spotting his favorite receiver, 6-foot-2 tight end Zach Vredenburgh, sprinting down the right sideline, Batty arched his 13th and final pass of the game. The perfect spiral traveled about 40 yards through the air. When it came down, Vredenburgh jumped and outreached smaller Westhill defender Bryan Perry for the ball. Vredenburgh sped the remaining few yards into the end zone for his second touchdown of the game.

There were now 18 seconds on the scoreboard clock, and the Blue Devils led for the first time in the game, 12-7.

That proved decisive as No. 1 state-ranked Chenango Forks (11-0) escaped with a five-point win over the Warriors (8-3).

For the game, Forks' quarterback Batty completed only four of 13 passes for 120 yards - but two of those tosses were caught for touchdowns by Vredenburgh.

It was a frustrating loss for Westhill players, most of whom were teary-eyed at the end of the game.

"I didn't think there was any way we could lose that game going into the final couple of minutes," said McAnaney, who will play baseball at the University of Virginia next year. "Maybe we should have played a little deeper on their last play at the end of the game, but their receiver made a great catch."

Frustrated Westhill coach Pat Burns echoed McAnaney's thoughts. "I thought we had great coverage on their receivers most of the game, including that last drive. Their kid (Vredenburgh) just came up with a great catch at the finish. We wasted too many scoring opportunities," he said.

Earlier, Westhill had taken a 7-0 lead by scoring on its third possession of the game. McAnaney ended that drive with an 8-yard touchdown sprint around left end with 8:31 remaining before halftime.

That lone Warrior scoring drive was actually stopped near midfield, but a lofty fourth-down punt by McAnaney bounced off a Blue Devils receiver and was recovered at the Forks' 17-yard line by Jordan Pollock for Westhill. Four plays later, Westhill scored.

On two other first-half drives, Westhill stalled deep in Chenango Forks territory, at the Blue Devils' 2-yard line and 23-yard line, respectively. Then, in the third period, Westhill marched from its own 20 to the Forks 16, where a fourth-down pass fell incomplete.

Those wasted scoring chances came back to haunt the Warriors in the closing seconds of play. With only 1:08 left in the first half, Chenango Forks closed its deficit to 7-6 when QB Batty found Vredenburgh uncovered over the middle and hit the junior tight end for a 41-yard touchdown toss. Westhill still led 7-6 at intermission when the ensuing PAT kick was blocked.

Westhill fullback Joe Casey led all rushers with 32 carries for 192 yards, finishing his season with a school-record rushing total of 2,097 yards. Only seven athletes in Section 3 history have surpassed 2,000 yards in one season.
---
Binghamton Press & Sun-Bulletin preview article -
Forks awaits unlikely foe
Westhill pulled off surprise to reach quarterfinals
BY KEVIN STEVENS
Press & Sun-Bulletin

For its sixth state playoff start in the Carrier Dome over the last three seasons, Chenango Forks' opponent qualifies as a surprise entrant, certainly not the one forecast by followers of football in and around Onondaga County.

Westhill High of Syracuse will face the top-ranked Blue Devils in a Class B quarterfinal scheduled for a 9:30 a.m. kickoff Saturday.

That is, Westhill, not Solvay, the squad that brought a perfect record and the No. 4 state ranking into Sunday's Section 3 title game.

In the program's first sectional final berth since 1987, the Warriors (8-2) scored the first 20 points and went on to a 20-13 victory that denied Solvay opportunity to avenge last year's quarterfinal loss to Forks (10-0).

On Oct. 10, Solvay romped past the Warriors, 56-28.

"I saw a pretty impressive football team beat another pretty impressive football team," Blue Devils coach Kelsey Green said of his scouting mission. "Solvay had been talked about as the class up there all year long."

Seven Forks opponents this season have failed to put an eighth point on the scoreboard. If the Devils are to improve upon that figure, they'll have to contain Warriors running back Joe Casey, whose 30 rushes against Solvay went for 163 yards and two touchdowns.

In 10 games, Casey has carried the football 208 times for 1,905 yards and scored 200-plus points.

"He's got a combination of a lot of power, cut-back ability and really good quickness," Green said. "They'll give him the football or play-action fake off him."

Senior southpaw Pat McAnaney is at the controls of a Westhill offense that brought a 40.2-per-game scoring average into November. He has completed 57 of 115 passes this season for 967 yards.

The Warriors' 5-3 defense ran into a Solvay team featuring a quartet of ball carriers that had teamed for 3,700-plus rushing yards through nine games -- and limited that group to 64 yards on 34 carries.

"We knew of Solvay's foot speed, but that didn't seem to be a factor -- which makes you a little nervous," Green said. "Their defense seems to get to the football in large numbers."

Forks has been held short of a 28-point total once in its last five ballgames, its 25-per-game clip for the season rooted primarily in a running game that has generated an average of 223.9 yards.

Fullback Joe Babcock's six triple-figures rushing performances include a 136-yard night in last Friday's victory over Norwich, which brought the Blue Devils their third consecutive Section 4 championship.

Green is inclined to dismiss any perceived advantage based on state playoff experience, despite Forks' recent resume stacked against a Westhill program that carries Section 3's banner into state playoffs for the first time.

"It'd be nice if it had some kind of impact on the opponents," Green said. "But I can think back two years ago, and we didn't think much about that."

Too, Green noted, Westhill's cast has showed no signs of intimidation of late. Two of the Warriors' playoff victories have come against unbeaten opponents.
---
Syracuse Post-Standard preview article-

Westhill comes to a Forks in the title road

The Warriors meet the top-ranked Blue Devils in a state Class B quarterfinal.

November 14, 2003

By Neil Kerr
Staff writer

For the fourth consecutive weekend, Westhill High's Section 3 Class B champion football team (8-2) occupies the role of underdog as it prepares for another playoff game.

This time, coach Pat Burns' No. 8 state-ranked Warriors will take on No. 1 Chenango Forks (10-0) of Section 4 in a state quarterfinal contest at 9:30 a.m. Saturday in the Carrier Dome.

As in recent outings against Cazenovia, Holland Patent and Solvay, Westhill relishes its role.

"I'm glad we're the underdog again," Burns said. "With people always picking the other team to win, it just gives us even more motivation to keep our season going. I don't think we've played our best game yet. Hopefully, that will happen Saturday."

It's quite possible that Westhill will need to play its best game of the season in order to advance to next week's state semifinals vs. either Bath-5 (9-1) or Eden-6 (10-0) at Fauver Stadium in Rochester. Unbeaten Chenango Forks was the state Class B runner-up last fall and is aiming to improve upon that finish.

The Blue Devils, who have won 34 straight games against Section 4 opponents, have outscored their 10 foes this autumn by a 250-76 margin. Last Friday, Chenango Forks trounced Norwich 35-7 to win its third straight sectional title.

"They execute very well, they seldom make mistakes, and they're big up front defensively," said Burns after watching the Section 4 Class B title game. "We'll need to play error-free football to beat that team."

To thwart Westhill's upset bid, coach Kelsey Green's Blue Devils will again count heavily on the prowess of its two 6-foot backfield standouts, 185-pound fullback Joe Babcock and versatile 175-pound junior quarterback Tim Batty.

Babcock, who has carried the ball 214 times for 1,099 yards (5.1 average) and 10 touchdowns, is Chenango Forks' primary workhorse. Babcock rushed 22 times for 136 yards and tallied two touchdowns in the win over Norwich.

Though the Blue Devils throw sparingly, signalcaller Batty has connected on 27-of-56 pass attempts for 520 yards and nine touchdowns. Against Norwich, Batty completed 4 of only 5 passes for 100 yards and one touchdown. His favorite target is 6-2 tight end Zach Vredenburgh, who has caught 14 passes for 301 yards and six touchdowns.

Defensively, linebacker Babcock heads a stingy Forks' platoon that has allowed just over one touchdown per game.

If Westhill is to achieve a fourth straight playoff win, the Warriors will again need an outstanding performance from 5-10, 195-pound fullback Joe Casey.

Casey, who has rushed 208 times for 1,905 yards (9.1 average) this season, last week gained 183 yards and scored two touchdowns in the 20-13 upset of unbeaten Solvay. Key blockers for Casey include Jamie Paussa (6-2, 235) and Steve Nigolian (6-1, 225).

Westhill will also need backfield efforts from senior southpaw quarterback Pat McAnaney and 5-5 senior halfback Mark Zimmerman. McAnaney, an all-state baseball pitcher who will play baseball with scholarship help for the University of Virginia next year, has completed 57 of 115 passes for 967 yards.

McAnaney distributes the ball to numerous receivers, starting with Brian DeCarr, Adam Quinn, Jordan Pollock, Micah Coger, halfback Zimmerman, and fullback Casey.

The Warriors defense, featuring linebackers Pat Cassidy, Nigolian and Justin Kurtz, plus the forward wall of Kyle Lighton, Brian Fischer, Paussa, Micah Coger, Ian Grinnals and Mike Epstein, has been improving steadily. During their three playoff wins, that Warriors defense allowed just six points to unbeaten Cazenovia, 12 to Holland Patent and then 13 to undefeated Solvay.
---
Binghamton Press & Sun-Bulletin Tuesday post-game article-
Key defensive stops provided Chenango Forks chance at victory
BY STAFF REPORTS
Remembered most vividly will be the game-turning touchdown, a marvelously executed 42-yard pass play from Tim Batty to Zach Vredenburgh that decided Chenango Forks' 12-7 victory over Westhill High of Syracuse on Saturday.
But it was defense, two possessions worth of absolutely necessary, save-the-season defense that put the top-ranked Blue Devils in position to have a crack at pulling out a win in the Class B state football quarterfinal in the Carrier Dome.
What the defense did was give its offensive mates an opportunity to be the stars, to secure a berth in Sunday's semifinal round at 1 p.m. against Section 6's Eden at the University of Rochester's Fauver Stadium.
Forks trailed, 7-6, when its fourth-and-9 play from Westhill's 37-yard line went sour as quarterback Tim Batty was felled for a 7-yard loss. The football was turned over to Westhill with 6:12 to play.
The Blue Devils (11-0) surrendered one first down, courtesy of Joe Casey's 10-yard, third-down gain to Forks' 40-yard line. Thereafter, Devils defenders stopped Justin Kurtz for no gain, tackled Casey after a 2-yard pick-up, and then Steve Samson tripped up quarterback Pat McAnaney for a 3-yard loss on third down.
Forks took over after McAnaney's pooch punt at its 28-yard line.
But, in what seemed at the time perhaps the play that squashed Forks' season, Batty was intercepted on first down, setting up the Warriors at their 41-yard line.
Westhill's Casey gained 16 yards on first down. But, as its has done so frequently over a three-season stretch of dominance, the Devils' defense rose.
Casey rushed for 3 yards, then the Warriors were backed up 5 by a penalty. On second-and-12, Casey was gang-tackled 5 yards behind the line. On third down from midfield, Forks' Samson dumped McAnaney 7 yards deep in the backfield, and the Devils had another chance after taking possession following a punt at their 28-yard line with 1:10 to play.
"We played good defense all day, although the stats probably aren't going to show that," Blue Devils coach Kelsey Green said.
Indeed, the numbers showed 195-pound bull Casey rushing 30 times for 196 yards, and his team hitting up Forks for a 231-yard total on the ground.
Green's opinion of Casey? "By far, the best (running back) we've seen this year -- and second place is not close," he said.
But the defense made it possible for Forks to, out of necessity, ride the passing game to victory.
Through 10 games, Forks had rushed for 2,239 yards, passed for 520.
In the 11th contest, when it mattered most, the passing game saved the day.
A Batty-to-Jason Chier pass play of 14 yards kept the winning drive alive, and the stunning 42-yard TD pass from Batty to Vredenburgh gave Forks its 35th victory in its last 37 starts.
"We definitely have kids who can catch the football," Green said. "Vredenburgh is the one everybody thinks about, (but) you saw Nick Tarnowski last week (against Norwich), and our two little halfbacks -- (Ben) Farnham and Chier -- catch anything near them.
"So, we've got four kids who can really catch the ball. If Timmy gets his chance to get his feet on the ground ... I mean, they just pressured the living hell out of him, but if he does get a chance, he usually does make pretty good decisions."
It was a 41-yard Batty-to-Vredenburgh TD pass that put Forks on the board initially, with 61 seconds to play in the first half. Credit Forks' offensive brain trust for that one, devising something that left Vredenburgh alone in the middle of the field.
"We just moved formation thinking we'd get a matchup -- and we did," Green said. "It worked better than we thought. We had never showed that formation."
Said Vredenburgh, whose three receptions went for a 35-yards-per-catch average and two TDs:"We thought there'd be a linebacker covering me, but the linebacker never adjusted."
Batty, afforded little time to throw the football much of the day, was recipient of plenty of time on the game's decisive play.
"Our blocking really came together," he said. "We had times during the game where they got a good rush, but on that play, they really sucked it up and blocked it well."