Binghamton Press & Sun-Bulletin game article #1 (Front page)-

Forks Wins!

Blue Devils defeat Rye, 16-0, for state Class B football title

BY SCOTT ROCKEFELLER
Press & Sun-Bulletin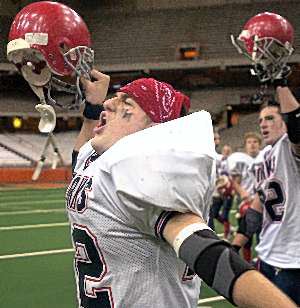 CHENANGO FORKS -- Within minutes of Chenango Forks' victory in Saturday's state Class B title football game, Al Gelder knew about it. The pastor at Valley Christian Reformed Church on River Road quickly concocted a message for the church's front sign: "Chenango Forks State Champions! Rye Is Really Toast!"

"When something great is going on at the school, we want to be a part of it," Gelder said. "This is something to welcome them home with."

For the third time in as many years, the Blue Devils advanced to the state finals. Saturday's 16-0 win over Rye marked the team's first victory in the last three attempts.

About an hour after the victory, word had spread through the town. A congratulations sign went up at Davy's Last Chance Saloon and a few trucks on Route 12 sported messages announcing the triumph.

Greene resident Donnie Starr savored the victory over a cold can of Budweiser. Starr grew up in Chenango Forks and has a sister who works for the school district.

"I guess the third time was a charm for these guys," he said. "New York state champions -- perfect."

Patrons at Davy's said the phone started ringing after Forks erased a 0-0 tie with a field goal in the third quarter. Periodic reports from the legion of Forks enthusiasts who traveled to the Carrier Dome in Syracuse kept fans well informed, even though they were more than 60 miles away from the action.

Bill O'Neil said he was thrilled with the victory, even though he lives in Binghamton. O'Neil, who had just finished hunting, has been a Forks football fan for a quarter-century.

"To be there three years in a row is something in itself," he said. "But to win is just great."

By 2:30 p.m., about half an hour before the team arrived at the school, parents and fans began to gather in the parking lot. The biting wind couldn't remove the smiles from their faces.

April and Steve Lucas were all thrills after the game, even though their son Craig was injured and did not play. Dressed in matching blue and red Forks sweat shirts, the proud parents recalled two previous trips home that didn't feel quite the same.

"After two years of losing it, they deserve this," Steve Lucas said.

"Fantastic," April Lucas added.

As players arrived on two buses, they were greeted by a chorus of honking horns and loud screams. Players hopped off the buses to greet friends and relatives, some grabbing bags of equipment, others throwing snowballs.

Junior linebacker Matt Stephens sat down in the school cafeteria to soak in the excitement. Stephens, whose interception set up Forks' final touchdown, compared this year's bus ride home to the previous two.

"This is so much better," he said. "It's amazing."
---
Binghamton Press & Sun-Bulletin game article #2 (sports front page)-

Perfect end for Forks
Batty leads Blue Devils to first title
BY STEVE WALENTIK
Press & Sun-Bulletin

SYRACUSE -- Call them patient, methodical, maybe even a bit dull.

They are traits the boys from Chenango Forks forged through three consecutive trips to the Class B state football championship game. The Blue Devils wait for opportunities, and they take advantage.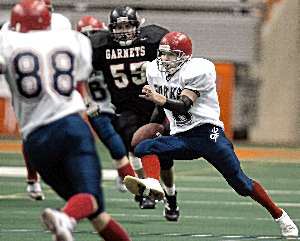 With two fourth-quarter turnovers Saturday in the Carrier Dome, Rye provided the opportunities. Forks quarterback Tim Batty took advantage, throwing for one touchdown and running for another in a 16-0 victory as the Blue Devils claimed the school's first state championship.
"Mistakes in this type of game, a 0-0 game, usually determine the winner and the loser," Forks coach Kelsey Green said. "Fortunately for us, we didn't make the big ones, and we were able to capitalize on a couple of their mistakes."
The Blue Devils' patience might have been wearing thin after 36 minutes in which both teams drove deep into opposing territory only to come up short of the end zone.
On Forks' final third-quarter charge down the field, Green opted to try a field goal from 36 yards away -- no sure thing -- rather than risk coming up empty again, on a fourth-and-8 from 19. The coach's confidence in his kicker was rewarded as Batty drilled the ball inside the left upright to give the Blue Devils the lead, 3-0.
"I didn't think three was enough, but I'd take three over zero," Green said. "I knew zero wasn't enough. It was big getting on the board."
But Forks (13-0) was still waiting for a break when the final seconds ticked off the clock in the third quarter. One play later, the wait was over.
The Garnets (12-1) faced fourth-and-5 from their 45 when the final period began. They looked to draw the Blue Devils offside before switching to a quick-kick formation just before the snap. Quarterback John Niehaus was supposed to take the ball from his center and pitch it back to running back Steve Ramsey to punt the ball away.
Niehaus pulled out from under his center before securing the ball, and Forks sophomore Matt Faughnan recovered the fumble.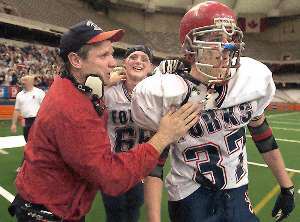 Fullback Joe Babcock, who ran for 107 yards, broke loose for a 17-yard run down to the Rye 26. Two plays later, Batty hit Zach Vredenburgh on a quick slant across the middle, and he dodged a pair of defenders, got a block from Jon Florance, and coasted into the end zone for a 23-yard score. Forks led 9-0 with 8:58 left.
"They were bringing a lot of guys at us," Vredenburgh said. "Mr. Green had me run a sneak across the middle and there was no one there."
The Garnets never got a chance to recover. On the first play of the ensuing drive, linebacker Matt Stephens intercepted Niehaus at the Rye 30-yard line and returned the ball to the 11.
Four plays later, Batty, running behind the right side of his offensive line, forced his way into the end zone from 2 yards out to make it a 16-0 game.
That was more than enough for a Forks defense that yielded just 211 yards to Rye.
The Garnets gained 61 of those yards on the opening drive as Rye attacked Forks' left flank with a series of sweeps. But the Blue Devils managed to cut off those running lanes in time to stop the Garnets at the 19-yard line, where they took over on downs.
The Garnets reached the 20 only once more, with 10 seconds left in the opening half. Niehaus tried to connect with Patrick Bassett in the corner of the end zone, but the receiver was called for offensive pass interference, a 15-yard penalty that pushed Rye back to the 35.
On the final play of the half, Babcock sacked Niehaus for a 10-yard loss.
Forks didn't make much headway against Rye's defense either. The Blue Devils' opening series stalled at the 10-yard line where Batty missed a 27-yard field goal wide to the left.
The Blue Devils then punted on their next three possessions until Batty connected on the 36-yard field goal in the third quarter.
"Most of the game was just, you know ... A lot of people might call it boring -- but I like it," Green said. "Tough-nosed, hard-nosed, we've got those kinds of kids. They take pride in that so that's what we do with them."

All above photos by Thomas Labarbera - Binghamton Press & Sun-Bulletin. For captions place your mouse over the picture.
---
Binghamton Press & Sun-Bulletin game article #3 (sports page)-

Stevens: Fittingly, defense the difference
Kevin Stevens - commentary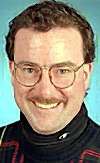 SYRACUSE -- How perfectly apropos, as Chenango Forks stood facemask-to-facemask with state football-championship opportunity once again, that the deal was slammed with defense.
Defense, which tends to be lauded the least.
Defense, the centerpiece of 37 victories in 39 starts over the last three seasons of Blue Devil dominance.
Think the Garnets of Rye High School wouldn't have liked their chances had they peered into a crystal ball and seen a 16-point total attached to Forks when the final horn sounded? Here was a quick, balanced and talented crew from Westchester County that had more than doubled that figure in each of its state playoff games, a team that had rung up a 32.8-per-game average through a 12-game win streak.
"We've never been shut out," said Rye coach Dino Garr. "If we don't score, that's a great job defensively."
Chenango Forks 16, Rye 0 was how the Class B championship contest ended early Saturday afternoon in the Carrier Dome, the same building Forks players exited each of the previous two seasons second-best on the scoreboard.
But see, if Rye doesn't produce a point, the Blue Devils don't leave the Dome chins-to-chest lamenting what might have been for a third consecutive autumn.
And so, they defended.
It was a defense that took a wee bit of time to acclimate itself to all that Rye's offense presented. The Garnets' opening play from scrimmage went for a how-do-you-do 23-yard gain. In fact, three of the Section 1 champions' first six plays went for gains of 9 yards or better.
But that opening possession did a screeching stop after reaching the Blue Devils' 19-yard line. On second down, linebacker Matt Stephens met Eddie Urso at the line for no gain. On third down, cornerback Ben Farnham tipped away a pass at about the 5-yard line. On fourth down, teamwork in the secondary was the root of a pass incompletion that put the football in Forks' possession with 3:25 elapsed.
As for the remaining 44:35 worth of game clock?
Rye didn't penetrate the Blue Devils' 20-yard line.
In fact, after the first half expired with nary a point scored, Garnets quarterback John Niehaus failed to accept a snap from center beyond Forks' 40-yard line. The one time Rye did set up at the 40, Niehaus muffed the exchange from center, junior tackle Alex Williams recovered, and Forks was on its way to a field goal and the only points it would need to head off the most frustrating of three-peats.
Forks contributors were many on the defensive side, diminutive cornerback Jason Chier most certainly among them.
There was Chier, lunging forward to take out Urso's legs on a third-and-one play from Forks' 30 in the second quarter. A play later, the Blue Devils forced a fumble and took possession near midfield.
On a third-and-1 play from just inside Forks' 40 late in the second quarter, Chier -- 5-foot-8 and 167 pounds, or so the roster indicates, -- walloped Urso near the sideline on the tail end of a 5-yard pass reception. It was, no doubt, THE HIT of this title game.
And on the final play of the first half, with Rye at the 35-yard line, linebacker Joe Babcock charged through the middle and decked Niehaus for a deflating 10-yard loss.
On the final play of the third quarter, Chier -- there's that name again -- tripped up Steve Ramsey after a 1-yard gain on third-and-4 -- leaving the Devils to recover a telltale fumble on the very next play.
One play after a Tim Batty-to-Zach Vredenburgh pass play went for 23 yards and six points to make it 9-0, Williams smacked Niehaus low just as the quarterback was releasing a pass, Stephens intercepted and returned to a point just shy of Rye's 10-yard line.
Four plays later, Batty lowered his left shoulder and muscled over the goal line on a sneak, added the PAT kick, and Forks led by a margin you just knew was as safe as Fort Knox.
This superb defensive unit trotted jubilantly off the field for one final time at 11:46 a.m., after officials' measurement revealed that Niehaus' last pass was just short of first-down yardage with 4:48 remaining.
The Devils had done it, won the big one that had squirted away the last two years, and had done so with an exclamation point.
Now, 13th and final test passed, state title tucked away, the defense rests.
"The shutout is great, but as long as it's a 'W' no matter what the score was, it's the best feeling in the world," Babcock said.
"It means a lot to us," said two-way end Vredenburgh. "Our defense is the strong point of the team, it gets everything going. Today, we just played our best game of the year defensively, that's how we won it."
"That's our strength, that's what carried us," Forks coach Kelsey Green said. "We wouldn't be here today without that defense. To shut Rye out after watching them three games, knowing what kind of kids they have, I would have never expected to be able to do that."
Oh, about 13-0 and the championship of New York's Class B lot:Who in their right mind might have anticipated that, after 25 members of last season's 12-1 state runners-up accepted diplomas last June?
Forks' players, that's who.
"I don't think anyone expected us to even make it to our own divisional playoff," Chier said. "They thought we were going to be, like, a 5-4 or 6-3 team. We just proved everybody wrong. That's what we came out to do all year, prove everybody wrong every game.
"We showed them today."
Showed their coaches, too.
"I'll tell you, if (people) walked in the locker room and looked at them, they'd still want to know where the varsity was," Green said. "I mean, they're little, tough-nosed ... But they had an inner belief the whole time. They did. They were the ones that, from Day 1, thought they were coming here. Honest to God, they thought they were coming here.
"We just got on the wagon and rode them. 'Yeah, OK, take us.'
"And they did."
---
Binghamton Press & Sun-Bulletin game article #4 (sports page)-

Batty's poise bodes well for Forks
BY STEVE WALENTIK
Press & Sun-Bulletin

SYRACUSE -- Moments after guiding Chenango Forks to its first state football championship, quarterback Tim Batty was asked how he planned to celebrate the accomplishment.

"Probably go home and take a nap," the junior replied.

Batty wasn't wound up at 12:15 Saturday afternoon with a 16-0 state final victory secured, and he wasn't jittery some two hours earlier as Forks looked to stop a string at two consecutive state championship defeats.

The quarterback's steady play as much as anything was the reason for Forks finally finishing first. Batty had a hand -- or foot -- in every point the Blue Devils scored, throwing for one touchdown, running for another and kicking a 36-yard field goal and a point-after touchdown.

"He didn't get a chance to play a whole lot as a sophomore at quarterback," Forks coach Kelsey Green said of Batty. "He played a lot of other spots, but now it's his offense and he runs it. If there's not something there, then he makes something. That's the beauty of him."

As a runner, Batty is the perfect complement to fullback Joe Babcock pounding the ball between the tackles. He is fast enough to turn the corner and elusive in the open field.

But Batty's value is not limited to options and sneaks. On pass plays, he seldom forces the ball into risky spots and can create first downs by scrambling against blanket coverage.

And if he comes up short of the marker, so be it.

"We try to be, and everybody does, but we really pride ourselves in not making mistakes with the football, and (Saturday) we were able to do that," Green said after his team played a turnover-free game. "That's No. 1. We've got to secure the ball, and if we've got to punt it, we punt it because we know we can play pretty good defense."

Forks' defense managed to rattle Batty's quarterbacking counterpart in the second half Saturday afternoon.

John Niehaus, an A-student with an eye on the Ivy League next fall, looked perfectly poised through the first 24 minutes of play. He picked apart the Blue Devils for 53 passing yards on the final drive of the first half.

He may have even gotten Rye into the end zone had receiver Patrick Bassett not been called for offensive pass interference.

But the strong-armed senior had a rougher go in the second half as the Blue Devils picked up their pass rush.

"We just had to get more pressure on him," Forks linebacker Alex Williams said. "Once we started getting pressure, he got a little frazzled in the pocket, and things started happening."

He fumbled a pair of snaps, and Forks took advantage, building a 9-0 lead.

Later in the fourth quarter with Williams baring down on him, Niehaus threw the ball up for grabs, and Matt Stephens intercepted it to set up Forks' final score.

"We knew we couldn't make mistakes, and we did make mistakes (Saturday)," Niehaus said. "We hurt ourselves a lot. We felt if we played our own game, we would win. I still believe that. But obviously didn't play our game today, and Chenango Forks came out on top."
---
Binghamton Press & Sun-Bulletin game article #5 (sports page)-

Notebook: Self discipline benefits Forks' 'B' title quest
BY STAFF REPORTS

SYRACUSE -- Add discipline and intelligence to all the rest that went into Chenango Forks' 16-0 victory over Rye on Saturday that gave the Blue Devils the Class B state football championship.

Chenango Forks played penalty-free football until -- with 5:40 remaining and all 16 points on the board -- nose guard Chris Pease was called for a perfectly harmless encroachment infraction.

Forks' two penalties thereafter were for delay of game, while taking time substituting with 19 seconds to play, and immediately thereafter for an illegal conference.

"Yeah, I didn't call a timeout," Forks coach Kelsey Green said. "Maybe they'll dock it out of my pay."

"We've been that way most all year," Green added. "In the Chenango Valley game, the second half, we had a bunch of penalties and we addressed that then-- in a way they probably remember still."

Rye's five penalties went for 55 yards.

BIG-PLAY 'D'

That Chenango Forks' defense turned in a fabulous effort was evident on the scoreboard upon completion of play. That the defense performed best in big-play situations was revealed on the stat sheet.

Rye converted three of nine times on third down, and was 0-for-4 in fourth-down attempts.

"It seems like every time we got a third- or fourth-and-short, we never got it, and they were able to come up with a big play," Garnets coach Dino Garr said. " ... That's what this game is. You've got to make the third-down and fourth-down plays. They did on defense."

Rye quarterback John Niehaus, asked if Forks' was the best defense his team faced this season, replied: "Absolutely.

"All the pressure they put on you, and we were really surprised by their team speed. We saw them on tape, and we looked at the roster, and we knew they were going to be big. But they slanted hard to our strength. Early in the year, we could get outside, but they flew to the ball."

THE PERFECT FINISH

Forks fullback/linebacker Joe Babcock, on what 13-0 means to him and his teammates:

"That we're the best in the state. No one, in the beginning, thought we could do it. The coaches believed in us, we believed in ourselves from the start. Since then, we just pecked away, pecked away, got to where we wanted to be-- and played a great game."

THE NUMBERS SHOW ...

A statistical review of Chenango Forks' championship season:

* Three opponents -- Oneonta (14 in Week 3), Elmira Notre Dame (21 in Week 6) and Bainbridge-Guilford/Afton (14 in Week 8) scored two-digit totals.

* The finale brought the Devils' fourth shutout of the season, but the first since a 17-0 victory at Dryden in Week 5.

"This team is a very good team, they hit hard. We came out, hit 'em harder and shut 'em out," said cornerback Jason Chier.

* Rye's 107 rushing yards represented the second-lowest total by a Forks opponent since the start of Section 4's playoffs.

* The Blue Devils completed their state-playoff sweep despite scoring 19 or fewer points in all three games. For the season, they were held short of 20 in seven games.

* Babcock's game-high 107 rushing yards brought him to a 1,396-yard season total. He had 100 or better in eight games, with a season-high 154 in the regular-season finale against Bainbridge-Guilford/Afton.

-- Compiled by KEVIN STEVENS
---
Westchester Journal News game article #1-

Class B state championship:
Chenango Forks (Section 4) defeats Rye 16-0
By KEVIN DEVANEY JR.
THE JOURNAL NEWS
(Original publication: November 30, 2003)
SYRACUSE — It was as if the previous 12 games had never happened. Rye had been so sturdy all season, spreading out the offense and beating teams with efficiency and overwhelming pressure.
But the crispness that got the Garnets to this point crumbled at the worst possible time.
Rye turned the ball over seven times, including four on downs, and lost 16-0 to an efficient and opportunistic Chenango Forks team in the Class B state final at the Carrier Dome in Syracuse.
"We didn't play our game today," senior quarterback John Niehaus said. "If we did, we win this game. You just can't expect to win when you make that many mistakes."
The Section 4 Blue Devils finally were able to claim their first state title after losing the previous two seasons, including a last-second defeat to Harrison.
Every tool the Garnets (12-1) used to disassemble teams in getting to this point was stripped from their grips and used against them. Rye had frustrated opponents with its ability to convert first downs, force turnovers and relentless pressure.
Chenango Forks turned the tables yesterday. It made 8 of 15 third-down conversions and went 2 for 2 on fourth down. The Blue Devils went into the fourth quarter ahead 3-0 on a 36-yard Tim Batty field nine minutes into the third.
Facing a fourth-and-seven at midfield on the ensuing drive, the Garnets set up in their usual quick-kick punt formation. The play is designed for Niehaus to take the snap, and pitch it back to fullback Steve Ramsey who would then punt the ball away.
But Niehaus fumbled the exchange. Chenango Forks took over the Rye 44.
On the Blue Devils' possession, Batty scrambled 17 yards on a third-and-9 to keep the series going. Three plays later, Rye again came with a blitz and Batty was able to get the ball over the middle to tight end Zach Vredenburgh who followed a block and went untouched into the end zone for a 23-yard score.
"Their defense did everything right," Blue Devils coach Kelsey Green said. "After Zach's scramble, we were able to score a touchdown. That was huge."
Things only got worse on the Garnets' next possession. Niehaus threw an interception on first down, which Matt Stephens returned to 18-yards to the Rye 10. On fourth and inches on the 1, Batty kept it and wiggled his way into the end zone to seal it with 6:59 left.
"We made too many mistakes," senior running back Eddie Urso said. "We fumbled twice and we couldn't convert on fourth down. I tripped on one way play and the kid intercepted it and ran back to the 10-yard line. Nothing was really going our way."
That was the theme for the entire game, starting our with the Garnets driving 61 yards into the red zone only to turn the ball over on downs.
"I think if we could have scored there, it would have set the tone for us right away," Rye coach Dino Garr said. "We weren't able to get that and it hurt us."
In the second half, the Blue Devils started coming at Niehaus from all angles, sacking him twice and hurrying him on every pass. The pressure disrupted everything. The Garnets ground game never got going in the second half and was limited to a season-low 107 yards for the game.
"It just wasn't our day to win," senior lineman Bill Kindler said. "We had the fumbles and lost the ball and then the interception. And we couldn't get things going offense. They caught the breaks and we didn't."
The Garnets had one of the most balanced attacks this season, coming in with an average of 331.5 yards per game, tops in the area. They were held to just 211 for the game.
That element was sorely missed yesterday. The Garnets did make a last ditch effort with just under five minutes to play. But on fourth-and-seven, Niehaus found Kevin Baine over the middle, but they came up inches short.
"Inches are what football is all about," said Niehaus, who went 9 of 13 for 104 yards passing. "There were a couple for short-yardage plays that they made and we didn't. That was the difference in the game."
---
Westchester Journal News game article #2-

Class B state championship: Hobbled Garnets, Urso come up short in title game
By JOSH THOMSON
THE JOURNAL NEWS
(Original publication: November 30, 2003)
SYRACUSE — The play was a simple sweep right, on the first play of Rye's second drive of the third quarter. With his team trailing 3-0, Eddie Urso gained 4 yards before being tackled near the Garnets' sideline. This time, the senior didn't hop to his feet and jog back to the huddle as he had on nearly 200 prior carries this season. His valuable legs, which led Rye this season with 1,308 yards rushing, had cramped. The sensation was severe.
"I've never felt that much pain in my life," Urso said.
Fighting the feeling, he reappeared on the field to return a kickoff in the fourth quarter of the Garnets' 16-0 defeat to Chenango Forks in yesterday's Class B state championship. But the earlier cramp-inducing carry ended up being his last of the game, the last of his season, and the last of his career.
Naturally, Urso was saddened by the loss and frustrated by injuries that seemed to mount as the playoffs drew on. Constant banging on the turf during last weekend's state semifinals at Dietz Stadium in Kingston bruised the running back's left knee. He had also been hobbled by a bone bruise in his right foot — a condition Garr compared to turf toe.
"It's been a long haul. Eddie's been struggling (with injuries), but he's been a trooper," Rye coach Dino Garr said. "It's survival out here, and we were hoping to get one more game out of him. He gave us all he had and that's terrific."
Urso's final numbers for the game were 48 yards on 12 carries, but the ever-increasing string of injuries that riddled his 5-foot-10, 190-pound body made those yards much more difficult to come by.
"We've had a long run here. Anyone's going to get worn down after a while, but he's a warrior so he kept battling," said senior running back Will Donahue, the Garnets second-leading rusher who ran for 42 yards to finish with 830 on the season. "They had a strong defense and they kept pounding him. He kept bouncing back, but it was just hard to get in the box on this defense. He did it all year and he was just getting worn down by the end."
Cramps had bothered Urso earlier in the season in a game against Edgemont, but this time it was different.
"My calves were really tight," he said. "It was really painful. Both my calves really buckled and I was kind of limping. I tried to straighten them out, but they were hurtin'.
"I think I ran pretty well today," he added, "but what can you do?"
---
Westchester Journal News game article #3 (edited)-

Simply put, one team executed, the other didn't
By RICK CARPINIELLO

(Original publication: November 30, 2003)
Note- this article talked extensively about the New Rochelle/Webster game. That content was edited out. - Mike

Rye High's joy was melancholy. The Garnets made mistakes, didn't look their sharpest, seemed to labor on offense, and did so against a very solid team.
When the game was over, a half dozen of the Garnets' many seniors who have been together for so long, some since eighth grade, kneeled at midfield long after their teammates had gone inside. They just wanted to stay out there together as long as they could, for the last time.
"Sure, it stinks to lose,'' Billy Kindler said, "but I'm not as upset that we lost than to think that football's over and I'll probably never get to play again.''
There were tears in their eyes, especially those of classy quarterback John Niehaus, who took the blame — some of which could easily have been shared — on himself.
The Garnets and coach Dino Garr are in love with a little sweep-and-swap play in which Niehaus hands off to running back Eddie Urso, then gets it back and throws a pass. But when they did it on fourth-and-one, it was stuffed, Niehaus fumbled and Chenango Forks gained 21 yards on the recovery.
That one didn't kill Rye, which still went into the halftime locker room at 0-0.
The one that hurt, though, came in the third quarter, with Chenango Forks up 3-0.
Rye faced a fourth-and-five. It lined up for a play, called time, and then lined up for another play. The Garnets shifted into a quick-kick formation, for a play on which Niehaus was to take the snap and pitch it back to the punter. Rye didn't simply go out and punt because long snapper Kevin Blaine had a shoulder separation, and regular punter Urso was on the sideline with leg cramps.
Niehaus fumbled the snap, and all the machinations made what should have been a simple play look awfully complex and unnecessary. Sure enough, Chenango Forks took it right in for a 26-yard touchdown, and when Niehaus, under physical pressure all day, was hit as he released his next pass — Urso had fallen down — it was picked off and returned to the Rye 10. Just like that, 3-0 went to 16-0, and it was time to stick a Chenango Fork in Rye.
Both Garr and Niehaus said that the snap counts, particularly in spread and punt formations, were difficult because of the noise in the Carrier Dome, and that the noise may have contributed to Niehaus' lost snap on the quick kick. Rye also took a couple of costly, if questionable, pass-interference penalties.
Rye's difficulties made New Rochelle's victory look even more efficient than it was, even if the game had to be held up for half an hour because three of the four buses carrying New Rochelle and Webster Schroeder players couldn't make it up the snow-covered hill to the stadium.
Hey, not everything was simple for the Huguenots.
---
Associated Press/Syracuse.com game article-

Batty leads Chenango Forks over Rye 16-0 for state title

The Associated Press
11/29/2003, 2:01 p.m. ET

SYRACUSE, N.Y. (AP) -- Tim Batty threw for one touchdown, ran for another and kicked a 36-yard field goal to lead the Chenango Forks Blue Devils to a 16-0 win over the Rye Garnets on Saturday for the NYSPHSAA Class-B football title.
Chenango Forks gave up yards grudgingly to a high-powered Rye offense, keeping the game scoreless through the first half.
Batty's field goal came with 4:35 left in the third quarter. That capped a 10-play, 40-yard drive set up by a fumble recovery by Alex Williams.
"I knew if our defense came through that our offense would eventually put points on the board," said Batty, named most valuable player.
"Our defense has carried us all year long," Chenango Forks head coach Kelsey Green said. "Our offense has been a group that has been opportunistic and put up points when they had to."
Batty engineered the first touchdown drive from the 43-yard line after Rye quarterback John Niehaus fumbled the snap on a fourth and four at the start of the fourth quarter. Six plays later, under a heavy rush, Batty hit tight end Zach Vredenburgh with a pass over the middle.
On Rye's next possession, Niehaus dropped back to pass on first down at his own 25-yard line. His receiver fell down and cornerback Matt Stephens intercepted returning the ball to the 10. On fourth and inches, the Blue Devils' offense line made a big push allowing Batty to score on a quarterback sneak.
Blue Devils fullback Joe Babcock ran 28 times for 107 yards.
On Rye's opening drive in the first half, Chenango Forks safety Ben Farnham knocked down a likely touchdown pass intended for Kevin Baine on third down near the five-yard line. The Rye drive stalled at the Chenango Forks 20.
The Blue Devils then drove to the Rye 10 but Batty missed a 27-yard field goal.
Late in the second half, Vredenburgh at defensive end made a key stop, sacking Niehaus for a nine-yard loss. Then on fourth and seven, Stephens stopped Baine on a pass only inches short of the first down.
The Blue Devils ran out the clock.
---
Binghamton Press & Sun-Bulletin preview article Saturday 11/23-

Forks' season-long practices lead to shot
at state Class B title
BY STAFF AND NEWS SERVICE REPORTS

Twelve games down and one to go, but it's business as usual for the Chenango Forks football team. That has been the prevailing mind set on the practice field, where the top-ranked Blue Devils (12-0) have been preparing for this morning's Class B state football title game against Rye (12-0) in the Carrier Dome.

Kickoff is scheduled for 10 a.m.

"If you walked out there and watched us practice compared to Week 5 or Week 10, I don't think you'd notice any difference," said Kelsey Green, who has coached Forks to the final for a third consecutive season.

A year ago, it was Rye's Westchester County rival, Harrison High, that converted a last-second field goal to capture a 22-21 championship-game victory in the Dome.
---
Binghamton Press & Sun-Bulletin preview article Friday 11/22-

Rye's balanced attack may pose problem for Forks
Blue Devils hope third straight championship appearance produces first title
BY KEVIN STEVENS
Press & Sun-Bulletin

Unlike the last two weekends' challenges, there is no individual with whom Chenango Forks must be primarily concerned if it is to maintain its unbeaten football record.

On Saturday morning in the Carrier Dome, a versatile and balanced squad from Rye High in Westchester County will stand between the Blue Devils and the Class B state football championship. Kickoff is scheduled for 10 a.m.

The teams come in with matching 12-0 records. Forks -- in the final for a third consecutive season -- is ranked first by the New York State Sports Writers Association. The winner will have secured its school's first state football championship.

The Garnets of Rye have scored 32.8 points per game, rushed for a 246.2-yard average and defeated all but one opponent by 13 or more points this season. They've done so with an offense far less predictable than that of either of Forks' first two state playoff opponents.

The rushing leader is Eddie Urso, a 190-pound senior who has produced 1,260 yards and 15 touchdowns. Will Donahue, another 190-pound senior, has scored 16 TDs and rushed for 790 yards on a 5.9-per-carry average.

"They've got a variety of weapons and they run a variety of stuff," Forks coach Kelsey Green said. "It's a little different from the last two weeks when teams have featured a single running back."

"We'll have to play our game, get our reads down, don't allow big gains and get the ball back to the offense," said Chris Pease, Forks' senior nose guard/center.

Running Rye's offense is 6-foot-2, 185-pound senior quarterback John Niehaus, an Ivy League-bound A-student whose 53 pass completions have gone for 1,039 yards and 14 TDs against seven interceptions.

"If we can run the ball, we'll run it," said Dino Garr, who is in his 22nd season coaching Rye and his 28th overall. "If not, we'll open it up a little bit. It'll be a chess match, we'll probe and see what we can come up with.

"Chenango Forks plays very solid defense with tremendous linebacker play. It'll be a struggle to move the football against them. Offensively, they just don't make mistakes, and they've got an outstanding quarterback who runs that team very well along with a tough-running fullback and a couple of backs who complement him well."

Defensively, Rye is expected to show a four-man front that Forks has not encountered in recent ballgames, and -- as is the case with Forks -- an ample number of double-duty players.

"We have to do a much better job of moving the football than we did in the first half (of the semifinal against Eden), obviously," Green said, alluding to the 40 yards of offense his squad had logged before intermission.

If there exists a Dome-field advantage favoring either side, logic would dictate Forks has the edge.

For starters, the Blue Devils will be playing there for the second time in three weeks -- this contest following a last-minute quarterfinal victory Nov. 15 over Westhill. Too, an assortment of Forks players were in uniform during last year's title chase, which twice brought them to Syracuse.

Rye will make its first start in a state championship game since the inaugural 1993 playoffs, when as a Class C participant it dropped a 38-19 game to Caledonia-Mumford. Plans call for Rye's players to make the trip to Syracuse today -- and for its spectator bus to depart the school's parking lot at 4 a.m. Saturday.

"We know, we keep talking about it," Garr said of the newness of the experience for his players. "But until we get up there and step on the field, there will be some anxiety."

Rye's is a senior-laden squad that has passed through two rounds of state playoffs averaging 34 1/2 points scored and a 20-point victory margin. Forks has followed a different path, its 31-point, two-game total good for margins of five and 10 points over Westhill and Eden, respectively.

A season ago, Forks' title-game opponent was Harrison High -- which in Westchester County football circles serves as the Hatfield's to Rye High's McCoys. Harrison, in fact, plays a brand of football that bears numerous similarities to that played by Forks, and was beaten twice this season by Rye
---
Westchester Journal News preview article-

There wasn't one