Binghamton Press & Sun-Bulletin game article-
Forks rolls to another title
Blue Devils rout Tornado for third straight 'B' crown
BY KEVIN STEVENS
Press & Sun-Bulletin

BINGHAMTON -- In what's become a rite of November hereabouts, Chenango Forks has secured passage into state football playoffs and another trip to its dome away from home, king of Section 4's Class B hill for a third time running.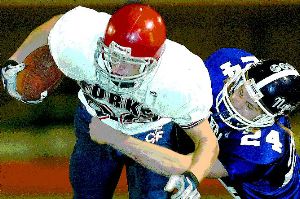 Startlingly one-sided was the 35-7 haymaker Forks threw Norwich's way in Friday night's title game at Binghamton Alumni Stadium, where a late-arriving spectator most certainly would have done a triple-take at a scoreboard that read 28-0 at halftime.
Blue Devils fullback Joe Babcock rushed for 136 yards, quarterback Tim Batty passed for another 100, and the defense chewed up and spit out a seven-game Purple Tornado win streak in highly aggressive fashion.
Chenango Forks, 10-0 for a third consecutive season and top-ranked by the New York State Sports Writers Association, will play at 9:30 a.m. a week from today in the Carrier Dome. Its state quarterfinal opponent, either Solvay (9-0) or Westhill (7-2), will be determined Sunday.
"It's really special, especially because no one thought we could get it this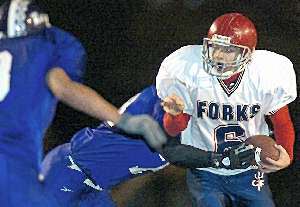 year," said Zach Vredenburgh, a two-way end for Forks, speaking of the Section 4 title streak.
"It's just a real neat thing to be involved with right now," Blue Devils coach Kelsey Green said. "I wouldn't trade it for anywhere."
The surprising part was not necessarily that Forks stretched to 34 its win streak against Section 4 opponents. Rather, what no one could have predicted was that one side was capable of giving the other back-of-the-woodshed treatment.
However, before Forks' fifth snap from center, it was a two-touchdown spread and the Blue Devils had rung up 150 yards of offense.
That is how utterly superior Forks was this night.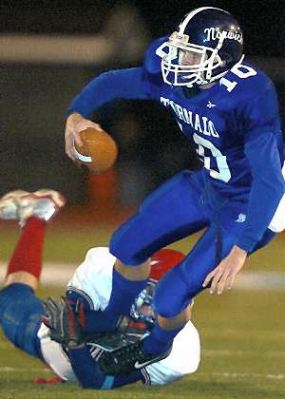 "We're more disappointed than surprised," said John Pluta, coach of a Norwich squad that finished as twice-beaten Class B runner-up to Forks for a second consecutive season. "We thought it was going to be a heck of a game-- and it was, from their standpoint.
"They certainly proved why they're champions. No question, they're the class of Class B."
The spark for Forks came on its second offensive play, a second-and-7 pass play from its 47-yard line. Batty left his feet and delivered to glue-palmed tight end Vredenburgh, who made the catch at about Norwich's 35-yard line and dashed the rest of the way for six points.
It has been a throw-and-receive duo that has treated the Devils rather nicely this season, and one that opponent No. 11 would be wise to acknowledge.
"Our coaches were noticing some of the defense they'd been playing, they were bringing the linebackers up, having nine guys in the box," Vredenburgh said. "It was just one of the normal plays we run. Tim threw it up over the linebackers, I caught it, there was just one guy there and I made it in."
The nature of Forks' second TD, as insignificant as it might sound in the wake of a 28-point rout, was huge.
Norwich had taken a drive from its 27 to Forks' 11. On third-and-6, Blue Devils end Steve Samson got the better of Norwich's front and felled quarterback Jordan Alger for a 6-yard loss. On fourth down, Alger's 10-yard scramble left the Tornado about a yard shy of a first down.
On comes Forks' offense.
Off the right side goes Tim O'Branski on first down -- and he goes, and he goes -- for an 89-yard gain to Norwich's 5. On the next play, Jason Chier banged over the left side for a TD. Batty's second PAT kick -- he was 5-for-5 on the night -- made it 14-0 with 8:33 elapsed.
"We get down in the shadow of our goal post and somebody makes a play," Green said. "We stop them and there goes Timmy O'Branski and all of a sudden, it's 14-zip and it could have easily been 7-7.
"Two plays, sometimes, and then nothing else happens the rest of the day. We've all been there-- but today it just kept going."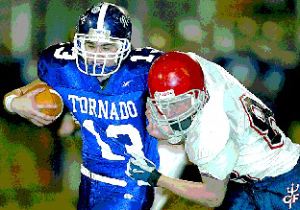 The second quarter was one Norwich would just as soon not include in the video archives. The Purple Tornado gained two first downs, tried one play on the positive side of midfield, and its defense permitted two scores in as many Forks possessions.
Babcock scored from 3 yards out early in the period, and from the 2-yard line to finish a 12-play, 66-yard drive with 1:50 to play in the half.
Forks' final touchdown came on a 1-yard sneak over right guard by Batty with 1:58 to play in the third quarter. At that point, the Blue Devils had run 19 plays in the quarter to one three-and-out by the Tornado.
The shutout was averted when Nate Farnsworth rushed in from the 1-yard line with 4:31 remaining.

All photo's by Thomas LaBarbera - Binghamton Press & Sun-Bulletin. For captions place your mouse over the picture.
---
Norwich Evening Sun game article-

Norwich bedeviled in section finals

By William Stratton Sun Sports Correspondent

BINGHAMTON - Football, like life, is a lot about the choices you make. On Friday night at Binghamton Alumni Stadium, the Norwich Purple Tornado football team lost its last game of the year to Chenango Forks, 35-7.

It was a game full of choices, large and small, important and seemingly insignificant, difficult and easy.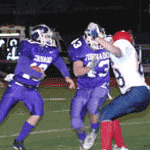 The first choice of the evening was for the fans. It was a cold, crisp evening, with little wind and a nearly full moon shining out through a thick cloud cover. Who wants to drive down to Binghamton to sit out in the cold and watch football on a Friday night? Then again, it was the playoffs.

The Norwich faithful arrived in droves, cramming the middle section of the home bleachers, and rivaled only by Forks' own cheering section, which blanketed the far side of the field in dark blue and red.

The expectation in the air was almost palpable. Norwich fielded the ball at its own 32-yard line to open the game. The offense came out a bit flat, however, and after three plays had only picked up two yards. They were forced to punt. This was not a good start.

Things got even worse when, after one play, Forks' quarterback Tim Batty lofted a pop pass to tight end Zach Vredenburgh, who proceeded to scamper 53 yards for six points. Add an extra point kick, and the score is 7-0 Forks, and less than three minutes were expired.

It was time for Norwich's first major choice. Come back on offense, grind out a drive, and tie the score, or give in to the momentum swing. Norwich came out with all pistons firing. It was quarterback Jordan Alger who seemed the most motivated then, carrying the ball seven out of 12 plays and throwing it once, leading the Tornado all the way down to Forks' 6 yard line before stalling. It was at the end of this drive that Norwich faced another important decision. It was fourth down, deep in Forks territory. The score was 7-0, and the Purple Tornado had just driven about 60 yards on 11 plays. This was Norwich football. They needed a touchdown, they needed an answer to Forks' last score, they needed to swing the momentum back. They made the decision to go for it on fourth down. It was a designed pass play. Alger rolled right out of the pocket, dodged a would-be tackler, and decided to run the ball instead of pass it. He broke across the line of scrimmage, shrugged off one tackler, and fought through two more as he strained for the first down marker. He came up less than a yard short. You could almost hear the wind being forced out of Norwich's sail.

Forks' offense retook the field with incredulous excitement. The Blue Devils' fans went wild. Things were still hopeless for Norwich, providing that they could hold them here, and get good field position on their next drive. A good defensive stand here would retake the momentum. On the first play from the line of scrimmage, Tim O'Branski broke free of one tackler, dodged a few more, and ended up almost 90 yards from where he started. Norwich made the collective sound of someone who had just been kicked in the stomach.

From there on out, Norwich only threatened once more offensively, when they finally scored in the fourth quarter, and their defense broke time and time again. By halftime, the score was 28-0, a score which seemed to have both teams shaking their heads in wonder.

Now it was time for another decision, perhaps ultimately the most important one of the season for Norwich. There was still 24 minutes of football left to play. The easiest thing to do would have been to give up. It was too tough. Forks was too good. They were down too far. There was almost no chance of any kind of comeback at all. Most teams might have retaken the field with their heads down, convinced of a humiliating defeat, and let the opposition trample all over them. Norwich is not most teams. The second half tells a story of a different Tornado team. One that decided not to give up, despite long odds and a brutal pummeling in the first half. Norwich was down, but was not out.

Norwich came back out, and made its first defensive stop of the game. The Purple continued to push Forks, running hard, driving deep into Forks' territory, stripping the ball on defense and returning it to the Devils' one-yard line. In short, Norwich never stopped, even when the game seemed hopeless. The score of the second half was 7-7. Norwich scored on Nate Farnsworth's 1 yard run, inspired by Andy Reid's fumble recovery and subsequent return.

There were other bright spots, including excellent defensive play by Justin Frink, who led Norwich tacklers, and strong defensive play by Eric Stratton. There was also promise toward next year's squad, as sophomore Mike Abbott took the quarterback reins when Alger was forced out due to a sore shoulder. In the end, however, it was too little, too late. "There comes a point in the game when the players come face to face with it (being so far behind and not being able to catch up)," said Norwich head coach John Pluta "We're proud of them. They gave a great season to us, and to the community, and we're proud to be a part of it."

There are more decisions to be made, even now. We can look at the hard facts of the game, and decide that it was a bad game for Norwich. NHS finished considerably below its standard offensive totals. Their defense who, only a week before had limited Dryden to 61 yards, gave up 406 yards and five touchdowns Friday.

We can look at the big plays and critique player errors or think we can see bad calls in hindsight. We can look back on the game and decide that Norwich was not mentally prepared, or that Forks was simply superior. Or, we can look back on the game and decide that, on this night. We can look back and be proud that the young men of Norwich high school never gave up, never gave in, and never stopped fighting.

So, welcome to Norwich, home of the Class B, Section IV football runners-up. Welcome to the home of a team that went 8-2 on the season, and claimed the Division III championship. Welcome home Norwich football, and thanks for the season. Until next year.
---
Binghamton Press & Sun-Bulletin preview article-
Forks' title streak on the line against Norwich
BY KEVIN STEVENS
Press & Sun-Bulletin

With an eye on a third consecutive Section 4 football championship, Chenango Forks will bring the state's top Class B ranking into the title game against 12th-ranked Norwich at 7 tonight at Binghamton Alumni Stadium.

The Blue Devils made it 33 consecutive victories over Section 4 opponents with Saturday's 13-7 semifinal victory over Whitney Point, their tightest margin of victory this season.

Since the onset of New York state football playoffs, three schools have claimed back-to-back-to-back Section 4 titles -- Elmira Free Academy (A) 2000-01-02; Horseheads (AA) 1996-97-98; and Deposit (D) 1994-95-96.

Norwich extended its win streak to seven with a 33-6 semifinal rout of Dryden.

The two meet to decide the Section 4 Class B championship at Binghamton Alumni Stadium for a second straight year. Last November, Forks was a 28-7 winner.

"(Norwich) looked like a machine Friday against Dryden," Forks coach Kelsey Green said, "moving the ball with precision and playing great defense.

"Theirs is an offense that's all timing and precision. They ran it well early on but they've definitely picked it up a notch or two as the season has gone on."

In the teams' regular-season meeting, Forks produced 274 rushing yards -- a combined 167 by fullback Joe Babcock and quarterback Tim Batty -- to 94 for Norwich in a 14-0 victory. The Purple Tornado's shortcomings deep in Forks territory loomed large in that outcome.

"I think it's a great game for us and a great game for Section 4," Norwich coach John Pluta said of tonight's contest. "Forks has been the premier program in Section 4 the last three years. I think we've probably won the second-most games the last two years -- and two of our three losses have been to Forks."

Norwich senior Andy Reid (5-foot-10, 205) is one individual who will command particular attention from Forks. Offensively, he is a straight-ahead runner whose effectiveness is magnified by quarterback Jordan Alger's deceptive ball-handling and the rest of the cast's speed outside.

"Reid is the definition of a fullback," Green said. "He's a tough kid -- and a great linebacker."
---
Norwich Evening Sun preview article-
Norwich, Oxford vie for section titles

By Patrick Newell
Sun Sports Editor

Here we go again. Oxford and Norwich, the Blackhawks of the Class D ranks and the Purple Tornado in Class B, are playing in the Section IV football finals.

Last year the Blackhawks lost by a touchdown to Newfield, while Norwich fell to eventual Class B state runner-up Chenango Forks by 21 points. Giving a quick history lesson, this is the third time in five years Oxford and Norwich have reached the sectional finals the same year. Let's hope we see the same result as the first time when, in 1999, Oxford won the title with a blowout of Hancock, and Norwich rolled past Elmira Notre Dame.

The Tornado kickoff tonight at 7 p.m. versus Chenango Forks at Binghamton Alumni Stadium. Considering the large number of returning players for Norwich - especially at the skill positions - it was almost expected for the Purple to be in this spot.

Oxford, meanwhile, appeared to have the right mix of athletes to match its 2002 accomplishment, but something went awry about midway through the season. Nonetheless, Oxford is back in its sixth Class D championship game in seven years and is looking for its fourth overall championship.

Norwich's opponent tonight is definitely a familiar one. Forks not only beat NHS 28-7 almost a year ago to the day, but it shutout the Tornado in week one, 14-0, and is 9-0 on the season has not lost a regular season game to a Section IV team since early in the 2000 season. It's a streak of well over 30 wins against locally-based opponents.

Forks lost over 80 percent of its starting lineup - if not more from its championship team - to graduation leaving it with a number of role players from last year plus newcomers. Despite the relative inexperience, Norwich coach John Pluta expected the Blue Devils to be back in the title game. "What people have to do is look at how they won their games last year," Pluta said. "They won a lot of games by a lot of points, and in second half, the second line guys were playing a lot of football against the other team's first-teamers. So yeah, we weren't surprised they were back in the championship game."

Forks' offense wasn't nearly as explosive as last year, and unlike the previous year, the Blue Devils (9-0) had to survive some tough tests to remain unbeaten. Last week a touchdown pass in the second half sealed a hard-fought 13-7 playoff win over Whitney Point. There was also a seven-point win over Elmira Notre Dame, and don't forget Norwich was inside Forks' 10-yard line on two occasions and didn't score a point in the 14-point loss.

Quarterback Tim Batty scrambled away and made key throws or a key run to move the chains in the first meeting, and Forks controlled the ball and the clock utilizing fullback Joe Babcock to the tune of 26 carries for over 100 yards. Said B-G/Afton head coach Steve Rice, whose team plays in the same division as the Blue Devils, "they (Forks) do a good job of putting the ball in the hands of their playmakers."

Norwich (8-1) was easily the more impressive of the two playoff teams last week. Norwich dominated time of possession, yardage, and the final score. It was a 33-6 victory that could have been even more lopsided. "Yes, I think it was our best overall game of the year," Pluta said. "We played excellent, but we have to continue to build on that and improve."

Norwich has averaged over 280 yards rushing per game this year, and it has done it the majority of the season without its top returning rusher, Nate Farnsworth. Senior fullback Andy Reid had the second-best game of his career last week rushing for 151 yards, and he has a county-best 827 yards rushing to go with 13 touchdowns. Additionally, quarterback Jordan Alger (513), Justin Frink (449), and Eric Stratton (475) get a number of calls, and it also appears Farnsworth is nearing 100 percent health giving the Tornado another option. In the passing game, Alger has thrown for 374 yards and five TDs, and Frink along with Chris Eddy lead the way with eight and seven catches respectively.

Oxford is in the position of heavy underdog with the task of avenging yet another blowout loss. The 32-16 defeat to Saturday's opponent, Deposit, on Oct. 19 was deceiving in that Oxford didn't score until the fourth quarter falling behind 22-0 after three quarters. So the 16-point final wasn't nearly that close.

In that contest the Blackhawks played without leading rusher Nate Ford, quarterback/linebacker Matt Dicks was only available for one half, and leading receiver Luke Lewis was nursing a broken hand and his duties were limited to the running game.

Alternating an option game and a power inside attack, Deposit controlled the line of scrimmage piling up 399 total yards - 321 on the ground. "We didn't play well against them, and we fumbled five times," said Oxford coach John Curtis. "If we fumble five times again, we're not going to win."

One of the positives was Oxford's running attack was buoyed by Lewis' 65 yards, and quarterback Chad Nightengale had 77 yards passing and a TD toss to Steve Loomis.

Much of the same things that worked on offense in that game will come into play, and Curtis plans on returning to his two-quarterback system. Dicks and Nightengale alternated series behind center last week with Dicks operating out of a shotgun, and Nightengale running the Blackhawks' more traditional offensive set-up. "We know Deposit likes to play a lot of zone defense, so we've adjusted our shotgun offense to compensate for that," Curtis said.

Deposit backs Jay Moore and Derik Strong had big games in the first meeting, while quarterback Phil Zandt threw for 78 yards and ran for 62 more. Those three are the predominate weapons, and all are dangerous, Curtis said. "Deposit doesn't have that one player that is outstanding," he said. "But they're all good players and we have a number of players to be concerned about."

Oxford (3-6) faces the Lumberjacks (8-1) at 2 p.m. tomorrow at Union-Endicott High School. "Being the underdog, there's a revenge factor going for us," Curtis said. "Last year they beat us in the regular season, then we knocked them off in the first round of the playoffs."
The obvious conclusion is that Curtis is hoping history repeats itself.
---
Binghamton Press & Sun-Bulletin Tuesday post-game article-
Forks' versatility leads to third straight 'B' title
BY STAFF REPORTS
It was to be a relative toss-up of a championship game, or, so many people believed-- including many who gathered on the sidelines Friday night at Binghamton Alumni Stadium.
Instead, Chenango Forks struck early, followed by making one huge defensive stand and proceeded to a 35-7 rout of Norwich to claim the program's third consecutive Section 4 Class B football title.
Blue Devils coach Kelsey Green was asked: What does a third consecutive title mean to Forks?
"They're all different," said Green, who has called the shots for a program that has, over the last three seasons, posted a 34-2 record.
"Last year was almost like, we had to (capture the championship). My goodness, if we didn't the year wouldn't have been successful. This one is like (2001). You knew you had good kids, but you didn't know. They got better and better as the year went on.
"It speaks volumes for the kids and our coaches. It's such a nice thing for the community, they've embraced the kids in the program. It's just a real neat thing to be involved with right now. I wouldn't trade it for anywhere."
Forks was at its best Friday night, producing points on its first four possessions and blanking the Purple Tornado until Norwich struck with 4 1/2 minutes remaining.
Forks defenders limited Norwich to a net 3.1 yards per rush. Ten Tornado plays went for negative yardage.
The Devils went long-ball early on, with a 53-yard Tim Batty-to-Zach Vredenburgh pass play accounting for the first touchdown, and an 89-yard rush by Tim O'Branski setting up the second TD. The opening TD marked Forks' sixth of the season longer than 35 yards.
The most significant defensive series of the night for Forks came in the first quarter, when -- highlighted by Steve Samson's sack of Jordan Alger for a 6-yard loss -- Norwich was denied despite gaining a first down at the Devils' 15-yard line.
That Norwich possession ended at the 7.
"Down 7-0, we move the ball inside the 10, miss the first down by inches," Tornado coach John Pluta said. "But, again, that's a tribute to those kids. They get their hackles up when you get close and they don't let you in. That's the way it goes."
As for the lopsided margin?
"We're surprised, but that's how it happens in the playoffs," Pluta said. "A team gets on a roll and they've got you down. It's a tribute to them that they took advantage of us. They beat us off the ball on both sides of the line of scrimmage."
Green said, "I never expected that, never expected that. I felt that we could win, I also knew we could lose."
The primary focus of Forks defenders was Norwich quarterback Jordan Alger, whom they deemed the greatest threat to pop something big.
"(Fullback Andy) Reid's going to get his yards, he's a tough kid and everybody knows that," Green said. "We did a great job against him today. But It was Alger. We knew, you could defense things right and be where you belong, and he makes you miss or breaks a tackle-- which he did. He's just a very dangerous kid, a special kid. We knew we had to work with him. He's tough."