...
2007 Chenango Forks Varsity Football
Game 5 vs Chenango Valley

Blue Devils defeat Chenango Valley 20-14!
Last half-minute TD gives Blue Devils a come-from-behind victory!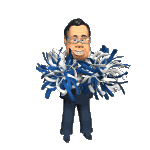 Articles courtesy of the Binghamton Press & Sun-Bulletin
Place mouse over photos to read captions
Photo credits - none
---
TD catch by Forks' Cade beats CV
Receiver's TD with 22.3 seconds left beats CV
By Mike Mangan
Binghamton Press & Sun-Bulletin
TOWN OF CHENANGO -- Last year, it was Joe Aston's last-minute touchdown that gave Chenango Forks a narrow victory over rival Chenango Valley.

This time, the Warriors' tormentor was Garret Cade.

Cade's spectacular 10-yard touchdown reception of a Jake Reynolds pass with 22.3 seconds left provided the winning points as the host Blue Devils rallied for a scintillating 20-14 victory Saturday over CV in a Section 4 Football Conference Division III showdown.

"Everything was absolutely perfect. Both sides were packed (with fans), and to come out of here with the victory, it's awesome," Cade said.

"When something's built up like this game was, it usually doesn't live up to the hype. But (Saturday), it lived up to it," said Forks coach Kelsey Green.

It was the 13th straight victory for Forks over its rival, and the second straight year that the Blue Devils (2-0 Division III, 5-0 overall) prevailed in the last minute over CV (1-1, 4-1).

Last year, Aston's 5-yard touchdown run with 55.7 seconds left helped Forks escape with a 14-9 win at CV.

Saturday, Forks trailed 14-12 when it took possession at the CV 35-yard line with 1:09 remaining following a 12-yard punt return by Rickey Bronson.

A 15-yard facemask penalty on CV moved the ball to the 20, and three plays later Nick Stephens gained a tough yard on fourth-and-1 from the CV 11 to give Forks first-and-goal at the 10 with 32 seconds left.

Reynolds threw an incomplete pass on first down. But on second down, he lofted a high pass to the right side of the end zone to the 6-foot-4 Cade.

With CV cornerback Brian Eggleston covering him tightly and another defender in front of him, Cade jumped, snagged the ball, and held on to it as he crashed to the ground.

The touchdown put Forks up 18-14. Aston's two-point conversion run made it 20-14.

CV had one last chance, starting its final drive at the 50 with 20 seconds left, but the Warriors would get no closer than Forks' 35 as time expired.

Meanwhile, Cade cherished his newfound place in Chenango Forks/Chenango Valley rivalry lore.

"They had Eggleston on me the whole game, so I knew it was going to be a tough game for me to get out there and catch some passes," Cade said. "That last play, Jake just threw it up as high as he could and I just stood there, timed it perfectly and came down with it."

Green didn't attribute the game-winning play call to any kind of coaching genius.

"The touchdown pass was no shock, they probably called it on the (CV) sideline," Green said. "Throw it to the tall kid, it's the play you (call) since you've been on the playground.

"Jake threw it to the one spot it could be thrown, and Garret got over the top. It worked out. We're pretty fortunate and we'll take it."

Making the loss more agonizing for CV was a number of missed opportunities.

The most notable of those came less than a minute into the fourth quarter, when CV faced a fourth-and-goal from the Forks 1-yard line and a chance to add to its 14-12 lead.

However, fullback Brian Stinson was stuffed for no gain by a gang of Forks tacklers, with defensive tackle Tom Voorhis providing most of the resistance.

"We figured we could mash it in there," CV coach Jay Hope said. "We just didn't get the push we needed."

Another missed opportunity came late in the fourth quarter when CV's Josh Pratt intercepted a Reynolds pass intended for Clint Cade at the Forks 10-yard line with 2:05 remaining.

Pratt's helmet came off following the interception, so instead of a sizeable return on the play, the play was blown dead with CV getting the ball at the Forks' 15-yard line.

Still, with a first down or two by the CV offense, the Warriors would have been able to run out the clock.

But a false start penalty hampered CV's efforts. After Trevor Cola ran for no gain on third-and-9 from the CV 16, the Warriors were forced to punt.

Moments later, Forks would rally for the dramatic victory.

"We got caught a little bit with some penalties," Hope said. "I thought our kids were playing really good defense at the end, but their kid threw it up there ... and well, sometimes they throw it where we can't get it, and (Cade) made a great play."

The meeting of unbeaten, state-ranked teams figured to be a defensive struggle, yet both teams' offenses had their way in the first half.

Forks struck first following a Bronson interception of a tipped pass from CV's Matt Mullins. The Blue Devils needed just five plays to go 42 yards, the last play Reynolds' 26-yard touchdown pass to Clint Cade just over the outstretched hands of CV's James Sodan that gave Forks a 6-0 lead with 7:10 left in the first quarter.

CV responded with a grind-it-out, 13-play, 6 1/2-minute drive that covered 72 yards, ending it with a 3-yard touchdown run by Stinson with 51.4 seconds left to take a 7-6 lead.

Forks struck back quickly, taking a 12-7 lead on Aston's 27-yard touchdown run with 10:01 left in the second quarter, a scamper that saw the powerful senior shake a tackle near the line of scrimmage before taking it outside left and into the end zone.

But CV regained the lead, 14-12, on Mullins' 33-yard touchdown pass to a wide-open Sodan with 5:58 left in the second quarter, the play capping a 65-yard drive.

Scoring would cease for much of the remainder of the game, as both defenses buckled down.

That is, until the waning moments of the game, when CV's defense finally yielded.

"Great offense the first half, great defense the second half," Green said. "Both teams made some mistakes out there they usually don't make, but it was a heck of a game."
---

Crazy atmosphere, wild finish at Forks
Rivalry game lives up to the hype
By Kevin Stevens
Binghamton Press & Sun-Bulletin
TOWN OF CHENANGO -- It was a football game that in no way imaginable could have lived up to its advance billing.

And then did.

No, strike that.

The game, the hair-raising atmosphere created by 5,000 or so in attendance -- who could count, given spectators on feet outnumbering those seated? -- the unreal final two minutes. It all combined to exceed the hype.

To the chagrin of Chenango Valley's faithful, the ballgame concluded in same-ol', same-ol' fashion, with Chenango Forks the victor for a 13th year running in this series, this time by 20-14 on a come-from-behind drive that began with 69 seconds to play and concluded with the football in Garret Cade's hands in the end zone 46.7 seconds later.

How large was this one? Oh, 'bout about as big as the smile on the face of 50-50 ticket holder No. 362860, a stub worth the tidy sum of $1,083.

"Never, never," replied Forks coach Kelsey Green, asked if ever there'd been a setting such as Saturday's for a Forks-CV clash. "There's never been a Forks-Valley game, I'd say, with that many people here and that much excitement during it all, before it all. People were here by 10 o'clock, tailgating, grabbing their seats, whatever."

A full 70 minutes before 1:30 kickoff, 20 or more cars were parked off the side of Kattelville Road near the main entrance to the grounds. The hill behind the visitors' bench was a crescent-shaped sea of red. Across the way, bleacher seating had been spoken for long before game time, and SRO was the theme of the afternoon.

"As soon as we walked out the doors (of the school), we got chills up and down our spines," said Forks quarterback Jake Reynolds, who delivered the telltale TD pass to Cade and with it atoned for what appeared a fateful interception moments before.

"Crazy," was how CV lineman Matt Bobal described it. "So many fans. So loud. We had trouble hearing out there, but we love the support."

Crazy, too, was the late-game sequence of events that enabled home-team backers once again to belt out that "Forks rules the Valley" refrain. But it'd have not meant much had the stage not been set by a stellar defensive series bridging the final two quarters, and one play in particular, that squelched a CV drive inside the Blue Devils' 1-yard line.

The Warriors, ahead by 14-12, had four cracks at what would have been a huge touchdown beginning from Forks' 4-yard line. CV picked up a yard apiece on the first three downs, then called timeout.

On the second play of the final quarter, fourth-and-goal from inside the 1, 6-foot-2, 205-pound Brian Stinson attempted to lunge over the top and across the goal line.

Thing was, 6-foot, 202-pound defender Tom Voorhis met him with authoritative resistance just short of the end zone.

"I was supposed to blitz, so I went through the A-gap," said linebacker Joe Aston, a two-way terror for Forks on this day. "I hit the guard, Tom Voorhis came behind me, jumped over me and made the stop."

"I saw the whole thing happen right in front of me," Reynolds said. "As soon as (Stinson) dove, I think it was Tommy Voorhis who came in and just railed the back. It was an awesome play, awesome play by Tommy Voorhis."

"The goal-line stand was the turnaround," Green said, "and then to be able to get it off our goal line and not have to punt from the 2 or something."

Reynolds saw to that, completing a 21-yard pass to Clint Cade on second down to provide some space with which to work. The drive lost steam at midfield, but a potential crusher had been averted.

And about this young man Reynolds, whose six completions included four for double-digit gains, he showed a little something in the closing stages of the contest.

He had a pass intercepted by Josh Pratt with 2:05 remaining, a first-down miscue that left the Warriors in possession at their 15-yard line, a couple first downs from a streak-buster. But, with aid of the defense that forced CV three-and-out, Reynolds was given opportunity at redemption.

The QB came through, alright, came through with the biggest play of his life, a beautifully lofted delivery to his tall teammate in the right corner of the end zone for the clincher. CV was ready for it, had it well-defended, actually, but Reynolds and Cade got it done.

Afterward, the quarterback deflected credit for the game-turner.

"I walked back to the huddle (before the decisive TD) and said, 'Garret, it's you,' " Reynolds said. "He made the play. Sure, I got the ball up there, but anybody could throw the ball that high. It was a great play by him."

As for the personal atonement, he added, "It meant a lot that my team stuck with me. Anybody could have let down with two minutes to go and say, 'Oh my gosh, we can't do this.' But they didn't, that's for sure. You should have heard them in the huddles on defense, they wanted it -- and we got it."

Said Cade, as he gently massaged ribs that took a good bang when he descended to the ground with football in hand: "Oh, my God. When that ball was in the air, it felt like it took three days to come back down. I wasn't going to let go of that ball."

For naught went some tough, outstanding running by Stinson, who gained 56 yards on a day Forks defenders did a marvelous job on targeted ace Trevor Cola (15 carries, 45 yards).

On the other side, Aston was on his way to a 96-yard rushing day, carrying the football with what appeared heightened vigor in the presence of the more ballyhooed Cola.

"You know, it's CV and it's huge, they're your rival," Aston said, failing to mention CV's No. 32 by name. "I think that gives everyone extra motivation. We played four hard quarters, tired them out, and it worked out for us."

So, too, did the decibel level apparently favor Forks, most notably when CV was flagged for having too many defenders on the field with 62 seconds remaining and Forks facing a second-down play from the 20.

"We were trying to switch units at the end because we were trying to get more of a coverage-type unit in, like a nickel package," Warriors coach Jay Hope said. "Some kids heard it, some didn't, and that's why some didn't make it off the field. So, the noise kind of contributed."

But the noise, the chants of "Jake for Heisman" and "Jo-se, Jo-se Jo-se Jo-se" etc. (a la Shea Stadium fans, revved up following a positive play by Aston) and "Jud's a Stud" (honoring Jud DuBois) and all the rest only added to a tremendous high school football atmosphere.

Regardless of outcome, no matter that Forks' streak lived on, this afternoon was what the game at this level is all about.

Rematch, anyone? The first Friday in November might work, with a state playoff berth on the line.
Place mouse over photos to read captions
Photo credits - None
---
| | | | | | | |
| --- | --- | --- | --- | --- | --- | --- |
| | 01 | 02 | 03 | 04 | | Tot |
| Chenango Forks | 6 | 6 | 0 | 8 | - | 20 |
| Chenango Valley | 7 | 7 | 0 | 0 | - | 14 |
CF - Clint Cade 26 pass from Jake Reynolds (kick blocked)
CV - Brian Stinson 3 run (Mike Biviano kick)
CF - Joe Aston 27 run (pass failed)
CV - James Sodan 33 pass from Matt Mullins (Biviano kick)
CF - Garret Cade 10 pass from Reynolds (Aston run)

TEAM STATISTICS
| | | |
| --- | --- | --- |
| | CV | CF |
| First Downs | 12 | 15 |
| Rushes-Yards | 39-113 | 42-180 |
| Passing Yards | 142 | 95 |
| Comp-Att-Int | 8-17-1 | 6-15-1 |
| Total Offense | 56-255 | 57-275 |
| Punts-Ave yards | 4-36.3 | 5-29.6 |
| Fumbles-Lost | 2-0 | 1-0 |
| Penalties-Yards | 5-40 | 6-60 |
| | | |
.
INDIVIDUAL STATISTICS
Chenango Valley rushing
Brian Stinson 14-56, 1 TD
Trevor Cola 15-45
James Sodan 7-16
Matt Mullins 3-(-4)
Chenango Forks rushing
Joe Aston 15-96, 1 TD
Nick Stephens 12-38
Jake Reynolds 9-25
Tim Zdimal 5-16
Garret Cade 1-5
Chenango Valley passing
Matt Mullins 8-for-16, 142y, 1 int., 1 TD
Trevor Cola: 0-for-1
Chenango Forks passing
Jake Reynolds 6-for-14, 95y, 1 int., 2 TDs
Chenango Valley receiving
Trevor Cola 2-61
James Sodan 2-51, 1 TD
Matt Fedish 2-11
Brian Eggleston 1-10
Rocco Testani 1-8
Chenango Forks receiving:
Clint Cade: 2-47, 1 TD
Garret Cade: 2-35, 1 TD
Matt Mirabito: 1-7
Joe Aston: 1-6
JV Score: Chenango Valley 27, Chenango Forks 6
---
Preview Articles
There were THREE previews on this game, so grab some coffee and krimpets, you'll be here a while!

Not just another football game for CV, Forks
Blue Devils look to extend 12-game winning streak in series

By Kevin Stevens
Binghamton Press & Sun-Bulletin
They are separated by three miles or so, but linked by an intense desire to one-up the other in the most talked-about and eagerly anticipated clash of Broome County football programs in some time.
Come 1:30 Saturday afternoon, it'll be Chenango Valley at Chenango Forks.
It has long been one of Section 4's most spirited of football rivalries. But this time around, due to an assortment of contributing factors, the buildup has been heightened.
Both bring in 4-0 records, and share space in the top 10 of Class B state rankings. Memories of last season's to-the-wire encounter are fresh, the outcome leaving Forks' six-time Section 4 Class B champions' win streak over CV at an even dozen.
Last Sept. 30, a huge crowd was on hand at CV for the Blue Devils' 14-9 win, and Saturday's contest figures to attract a similar throng.
"This whole week is crazy," said Vince Palmieri, a senior who will start on CV's line for the fourth time against Forks. "It's weird, crazy, stressful, fun -- every imaginable feeling and emotion that could possibly come from a football environment is here."
"Everybody's talking about it in school, all the teachers are talking about it," said Forks quarterback Jake Reynolds. "In practice, you see the difference on the guys' faces. They know that CV is coming up on Saturday, we know that we have to step up and improve our game."
"You can just feel the vibe around. It's not something you get every week," said Gianni Contro, a two-way lineman and three-year member of CV's varsity.
"I've got a feeling whatever (spectators) we bring will be matched by what CV brings and people coming from the outside who are curious," Forks coach Kelsey Green said. "There's been a lot of chatter about this one."
On one side of the Chenango River this week, use of forks is prohibited in the school cafeteria.
On the other side, an uninformed visitor to the practice field might believe players are preoccupied with thoughts of a carbonated soft drink.
Early in the week, with mid-80's temperatures well above the mid-September norm, the respective sides engaged in businesslike preparations.
"Jog it up boys, jog it up, let's go to work today," implored one Forks player.
Not 10 minutes into the first drill of the day, Green touched about 9 1/2 on the volume scale, reminding a momentarily inattentive lad of his responsibilities.
Down Kattelville Road a piece, CV coach Jay Hope issued a warning following one less-than-full-throttle play: "Tomorrow, there better be some excitement on offense. You guys are saving it all for defense!"
Early-week contact was considerably more crisp at CV, where hitting was all-out for 10 or so yards beyond the line of scrimmage. The "Blues Brothers," so known for their blue practice-field vests, gave the first-team offense maximum resistance -- just as they are instructed.
Forks' players heard line coach Dave Chickanosky load and clear, as is customary.
"Too slow! Too slow!" Chickanosky bellowed during a drill. "You gotta take many quick steps. Punch and drive! Punch and drive!"
Off the field, not only are "Rally the Valley" T-shirts being produced at CV, but -- as is standard procedure during Forks week -- lunch-time utensils have been modified.
"All week long, not one person can use a fork at lunch. We go around collecting them," Palmieri said. "I saw one teacher bring a salad and I asked, 'Why'd you do that? You can't use a fork.' "
Which may make for a mighty interesting spaghetti dinner for the team Friday night at school.
"I don't know what we'll do there," Hope said. "Maybe we'll just give them straws."
On the field across the river, Forks players' and coaches' repeated mention of "Cola" were not requests for a beverage break, rather, frequent calls for defenders to be aware of the presence of Trevor Cola, the Warriors' 6-foot, 185-pound touchdown waiting to happen.
"Where's Cola?" one player cried out when the scout-team offense stepped to the line of scrimmage. "Cola's on the right."
By the way, Cola and backfield mate Brian Stinson are both sons of former Forks athletes.
On Chenango Valley's side, the mission is to put an end to a skid that has brought annual losses to Forks since 1994, when the Warriors posted a 14-13 win over the Blue Devils. Most certainly, CV has closed the gap. Last year's five-point differential followed a combined 97-7 spread in the '04 and '05 games.
"They've had a good team all along," Contro said. "Somebody's got to end the streak sometime, and what better time than Saturday? That's a motivator right there."
Hope said, "At a certain point, when I hear it (mention of '94), it's the beat of the same old drummer -- and none of us like it."
Forks' seniors are veterans of the big-game route, some having faced not only Chenango Valley but state playoff opponents each of the last two years. They know what is expected, and how to properly conduct preparations.
"It's a lot of business, but it's a lot of fun," Reynolds said. "Once you get everything done, you can go have fun. We're having fun doing it, but there's a lot of focus. Sometimes you get caught up in not having much fun, but that's what it's all about."
---

Forks has won 12 straight vs. Valley

By Kevin Stevens
Binghamton Press & Sun-Bulletin
A stout Chenango Forks football squad won't be the lone obstacle impeding Chenango Valley's path come 1:30 Saturday on the Blue Devils' field. History, too, will be squarely on Forks' side.
Not only is there the streak that has showered precipitation on this rivalry's parade, but also the inability of recent years' opponents to succeed on Forks' field.

The Blue Devils have strung 12 consecutive victories over Chenango Valley -- half by margins of three or more touchdowns -- since CV last had the better of Forks, in 1994.
To go with that, Chenango Forks has run up a 33-1 home-field record since September 2000, the setback dealt by Class A state champion Corning East a season ago.
One more less-than-favorable trend for 2007 Devils foes: They've yet to soil Forks' goal line after halftime, and two of the four have failed to score a point, period.
All that, however, will be of little tangible concern to either side when opening kickoff is sent airborne or squibbed end-over-end or however it may be delivered Saturday.
Rather, it'll be about executing in the present, squeezing out the extra yard, gang-tackling, blanket pass coverage and flawless special-teams execution.
Both enter the game 4-0 overall and 1-0 in Division III. Forks is ranked second in Class B by the New York State Sports Writers Association, Chenango Valley sixth.

High on the to-do list for the respective sides?
"Play Forks football," Blue Devils quarterback Jake Reynolds said. "Play good defense, have 5-6 people on every tackle, get 3-4-5 yards a carry, break one, make the other team lose their energy."
"I think the line has to do what we're capable of doing, and that's dominate the football game," said CV lineman Vince Palmieri. "If we don't perform on offense, our backs won't perform. And if we don't perform on defense, our linebackers won't perform."
"We certainly have to move the football offensively, keep the ball away from their offense a little bit -- which is easier said than done because they have a heck of a defense," Forks coach Kelsey Green said. "We'll also have to do very well in the special teams area."
"Offensively, we have to make positive yards, limit any plays where they throw you for a loss," Warriors coach Jay Hope said. "Protect the football and fall forward for extra yards on the end of every play. I also think field position will be a big factor."
On the surface, the individual seemingly capable of making the greatest singular impact is versatile CV senior Trevor Cola.
Not only has he rushed for 448 yards and four touchdowns, but four of his five receptions have resulted in TDs and he's returned a punt and a kickoff for scores. Forks defenders will see him line up in the backfield or in the slot -- and, for this one, who knows where else?
"Last year he was a heck of a back, a game-breaker as a junior," Green said. "And watching their games this year, you can see he's done all his work from the end of last season to the present. He's made big plays, game-turning plays, in every game and in every way. He's a special kid.
"If you're not well aware of where he is, he'll hurt you."
As is customary with Forks, offensive production comes from a variety of sources, and begins with the decision-making of quarterback Reynolds. To allow him time to make his reads and distribute the football accordingly is to beg for a long afternoon for the defense.
Reynolds and backfield mates Joe Aston and Nick Stephens average a combined 150 rushing yards per game and have scored a collective seven TDs. Reynolds' 11 pass completions have gone for a 22.8-yard norm, and two of his four scoring passes have been to Garrett Cade.
At 6-foot-4, Cade poses matchup problems in the secondary. But those may be minimized against CV, which starts 6-2 Brian Eggleston and 6-3 James Sodan on the corners. Leading tackler (32) and quarterback sacker (2) for the Warriors is 240-pound senior Matt Bobal.
"Defensively, we have to make them earn all their yards, make them earn the big play," Hope said. "We don't want to give up any easy scores."
---

CV coaching trio part of rivalry lore with Forks

Column by John W. Fox
S
ports editor emeritus of
the Press & Sun-Bulletin.
Once upon a time -- actually, a time-running-out time -- three Chenango Valley seniors handled the football on a 1989 play that broke a scoreless tie with 16 seconds remaining.
After center Mike Turna's snap, Scott Klein drifted to his left on a bootleg-pass call and threw to a crouching Jay Hope, who was inches across the Chenango Forks goal line and inches inbounds. The trio added a two-point conversion and 8-0 CV victory at Forks. A pass interception by Turna at the Forks 32 with two minutes remaining set the stage for the scoring drive.
On the same field at 1:30 p.m Saturday, again in the schedule's fifth game, the threesome again will play a key role --together in a CV-Forks struggle for the first time in 17 years.
No longer are they high-school athletes. Hope is in his fourth year as his alma mater's varsity coach. Current defensive coordinator Klein has been at Jay's side throughout. As the other varsity assistant, Turna is new to the staff this year and coaches both lines. Previously in and out of coaching as a volunteer at different levels, last year he scouted for Hope. The unusual trifecta became possible when a CV middle-school science job opened, enabling him to leave Binghamton's East Junior.
With preparations under way this week for the matchup of Division III unbeatens, Hope said, "We've often talked with each other about (the trio's 1989 roles). And we've talked to the team a little about it ... As examples of school tradition, pride, determination. ..."
"Without a doubt, that touchdown will always remain my most exciting moment in any of my three sports," he said.
"It was the fourth time that we'd tried the bootleg pass that day, and I dropped two of them in the first half," he continued. "Coach (Bob) Ames (a veteran assistant at the time) had a few choice words for me."
Kevin Stevens' newspaper account of the game used "ugly" in describing CV's performance prior to the score, and Forks' as "downright neighborly" despite doubling CV's rushing yardage. Five minutes before the finish, Forks had a first down at the CV 2, only to come up empty on a missed field goal. Fumbles numbered a combined 10.
"Kind of bizarre," recalls Hope in describing Turna making the crucial interception from his defensive tackle position. Hope, in coverage from his own safety position, didn't see the pickoff or realize the change of possession until the huddle.
The winning drive, no textbook two-minute drill, required seven plays from the Forks 32 to the decisive third-and-8 bootleg from the 12.
Kelsey Green, then the Forks defensive coordinator, said admiringly, "It was a perfect pass. ... Their end is kneeling right there in the corner of the end zone, going like this (Green bringing his arms together in a cradling gesture)."
Six inches higher, the pass probably would be broken up by hovering defender Jeremy Klimow. A half-step to the left and Hope was out of bounds.
It remains CV's only shutout of Forks in the almost half-century since a 35-0 romp in the 1959 inaugural. So long ago that CV was playing on the Chenango Bridge side of the river and Forks' field was way beyond the other end of Kattelville Hill. The series has run in streaks, the most visible the current 12 straight for Forks. Eleven were in Green's first 11 years at the helm -- most recent a 14-9 escape accomplished in the final 56 seconds.
But just before the skein of 12, CV won in seven straight under Bob Zanot, starting with a 26-22 nail-nibbler when Hope, Klein, and Turna were juniors. And before that the conspicuous streak was 18 years with no meeting at all. The rivalry's intensity has grown some, to say the least!
However, the October 7, 1989, joy in Hillcrest was far shorter-lived than anyone could have predicted or considered fair.
The next scheduled game was an Oct. 14 visit by Elmira Notre Dame.
On Friday the 13th, the U.S. stock market took its second biggest plunge in history. Emotions that day at CV plunged devastatingly for another reason.
Players arriving at the Spot Restaurant, a weekly custom of an early team breakfast, found their coaches and athletic director waiting outside, then ushering them to closeted privacy.
In Zanot's frequent use of a double tight-end offense, Hope's counterpart was talented 16-year-old athlete Chris Cotcamp. The somber meeting inside was to inform his teammates that Cotcamp had died late Thursday from fast-striking meningitis, five days after he'd helped beat Forks.
Notre Dame accepted forfeiture of the game, then lost the unscheduled rematch in a Section 4 bowl game that earned CV a regional-championship Class B match against an unbeaten Catskill-area school, Onteora. CV held an 18-0 halftime lead at Cornell but lost, 20-18 -- ironically failing on all three attempted point-after passes.
It remains CV's farthest postseason football advance to date. Seems as if Chenango Forks has been ruling the roost awfully impressively.

---
Post-game Article:

Fifth Quarter:

Published Tuesdays in the Binghamton Press & Sun-Bulletin

It was not online, and it was very long, so I won't have it typed up for a while.


---