...
2007 Chenango Forks Varsity Football
Game 6 vs Norwich

Blue Devils defeat Norwich 14-6!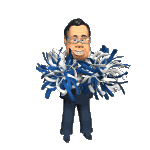 Articles courtesy of the Binghamton Press & Sun-Bulletin
Place mouse over photos to read captions
Photo credits - none
---
Aston provides cure for sluggish Forks
Back scores twice in win over Norwich
By Brian Moritz
Press & Sun-Bulletin
TOWN OF CHENANGO -- The mood in the Chenango Forks post-game huddle was almost somber.

Phrases like "back to the drawing board" and "we've just got to work harder" were uttered by players and coaches following Saturday afternoon's game.

This from a team that remained undefeated with a hard-fought 14-6 home victory over Norwich at Blue Devil Field.

"Yeah, the score was 14-6, but I think for a lot of the game, Norwich outplayed us," Forks coach Kelsey Green said. "That's what we're not happy with."

A week after an emotional, come-from-behind victory over archrival Chenango Valley, the Blue Devils (6-0, 3-0) needed to overcome their malaise and Norwich's strong play to remain undefeated.

Forks also needed 131 yards and two touchdowns from senior running back Joe Aston to erase an early 6-0 deficit. Aston's first touchdown and the ensuing extra point gave Forks the lead. His second gave the Blue Devils some breathing room.

But it was the Blue Devils' defense that held Norwich (3-3, 1-2) scoreless on three trips inside the Forks 20-yard line that sealed the victory.

"We know we can play better than this," Aston said.

Green could sense something was off with his team all week. He could tell that, collectively, their heads were still celebrating the previous week's last-minute victory over CV instead of focusing on Norwich.

"We have a lot of young players," said Aston, one of 18 Forks seniors who were honored in a pre-game ceremony. "After a huge win like last week, it can be tough to get as amped up for a game like this. We needed to work harder."

The Purple Tornado took advantage by playing strong, excellent football on both sides of the ball. Norwich's front line dominated play early on, and running back Chris Mattingly (87 yards) repeatedly broke several tacklers on his runs.

Norwich drove deep into Forks territory on its first two possessions. On the second drive, quarterback Nate Foote hit Christian Hotailing on a 6-yard scoring pass to give Norwich a 6-0 second-quarter lead.

"I don't want to take anything away from Norwich," Green said. "Norwich did what you're supposed to do. They came out and played extremely well. We did not do that."

The Blue Devils finally got going midway through the second quarter, and they were sparked by Aston. On a third-down sweep, Aston broke one tackle in the backfield, and then slipped through two more before racing 23 yards for the touchdown. Rob Lumsden's extra point gave the Blue Devils a 7-6 lead which they held at halftime.

The third quarter was scoreless, as both teams batted for yards and field position.

"We've got a good offensive line," Norwich coach John Pluta said. "We were able to move the ball the whole game. We're not going to come down here and trick them, and they're not going to trick us."

Norwich had a great scoring chance at the end of the third quarter, driving to the Forks 5-yard line. But on second down, the Purple Tornado was penalized for an illegal block in the back. The 10-yard penalty from the spot of the foul -- which was 12 yards behind the original line of scrimmage --killed Norwich's scoring chances, and the Purple Tornado missed a 37-yard field goal.

Forks took the ensuing drive 80 yards down the field, with Aston scoring from 5-yards out to make it 14-6 with the PAT.

"For about a minute, I thought we were fine," Green said. "Then boom, they were right back on the doorstep."

Aided by 25 yards in Forks penalties, Norwich drove to the Forks 12. But once again, the Purple Tornado couldn't put points on the board, as Foote's fourth-down pass to Mattingly fell incomplete.

"We needed to score in those situations, and that didn't happen," Pluta said. "That was the difference."
---
Blue Devils hold on to beat Norwich
By Patrick Newel
Chenango Evening Sun
CHENANGO FORKS ­ No, Chenango Forks is not its typically dominant self in 2007. Still, this group of Blue Devils has found the same winning formula as its predecessors improving to 6-0 with a tough-to-the-end 14-6 victory over Norwich Saturday afternoon.
It was the third time this season Forks has been pressed deep into the game, and if not for an ill-timed Norwich penalty late in the third quarter, may have needed yet another fourth-quarter comeback victory.
Norwich gathered possession at the 28 after Forks' Garrett Cade fumbled a punt return, leading to Paddy Law's recovery for the Tornado. A first-down run by Chris Mattingly and then an 11-yard pass from Nate Foote to Mike Moon had the Tornado first-and-goal at the five. A first-down run went nowhere, and Norwich was whistled for an illegal block, spot-foul penalty on the next play that moved it back 21 yards. The Tornado did not recover and missed a go-ahead 37-yard field goal attempt.
Dodging that bullet, the Blue Devils responded as any championship team would: It marched for a touchdown getting big first-down runs from Joe Aston and Jake Reynolds. Aston scored his second TD of the game from five yards out for the eight-point margin.
Answering that score, Norwich trekked down the field inside the Blue Devils' 20-yard-line for the second straight time and fourth time overall in the contest. Two short runs and two incomplete passes ended the Tornado excursion, and Forks ran for three first downs killing the remaining clock.
The Tornado unveiled a much more wide-open offense using the passing game to put the Blue Devils defense on their heels. A first-quarter drive, however, stalled at the 17, and Jesse Prosser's 34-yard field goal attempt went wide of the mark.
The next possession for Norwich, Foote had pass completions to Moon and Prosser, while Mattingly and Foote also kept the chains moving with first-down runs. Foote hit wide-open sophomore Christian Hotaling on a six-yard TD strike just two plays into the second quarter.
Forks' offense got untracked two possessions later as Aston finished off a long drive breaking a tackle behind the line of scrimmage and scoring from 23 yards out. A successful point-after kick had the host club ahead for good.
Mattingly led the Norwich offense with 17 carries for 86 yards. The Tornado (3-3) celebrate homecoming weekend Friday against longtime rival Oneonta.
Place mouse over photos to read captions
Photo credits - None
---
| | | | | | | |
| --- | --- | --- | --- | --- | --- | --- |
| | 01 | 02 | 03 | 04 | | Tot |
| Chenango Forks | 0 | 7 | 0 | 7 | - | 14 |
| Norwich | 0 | 6 | 0 | 0 | - | 6 |
N - Christian Hotailing 6 pass from Nate Foote (Kick failed)
CF - Joe Aston 23 run (Rob Lumsden kick)
CF - Aston 5 run (Lumsden kick)


TEAM STATISTICS
| | | |
| --- | --- | --- |
| | Norwich | CF |
| First Downs | 13 | 14 |
| Rushes-Yards | 39-142 | 37-187 |
| Passing Yards | 59 | 0 |
| Comp-Att-Int | 6-14-0 | 0-2-0 |
| Total Offense | 53-201 | 39-187 |
| Punts-Ave yards | 3-42.3 | 3-31.3 |
| Fumbles-Lost | 0-0 | 2-2 |
| Penalties-Yards | 5-31 | 2-25 |
| | | |
.
INDIVIDUAL STATISTICS
Norwich rushing
Chris Mattingly 17-86
Mike Moon 9-26
Nate Foote 7-17
Jesse Prosser 6-13
Chenango Forks rushing
Joe Aston 18-131, 2 TDs
Jake Reynolds 8-20
Tim Zdimal 4-18
Nick Stephens 6-13
Ryan Freije 1-5
Norwich passing
Nate Foote 6-for-10, 59y, 0 int.
Chenango Forks passing
Jake Reynolds 0-for-2, 0 int.
Norwich receiving
Mike Moon 2-19
Jesse Prosser 1-17
Tyler Slater 2-17
Christian Hotaling 1-6, 1 TD
Chenango Forks receiving:
JV Score: Chenango Forks 13, Norwich 7
---
Preview Articles

Binghamton Press article coming later.
---
By Patrick Newel
Chenango Evening Sun
No Section IV, Class B team has beaten Chenango Forks the past six seasons, although Chenango Valley came as close as anyone the past two seasons. Forks needed a TD pass from Jake Reynolds to Garrett Cade with 22 seconds left in the contest to pull that victory out. It was the second comeback win for Forks this season, who also scored a fourth-quarter TD to beat Corning East, 15-12.

Reynolds leads the offense, and he is bolstered by the running of Joe Aston, Tim Zdimal, and Nick Stephens. Cade offers a large target for Reynolds, and his 6-foot-4 frame allowed him to win a jump ball in the endzone against CV's defensive backs.

Norwich is coming off its best defensive game against the run all season holding Sus Valley to under 75 yards on the ground. The running attack is led by senior Chris Mattingly (510 yards), Mike Moon (280 yards), and Jesse Prosser (238 yards). NHS quarterback Nate Foote has 165 yards rushing and 127 passing including a pair of touchdown passes.

---
Post-game Article:

Fifth Quarter:

Published Tuesdays in the Binghamton Press & Sun-Bulletin

Tough loss for Norwich

After the postgame handshake line with Chenango Forks, Norwich players silently gathered around coach John Pluta for a brief talk.

After Pluta was done, a couple players came over to shake their coach's hand. The players and coaches all had the same somber look to them after the tough eight-point loss.

"We thought we had a chance to win this game," Pluta said. "We didn't come down here to keep the game close or just to play well. We came down here to win the game. We did play well, but we didn't quite get it done."

Chenango Forks coach Kelsey Green was also quiet after the game. His team won, but Green felt the Blue Devils didn't play up to par.

"Our tackling was extremely poor," Green said. "They managed to break a lot of tackles. Now, you can attribute part of that to the Norwich backs. They're very tough and ran very well. But we missed a lot of tackles. We'll have to go back to the drawing board this week, and we'll have to play better. We took a step back today, and we'll have to take two steps forward next week to recover."

---