...
2007 Chenango Forks Varsity Football
Game 11 vs Cazenovia

Blue Devils defeat Caz 12-7!
Gain State Final Four berth for record 7th straight time!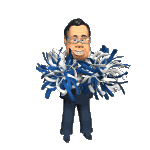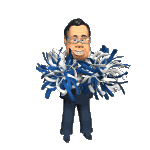 Articles courtesy of the Binghamton Press & Sun-Bulletin
Place mouse over photos to read captions
Photo credits - none
---
Forks' defense shines
Blue Devils reach semifinals
By Kevin Stevens
Binghamton Press & Sun-Bulletin
BINGHAMTON -- Off to the Final Four of Class B state football playoffs heads Chenango Forks, once again, this time on the heels of sheer survival in the quarterfinal round.
This one, a 12-7 victory Saturday night over Cazenovia, can be chalked up to taking care of offensive business early, and thereafter to big-play defense and to conditioning and to postseason know-how.
And certainly, factor in Blue Devil pride and subsequent refusal to allow closure of a varsity football season short of a 12th game for the first time since the present seniors manned seats in a fifth-grade classroom.
It wasn't until Nolan Haycook sacked crazy-legs Cazenovia quarterback Cole Koesterer for a 4-yard, fourth-down loss on the frosted-over turf of Binghamton Alumni Stadium with 58.2 seconds remaining that Forks (11-0) had sealed its seventh consecutive semifinal berth.
Next up comes Geneva -- a rematch of last year's semifinal, just as the quarterfinal thriller was a rematch with the Lakers. Kickoff is set for 3 p.m. Saturday at PAETEC Park in Rochester.
The victory came despite pick-up of a single Forks first down after halftime, and despite a stretch encompassing the third quarter and early moments of the fourth in which Cazenovia -- employing a hurry-up, spread offense with Koesterer in shotgun formation -- ran 30 offensive plays to the Blue Devils' five.
Forks' two-touchdown halftime advantage was constructed via a 5-yard touchdown rush by Nick Stephens to cap a 64-yard, game-opening drive, and a crafty piece of work from Clint Cade on the receiving end of a 26-yard scoring pass from Jake Reynolds six plays into the second quarter.
That lead was trimmed to 12-7 when Koesterer sneaked in from the 1-yard line 84 seconds into the final quarter and Nick Rogers tacked on the PAT conversion.
From that juncture, Forks' big-time plays were not of the offensive variety.
A 40-yard kickoff return up the guests' sideline by Shane Baron after Cazenovia's TD enabled Forks to set up at the Lakers' 41-yard line.
Then, on Cazenovia's next possession, Clint Cade's diving second-down tackle of Chris Nourse for a 2-yard loss was followed by Baron, Haycook and Reynolds converging on Chad Dorrance for a 3-yard loss on a reverse, prompting Koesterer's quick-kick punt from his 34-yard line.
Forks, however, punted the ball right back, and Cazenovia took possession at the Blue Devils' 47 with 1:55 to play.
Three plays advanced the ball to the 33. But then came Jud DuBois with a sack for a 6-yard loss after Koesterer spent too many seconds in the backfield searching for a receiver.
The Lakers' last chance came on fourth-and-13 from the 37. Again, Koesterer accepted the snap 6 or so yards behind center and gave a lengthy survey of an uninviting secondary before Haycook took him to the turf.
Drive-snuffing third-quarter sacks were registered by Cade, on fourth down after Cazenovia had reached Forks' 17-yard line, and by Aaron Phelps to force a punt.
Cazenovia (10-1) turned to its hurry-up spread for good on its first second-quarter possession, and didn't deviate thereafter. Just how, defenders were asked, was Forks able to prevent the Lakers from crossing the goal line more than just once?
"It was crazy. It was hard to keep up with that quarterback," Cade said. "He'd go in-out, left-right, back-up and then run. It was hard to keep up with him."
"It was real tough because they have so much team speed," DuBois said. "I didn't know (Koesterer) was that fast, but when he busts outside there's no way you're going to catch him -- no way I'm going to catch him, anyway."
Blue Devils coach Kelsey Green said, "With a kid who can throw it like he can and run it like he can, boy, does that put pressure on you. But our kids were up to that. ... We always like to say we're in pretty good shape, but we were breathing heavy by the end of the game. But we're in shape, we do our work prior to the season and we do our work during the season."
Key in Forks taking a 12-0 lead into halftime was quarterback Reynolds' 4-for-4, 82-yard efficiency.
The first TD drive was helped along by a 36-yard completion to Garret Cade, who made the reception despite being grabbed by a defender.
The 26-yard TD reception by Clint Cade was a work of catch-and-run art. He made the grab at the 13 with a head of steam toward the sideline, absorbed a hit and somehow managed to stay inbounds and turn up-field and get into the end zone.
"We made some nice offensive plays in the beginning, and then we just got shut down -- which, I was afraid that could have happened the whole ballgame because they are that good on defense," Green said. "They're all over you, fast and physical.
"But, our defense isn't bad, either."
---
Same bitter pill for Caz

By Neil Kerr
Syracuse Post-Standard

Despite a furious fourth-quarter comeback bid, Section III Class B football champion Cazenovia (10-1) saw its season end in state quarterfinal play for the second straight season. And it was Section IV's Chenango Forks that again stymied the Lakers, hanging on for a 12-7 victory at Binghamton Alumni Stadium.

A season ago, coach Tom Neidl's squad lost to the Blue Devils 3-0 on the same weekend.

Chenango Forks, ranked second in the state, built a 12-0 lead in the first half, then held off a fourth-period rally by the Lakers and advanced to next week's final four for the seventh straight year.

The Blue Devils quickly marched downfield early in the opening quarter and took a 6-0 lead when senior fullback Nick Stephens scored from five yards out.

In the second quarter, Blue Devils quarterback Jake Reynolds led Chenango Forks to its second score, connecting with wide receiver Garret Cade for a 26-yard TD. That gave Forks a 12-0 halftime lead.

After being shut out for three periods, Cazenovia trimmed the Blue Devils' lead to 12-7 when senior quarterback Cole Koesterer dove the final yard for a touchdown to end the only Lakers' scoring drive of the game. Nick Rogers then kicked the last extra point of the season.

With time running down, Cazenovia regained possession deep in its territory for one final drive. Forks' 225-pound senior defensive lineman Nolan Haycook sacked Cazenovia QB Koesterer on 4th-and-long with 58 seconds to play.

With the win, Chenango Forks advances to Rochester's PAETEC Park for a repeat semifinal matchup with defending state champion Geneva (9-2) at 3 p.m. Saturday.

Geneva (Section V) ended Forks' season last year with a 26-21 win in the state semifinals. The other state Class B semifinal will pair Peru (11-0) of Section VII with Rye (10-0) of Section I at 4 p.m. Saturday at Dietz Stadium in Kingston.

---
Lakers' football season ended by Forks again
Written by: Phil Blackwell, Sports Editor
cnylink.com
Cazenovia football head coach Tom Neidl made it very clear that the difference between his squad and Chenango Forks in last Saturday night's Class B regional final was quite thin.
"We needed one more big play," he said. "And we didn't get it."
Since that didn't take place, the Lakers' season again ended at the Blue Devils' hands, a 12-7 defeat at Binghamton's Alumni Stadium that marked the seventh year in a row where Forks prevailed in this round against the Section III representative.
Unlike the rain-soaked 3-0 loss sustained in the 2006 regional final, Cazenovia did not have to worry about precipitation on a cold, clear night where temperatures plunged into the 20s.
Instead, the primary concern was going up against Forks' well-regarded defense, which had blanked the Lakers the year before (aided in no small part by the rain), and possesses a potent combination of speed and physical play that most teams cannot handle.
Immediately, Forks allowed that defense to play with the lead, taking the opening kickoff and going 64 yards against Cazenovia's own vaunted defense. The big play, a 36-yard pass from Jake Reynolds to Garret Cade, set up Nick Stephens' five-yard touchdown run.
Starting out in its conventional set, the Lakers could get nothing going in either of its first two series. Significantly, the option to tailback Chris Nourse that worked so well in the sectional Class B final against Westhill was shut down as Forks defenders quickly clogged up any possible lanes.
Mixing up power runs with play-action passes, Reynolds again moved the Blue Devils down the field on its third possession, a 69-yard march that stretched into the second quarter. From the Lakers' 26, Reynolds found Clint Cade over the middle at the 13, and Cade ran over a tackle and drove down the sideline to the end zone.
Now down 12-0, the Lakers switched to the spread no-huddle offense, just as it had done when it fell behind Solvay in the sectional Class B semifinals. In theory, it would give Koesterer more time to throw and more passing options, too.
But Forks had a ready answer. It allowed Koesterer to throw to the wing for short gains as Nick Dougherty and Chad Dorrance caught most of those passes – but it blanketed the downfield receivers, as Ben Dewan and Aaron Race never seemed to get open.
Thus, for the rest of the game, Koesterer would stand in the pocket for long periods of time, then be forced to scramble when pass protection broke down. Forks' ability to neutralize this downfield threat would keep the game 12-0 until halftime.
Cazenovia's frustration continued to build in a third quarter it would mostly dominate. Twice, it drove deep into Forks territory, only to have a fourth-down sack at the 20-yard line end one drive and a holding penalty halt the other.
While all this was going on, the Lakers' defense had settled down – and clamped down, negating the Blue Devils' trademark power running attack and even earning an interception when Reynolds tried one deep throw – and watched Nourse pick it off.
That turnover set up the Lakers to get on the board. Twice on that 67-yard march, Koesterer made fourth-down conversions by running the ball, and it culminated when the senior quarterback scored on a one-yard plunge with 10:28 to play.
Again, the Lakers' defense stepped up, earning two more stops in the fourth quarter to keep Forks from any chance at gobbling up the clock.
Still, at TD was needed, and the Lakers twice had great chances to win. On the first try, it moved to the Blue Devils' 35 midway through the period, only to be stopped, and got one more chance when it took the ball at Forks' 47-yard line with 1:55 to play.
With everyone in the stands standing and screaming amid the chill, Koesterer drove Cazenovia to the Blue Devils' 33 and still had two time-outs left.
Then came a play that symbolized the night. Again, Koesterer went back to throw and had all kinds of time, but no one was even close to open. Before he could take off,
Koesterer got caught, as Forks linebacker Jed DuBois sacked him.
Forced to spike the ball and stop the clock, the Lakers also got little on third down. And on fourth-and-14, with the season on the line, Nolan Haycook got to Koesterer and sacked him one more time, punching Forks' ticket to this weekend's state semifinal against defending champion Geneva.
When it was done, Neidl told all his players to keep their heads high, that their effort had been exemplary against the state's best Class B program of the new millennium.
Plus, it's hard to find fault with a 10-1 season that included another sectional title and high accolades from all that saw the Lakers in action.
Now comes the departure of an extraordinary senior class. Koesterer, Nourse, Dewan, Race, Artie Bigsby, Connor Ryan, Lee Namy, Marcus Schokker, A.J. Berry, Patrick Roszel and Nick Rogers all helped Cazenovia win back-to-back sectional titles and dominate all local opposition. Doing so again in 2008 might prove far more challenging.
You can listen to Phil Blackwell, Eagle Newspapers' sports editor, at 10 a.m. every Saturday on WHEN, AM620
---
Five Try, Three Move On

Posted by pblackwe November 11, 2007 7:59PM

Cazenovia's memories of Chenango Forks are less pleasant. When Forks began its amazing run of semifinal appearances in 2001, it beat the Lakers to kick it off. It kept that regional streak alive half a decade later in a 3-0 reunion against the Lakers amid that Biblical downpour. And now the Blue Devils' streak is at seven, despite the Cazenovia's all-out effort on a bitterly cold Saturday night in Binghamton.
Bolting out in front 12-0, Forks forced the Lakers into its no-huddle spread offense by the second quarter, and Coleman Koesterer had to run for his life often to keep his team alive. Yet he led a second-half scoring drive and had the Lakers in Blue Devil territory twice in the late stages with a chance to win it.
Both times, the Forks defense shut Cazenovia down, mainly by blanketing Koesterer's receivers. Thus, Koesterer had lots of time in the pocket, but nothing to do - and when the pass protection broke down, he got sacked twice on the final drive. Tom Neidl said one more big play would have done it - but it never materialized.
Forks' 12-7 win ended Cazenovia's run, and it will be tough for them to replace great seniors like Koesterer, Chris Nourse and Artie Bigsby. And they'll watch as Forks and Geneva stage a rematch of last year's riveting semifinal that Geneva won on the way to a state championship.
Place mouse over photos to read captions
Photo credits - None
---
| | | | | | | |
| --- | --- | --- | --- | --- | --- | --- |
| | 01 | 02 | 03 | 04 | | Tot |
| Chenango Forks | 6 | 6 | 0 | 0 | - | 12 |
| Cazenovia | 0 | 0 | 0 | 7 | - | 7 |
CF - Nick Stephens 5 run (Kick failed).
CF - Clint Cade 26 pass from Jake Reynolds (Pass failed).
C - Cole Koesterer 1 run (Nick Rogers kick).
TEAM STATISTICS
| | | |
| --- | --- | --- |
| | Cazenovia | CF |
| First Downs | 13 | 8 |
| Rushes-Yards | 44-123 | 39-106 |
| Passing Yards | 65 | 82 |
| Comp-Att-Int | 10-16-0 | 4-6-1 |
| Total Offense | 60-188 | 45-188 |
| Punts-Ave yards | 4-37.5 | 3-27.7 |
| Fumbles-Lost | 0-0 | 1-1 |
| Penalties-Yards | 2-40 | 2-8 |
| | | |
.
INDIVIDUAL STATISTICS
Cazenovia rushing
Cole Koesterer 28-83, 1 TD
Chris Nourse 12-33
Chad Dorrance 2-5
Tom Groetz 2-2
Chenango Forks rushing
Joe Aston 12-36
Jake Reynolds 14-36
Nick Stephens 8-26, 1 TD
Tim Zdimal 5-8
Cazenovia passing
Cole Koesterer 9-for-15, 59y, 0 int.
Tom Groetz 1-for-1, 6y, 0 int.

Chenango Forks passing
Jake Reynolds 4-for-6, 82y, 1 int.
Cazenovia receiving
Ben Dewan 3-27
Sean Dougherty 3-25
Chad Dorrance 3-14
Chris Nourse 1-(-1)
Chenango Forks receiving:
Garret Cade 1-36
Clint Cade 2-33, 1 TD
Nick Stephens 1-13
---
Preview Articles
Forks looks to get past stout Cazenovia defense
By Kevin Stevens
Press & Sun-Bulletin
Chenango Forks will seek a seventh consecutive berth in the Final Four of Class B state football playoffs beginning at 7 tonight, when Cazenovia will be the opponent for a quarterfinal at Binghamton Alumni Stadium.
The second-ranked Blue Devils (10-0) did not allow an offensive touchdown in either of their Section 4 playoff games. Third-ranked Cazenovia (10-0) features a first-unit defense that had surrendered three touchdowns in the 20 games preceding last week's 44-34 shootout with Westhill.
A year ago in a driving rain at Cicero-North Syracuse, Forks slipped past Cazenovia 3-0, picking up a mere nine first downs and failing to complete a pass along the way.
"They haven't changed a whole lot in terms of what they do, and neither have we," Blue Devils coach Kelsey Green said. "They're not exceptionally big, but they've got great team speed. Until (the Westhill game), they'd been playing defense pretty much the same way they played last year -- which is giving up nothing."
The Lakers play ultra-aggressive defense out of a 4-3 alignment, with 6-foot, 208-pound Artie Bigsby the acknowledged band leader at middle linebacker. Seven points per game against Cazenovia reserves is all that was mustered through the Lakers' first nine games of 2007.
"Their guys don't stay blocked," Green said. "They're doing something right with their pursuit and their gang-tackling. Hopefully, we have to make them pay once in a while being up there on the line of scrimmage.
"If we get that crease and get somebody on that one player who's not playing his responsibility, we can get that big play."
A key element in Forks' offense, senior halfback and rushing leading Joe Aston, sustained an ankle injury last weekend against Chenango Valley that kept him out of the backfield for the bulk of the second half. In fact, a combination of soreness and illness left the Blue Devils with 26 of their 34 players available for duty at an early-week practice.
While most of those affected are expected to be ready for action tonight, Green said, "We have our fingers crossed with Joe."
The Blue Devils would very much like to continue a pattern that has seen them strike for touchdowns of 60 or more yards on their opening possession each of the last two games. This time out, success in the passing game triggered by quarterback Jake Reynolds would also figure to be necessary. And when he looks to pass, 6-foot-4 Garret Cade is frequently in his viewfinder.
When Cazenovia has the football, Forks will be mindful of running back Chris Nourse, who eclipsed the 1,000-yard mark for the season with a 281-yard effort against Westhill. Quarterback Cole Koesterer is a holdover from last year, and has passed for four digits worth of yardage this season.
A new wrinkle for the Lakers this season, from what Green and staff have observed, is Koesterer working on occasion from shotgun formation with receivers spread about.
"I don't think we want to get into a track meet with these guys," Green said.
It'll be the third Forks-Cazenovia matchup, all three in the state quarterfinal round. The Blue Devils won by 27-7 in 2001, the season the program's remarkable 82-5 run started rolling.
Tonight's winner will move on to a semifinal Saturday at Paetec Park in Rochester, against either Depew or Geneva.
---
Cazenovia looking for revenge
Section III champion faces Chenango Forks in the state football playoffs

By Neil Kerr
Syracuse Post-Standard
After winning a second straight Section III Class B football title Saturday with a 44-34 victory over formerly unbeaten Westhill, Cazenovia (10-0) will tackle Section IV champion Chenango Forks (10-0) in a state quarterfinal contest. Game time is 7 p.m. Saturday at Binghamton High School.
A year ago, playing in a driving rainstorm at Cicero-North Syracuse, Cazenovia dropped a 3-0 decision to coach Kelsey Green's Chenango Forks team, which went on to finish second in the state tournament to Geneva.
The rain obviously hampered both teams, but Cazenovia coach Tom Neidl later stated he thought the weather conditions were more harmful to his Lakers than to the Blue Devils. That's because the 2006 Cazenovia team relied on its quickness, while Chenango Forks is traditionally a straight-ahead power football team.
"I never make excuses for a loss, but the rain during our Chenango Forks' game took away a lot of what we like to do, offensively," said Neidl when the game was over. "That's not meant to disrespect Chenango Forks, but I just think we could have done better under decent playing conditions."
---
Class B: Cazenovia-III (10-0) vs. Chenango Forks-IV (10-0)

When: 7 p.m. Saturday at Binghamton Alumni Stadium

Cazenovia key players: Cole Koesterer, QB-DB; Chris Nourse, RB-DB; Ben Dewan, WR-DB; Art Bigsby, TE-LB; Chad Dorrance, RB-LB; Lee Namy, OL-DL; A.J. Berry, OL-DL; Nick Rogers, WR-DB-kicker; Aaron Race, WR-DB; Mike McGinnis, RB-LB; Marcus Schokker, OL-DL; Connor Ryan, OL-DL.

Chenango Forks key players: Garret Cade, WR-DB; Joe Aston, RB-LB; Jake Reynolds, QB-LB; Nick Stephens, Noah Davis, OL-DL; Tom Voorhis, DL; Clint Cade, WR-DE; Jud Dubois, OL-DL; Nolan Haycook, DL; Aaron Phelps, OL-DL; Max Ginty, DE.

The skinny: Tailback Chris Nourse and quarterback Cole Koesterer led Cazenovia to a repeat as sectional Class B champion with a 44-34 win over Westhill. Both have gone over the 1,000-yard plateau for the season. Saturday, the Lakers bid to atone for a 3-0 loss to Chenango Forks a year ago this weekend. To do so, the powerful Cazenovia defense, featuring all-state linebacker Art Bigsby, may need to turn in its best performance of the season.

Chenango Forks, 82-5 in its last 87 games, prefers to run the ball straight up the field, using a small corps of ballcarriers. Senior TB Joe Aston (124-906) leads the Blue Devils' power game. Aston is backed by the efforts of 190-pound fullback Nick Stephens and 185-pound halfback Max Ginty. Senior QB Jake Reynolds has completed 25-of-49 passes for 498 yards on a team that throws sparingly, but effectively.

Kerr's pick: Cazenovia 28, Chenango Forks 26
---
Post-game Article:

Fifth Quarter:

Published Tuesdays in the Binghamton Press & Sun-Bulletin

Forks changes direction with Aston unable to carry load

By Kevin Stevens
Press & Sun-Bulletin

One might argue, given the quality of opponent coupled with the sub-par physical status of one key component, that Chenango Forks' most recent football victory was among the most impressive of the program's 83 collected from 2001 to the present.

The second-ranked Blue Devils dealt third-ranked Cazenovia its second loss in as many seasons, 12-7, in a Class B state quarterfinal, heading off a Saturday sweep by Section 3 squads visiting Binghamton Alumni Stadium.

It was a victory logged despite Blue Devils rushing leader Joe Aston playing at far less than full strength because of an ankle sprain that kept him off the practice field all week but for a Thursday test-run. The injury was sustained the week before against Chenango Valley.

A 5-foot-10, 189-pound senior, Aston contributed 12 carries to Forks' cause, but the resulting average of 3 yards per carry was far short of his season-long norm.

Enter quarterback Jake Reynolds, called upon to utilize the forward pass four times before halftime -- perfectly trigger-happy by Forks' ordinarily conservative standards.

Reynolds -- with aid of sound protection -- answered the call by turning those four throws into four completions worth 82 yards, one touchdown and another TD table-setter.

"There's no way we're going to take the football and put 15-play drives on them, especially with Joey on one leg," Blue Devils coach Kelsey Green said of a Grade-A Lakers defense. "Joey's been our breakaway, crease, extra 5-, 6-, 10-yard carrier all year. He gutted it out, played tough football and he had some good carries, but he wasn't Joey. He wasn't even half of Joey.

"So, it did come down to other people. A lot of them are the unsung heroes, the offensive line. And Jake and the Cade boys, it's nice to have them with you."

Garret Cade made the first reception of the ballgame, a 36-yarder to the Lakers' 16-yard line on the fifth play from scrimmage, despite a pass-interference penalty that was declined. Forks' first touchdown came five plays later.

Clint Cade accounted for the second TD on a 26-yard reception six plays into the second quarter, his second reception in a three-play span.

The 12-0 lead prompted Cazenovia to scrap its customary offensive scheme in favor of a no-huddle spread look with QB Cole Koesterer operating exclusively from the shotgun. The same squad that mustered seven points against Forks had hung 44 on Westhill the week before in Section 3's title game.

"Our coverage in the secondary shut them down, allowed the line to work and get to that quarterback," Forks lineman Jud DuBois said of the difference-making defense.
---