Forks escapes CV

Late Warriors' miscues help Blue Devils

By Kevin Stevens
Press & Sun-Bulletin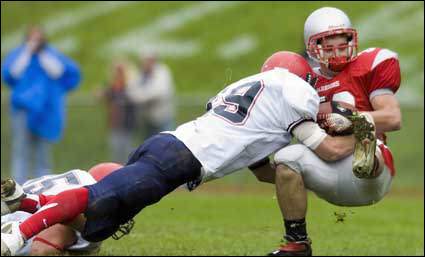 Forks rules The Valley" chants were revved up once again, for a 12th consecutive edition of the Chenango Forks--Chenango Valley football rivalry.
More appropriate, however, in the wake of the Blue Devils' 14-9 victory Saturday, might have been "Forks barely escapes The Valley," or perhaps, "Late breaks assist Forks' rule of The Valley."
The Blue Devils retained neighborhood bragging rights when Joe Aston sprinted 5 yards around left end for a touchdown with 55.7 seconds remaining, and teammate Tim Zdimal intercepted a CV pass near midfield with six seconds left.
But assuredly, they'll not have any dominance to reflect on. Not this year, not after posting their narrowest margin of victory over CV since a one-point tickler in 1996.
"They're a good football team, and we knew that," Forks coach Kelsey Green said. "People were coming to me all week and saying, 'Naw, really?' Well, I hope they came to the game. Because if they just read about it and see us by 14-9 and think we didn't play well, they're out of their minds.
"That's a good football team."
But in the waning moments, CV was a good football team that committed several costly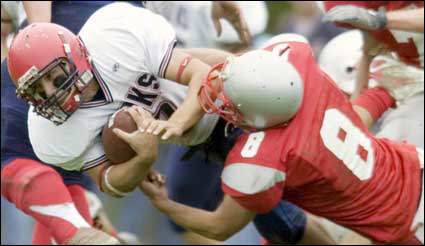 blunders.
The Warriors (4-1) took a 9-7 lead when, on the first play of the final quarter, Matt Mullins passed to Nick Dadamio for a 7-yard touchdown.
Three punts and a turnover later, Forks, still down 9-7, took possession of the football at its 42-yard line with 4:29 remaining.
On the second play of the drive, the Warriors were called for roughing the passer, a penalty that moved the football to CV's 37. Five plays later, on third down from the 35-yard line, Blue Devils quarterback Bryan Lance dropped back and passed deep intended for Drew Pero. The pass was incomplete, but CV was called for pass interference.
What followed was the critical penalty, a dead-ball unsportsmanlike conduct infraction against CV coach Jay Hope for protesting the call. That advanced the ball half-the-distance to the goal line, or, the 10-yard line.
Aston picked up 5 yards to the 5, and on second down was stopped for no gain.
On third down, with 59 seconds remaining, Aston took off to his left, continued a wide path to the outside and ran in without a touch from a defender. Dylan Warner's second successful PAT kick accounted for the final point of the game.
Chenango Valley started at its 21-yard line after the ensuing kickoff, and moved to its 45 in five plays.
On second down after Mullins spiked the football to stop the clock with 13 1/2 seconds remaining, Mullins passed down the middle. The ball caromed high off the hands of a receiver and was picked off by sophomore Zdimal.
All that remained was Lance taking a knee, and Forks improved to a 4-1 record.
"That last one, we got a timeout (before the TD) and Chick (assistant coach Dave Chickanosky) talked about a different blocking scheme. We just took it a little wider," Green said. "Joey is a tough 5-yard runner, a little sparkplug. That's who we wanted with it, and Jarred Wells threw a nice block."
As for the penalty that brought the football to the 10, Hope accepted full responsibility.
"We talk to our kids about that kind of stuff all the time," he said. "I'm the leader of the ship, I'll take the blame on that one. I have to. I did it."
The game amounted to a showcase for CV's passing game, featuring junior quarterback Mullins and a talented cast of dependable receivers.
Mullins completed 16 of 27 throws for 196 yards, demonstrating quality decision making behind some excellent pass protection.
On a 79-yard drive for CV's touchdown to open the fourth quarter, Mullins spread six completions for an 80-yard total to three receivers.
"He's got a lot of poise back there," Green said of Mullins. "We didn't get a lot of pressure on him, and he's very accurate. They spread you, they all can run, they can catch it and he can throw it."
Mullins said: "For the previous four games, we were opening up the run. (Forks) knew we could throw it, but I think they were expecting us to run the ball a little more than we threw it."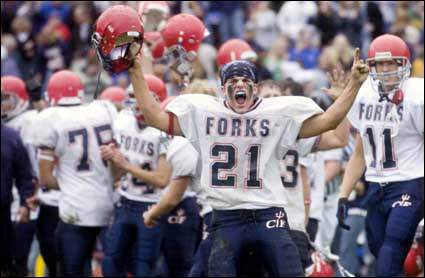 CV struck first on a 34-yard field goal from Dadamio 5:09 into the game.
Forks answered on its first possession of the second quarter when a 28-yard Lance-to-Garrett Cade pass play brought the ball to the 7, and Nick Stephens rushed in on the next play.
"It just shows that we can come from behind, that we never give up," Warner said of the outcome. "It's Forks football. You never give up."
Forks' Josh Cary added, "There were two prepared football teams, both physical teams. I think the game came down to who made the fewer mistakes."