Nicholson's three TDs sink Windsor

By Kevin Stevens
Press & Sun-Bulletin

ENDICOTT -- As the rest of Section 4's Class B football lot transitions into winter sports season, Chenango Forks once again shifts into state playoff mode.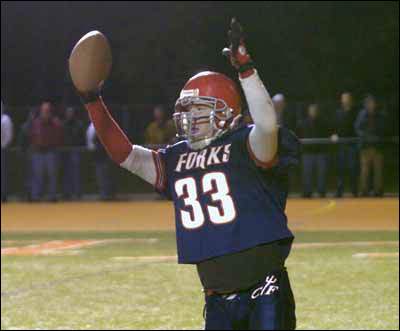 The Blue Devils extended to six their string of sectional championships with Friday night's 29-12 victory over Windsor at Union-Endicott's Ty Cobb Stadium, their eighth consecutive victory since a Week 2 setback against Corning East.
Forks senior Dylan Warner accounted for the lone first-half points on a 20-yard field goal, and contributed what may have been the most significant play of the contest on the defensive side to set up his team's first touchdown.
In the end, Forks rushers had outdone their Windsor counterparts by nearly a 4-to-1 ratio in the Blue Devils' second defeat of Windsor in a three-weekend stretch -- each time limiting the Black Knights to a dozen points.
Ahead for Forks (9-1) -- leader by 22-0 midway through the final quarter -- is a state quarterfinal game against Cazenovia or Westhill of Section 3, that at 6 p.m. next Saturday at Cicero-North Syracuse.
Fullback Joe Nicholson rushed for three touchdowns and Nick Stephens another for Forks, which surrendered 244 passing yards and two TDs to Windsor's Adam Good. His night featured a pair of 77-yard scoring strikes to Cody Whitman in the final 5:16 of play.
"Everyone thought that 2005 was the last Chenango Forks team, that was the end of it," said Nicholson, a 197-pound senior. "But we just used that, came out and played Forks football, came out and got it done. I thought we'd be standing here because we're Forks football, we know what we've got to get done and we just came out and did it."
"We knew we were a great team coming in, and we got better and better every week," said Forks quarterback Bryan Lance, whose continued excellence orchestrating the offense led to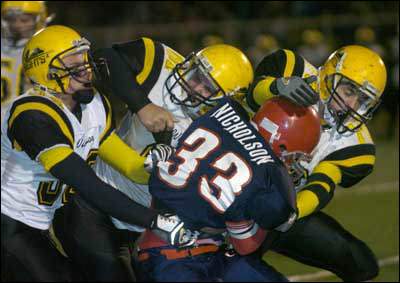 101 rushing yards to top all ball carriers. "It just feels so good. Every year, they're saying somebody else is going to beat us. This year, it was supposed to be Windsor taking it to states.
"We're just glad we're not handing in our pads this week."
Forks' first-half offense was, in large part, The Bryan Lance Show.
Beginning with a 26-yard gain on the second play from scrimmage, he was the individual Windsor defenders couldn't seem to contain. In fact, five of Lance's 11 first-half rushes went for double-digit yardage, and he had 101 yards in the books by halftime.
However, Forks' lead at intermission was a scant 3-0. Warner's 20-yard field goal was the relative consolation prize when Windsor's defense denied a Forks squad that had first-and-goal from the 5-yard line. The three-pointer came midway through the second quarter, on the 17th play of a drive that began at Forks' 4-yard line following a superb 44-yard punt by Steve DeMarco.
A short while later, the Black Knights (8-2) rode Good's passing for a seven-play, 57-yard drive that ended when Lance felled receiver Tim Costello at Forks' 11-yard line as time expired in the first half.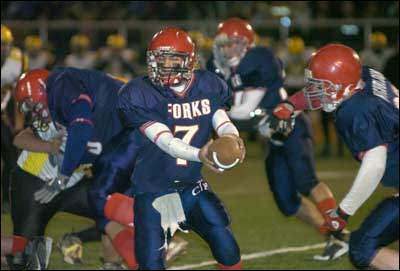 The teams traded third-quarter punts before Warner turned in the defensive play of the night.
Windsor started its second possession of the third quarter with 6:22 to play at its 37-yard line. On first down, Good passed to his right and Warner intercepted at about Forks' 42-yard line. He raced back down the field with authority to set up the Blue Devils at Windsor's 18.
It took Forks eight plays to cash in, the points coming on a 2-yard blast -- shoulders-low, legs-a-churning -- by Nicholson. The score came four plays and a Forks penalty after Lance completed a 14-yard pass to Garret Cade on fourth-and-11 from the 19.
"Warner's interception, what a play," Blue Devils coach Kelsey Green said. "I don't think there's any question, that's the key play of the football game. Getting that ball and taking it down there, that was huge. And then getting it in, because they're tough."
The Blue Devils then forced a three-and-out Windsor series, and after a punt, went 49 yards in eight rushing plays. Nicholson dashed in from the 8-yard line to make it 16-0 with 9:36 to play in the game, perhaps a defender's glove or two impeding his progress along the way.
Windsor muffed the ensuing kickoff, Forks recovered, and ran five plays before Nicholson bulled in from the 1-yard line for a 22-0 advantage with 6:19 remaining.
What remained were the two Good-to-Whitman 77-yard scoring passes, with a 3-yard TD rush by Forks' Nick Stephens sandwiched between. Good, despite playing with an ankle sprain, closed 10-for-26 for 244 yards.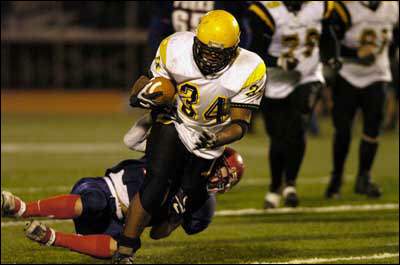 "Defensively, we played wonderfully," Green said. "That kid can throw it. It did hurt that he was hobbled, there's no question, because it takes his mobility out, the pressure he puts on our corner. But, boy, they ran hard, they blocked hard, he threw well -- they've got nothing to be ashamed of. They've got a good football team."
Chenango Forks now braces for an 11th weekend of football for the sixth consecutive autumn.
"Six times means we own Section 4 Class B," said Nicholson, who rushed for 84 yards. "Forks is Section 4 Class B, that's what six times means to us."