Forks holds on to title

Devils repeat with victory over Norwich
By Kevin Stevens
Binghamton Press & Sun-Bulletin

Photo's by Rebecca Towns - Binghamton Press & Sun-Bulletin
Place mouse over photos for caption
ENDICOTT -- Call it an eye-opening introduction to postseason football, 2004 style, for Chenango Forks.
Not even defending state champions riding New York's longest active football win streak, it would appear, are immune from the survive-and-advance bit that creeps into the equation with the onset of playoffs.
The Blue Devils survived, all right, by 15-6 over a defensively stupendous Norwich squad that pushed Forks to the limit in Section 4's Class B championship game Friday night at Ty Cobb Stadium.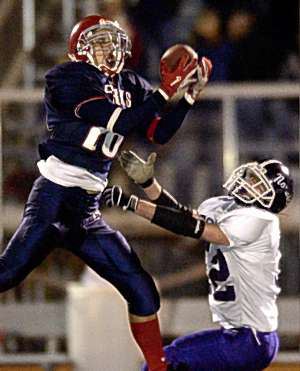 The 10-0 Blue Devils, whose narrowest winning margin in the regular season was 36 points -- on opening night, at Norwich -- didn't hold the lead for good until Tim O'Branski took an option pitch and motored 65 yards for a touchdown that made it 12-6 with 1:57 remaining in the third quarter.
In fact, take away that run and Forks' machine of a running offense was limited to 54 rushing yards. And, get this: The Devils punted seven times, one more than they had in their most recent five games combined.
All together, the statistics were a testament to the brand of defense Norwich (8-2) demonstrated from start to finish, and to the great strides the Purple Tornado has made since falling behind Forks by 37-0 at halftime on Sept. 3.
Ahead for Forks, which has won 23 straight games and is two wins shy of a fourth consecutive appearance in the Class B state final, is a quarterfinal against either Syracuse Westhill (6-3) or Oneida (8-1) at 9:30 a.m. a week from today in the Carrier Dome.
"We knew it (a tight game) was going to come all season, so we'd been preparing for it. But obviously, tonight we had to play four quarters," said O'Branski, a 175-pound senior. "It's a different situation than we'd been in, but we came up and rose to the occasion."
"We did tell them, 'Hey, we're in a dog fight,' and we've been telling them all year we're going to be in one some time, some way," Forks coach Kelsey Green said. "I like the way we came out even after we gave up the touchdown."
Norwich's score, the first points put on the board against Forks in over a month, came on a 3-yard rush by Blaine Laughlin with 5:37 remaining in the third quarter to make it 6-6. The Tornado's PAT attempt went awry, just as Forks' had following a Tim Batty-to-Zach Vredenburgh TD pass of 5 yards with 27.9 seconds to play in the first half.
Forks, facing its first tie score other than 0-0 all season, followed with its sixth three-and-out series of the night, but regained possession at its 35-yard line when Norwich punted back the football.
Two minutes and 10 seconds remained in the third quarter when Batty accepted the snap from center, started to his right and pitched to O'Branski. From there ...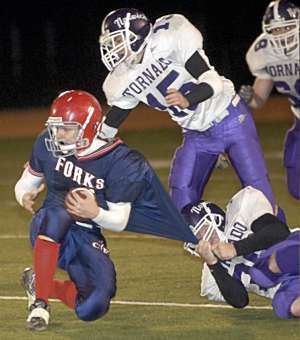 "It was open, Tim gave me the pitch and I had great blocks on the outside and I just had to run as fast as I could," O'Branski said. "I just ran as fast as I could and made it to the end zone."
Batty, virtually automatic on PAT kicks during the regular season, missed left for the second time and it remained 12-6.
Norwich picked up one first down on the ensuing possession, but the drive stalled at its 32-yard line. Forks took over following a punt at its 41, ran 14 plays before Batty was stopped for no gain on a third-down rush from the 1-yard line, and then he converted a 19-yard field goal for the 15-6 advantage with 4:03 remaining in the game.
Norwich failed to make a first down thereafter.
"We're a pretty good football team, and I don't think anybody thought we had a shot at this other than our kids and us. They executed our plan," Norwich coach John Pluta said. "We knew we couldn't sit back (defensively), we knew we had to come at them a little bit. Coach (John) Martinson made some great adjustments during the week from the first game against them.
"We're just a much better team. We're one play, two big plays away from winning it."
Forks' 227 yards of offense was 121 yards shy of its previous season low. In fact, Friday night marked just the third time this season the Blue Devils fell short of the 400-yard mark.
---
Tornado fall short to Blue Devils in sectional finals
By William Stratton
Sports Writer
The Norwich Evening Sun
ENDICOTT - Imagine you are watching your favorite movie, where the heroes are facing insurmountable odds and undefeatable foes. Imagine expecting the heroes to pull through, believing, knowing they will. But then, at the last minute, they fail. Imagine how it would feel. Or imagine that it's a cliffhanger, only this time the hero falls to his demise. Or perhaps it's a mystery, only this time the detective is unable to solve the case. Would it still be your favorite movie? Would you ever cheer for the underdogs again?
If you were in Endicott on Friday evening and happened to be a Norwich fan watching the Section IV class 'B' football championship Friday versus Chenango Forks, this might have been your exact experience as Norwich fell just short of victory 15-6.
Forks won the opening coin toss, and elected to defer their choice to the second half. As a result, Norwich received the kickoff and it's smash-mouth offense took the field. Over the season, the Norwich offense has proven a powerhouse running machine, and churned out hundreds of yards and points with numerous weapons. This was no ordinary defense, however. This was Chenango Forks, who had forced four shutouts and never allowed more than 14 points for the entire season. The Blue Devils promptly shut Norwich down, forcing a punt after three downs.
Now, the Forks offense took the field. Led by returning state MVP Tim Batty, they were used to rolling right over opposing defenses. The dogged Norwich defense, however, was not so easily dismissed. After three downs and two stops behind the line of scrimmage, it suddenly appeared obvious to onlookers that Norwich had not come to play, but to win. To keep this in perspective, the Chenango Forks offense had, previously, cranked out 425 points over 8 games, or about 53 points per game, the best by far in the section.
So it went for the next couple of series. Three downs, forced punt, repeat. Until the last drive of the first half, where Forks, having edged closer and closer to the end zone in a battle of field position, caught a break on a big play. With linebacker Chris Eddy in his face, on third-and long, Batty launched an off-balance, wobbly pass in the general direction of receiver Zach Vredenburgh. It was caught, and the play finished all they way down at the Norwich eight-yard line. The Norwich defense had a choice: Dig in and tough out four downs within its own ten-yard line, or quit and let Forks score. NHS chose to fight, and fight it did, stuffing the next four downs and recovering the ball on its own eight-yard line.
Now things began to get interesting, as both teams headed into the second quarter with different realizations. Forks realized that it was facing its first, and possibly only real threat for a loss this year. Norwich realized that in order to win, they would have to overcome the enormous talents on the Forks sidelines and simply out-tough them. The next few series could only be described as one thing: War. Every player on the field played with the intensity and determination of hardened battle veterans. There were hard hits, like the one Blaine Laughlin put on Batty on a scramble to the Forks sideline. There were plays of pure hard-nosed toughness, like the sack shared by Zach Stratton and Raymond Gonzalez in the middle of the Forks offensive line. And, there was a whole lot of good football.
Finally, with a minute and a half to go before the half, Batty dropped back in the pocket and let rip a long, hanging pass 38 yards downfield to John Florance, who tangled with Mike Abbott for the ball, and seemed to come up with it somehow when the whistle blew. It was a tough break for Norwich, and though it held through the next three downs, even forcing a loss, it was Batty again, this time on a perfectly tossed ball to Vredenburgh in the far corner of the end zone.
Going into the halftime break, down six points, and knowing that they were giving the ball right back for the start of the second half, the Purple Tornado had an uphill battle. It would have been easy to come out of the locker rooms shrugging their shoulders and conceding defeat, knowing that they already had done what no one else in the season had done, that they had already gone further than anyone had expected. But they did not.
The determined Norwich defense took the field after the kickoff and allowed only four yards on three downs. The defense, which had just seen a long desperate pass completed and a perfectly thrown touchdown score against it, balled its fists and swung back.
What separates the good teams from the great teams, however, is not only its ability to fight back from behind, but also to capitalize on momentum swings. The offense did just this, driving 68 yards in almost five minutes all the way to six points. Senior Justin Frink grabbed a couple of good runs off the start, followed by Brett Oles and Laughlin. Then it was quarterback Robert Martin, connecting first with Chris Eddy and then with Zach Williams to bring the ball within three yards of paydirt. Everyone in the whole stadium knew that Laughlin would get the call, right up the gut on first down, but, behind a newly re-energized offensive line and the collective will of half a stadium, he made it in anyway, right over the front of the Chenango Forks defensive line.
It was the culmination of an entire season's worth of frustration for the players, and three years' worth for the fans and coaches. It tied the game 6-6. It offered an opportunity, it seemed a gateway, a possibility for a truly great team to finally earn the respect that it had so long been denied. It earned such a huge response from the fans, players, and coaches alike, that it seemed to shake the stadium. Never mind that the extra point was missed, and that a chance to take the lead was dropped, the game was tied with only 17 minutes to go.
It seemed that the game was now a formality. The underdogs had struck, and the script said that of course, they had to win. The Norwich fans had seen this movie before, and their confidence was at a season-high. So it was that much more terrible when, two series later, with less than two minutes left on the clock, Tim O'Branski caught the corner on an option, and sprinted 65 yards down the sidelines for a touchdown.
To their credit, the Tornado fought back valiantly, driving again and again, pushing, striving toward another touchdown. It's defense held until late in the fourth quarter, when, after a few Norwich players were dropped to injury, Batty drove the Forks machine to the six-yard line. Then, a thing of true beauty, if such a thing exists in high school football. Down 12-6, with less than five minutes to play, facing first-and-goal from only seven yards out and with two of its starters with ice strapped to their knees on the sidelines, the Norwich defense showed pride and character. They stopped Forks on three consecutive downs, including two downs from within one yard.
Then, with time growing thin, Batty drew up for a field goal, and, despite having missed his two previous extra point attempts, he aced this one, making the score a final 15-6.
The players continued to push until time expired, but Forks, riding a two-score lead now, simply played prevent defense. It was, perhaps, Norwich's best effort of the season, despite the loss. They came hard, fought hard, and lost hard. It was a heart-breaking loss, no doubt, but it was a loss in which the Tornado could take pride. They should know now that not only can they play with the best, but they can beat them, if a few big plays swing one way or the other. And they should know that now, they are champions, in deed if not in name.
Head coach John Pluta summed it up well: "You are a great football team, no doubt about it. But better than that, you are great young men."