Binghamton Press & Sun-Bulletin -
Forks drives Dryden Batty
QB sparks Blue Devils with long touchdown run
BY KEVIN STEVENS
Press & Sun-Bulletin

DRYDEN -- The lead was seized with one big-play burst, the football game put away from there with grind-it-out offense and granite-solid defense.

So, make it 5-for-5 on the season for Chenango Forks, 17-0 winner Friday night over a Dryden squad that took to the field with a 2-0 Division IV record to Forks' 0-0.

Indefatigable fullback Joe Babcock lugged the football 31 times through considerable traffic, and teammate Tim Batty produced 11 points for the Blue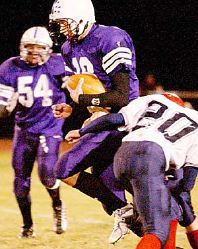 Devils, whose defense improved its per-game yield to a paltry 4.2 points per game.
It was 7-0 at halftime, courtesy of a 42-yard, third-and-too-long delight by Batty. Thereafter, Forks was more than content to ease into we're-tougher-than-you-are mode.
And, yes, the Devils made their point.
In the third quarter, Forks snapped the football 17 times to Dryden's four.
All told, and excluding punts, after halftime the Lions ran off 10 plays.
Ten!
"We know they run a 5-2, cover-2, but what makes them so effective is that they're fundamentally sound," Dryden coach Joe Mack said of the defense that had just blanked his boys. "They rarely get beat on big plays. That, coupled with the weather and the awful field position we had because of their special teams just made for a rough night for our offense."
Indeed, a chill in the early-October air coupled with chase-the-hat gusts of wind made for less-than-ideal conditions for the respective offenses. Then again, 183-pound senior Babcock didn't seem the least bit deterred.
To watch Babcock play fullback is to see a young man who'd gleefully accept a 45-carry load -- weekly -- and maintain his high level of linebacking, too.
On Friday, despite a Dryden run defense that Forks coach Kelsey Green deemed more stout than most against Babcock, he came through with 123 yards and a fourth-quarter touchdown that erased any hope of a comeback by the hosts.
What had been a we'll-punt/you-punt-back ballgame through five possessions was broken up when Batty demonstrated just the kind of ability Mack had articulated -- nay, feared -- several days before kickoff.
Forks, sizing up a third-and-24 play from Dryden's 42-yard line with just under five minutes to play in the first half, called for quarterback draw. Batty accepted the snap, saw running room, and turned what might have been a respectable gain into a brilliant touchdown by weaving through one line of defense after another until crossing the goal line.
He tacked on the PAT kick, and an extremely valuable seven points were on the board.
"That was a back-breaker," Mack said. "He's an athlete. He makes plays when he has to make plays. He is a heck of an athlete. It was third-and-24, and instead of going into the half 0-0, it was 7-0. That was a back-breaker."
"He's capable of doing that any time," said Green, who's watched and admired similar feats in past contests -- and figures to again.
Lead in hand to start the second half, and realizing that the defense was on its game against an unpredictable Dryden offense, Forks' offense got mean. Babcock's number was called 11 times in the third quarter, nine more in the fourth.
The lead grew to 10-0 when Batty, on the opening play of the final quarter, successfully booted a 19-yard field goal.
Dryden's ensuing possession ended with a minus-4-yard punt by Jeff Lang, who is rightfully acknowledged as one of the finest punters in Section 4. Yes, it was extremely windy.
Forks took over at the Lions' 46-yard line and, with aid of a roughing-the-punter penalty, knocked Dryden defenders repeatedly backward until Babcock muscled over from the 1-yard line with 2:24 remaining.
For the game, Blue Devils rushers enjoyed a 202-87 advantage in yards gained.
"I think we showed ourselves in that last quarter," Green said. "We sort of dominated that quarter. It speaks volumes about the guys up front, Joey, and Timmy Batty ran the offense very, very well."
---
Photo caption/credits - Dryden's Jeff Lang runs with the ball as Chenango Forks' Tim O'Branski, right, lunges for the tackle during the second quarter of Friday night's game in Dryden - Irina Peress, Ithaca Journal

---
Preview article from the Friday P&S-B:
ELSEWHERE ...
Chenango Forks (4-0), elevated a spot this week to No. 2 in the state's Class B rankings, visits Dryden (3-1) at 7 tonight for its Division IV opener.
Dryden has won three in a row since dropping a 36-15 opener at Norwich, and in its last two games has forced a combined 12 turnovers. In part, the takeaways can be tied to a four-part drill the Lions employ in practice that emphasizes such techniques as scoop-and-score, football-stripping and the like.
"We work on (creating) turnovers every day in practice," Dryden coach Joe Mack said. "Still, that stat is pretty amazing the last two games."
Forks has yielded a scant 21 points in four games, but tonight bumps into a pack of Lions that has put up a total of 65 in the last two weeks.
Dryden's main man is versatile senior Jeff Lang, quarterback/free safety/punter/kicker and a player Forks scouts are well aware of. His kickoffs regularly pass by the goal line, and last week against Dryden his five punts averaged 46 yards.
A weekend ago, Forks defeated Chenango Valley 21-7 with Joe Babcock rushing for 151 yards.
"They're so good, so fundamentally sound," Mack said of the Blue Devils. "They're big up front, their backs run hard. And I think (quarterback) Tim Batty is as good an athlete as there is in Section 4." ...