Binghamton Press & Sun-Bulletin -
Forks continues mastery of CV
Blue Devils' win streak at 9 straight vs. Warriors
BY MIKE MANGAN
Press & Sun-Bulletin

CHENANGO FORKS -- A healthy dose of Joe Babcock as well as a stellar defensive performance was more than enough for Chenango Forks to sustain its winning ways against rival Chenango Valley.

Babcock ran 27 times for 151 yards and a touchdown, and the Blue Devils defense shut down the visiting Warriors in a 21-7 non-league football victory Saturday.

It was the ninth straight victory over CV (2-2) for Forks (4-0), which took control of the game with a pair of touchdowns late in the first half.

The first of those two touchdowns came courtesy of Babcock. He carried all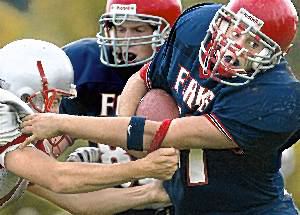 five times on Forks' five-play, 55-yard drive, scoring on a 1-yard run with 6:12 left in the second quarter to give Forks a 14-0 lead.
CV, which had mustered just one first down on its first three drives, finally got a big play on offense when John Cirba broke through the line for a 40-yard run to Forks' 40-yard line.
But the next few plays were indicative of the type of day it would be for the Forks defense.
On first-and-10 from the Forks 40, CV running back Josh Davidson was stopped for no gain.
Then, quarterback Nate Andrus was sacked for a 3-yard loss by Matt Stephens before a screen pass from Andrus to receiver Rick Connors went for an 11-yard loss, putting CV in a fourth-and-24 situation from its 46.
CV tried to punt, but the snap went over punter Kevin Ling's head. Ling recovered the ball and tried to throw a pass that went incomplete.
Forks took over on the CV 46, and six plays later scored on Tim Batty's 21-yard touchdown pass to Ben Farnham with 1:06 left in the second quarter, giving Forks a 21-0 lead.
"That was a big play," Forks coach Kelsey Green said of the touchdown pass. "It was tough to throw the ball with the wind howling, but he made a nice throw to Farnham, and he made a nice cut to get to the end zone.
"With a three-touchdown lead at the half, we obviously were in good shape."
Forks wasn't as sharp offensively in the second half, but its defense took care of matters.
CV didn't score until Andrus hit Connors on a 9-yard touchdown pass with with 3:19 left in the game. CF took over on its own 20 after the ensuing kickoff and managed to run out the clock.
It was a far better performance for CV than its 40-2 loss to Forks in last year's contest at Binghamton Alumni Stadium, but it wasn't nearly enough Saturday.
"I'm disappointed with the loss, but I'm not disappointed with the play," CV coach Gary Scutt said. "I like the way we hung together. We could have folded up and had it be a 42, 45-point game.
"The credit goes to CF, they're incredible. They're an outstanding football team."
Though an underdog coming into this year's game, CV's 2-1 start had its fans believing that, with a few breaks, this could be the year that its losing streak to Forks would come to an end.
But the opening drive set the tone for the game. With the wind at its back, CV kicked the ball out of bounds, giving Forks the ball on its 35.
"We deferred the kickoff, we wanted the wind, and then we kick it out of bounds. That's bad, that's awful," Scutt said.
The Blue Devils then embarked on a 14-play, 65-yard drive -- all the plays coming on the ground -- that chewed up six minutes before Jason Chier scored on a 15-yard run that gave Forks a 7-0 lead with 5:54 left in the first quarter.
"That was a great drive to start the game with," Green said. "We just wanted to establish field position, but then we were able to get some plays and keep the drive going."
Though CV's defense halted Forks next two drives, it couldn't get its offense untracked.
The Warriors only picked up three first downs in the first half, and by the time their offense showed signs of life, the outcome was virtually decided.
Though Cirba rushed for 89 yards on 11 carries, Davidson -- who came in averaging 148.7 yards rushing -- was limited to 33 yards on 11 carries. Andrus was 6-for-18 passing for 49 yards, most of that yardage coming in the fourth quarter.
Meanwhile, Babcock had his third-straight 100-yard rushing performance. His 151 yards marked a scholastic high.
"This is right up there," Babcock said, when assessing his effort. "It feels good, especially as a senior."
---
Photo caption/credits - CF running back Joe Babcock is tackled by Chenango Valley's Greg Baxter in the second quarter of Saturday's game. - Thomas LaBarbera, Binghamton Press & Sun-Bulletin

---
Babcock quietly piles up yards for Forks
BY MIKE MANGAN
Press & Sun-Bulletin - Tuesday September 30, 2003

In limited action at running back last season for Chenango Forks, Joe Babcock carried a mere 34 times, gaining 125 yards.

But when Blue Devils football coach Kelsey Green was looking for a guy to carry his team's running attack this season, he didn't take long for him to find out that Babcock was the man for the job.

"One of the things we try to do is to keep the football and control the clock, and he's the kind of kid you can do that with," Green said of Babcock, who has rushed for 489 yards in four games. "It seems like every carry, he's getting the most out of every run."

Babcock ran for 151 yards and a touchdown Saturday as Forks improved to 4-0 this season with a 21-7 victory over rival Chenango Valley, its ninth straight victory over the Warriors.

It was Babcock's third straight 100-yard game, following a 149-yard effort against Oneonta (a 30-14 victory) and a 106-yard effort against Norwich (in a 14-0 Week 2 victory).

"He's not flashy, he's subtle," Green said. "He seems to have the good forward momentum to make a 2 1/2-yard run into a 4-yard run.

"He's not going to turn anybody's head with his 40 time, but he's a tough kid, and he's just been a great leader."