...
2007 Chenango Forks Varsity Football
Game 9 vs Owego

Blue Devils blank Owego 34-0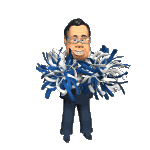 Articles courtesy of the Binghamton Press & Sun-Bulletin
Place mouse over photos to read captions
Photo credits - none
---
Forks rides defense to Class B final
Owego's offense stymied in semi

By Kevin Stevens
Binghamton Press & Sun-Bulletin

TOWN OF CHENANGO -- Chenango Forks rolled into a seventh consecutive Section 4 football title game Saturday with a 34-0 rout of Owego born of quick-strike point production and widespread defensive contributions.

The lead was Forks' for good 94 seconds into the contest on its weather-beaten mess of a playing surface, and upon conclusion the Blue Devils had secured for the sixth time in the last seven years a perfect record through the semifinal round of Class B playoffs.

Next up?

Oh, right, Chenango Valley, in a rematch of that Sept. 29 thriller the Blue Devils pulled out with a final-minute touchdown pass. Kickoff is scheduled for 7 p.m. Friday at Binghamton Alumni Stadium.

Forks took care of business to wrap up its Week 10 start, most decisively with a defense that permitted some ball movement but gave a figurative "Absolutely not!" to any notion of passage across the goal line.

Four of the Devils' five sacks were logged before halftime, and for the ballgame Owego mustered a net-40 rushing yards.

"It's all hard work and preparation, studying their plays and making sure we do our jobs right," was how Aaron Phelps, 5-foot-8 and 172 pounds worth of nose guard, summed up the shutout.

"Their defensive front just kind of controlled the line of scrimmage, really restricted what we were trying to do," Indians coach Steve Virkler said.

On the other side, Forks was treated to scoring runs of 80 yards by quarterback Jake Reynolds and 73 yards by fullback Nick Stephens-- the former on the third play from scrimmage and the latter on first down following a third-quarter punt.

Those two plays make for a misleading statistical summary -- 47 carries, 302 yards -- on a day Owego played sound run defense much of the way.

But this afternoon, under scowling skies that never did drop so much as a sprinkle during play, was mostly about the Blue Devils' defenders.

The first-half sacks belonged to Phelps, Clint Cade, Jud DuBois and Max Ginty, and sent Owego backtracking a net 19 yards.

"I think it was a matter of us not doing what we needed to do up front," Virkler said. "It wasn't like we were sending five guys out. We were protecting most of the time, we just didn't get it done. That's a tribute to how good the Forks athletes are up front."

"I think a lot of it had to do with our secondary having good coverage," DuBois said. "We were able to work around their line and get to him because he didn't have anywhere to throw the ball."

Owego did travel 30 yards on five plays to the Blue Devils' 12 after recovering a fumble with about two minutes remaining in the first half. But the half ended on consecutive pass incompletions.

Stephens' 73-yard TD, down the left sideline behind exquisite blocking that featured a beauty from Tim Zdimal well downfield, and Rob Lumsden's PAT kick made it 21-0 with 2:59 left in the third quarter.

What followed was another heaping helping of Devils defense.

Dan Brainard completed passes of 17 and 30 yards to kick-start a drive that began at the Indians' 33. But, beginning with first-and-10 from Forks' 20, the hosts refused to relent.

On first down, Ginty batted down a pass at the line. On second down, Brainard had zero chance to complete a pass attempted while in Cade's grasp. Next came DuBois pressuring Brainard in the backfield and Ginty breaking up a screen. And on fourth down, it was Garet Cade in the secondary, knocking away a deep throw intended for Justin Bensley near the right sideline.

The defensive punctuation mark was supplied by Joe Aston, who intercepted an ill-advised throw by Harley Edwards -- who'd taken a lateral near the sideline and was about to be tackled -- and returned 40 yards for a score 30 seconds into the final quarter.

"They have weapons and they moved the ball," Forks coach Kelsey Green said. "We had a couple chances where we could have broken but we didn't. ... We were very happy with the overall team defense.

"I thought we tackled well in this stuff (the muddy surface). It's hard running in it and it's no easier tackling in it. You watch them tape-after-tape and their kids are making people miss. We didn't do that."

The other TDs came on 2-yard rushes, by Aston late in the first quarter and by Ryan Freije midway through the fourth.
Place mouse over photos to read captions
Photo credits - None
---
| | | | | | | |
| --- | --- | --- | --- | --- | --- | --- |
| | 01 | 02 | 03 | 04 | | Tot |
| Chenango Forks | 14 | 0 | 7 | 13 | - | 34 |
| Owego | 0 | 0 | 0 | 0 | - | 0 |
CF - Jake Reynolds 80 run (Rob Lumsden kick)
CF - Joe Aston 2 run (Lumsden kick)
CF - Nick Stephens 73 run (Lumsden kick)
CF - Aston 40 interception return (Lumsden kick)
CF - Ryan Freije 2 run (kick failed)
TEAM STATISTICS
| | | |
| --- | --- | --- |
| | Owego | CF |
| First Downs | 14 | 13 |
| Rushes-Yards | 29-40 | 47-302 |
| Passing Yards | 178 | 27 |
| Comp-Att-Int | 11-29-2 | 2-2-0 |
| Total Offense | 58-218 | 49-329 |
| Punts-Ave yards | 5-31.8 | 3-34.0 |
| Fumbles-Lost | 1-0 | 2-2 |
| Penalties-Yards | 0-0 | 2-25 |
| | | |
.
INDIVIDUAL STATISTICS
Owego rushing
Parker Evans 13-46
Justin Bensley 5-11
Bobby Slack 1-4
Ethan Farabaugh 1-0
Harley Edwards 1-(-3)
Dan Brainard 8-(-18)
Chenango Forks rushing
Nick Stephens 17-145, 1 TD
Jake Reynolds 9-112, 1 TD
Joe Aston 10-16, 1 TD
Tim Zdimal 4-8
D.J. Smith 1-6
Rickey Bronson 1-5
Ryan Freije 3-4, 1 TD
Mike Jeske 1-3
Tom McMillen 1-3
Owego passing
Dan Brainard 10-for-27, 155y, 1 int.
Nick Koroluck 1-for-1, 23y
Harley Edwards 0-for-1, 1 int.
Ethan Farabaugh 0-for-1
Chenango Forks passing
Jake Reynolds 2-for-2, 27y
Owego receiving
Harley Edwards 5-98
Justin Bensley 2-25
Bryron Worthing 1-19
Parker Evans 2-19
Colin Lounsberry 1-17
Chenango Forks receiving:
Clint Cade 1-17
Tim Zdimal 1-10
---
Preview Article
Owego looks to finally boot Forks from top
Indians streak into Section 4 'B' semifinal

By Kevin Stevens
Binghamton Press & Sun-Bulletin

Chenango Forks' six-time defending champions will bring an unbeaten record into Section 4 Class B playoffs for the sixth time in the last seven years, with an opening assignment 1:30 Saturday at home against resurgent Owego.

By the time those teams align for kickoff, one finalist will have been determined. That'll be either Chenango Valley (7-1) or Waverly (8-0), which collide at 7 p.m. Friday on the Wolverines' turf.

The title game is scheduled to be played a week from Friday at Binghamton Alumni Stadium.

Chenango Forks, 8-0 and ranked second by the New York State Sports Writers Association, has strung 11 consecutive Section 4 playoff victories. Since the onset of the 2001 season, the Blue Devils have played to a .941 winning percentage.

"We're up against one of the best programs in the state, if not the best program in the state," said Steve Virkler, coach of a 5-3 Owego team that has won five in a row. "You know they won't beat themselves, they're too well-coached."

Forks and Owego have played each of the last two seasons, with the Blue Devils winning by 35-7 last year -- gaining 291 rushing yards -- and by 25-13 in the 2005 sectional final.

This season, Blue Devils opponents have averaged 6 1/2 points per game through the first three quarters of play.

"They're a been-there, done-that program," Virkler said. "Not too many people do jump on them early. They'll play that bend-but-don't-break defense. We have to find a way to put it in the end zone."

The Indians rebounded from a 0-3 record with a 40.8-per-game scoring average during their win streak. Those wins, however, were collected against teams with a combined 10-30 record.

Owego quarterback Dan Brainard has passed for 979 yards and 13 touchdowns, both ranking among the top four in the section. Harley Edwards' 426 receiving yards is seventh-best in the section, and sophomore Parker Evans has produced triple-digit rushing totals each of the last four weeks.

"They moved him to the premier running spot, and he's pretty quick," Forks coach Kelsey Green said of Evans. "He makes people miss him, and if he gets out there in space, he can take it."

Green and staff also have taken note of the left side of Owego's offensive front, featuring 275-pound John Conklin and 325-pound Jesse Merritt -- "When they need short yardage, they pop it in there behind those two."

Joe Aston has been Forks' primary offensive threat, rushing for a 145-yard average and a total of eight touchdowns over the last three weeks. For the season, he has picked up 7 1/2 yards per carry.

"We have to be able to stop their power game," Virkler said. "They're so effective with it, so patient."

Forks expects to welcome defensive end Max Ginty back to the lineup. He missed last week's game against Susquehanna Valley with a mild concussion.

Waverly completed what coach Jason Miller said is the program's first unbeaten regular season since 1952. The root of it all?

"A very cohesive staff and a very cohesive group of kids who have a common purpose, a common goal," Miller said. "We feel we have the right kind of kids, as far as athleticism goes. We haven't looked ahead, we've overcome some injuries and we've taken a team-first approach to what we're doing."

The Wolverines are led by 6-foot-3 quarterback Mark Kuzma, a well-rounded athlete who is Section 4's seventh-leading rusher with 115 yards per game. "But we have enough people around him that if you're going to focus on Mark, we'll hurt you in another way."

CV coach Jay Hope said of Kuzma's presence: "It's a mid-line option attack, essentially a quarterback isolation play with a fullback leading. It doesn't seem like he gets the big, long gains, but he's always falling forward and he runs through arm tackles.

"If he can nickel-and-dime you, they'll stay ahead of the chains."

The Wolverines, who've scored a shade over 33 points per game, hope last week's case of butter-fingers -- seven fumbles, four lost -- was a mere aberration.

Chenango Valley has won three straight since a 20-14, last-minute loss at Chenango Forks. Neither the Warriors nor Wolverines have represented Section 4 in the postseason since New York went to a full-fledged state playoff in 1993.

CV's cast of offensive threats as well as its diversity have caught Waverly's eye. The name Trevor Cola may be boldfaced with an asterisk or two attached on Wolverines scouting reports. He has rushed for 678 yards and gained 28 per reception for CV.

"They'll line up in a spread and throw the ball around, or line up in two-tight-end power and run it down your throat," Miller said. "Throw in the Cola factor and the (Brian) Stinson factor, they're a tough team.

"You have to know where Cola is, but even then they can sting you in a lot of different ways."

Seating capacity at Waverly is in the 4,800 range and was stretched to the limit for a Week 6 game against Athens -- "I believe the first time they've ever shut the gates," Miller said.

A word to the wise: Early arrival would be advised.
---
Post-game Article:

Fifth Quarter:

Published Tuesdays in the Binghamton Press & Sun-Bulletin

Forks bids farewell to grass field

By Kevin Stevens
Binghamton Press & Sun-Bulletin

In the aftermath of Saturday's 34-0 dismantling of Owego in a Section 4 Class B semifinal, Chenango Forks coach Kelsey Green stood overlooking the Blue Devils' relative bog of a game field.

For presumably the final time, Forks played a home football game on a muddy, sloppy mess of a natural surface. Come next school year, if all goes according to schedule, the beaten field will be replaced by an artificial surface.

Gone will be the surface on which the Blue Devils won 36 of 37 ballgames beginning with the second-to-last game of the 2000 season. The blemish was a 14-0 setback dealt by Corning East on Sept. 8, 2006.

"That is the field, the field I watched on, played on, coached on," said Green, proud member of Forks' Class of '70. "But, it's just not very good right now. So, even though we'll miss her, we're replacing her with something a heck of a lot better than that.

"It's awful out there. I felt bad when (Owego coach Steve Virkler) came in and went, 'Oh, my God!' I know, and we haven't been on it, either. Nobody's been on it."

The lack of footing was no problem for Forks, which took the lead on the third play from scrimmage when quarterback Jake Reynolds rushed 80 yards for a score.

"That was huge," said Forks' Aaron Phelps. "I think it boosted our morale and lowered their morale. It really helped pick our spirits up right from the beginning."

Nose guard Phelps came up with the first of four first-half sacks of Owego quarterback Dan Brainard which, given the Indians' inability to sustain any running game, figured greatly into the outcome.

"That was emphasized a lot because they have a lot of weapons, a lot of fast kids," fellow lineman Jud DuBois said of pressuring Brainard. "We didn't want them to get the ball out in the open where they could run with it."

Green said, "I thought both of our ends played great, Max Ginty and Clint Cade. They made plays that you could see out there, and they made a lot of plays you wouldn't notice, too.

"There was a lot of pressure up front, that was definitely a key."

Next for the Blue Devils comes the 'B' final against Chenango Valley, 7 p.m. Friday at Binghamton Alumni Stadium.
---