TOWN OF CHENANGO -- Chenango Forks football coach Kelsey Green described his team's performance against Maine-Endwell as 'workmanlike.'
It was a fitting word, as there was nothing flashy about the Blue Devils on Saturday, just a good, solid effort in a 21-0 victory over the Spartans in the season-opener for both teams.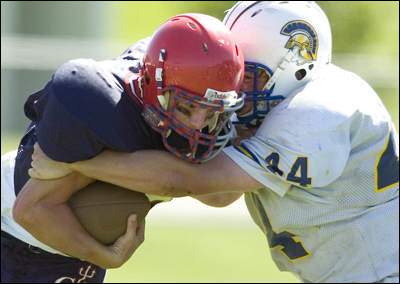 Jake Reynolds both ran and passed for a touchdown for Forks, who served notice that ending its six-year reign as Section 4 Class B champion won't be easy.
"The first week, we're really happy with the outcome of the offense and the defense," Green said. "We didn't turn it over ... and we played intelligent defense, which has been our trademark for years.
"We stayed with that and made the plays when we had to."
For Reynolds, it was an impressive debut as starting quarterback for the Blue Devils, as he figured predominantly in all three scoring drives.
On Forks' opening drive, an 11-play, 81-yard drive that chewed up just over six minutes, Reynolds hit Garret Cade for a 29-yard completion on a third-and-9 play from the Forks 34-yard line. He later added a 20-yard run before scoring on a 1-yard run to put Forks up 6-0 with 2:47 remaining in the first quarter.
In the opening drive of the second half, Reynolds' 22-yard run highlighted a nine-play, 65-yard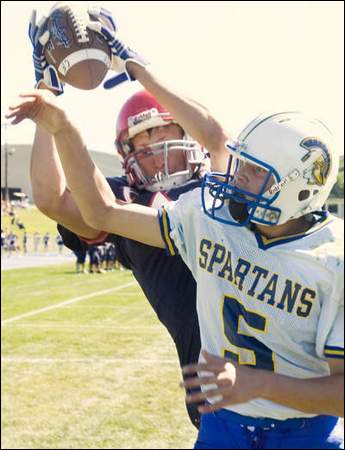 drive culminated by a 3-yard touchdown run by Nick Stephens and two-point conversion pass from Reynolds to Cade (photo right) that made it 14-0 with 6:36 left in the third quarter.
Finally, in the fourth quarter, Reynolds ended any comeback hopes M-E had when, on fourth-and-7 at the Spartans' 36-yard line, he lofted perfect pass near the left sideline to Cade near the goal line that Cade hauled in for a 36-yard touchdown that made it 21-0 with 8:35 left.
"There are always nerves involved, but I knew we had a solid team," said Reynolds, who completed 2 of 3 passes and led the Blue Devils in rushing with 78 yards. "I was nervous, but I knew these guys were behind me all the way."
Forks' defense, meanwhile, also did its part, limiting M-E to 200 yards of offense.
And when M-E did move the ball, Forks bent but didn't break, in particular late in the second quarter when the Spartans appeared primed to tie or take the lead just before halftime.
Starting on its 27 with 8:20 left in the second quarter, M-E drove to the Forks' 7-yard line, where it faced a fourth-and-4 play with two minutes left.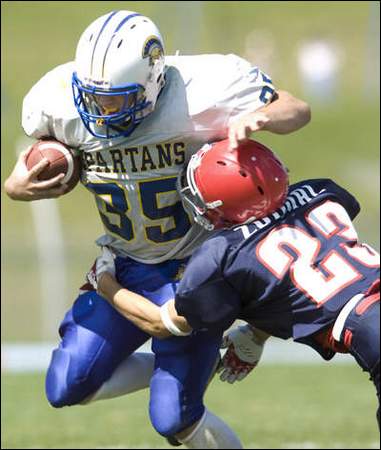 M-E quarterback Joe Battaglini -- who had completed his first four passes on the drive for 41 yards -- couldn't make it 5-for-5, as his pass to John Connolly near the front left side of the end zone was batted down by Cade.
"That was a key play for us," Green said. "We're expecting big things from (Cade) on both sides of the ball this season. He played very well."
M-E drove once more into Forks territory in the second half, reaching the 34-yard line early in the fourth quarter down 14-0, but Battaglini was tripped up for a 5-yard loss on a fourth-and-1 play.
Minutes later, Reynolds tossed his touchdown pass to Cade to ice it for the Blue Devils.
"We talked about it at halftime, how (Forks) adjusts, and the process for them to win," M-E coach Kevin Wagstaff said. "They come out in the second half with the expectation that they're going to put you on your back early, and they did.
"Defensively, we had two or three breakdowns, but defensively I thought we played pretty well. We'll make adjustments offensively and move on."