Forks duo one win from perfection

Faughnan, Spencer have never lost a varsity football game

By Kevin Stevens
Binghamton Press & Sun-Bulletin

Among the wealth of talent, preparation and tradition in Chenango Forks football, there are no individuals greater than the common cause, which is in large part why the high school is one victory away from another state championship.

However, two players will enjoy a rare feat if the team beats Rye for the Class B state title Sunday in the Carrier Dome in Syracuse: varsity perfection. Their teams are 38-for-38 from 2003 to the present with two state championships.

Matt Faughnan is 38-0 as a two-position starter. Tyler Spencer has likewise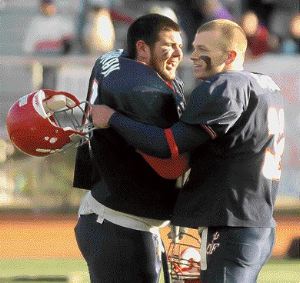 experienced 38-0 on the varsity team, although he lost game time to injury two seasons back.

"Whatever happens Sunday, it's been one hell of a ride. I wouldn't have it any other way," said Spencer, a 222-pound fullback/defensive lineman and a cornerstone of the Blue Devils' success.

"We're so spoiled to be able to play in this (state final) again, it's unbelievable," Faughnan said in the wake of last Saturday's one-point semifinal squeeze past Hornell.

The two are, in many ways, as different as a grinding quarterback sneak and a razzle-dazzle flea-flicker play.

Faughnan is close to 300 pounds. Pad him up and send him out to the field with his cocksure stride and untucked jersey, he appears about the size of Wisconsin.

Spencer is sleek yet powerful, with breakaway speed and break-your-spirit pop at impact.

"They both have that fire," said Forks coach Kelsey Green. "Matt's is more on the surface; you can warm your hands by it. Tyler's is more on the inside, but it's just as strong. Matt, even as big as he is, you're usually going to hear him coming before you see him. With Tyler, he'll sneak up on you.

"It's nice to have different types of personalities out there."

What the two have experienced on the football field is unprecedented in Section 4. Only seven high school programs in the nation can presently top Forks' 38 consecutive victories, and three of those play eight-man football.

The Blue Devils have won 13 consecutive playoff games since the start of the 2003 season, have outscored their opponents by an aggregate 1,267 to 281 over that span, and were not scored upon in the last two state-championship games.

Both Faughnan and Spencer were in on the ground floor of the state title run.

Faughnan was inserted as offensive right tackle and defensive left tackle as a 10th-grader, and hasn't moved since. These days, he attracts attention from a batch of collegiate recruiters.

"As a 10th-grader, we thought we had something and as it's turned out, we've had something," Green said. "He's always brought a passion to the field, always brought that bounce in his step. He's always been a little combative out there. He's got an edge about him that benefits him as a football player.

"There's a lot of pride there. He never wants the person across from him to get the better of him."

Spencer, who in the last two ballgames has broken free for touchdown rushes of 98 and 60 yards, respectively, had the bulk of his sophomore season robbed by a collarbone fracture in Week 2 against Norwich.

In customary Spencer fashion, he bashed through the hit that broke the bone, continued on and only realized the extent of the damage when numbness and a tingling sensation set in when he eventually was brought down. He returned only for special-teams detail in that 2003 state final, but has been a lineup fixture since.

"Tyler's a leader of a whole different sort. He's quiet, but his work ethic in-season as well as during the off-season is unparalleled," Green said. "By example and as a role model, he's been every bit the leader that Matt has."

Neither Faughnan nor Spencer profess to be any more significant a piece of Forks' puzzle than any of their mates, scout team included. Both know and articulate the value of, for instance, playmaker extraordinaire Rick Mirabito, rushing whiz Jim Nicholson, linemen Josh Preston and Josh Cary, and the rest of the many who've had a hand in it all.

Both Faughnan and Spencer are genuinely appreciative of the opportunity they've been presented and have helped prolong.

"The fact that we've been (to the state final) so many years -- five years now -- just makes everybody work that much harder to get back there again," Spencer said. "Each year, each team, they don't want to win just five games; they want to go all the way to the top."

Said Faughnan: "It hit me after the Owego game (a hard-earned victory in this year's Section 4 final). I was trying to feel like how they were feeling. And, I don't even know what they feel like. ... I was trying to think, what's going through their head right now."

A bonus for the two is the pile of memories accumulated -- and not just that 2003 playoff squeak past Westhill, the sophomore-year battle against Elmira Notre Dame, the 2003 semifinal against Eden, or last week's emergence from a precarious spot against Hornell.

No, they'll remember Cary emerging one day from the locker room for practice wearing a raptor mask and accosting assistant coach John Petley; the brothers Jim and Joe Nicholson, scrapping like Hatfields and McCoys one night and embracing to celebrate a long touchdown run the following afternoon; and assistant coach Dave Chickanosky's occasional lapses in memory.

"Tenth grade, we're doing a preseason drill, and he goes, 'Polhamus, come up here,'" Faughnan said of Chickanosky. "We're all looking around. He stares at me, 'Polhamus, get up here.' I was like, 'Who are you talking to? My name's Faughnan, I'm not Polhamus.'

"He's the crazy professor. He's great."

And Spencer won't soon forget that sophomore-year tongue-lashing he received from Green upon returning to the sideline after losing a fumble.

Now, one step remains to solidify varsity football perfection for the two who've produced so much for Forks' program. That begins at 3 p.m. Sunday in the Carrier Dome.

Come what may, as Spencer suggested, for the two three-year players, it's been quite the journey.