Forks fans come out in full force

'They're worth a touchdown a game,' Blue Devils coach says
By William Moyer
Sat, 12 Nov 2005
Binghamton Press & Sun-Bulletin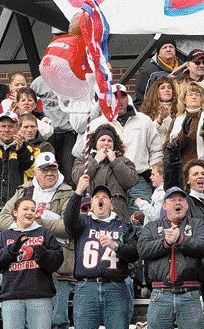 ENDICOTT -- Jim McLaughlin waved an inflated football helmet and Dave Pavlick played a well-known victory march on his boom-box after each touchdown.
These guys were serious about cheering for Chenango Forks in Friday's state playoff football game.
So were hundreds of others who huddled close to stay warm at a chilly Ty Cobb Stadium to watch the Blue Devils take another step toward a third-consecutive Class B championship by beating Homer, 34-7.
During the team's current 37-game winning streak, these boisterous boosters have played a key role in Chenango Forks' success, according to the head coach.
"We feel like we have the best fans in the section," Kelsey Green said Friday before taking his team into the locker room for a pre-game talk. "They're worth a touchdown a game."
Five seasons ago, McLaughlin got the red helmet -- which is similar to a beach ball, mounted atop a wooden pole with red-and-blue streamers -- for the Blue Devils' first run at a state championship, which they lost to Peru 14-7 at the Carrier Dome in Syracuse.
He inflates it for playoff games and then waves it side-to-side to celebrate touchdowns, accompanied Friday by Pavlick's boom-box rendition of the Notre Dame Victory March.
"Anything to get them excited," said McLaughlin, a Binghamton firefighter whose daughter, Courtney, is a Forks cheerleader. "They pour their hearts and souls out for us."
Without the school's band in the stands for Friday's game, Pavlick provided the pep song -- "just like the band does," he said.
"It's fun; it's a blast, especially when we win," said Pavlick, whose son quarterbacked the Blue Devils during the 1999 season.
The team's legacy of recent success is woven into the fans' game-day attire.
Rich Mirabito, father of quarterback Rick Mirabito, wore a blue windbreaker embossed with "NYS Champions" as he dished out doughnuts, bagels and other goodies at a pregame tailgate party in the parking lot -- another Forks tradition at playoff time.
Others donned blue or gray sweatshirts with "Forks Football" or red-and-blue ski caps with "Forks Football, NYS Class B Champions" to commemorate the team's two state titles.
"Everybody gets decked out in their gear. It's great," said Sean Faughnan, father of tackle Matt Faughnan. "It's a great community for football. We think it's important to support the boys."
An hour before the 1 p.m. kickoff, several dozen fans already were perched along the top row of bleachers at the 50-yard line.
Norm Lawrence, a retired floor covering employee, and his wife, Jane-- who both got hooked on Forks football when their grandson played 13 seasons ago -- were entrenched in their seats to watch the warm-up drills on the field.
"You get a better view up here," Norm Lawrence said about getting to the game a hour before kickoff.
Lawrence and hundreds of others who chanted "Defense" and applauded each touchdown -- liked what they saw Friday -- a Forks victory and a ticket to the Carrier Dome on Nov. 19 - Forks' fifth consecutive appearance in the state Class B semifinal game.

Photo credits: Diogenes Agcaoili Jr., Binghamton Press & Sun-Bulletin