...
2005 Chenango Forks Varsity Football
Game 8 vs Elmira Notre Dame

CF snags division title at Elmira Notre Dame 41-14!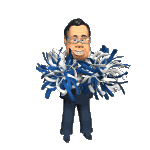 Articles courtesy of the Binghamton Press & Sun-Bulletin and The Elmira Star-Gazette
Place mouse over photos to read caption & photo credit
---
Chenango Forks wins 34th straight

Blue Devils equal Section 4 mark
by Kevin Stevens
Binghamton Press & Sun-Bulletin
SOUTHPORT -- Chenango Forks completed a fifth consecutive perfect regular season Friday night by crunching Elmira Notre Dame, 41-14, capturing the championship in Division IV of the Section 4 Football Conference.

Forks extended its win streak to a Section 4-record tying 34 games.

The Blue Devils put four touchdowns on the board in a span of seven minutes in the second quarter on their way to a 35-0 halftime advantage after Notre Dame had driven to their 3-yard line in the final minute of the opening quarter.

Forks, 8-0 and No. 1 in the New York State Sports Writers Association's Class B rankings, will host a playoff semifinal a week from today against an opponent to be determined. Notre Dame dropped to 5-3, 3-2 in the division.

Forks pulled even with Delhi for Section 4's longest football win streak. The Bulldogs wrapped up theirs in the 1987 season.

"When it's on the line for them, they seem to play their best-- and there was a championship on the line tonight," Notre Dame coach Mike D'Aloisio said of Forks. "We ran into a buzzsaw."

The lead was a mere 7-0 when, on fourth-and-2 from Forks' 3-yard line, the Devils' Alex Sabo knocked away a pass from John Morrison intended for Greg Schiefen in the end zone with 36 seconds to play.

Thereafter, it was all Forks.

Jim Nicholson began the onslaught with a 63-yard rush for a score 2:34 into the second quarter, and Tyler Spencer closed it by crashing in from the 1 with 2:34 to play in the half. Dylan Warner was a dead-eye 5-for-5 on his PAT kicks in the half.

"This is so thrilling because we have high expectations of ourselves and we met them tonight," said Spencer, who scored two touchdowns to go with one each by four teammates. "Tonight was the first real solid game that we've put together. The coaches talked to us before the game about being like a machine-- going up and down the field, stopping them three-and-out on defense."

That machine operated at peak efficiency in all phases in the telltale quarter.

Nicholson's score came on the fifth play of the second period, when he scooted through traffic just across the line of scrimmage, made his way into the clear and won a footrace across the goal line. Three plays into Notre Dame's next possession, Warner intercepted a pass and returned to the Crusaders' 20-yard line. Forks needed three plays for another score, a 2-yard rush by Jarred Wells.

Notre Dame went nowhere on its ensuing possession, punted and Forks took over after a penalty at its 31. Joe Nicholson went 24 yards up the middle on first down, and then quarterback Rick Mirabito kept the football on an option to his left, got ahead of the defense along the sideline and made it a 45-yard TD run and a 28-0 spread.

The Crusaders then fumbled on their second play, Forks' Adam Stampfler recovered, and the Devils were back in business at the Crusaders' 35. One pass incompletion -- the Devils' lone attempt of the night -- and four runs brought the ball to the 2. Spencer went over the left side, Warner kicked the PAT and it was 35-0.

"They are notorious front-runners, and I say that as a compliment," D'Aloisio said. "Once they get on a roll, they seem to feed off one another, that's what they did tonight. We played them tough for maybe a quarter, quarter-and-a-half. But they hit that stretch and got full stride and we couldn't stop the ball from rolling."

Twelve Forks ball carriers had a hand in the team's 394-yard rushing total.

"We wanted this to be a tone-setter," said coach Kelsey Green, whose program has won 58 of 60 games since the start of the 2001 season. "If we do anything in the next week (and beyond), this was to be a building block, a stepping stone."
Place mouse over photos to read caption & photo credit
---
| | | | | | | |
| --- | --- | --- | --- | --- | --- | --- |
| | 1 | 2 | 3 | 4 | | Tot |
| Chenango Forks | 07 | 28 | 06 | 00 | - | 41 |
| Elmira Notre Dame | 0 | 0 | 7 | 7 | - | 14 |
CF - Tyler Spencer 2 run (Dylan Warner kick)
CF - Jim Nicholson 63 run (Warner kick)
CF - Jarred Wells 2 run (Warner kick)
CF - Rick Mirabito 45 run (Warner kick)
CF - Spencer 1 run (Warner kick)
CF - Alex Sabo 1 run (kick failed)
END - Zack Manuel 5 pass from John Morrison (Mitch Bedzyk kick)
END - Manuel 8 pass from Morrison (Bedzyk kick)
TEAM STATISTICS
| | | |
| --- | --- | --- |
| | END | CF |
| First Downs | 10 | 17 |
| Rushes-Yards | 33-42 | 51-394 |
| Passing Yards | 192 | 0 |
| Comp-Att-Int | 11-20-2 | 0-1-0 |
| Total Offense | 53-234 | 52-394 |
| Punts-Ave yards | 3-29.7 | 0-0 |
| Fumbles-Lost | 1-1 | 3-1 |
| Penalties-Yards | 2-14 | 6-50 |
| | | |
.
INDIVIDUAL STATISTICS
Elmira Notre Dame rushing:
Manuel 15-33
Greg Schiefen 8-22
Caleb Norton 6-12
Morrison 4-(-25)
Chenango Forks rushing:
Jim Nicholson 5-83, 1 TD
Mirabito 8-77, 1 TD
Joe Nicholson 7-69
Spencer 9-57, 2 TDs
Sabo 4-24, 1 TD
Ray Lord 3-22
Wells 5-21, 1 TD
Warner 2-15
Jason Gildea 3-11
Dylan Rittenburg 2-8
Bryan Lance 2-8
Justin Allen 1-(-1)
Elmira Notre Dame passing
Morrison 11-for-20, 192 yards, 2 TDs, 2 int
Chenango Forks passing:
Elmira Notre Dame receiving:
Schiefen 5-111
Manuel 4-51, 2 TDs
Trevor Dougherty 3-27
Chenango Forks receiving:
JV Score: CF 18-0
---
Preview Articles:

Chenango Forks a victory away from tying Section 4 mark

Blue Devils go for 34th straight win

by Kevin Stevens
Binghamton Press & Sun-Bulletin

Chenango Forks, one victory shy of matching Delhi's Section 4-record win streak, closes its regular season with a trip to Elmira Notre Dame. Kickoff is scheduled for 7 tonight.

With a 47-6 rout of Unadilla Valley last week, the Blue Devils improved New York's longest active -- and Broome County's all-time best -- streak to 33 games. Coach Dave Kelly's Delhi program established Section 4's record with 34 victories in succession, the last of which was posted in 1987.

Forks (7-0) is 4-0 in Division IV and will host a Class B playoff semifinal a week from Saturday. The state's top-ranked 'B' squad will look for its 52nd straight victory over a Section 4 opponent.

Elmira Notre Dame (3-1, 5-2) has allowed 73 points this season, just nine more than Forks has surrendered. Zack Manuel is the Crusaders' leading offensive threat, having rushed for 694 yards and 12 touchdowns and made 17 receptions for 310 yards and two TDs. John Morrison has completed 55 of 91 passes for 715 yards, and will take on a Forks defense that has allowed a shade over 50 passing yards per game.

The Blue Devils' customary ball distribution has led to a dozen touchdown scorers this season.

From the Elmira Star-Gazette

Notre Dame saw its playoff hopes take a hit last week with a loss to Windsor, but the Crusaders can still get into the post-season. Of course, part of the equation for them to get in would to beat Chenango Forks, the two-time defending Class B state champ and the owner of a 33 game winning streak.
---
---
Post-game Article:

Fifth Quarter: Published on Tuesdays

From staff reports
Binghamton Press & Sun-Bulletin

Devils roll along

With Friday's 41-14 rout of Elmira Notre Dame, Chenango Forks improved New York's longest active win streak to 34 games. That matches the Section 4-record streak put together by Delhi, which ended in 1987.

"We don't like to look too far ahead," Forks senior Tyler Spencer said of the team's ability to maintain the established level of excellence. "Our approach the whole year has been take each day as it comes, get better each day, learn something each day.

"In a way, (the streak) puts a lot of pressure on us. But in a way, we feed off it, to work that much harder and to perform that much better week-in and week-out."

Forks, which has experienced some highly competitive games at Notre Dame in past years, held a 35-0 halftime lead after of a 28-point second-quarter uprising. Spencer described it as "the first real solid game we put together this season."

"I wouldn't disagree with him," Forks coach Kelsey Green said. "We didn't have many mistakes, penalty-wise, I don't think we turned it over until the very end. We just ran our stuff, played good defense, we covered the kicks. I'm just thrilled with the overall, thrilled with all 40 kids. It was a great night for us." ...

Notre Dame coach Mike D'Aloisio was asked if he believed Forks had the makings of matching the program's recent string of postseason successes:

"I always think they do, because they believe that they can do it. That's a big part of the battle. But -- and I say this not to be disrespectful to them -- I don't know if they're as balanced as some of the other teams that have gone on and won state titles or gotten close to state titles.

"I'm not saying they can't do it, but I haven't seen them really be proficient in the passing attack. They could do it because they can run the ball. But I think as you go on, you may have to be a little bit more balanced. I'm not saying they can't do it, I just haven't seen it."
---