...
2005 Chenango Forks Varsity Football
Game 12 vs Hornell

CF edges Hornell 21-20, advances to the State Championship yet again!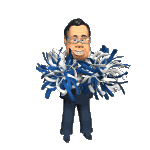 Articles courtesy of the Binghamton Press & Sun-Bulletin, the Hornell Evening Tribune and
the Rochester Democrat & Chronicle (with more articles likely on Monday)
Place mouse over photos to read caption & photo credit
Note: Enhanced statistics are at the bottom of this page
---
---
Blue Devils escape after field goal miss

Forks, Sidney reach football state finals in dramatic fashion
by Kevin Stevens
Binghamton Press & Sun-Bulletin
SYRACUSE -- Call it fortuitous, a matter of survival, success against an opponent that was -- at the very, very least -- equally deserving of same.
But also, and most significantly in Chenango Forks football circles, call it a 38th consecutive victory.
The Blue Devils first made it past Hornell penetration beyond their 1-yard line late in the final quarter, and a short while later a 27-yard field goal attempt before drawing the deepest of breaths upon conclusion of their 21-20 escape Saturday in the Carrier Dome.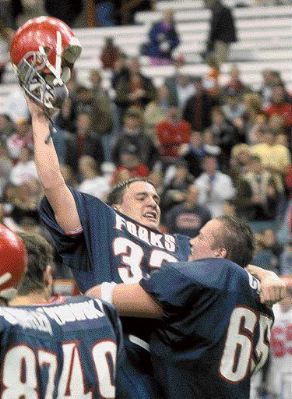 Another Class B state semifinal goes Forks' way, five consecutively, to be precise. And next comes Rye in the final, a week from today back in the Dome.
This most unforgettable contest went Forks' way when Hornell senior Josh Hoffman -- who accounted for his squad's first 14 points -- missed slightly right on a field goal try of 27 yards with 18 seconds remaining.
The attempt came on a fourth-and-3 play from the 9½-yard line, following a third-down spike of the football by quarterback John Damrath with the Red Raiders' allotment of timeouts expired.
Hoffman had, with 12 seconds to play in the third quarter, missed well right on a PAT kick that left the score 21-20.
Forks' go-ahead-for-good points were scored with 5:01 to play in the third quarter, a 1-yard rush by Jim Nicholson that finished an 11-play drive on the Blue Devils' first possession of the second half. Ed Samson's PAT kick made it 21-14.
Then, the real drama began to unfold.
"I'm losing hair with these games. I can't have any more like that," said senior tackle Matt Faughnan -- abundant facial hair notwithstanding -- who can boast of a 38-0 record wearing a Chenango Forks varsity jersey.
"I've lost games that we probably should have won, maybe we won one we maybe should have lost. Who knows?" said Blue Devils coach Kelsey Green, whose program has won an astounding 62 of its last 64 games.
"One of the sweetest ones," was how Tyler Spencer, another third-year varsity man, described the latest triumph. "Our backs were against the wall and we came back fighting."
To move on to the title game, Forks was forced to overcome a 228-yard rushing performance from spectacular Hornell sophomore David Zapata, who'd eclipsed the 2,000-yard mark for the season before his first carry Saturday.
And the Devils had to fend off a fourth-down quarterback sneak by Hornell's Kevin Georgek with 3:18 remaining, the Red Raiders an inch or so from a first down and not many more from six points.
And then, after a punt that gave Hornell the football at Forks' 35-yard line with 1:53 to play, the Devils withstood a final charge.
An 18-yard rush from Zapata brought the ball to the 17-yard line. Zapata then gained 7 yards, but was felled for a half-a-yard gain on second down. With no timeouts, Hornell quarterback Damrath spiked to ball with 23 seconds remaining to set up the field goal try.
And what was crossing Green's mind as the Raiders lined up for the kick?
"2002, absolutely nothing else. The vision ... I saw it," he said of Forks' most recent setback, a loss to Harrison in the state final decided by a last-play field goal.
But the kick was wide, and all that remained was for quarterback Rick Mirabito to drop to a knee.
In the aftermath, Hornell kicker Hoffman faced the music in mature, first-class fashion.
"I'm glad I got to be put in that situation," Hoffman said. "I had a dream (Friday) night about that exact moment. Of course, the outcome was a little different in my dream. We lost as a team, and I'm trying not to take it all on my shoulders."
The ballgame began much to Forks' liking, with fullback Spencer darting 60 yards for a touchdown on the third play from scrimmage and Samson adding the PAT kick.
But soon, it became evident that Hornell's running game -- Zapata its centerpiece -- would have its way.
Hornell scored the next two TDs, Hoffman rushing in from the 1 with 3:22 to play in the first quarter, and then Hoffman scoring from the 2, 3:59 into the second. Hoffman tacked the PAT kick onto each and it was 14-7.
An interception by Forks' Brian Lance at the Devils' 16-yard line and subsequent return to near midfield gave Forks possession with 3:03 left in the first half.
A 27-yard, second-down gain by Nicholson followed, but an illegal block backed the ball up to Hornell's 30. An 18-yard Mirabito-to-Nicholson pass play on fourth-and-4 brought Forks to the 6 with under a minute to play.
Forks reached the 2, was backed up by a false-start penalty, but scored from the 7 when Mirabito -- after hopping over a fallen blocker in his path -- delivered a touchdown pass to Jarred Wells in the right side of the end zone with one second remaining. Samson's kick made it 14-14.
"We were really into it, excited, nervous and going too fast," Nicholson said of much of his team's first-half play. "Once we got that we could slow down, go in at halftime and talk about it. We did, we had a game plan and we came out and executed."
Forks defense answered the call to open the second half, forcing a three-and-out series and taking possession following a punt at its 33-yard line.
Ten running plays -- six by an assertive Mirabito -- brought the football to the 1-yard line, and Nicholson finished by bouncing around right end for the go-ahead score that somehow held up.
"They moved us all over the field, they had us on our heels," Green said. "We made enough defensive plays to stay around and enough offensive plays to win the game."
Place mouse over photos to read caption & photo credit
---
Red Raiders come up just inches short against Forks

By Derrick Balinsky
Hornell Evening Tribune Sports Editor

SYRACUSE - Kelsey Green emerged from the Carrier Dome and he and the Chenango Forks faithful took a collective sigh of relief. The Blue Devils' tradition of winning - the longest active streak in New York State - was able withstand its toughest challenge in 38 games.

"Escape is a great word," Green said nearly 15 minutes earlier after his team advanced to its fifth straight NYS Class B championship game by the slimmest of margins, a 21-20 victory over the Hornell Red Raiders. "That can be written and there wouldn't be any hard feelings from us. Overall, they controlled the line of scrimmage. They took it to us all day long."

"I thought it was going to be close," Green added, "but as the game played out I was hoping that it would stay close. Our kids battled, but we were constantly on our heels. After a few days they will realize that they played well enough to win and sometimes it just doesn't work out that way."

While Green spoke with reporters, a gloomy shadow was cast from the dome's roof over Hornell's head coach Gene Mastin, who sat silent next to the visitor's locker room door behind one of the endzones after his Red Raiders were eliminated by Forks two straight seasons in the state semis.

"I don't think in all the years, and this is my 30th year, I don't think I've ever felt anything that is this disappointing," Mastin said. "We were right there on the edge all along and just didn't finish it."

With 23 seconds remaining in the contest senior Josh Hoffman lined up for a 27-yard field goal. Hoffman's kick sailed well to the right of its intended target, leaving Forks in celebration

"I'm lucky, I was glad I was put in that situation," Hoffman said. "I had a dream last night about that exact moment. Of course, the outcome was a little different in my dream. I'm happy to take this as man, I tried my best. We lost to a good team and I'm trying not to take it all on my shoulders. Again, I'm glad I was put in that situation."

Hoffman's kick concluded a 6-play, two-minute drill which came up empty. The Raiders' defense forced a three-and-out, leaving HHS one last-ditch effort to win the game. David Zapata picked up 24 yards on two carries before being stopped at the line of scrimmage on second and three. Quarterback John Damrath spiked the ball, setting up the kick from the left hash.

"There was no choice," Mastin, who alluded to the lack of timeouts, said. "We didn't have a choice. A play other than spiking the ball ... there was no way. We had to do that."

Minutes earlier a 17-play Red Raider drive was thwarted inches short of the goal line, not at the hand of the Forks defense, but rather by a questionable spot made by an official. On fourth and inches Kevin Georgek's quarterback sneak was ruled short, after Georgek apparently fell into the end zone for the go ahead touchdown. The spot of the ball proved even more demising for the Red Raiders, as the ball was brought out to about the one-yard line, resulting in a turnover on downs.

"I was right behind him - his helmet and his arms were clearly across the goal line," senior fullback Ryan Dieter, who accounted for Hornell's second touchdown of the game, said. "I guess you need your knees and feet the whole way in. I don't know."

Dieter's touchdown - an 11-yard pass reception from Damrath - closed the gap to one point with 12 seconds remaining in the third quarter. The ensuing point after attempt came from the one and a half yard line, but Hoffman's kick floated to the right of the goal post.

"In retrospect, obviously I wish I had (gone for the two-point conversion)," Mastin said. "Not so much whether we win or lose the game with it, but I hate to see the decision put in an 18-year olds hands, or toe for that matter."
---
Hornell falls 1 point short in 'B' semifinal

James Johnson
Rochester Democrat & Chronicle staff writer

(November 20, 2005) — SYRACUSE — Josh Hoffman said that he had an inclination that Hornell's football season would come down to his hands, or, to be more accurate, right foot.

Kick a field goal with the game on the line, and the Red Raiders would play on for a state championship.

"I had a dream last night about that exact situation," Hoffman said. "The outcome of my dream was a lot better."

Chenango Forks held on to beat Hornell 21-20 in a Class B state tournament semifinal on Saturday after Hoffman's 27-yard field goal attempt with 23 seconds remaining sailed wide right at the Carrier Dome.

Hornell (10-2) came that close to earning its first trip to a state final in any sport, upsetting the two-time defending champion and ending the state's longest win streak, now at 38 games.

"We lost the final in 2002 on a field goal on the last play," Chenango Forks' sympathetic coach Gary Vanderzee said. "It was the only time we were behind all year. This time it missed. Maybe it was justice for us." (webmaster note - the game program sold at the Dome had all wrong names for CF coaches and this writer obviously referred to that program)

Chenango Forks earned the win. The Blue Devils defense stopped Hornell quarterback John Damrath's push toward the goal on third-and-inches while inside the Chenango Forks 1 with 3:31 remaining.

"I was right behind him," Hornell running back Ryan Dieter said. "His arm and helmet, at least his whole facemask, were in the end zone. I guess he needed to have both arms in.

"But we didn't even get the spot for the first down."

David Zapata helped put Hornell on the verge of victory with the last of his 41 carries for 221 yards. Some Chenango Forks coaches made a point of shaking the sophomore's hand after the game.

Hoffman scored touchdowns on two short runs and made the conversion kicks afterward during the first half.

An 11-yard reception by Dieter and a missed conversion kick left Hornell within one point of tying the score late in the third quarter. Hoffman said that he was prepared for coach Gene Mastin's decision to go for a field goal while at the Chenango Forks' 10. The Red Raiders had no time-outs remaining.

"I'm trying not to put all of this on my shoulders," Hoffman said. "I'm going to hold my head up. I'm glad that I was put into that situation."

---
| | | | | | | |
| --- | --- | --- | --- | --- | --- | --- |
| | 1 | 2 | 3 | 4 | | Tot |
| Chenango Forks | 07 | 07 | 07 | 00 | - | 21 |
| Hornell | 7 | 7 | 6 | 0 | - | 20 |
CF - Tyler Spencer 60 run (Ed Samson kick)
H - Josh Hoffman 1 run (Hoffman kick)
H - Hoffman 2 run (Hoffman kick)
CF - Jarred Wells 7 pass from Rick Mirabito (Samson kick)
CF - Jim Nicholson 1 run (Samson kick)
H - Ryan Dieter 11 pass from John Damrath (kick failed)
TEAM STATISTICS
| | | |
| --- | --- | --- |
| | Hornell | CF |
| First Downs | 19 | 7 |
| Rushes-Yards | 64-302 | 34-203 |
| Passing Yards | 23 | 25 |
| Comp-Att-Int | 2-4-1 | 2-3-0 |
| Total Offense | 68-325 | 37-228 |
| Punts-Ave yards | 1-38 | 4-30 |
| Fumbles-Lost | 0-0 | 1-0 |
| Penalties-Yards | 2-10 | 6-28 |
| | | |
.
INDIVIDUAL STATISTICS
Hornell rushing:
David Zapata 43-228
Josh Hoffman 10-46, 2 TD
Ryan Dieter 5-18
John Damrath 3-5
DJ Henry 2-5
Kevin Georgek 1-0
Chenango Forks rushing:
Tyler Spencer 5-71, 1 TD
Jim Nicholson 8-69, 1 TD
Rick Mirabito 11-36
Joe Nicholson 6-13
Jarred Wells, 3-9
Alex Sabo, 1-5
Hornell passing
John Damrath 2-for-4, 23 yards, 1 TD, 1 int.
Chenango Forks passing:
Rick Mirabito 2-for-3, 25 yards, 1 TD
Hornell receiving:
DJ Schwartz 1-13
Ryan Dieter 1-11, 1 TD
Chenango Forks receiving:
Jim Nicholson 1-18
Jarred Wells 1-7, 1 TD
Chenango Forks
Most Valuable Offensive Player..... Rick Mirabito
Most Valuable Defensive Player ........ Josh Cary

Hornell
Most Valuable Offensive Player...... David Zapata
Most Valuable Defensive Player ...... Ryan Dieter

---
Preview Articles:
Hornell back to test Forks

By Kevin Stevens
Binghamton Press & Sun-Bulletin
One year to the day after becoming acquainted, Chenango Forks and Hornell will clash in a Class B state football semifinal at 4 this afternoon in Syracuse's Carrier Dome.
A season ago, Forks dispatched the wide-eyed first-timers, 27-7, in the semifinal round, and proceeded to a second consecutive state title. This time around, they'll play on a slightly more level ground with regard to the experience factor.
"It's a factor," Forks coach Kelsey Green said. "I think it's a factor throughout the whole season, especially if it's a group that believes it's going to go. And I know, from the time they lost that game to us, they knew they were coming back. They just knew they were getting out of (Section 5)."
Hornell (10-1), ranked fourth by the New York State Sports Writers Association, was beaten 21-13 by Class C member LeRoy on Sept. 30. Since that game, the Red Raiders have shut out three of six opponents.
Top-ranked Forks (11-0) is two victories shy of joining a select circle of programs -- Caledonia-Mumford, Edgemont and Onondaga -- that have produced three consecutive state football championships. The Blue Devils have won 37 games in succession, an active streak bettered by eight programs nationally according to the website TEXASHSFOOTBALL.com.
"The thing I like about both teams is that both play the game the way it is supposed to be played-- we play hard, we play clean and we play passionately," Hornell coach Gene Mastin said.
Hornell, which has outscored its opponents by an aggregate 226-21 in the first half of games this season, is led offensively by David Zapata, a 170-pound sophomore. He has rushed 240 times for 2,015 yards-- a total 1,630 yards greater than next-best on the Red Raiders' charts.
As offensive Most Valuable Player in the quarterfinal round, Zapata rushed for 185 yards in his team's 14-0 victory over Lackawanna-- a program that reached Class B's final from 1997 to 2000, each year defeating Hornell in the quarters.
"The tailback is where their offense is all centered," Green said. "He's very quick, and he does finish his runs off. When he's going to the line of scrimmage, he's moving."
Equally impressed was Forks' scouting entourage with Hornell's linebackers, Ryan Dieter, Josh Hoffman and D.J. Henry (5-foot-10, 235 pounds).
Another notation was made on Forks coaches' clipboards for Scott Young, a 6-foot-6, 230-pound two-way end who in last year's semi made two receptions for 42 yards and blocked a PAT kick.
"We're similar to Forks," Mastin said of his defense. "We've got good size up front and we've got people who are small and run to the ball very well. I can't imagine two teams who pursue to the ball any better than the two of us do."
As for specific concerns of that Red Raider defense?
"(Forks') offensive execution, particularly the way their quarterback makes his reads," Mastin said of the Blue Devils' Rick Mirabito. "I've coached for 30 years, and he reads the option as well or better than any high school quarterback I've seen.
"And as with any option offense, if you don't stop the fullback you don't have a chance."
Forks fullbacks Tyler Spencer and Joe Nicholson rushed for 126 and 123 yards, respectively, is a 34-7 semifinal rout of Homer. Spencer ran 98 yards for a touchdown and Nicholson 71 to set up another.
---
Finishing what they've started

By Derrick Balinsky
Hornell Evening Tribune Sports Editor
Gene Mastin's bold prediction for the week? The wind won't be blowing inside Saturday.
All joking will be put aside when Chenango Forks (11-0), out of section IV, and Hornell (10-1), out of Section V, put it all on the line Saturday at 4 p.m. against one another at the Carrier Dome on the campus of Syracuse University. The loser plays basketball. The winner goes on to the Class B championship and for Hornell, it would mean the first state championship game in the history of the school.
If that weren't incentive enough, a win would also give the Raiders some sense of redemption after losing 27-7 in the semis a year ago while also snapping Forks' 37-game win streak - currently the longest in New York State and the sixth longest in 11-man football within the United States.
"We're trying to break new ground. We're trying to get ourselves into the state finals," Mastin, Hornell's head coach, said. "No team from this school has ever been to a state championship game. This isn't just about football, it's for the school as a whole and the entire athletic program. We've been on the verge, whether your talking about baseball during the run a couple of years ago, or the football team last year. At some point this school is going to win a state championship and in order to do that the ground has to be broken. As I told the players, there's been so much effort that has gone into getting this far and there's no reason to waste it."
"We were here last year, but last year was obviously disappointing," senior linebacker Josh Hoffman said. "Last year kind of felt more like a sightseeing tour because we had never been there. We weren't really expected to get to this point, but coming in we knew we had a really good shot.
"We're all excited to have this opportunity," he added. "This year we have the team that can take it all the way and hopefully we can finish this."
In order to accomplish that trying task, Mastin's vaunted defense will attempt to stop, or at least contain, Chenango Forks' high-powered, high-scoring veer option offense. The Blue Devils average about 327 yards of rushing per game, carrying the ball approximately 45 times in each of their 11 contests. This season they've completed 10 passes for 288 yards, an average of one pass every game for 26 yards. Putting it all together equates into just over 354 yards and 35 points per game.

"This game is tactically challenging because of what they do with their offense," Mastin said. "They have really good people and we've been making adjustments throughout the week to get ready. But it really seems as the week has come together that we're looking to be in pretty good shape."

"On paper it's the best offense there is," Mastin added. "The only way you can beat it is with outstanding efforts and of course some sound fundamentals. We think we've got our kids in about as good of a position as we can be with this and we do have kids that sell out and play hard. We're going to give it our best shot."

Trying to draw similarities between Forks' offense and the great collegiate option offenses is difficult. Two which come to mind are Notre Dame's option offense of old and perhaps Nebraska's option offense during the Tommy Frazier years. Syracuse also ran a speed option during the Donovan McNabb era, but even a combination of the three doesn't do Forks justice. Pretty impressive, considering its high school football.

"It's really none of those because their reads come off-tackle," Mastin said. "If they execute it perfectly there is no way that it can be defended. This is one of the few teams that I've ever seen run the outside veer out of the wishbone. It's something that is truly high risk, high reward.

"If the run it right, they'll get great gains. If they don't do it right, they can have a tendency to put the ball on the ground. That's what we're going to try and make happen. We think that we've got a great plan put together, now it's just a matter of going up there and getting it done."

"Chenango is considered the best option team in the state," Hoffman said. "Last year we had a great game plan and everything went well except one big screwup in our defensive execution. We've got another great game plan this year and from what I can see it's as strong as ever.

"It's so strong, but it's easy. Everyone knows their defensive assignments this time around. We had a great defensive day in practice (Thursday). And, that's what the coaches do for us. They put together strong, physical defensive strategies and now we just have to go out and execute. We have to do what we do best - go out there on fire and play with the passion that we are all capable of."

"They have a great offense, one of the toughest to prepare for in the state," senior defensive end Scott Young said. "From a defensive standpoint we've got our inside triangle and it will have to take care of its assignment. The edge will have to get its job done as will the secondary.

"It will be key for each player on the defensive side of the ball to take care of their individual assignment. Everyone just needs to continue to take care of business."

When comparing statistics, however, Forks only edges Hornell in one category - points per game, 35-33.7. HHS has more rushing yards 3,637-3,603 (330-327 per game), more passing yards 357-288 (32.5-26), a better giveaway-takeaway ratio (plus 15 to plus 4) and less yards given up 199-127 per game.

"On paper that may be, but the intangible that they've got on their side is the four trips to the state finals and having won the state finals twice in the last two years," Mastin said. "They've been to the state finals four times and we're zero. Those kids down there know how to win. They're an extremely well-coached program all the way across the board."

David Zapata leads Hornell's offense with 2,015 yards through the ground attack, just about 183 per game. He also leads the team in scoring with 25 touchdowns. But his supporting cast isn't bad either. From starting fullbacks D.J. Henry and Ryan Dieter to Hoffman, the Raiders' reserve tailback, HHS doesn't miss a beat. Starting quarterback John Damrath has also shown signs of becoming a steady passer, and this could be the junior's coming out party. According to Mastin, the Forks' secondary isn't as strong as it has been in the past and should his club find a way to finally drop a long ball, or two, over the top - it could turn the tide in Hornell's favor.

"The offense will come," Young said. "They have a good defense, but with our physicality and with our running attack being what it is - I don't think too many teams can stop that.

"If we can control the line of scrimmage and control the run game, while also stopping their offense, I think we have a very good shot at winning this game."

The Red Raiders will have to play with heart and use their minds if they're going to have a shot at the state title. Put away the calculators, throw out the numbers - just lace 'em up and strap 'em on. Taking a page out of the history books at Notre Dame, it's time to play like champions.

"From Batavia, all the way up through, we've been on fire," Hoffman said. "We've played with a shutout mentality. Lackawanna is a great team and we shut them out. Now it's on to Chenango Forks and yes, many people are saying this is the (state) championship game, but most of us don't even know who Rye is playing on the other side, nor do we care. We've got Chenango Forks and that's what we've been concentrating on."

"The keys to winning the game are no different than they've been," Mastin said. "We've got to play great defense, we've go to run the ball and play solid special teams. If we get those things done, we'll be okay."

"You get down to these last few weeks and you've got nothing but good teams and good players left," Mastin summed. "And, there's no reason why we can't win."
---
---
Post-game Article:

Fifth Quarter: Published on Tuesdays

Forks players avoid reliving bad memory

By Kevin Stevens
Binghamton Press & Sun-Bulletin

SYRACUSE -- It was a bit before 7 p.m. Saturday in the Carrier Dome when unpleasant memories of Dec. 1, 2002 came racing into the minds of many Chenango Forks players, coaches and spectators on hand.

Hornell was aligning for a 27-yard field goal attempt with 23 seconds remaining in its Class B state semifinal against Forks. The Red Raiders' kicker was Josh Hoffman.

However, some on Forks' sideline and in its cheering section were seeing another kicker wearing a different uniform in another year. They saw Peter Kohlasch of Harrison High converting a 30-yarder on the final play to send his team to a one-point victory against the Blue Devils for the '02 championship.

"I looked up at Matt Juriga, Drew Batty, Mike Bunker, all those guys were standing right there," Forks tackle Matt Faughnan said of former Blue Devils players. "When I was a little kid, me, Kevin Purce and Jason Chier watched that last state championship game that we lost. After that game, we saw those players crying and we were like, 'We don't want to be like them.'

"I looked up and saw them and it brought me right back. It was like one of those TV shows where you go back, you see that Harrison kid make that field goal and you're like, 'That can't happen to us.' "

In fact, it didn't happen.

The kick missed right and Forks got away with a 21-20 victory over an outstanding Hornell squad to move to its fifth consecutive berth in the Class B title game. That finale is scheduled to begin at 3 p.m. Sunday in the Dome against Rye, making for a third consecutive clash of the two for the championship.

Forks' passage through the semifinal round came despite:

• Hornell gaining 19 first downs to the Blue Devils' seven.

• Hornell possessing the football for 30 minutes, 13 seconds to Forks' 17:47.

• Hornell snapping the football 21 times to the Devils' eight in a scoreless final period.

"In the fourth quarter, the Dome sort of got tilted toward our goal line," Forks coach Kelsey Green said.

Critical plays for the Blue Devils included a 60-yard touchdown run on the game's third play from scrimmage by Tyler Spencer; quarterback Rick Mirabito's 7-yard scoring pass to Jarred Wells -- delivered while Mirabito was in mid-air, leaping over a fallen Forks blocker; and a goal-line stand in which the Devils stopped Hornell quarterback Kevin Georgek short on fourth-and-goal from inside the 1-yard line, with interior linemen Spencer and Josh Preston among those doing the dirty work.

Also key was Forks sending Hornell three-and-out on the opening possession of the second half, after the Red Raiders' David Zapata had gain ed 119 yards on 21 first-half carries.

"Once we did it, we knew they were able to be stopped," said Forks' Jim Nicholson, who scored from a yard out on his team's ensuing possession for a 21-14 lead. "Once we stopped them, we had a better feeling."

Green said afterward, "It was like a fight, with nobody blocking any punches. No defense. A three-round preliminary, although two pretty darn good football teams."


---