BINGHAMTON -- On to state football playoffs the Blue Devils of Chenango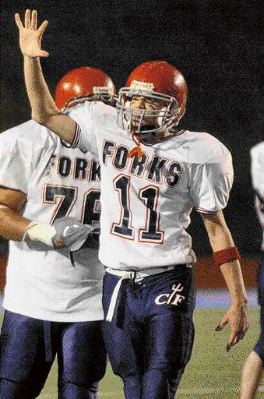 Forks will march, perfect record in tow for a fifth consecutive season.
But first, they'll have a moment to respectfully doff their caps to Owego, a rawhide-tough squad that scrapped with Forks chinstrap-to-chinstrap before succumbing 25-13 in Friday night's Section 4 Class B title game at Binghamton Alumni Stadium.
A dead-even ballgame deep into the third quarter turned on a piece of improvisational brilliance from quarterback Rick Mirabito, who scrambled 52 yards for the go-ahead score.
The Devils followed with a three-and-out defensive series that was as critical as it was sound, given the uncharacteristically -- by Forks standards -- narrow margin.
Ten wins, zero losses is how the record has read at this stage every season from 2001 to the present for Forks, which will face either Homer of Cazenovia in a state quarterfinal at 1 p.m. Friday at Union-Endicott.
The victory was Chenango Forks' 36th in succession, matching Vestal for Section 4's all-time best unbeaten streak.
Owego closed a 6-4 season, its well-designed offensive blueprint spotlighting indefatigable Adam Hunter, who rushed 28 times for 174 yards and both of his team's TDs.
"I think people get a little spoiled, think every game we play should be a blowout," Forks tackle Matt Faughnan said. "But that's not the case. We knew they'd be a tough team coming in here. We prepared for a dogfight and that's what we got."
Indeed.
Perhaps Forks' familiarity with the championship-game setting factored into the early going, with the Devils hopping to a 13-0 advantage before four minutes of the contest had elapsed. The TDs came on Joe Nicholson's 48-yard rush on the third play from scrimmage, and on Jim Nicholson's 17-yard rush one Forks snap later-- set up by Jim's 59-yard punt return.
Thereafter, the contest took on just a wee different look.
Second-quarter statistics: Hunter 14 carries, 54 yards; Forks six plays, 28 yards.
"We had them on their heels -- we had them! -- we let them off," Forks coach Kelsey Green said. "Then, they took over."
Owego drew within 13-6 when Hunter crashed over the goal line from a yard out with 1:10 left in the second quarter, finishing a 41-yard drive that began when Mirabito lost a fumble.
Two plays into the second half, Hunter sprinted 77 yards up the home sideline for a score on a play in which he appeared to be stacked up for a minimal gain. This young man's legs do not stop when he has the football in his possession-- not even for two-time defending state champions.
Marc Baker's PAT kick squared it at 13.
The sides traded punts, Forks took over at its 20-yard line, but soon stared down third-and-13 from its 48.
Play call: Mid-line right pass, Y sneak.
Defenders: Precisely where they should be.
Mirabito? Not to be stopped. He dropped back, showed pass, took off to his left, and, once he neared the sideline was not to be caught. It was 19-13 with 4:05 left in the third quarter.
"The tight end's supposed to come across on a drag," Mirabito said. "No one was open, they dropped back in coverage, I just kind of scrambled out and took it down the sideline."
Said Owego coach Steve Virkler: "That was the play. Third-and-long, he scrambles. Obviously we had it covered, but he ducked underneath."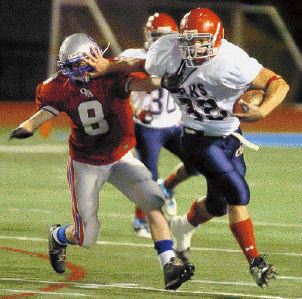 The Devils' defense backed that up after the ensuing kickoff. On first down from the Indians' 34, Tyler Spencer whacked Hunter for no gain. On second down, Mirabito charged in from who-knows-where to swat away a bull's-eye pass from Andy Race. On third down, Faughnan bull-rushed Race and punched down a pass just out of his hand.
"We couldn't let them have an answer," Green said. "It's like a baseball game. You put a couple runs on in the top of the inning, you can't let them have any in the bottom."
The score to settle the issue came with 3:03 to play in the game, a 41-yard rush from Jim Nicholson.
Forks committed 10 penalties for 67 yards, an even five per half.
"If you're forced to hold a kid, I think that tells you the kid's a heck of a kid," Green said. "You don't hold kids you can block. If you're flagged, a lot of it has to do with your opposition."