Green's Machine
Chenango Forks has flourished into a Section 4 football powerhouse under head coach Kelsey Green
By Kevin Stevens
Binghamton Press & Sun-Bulletin
Nov. 19, 2004
TOWN OF CHENANGO -- Somewhere on the grounds of 1 Gordon Drive, the roots of a football dynasty exist.

Dutifully cultivated by caring hands and minds, they have borne 48 victories against two defeats over the last four seasons of Chenango Forks football. At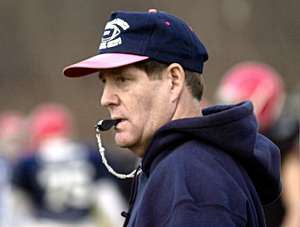 "We want to learn something every day, not make the same mistakes we made the day before." -- Kelsey Green, Forks coach
Rebecca Towns / Press & Sun-Bulletin
present, they have blossomed into 24 consecutive triumphs, state-championship game berths the last three Novembers.
'Twas an amalgamation of seeds that produced it all, seeds dropped from packets of keen foresight; superior talent, speed and physical development; preparation overdose; a philosophy that excludes the pronoun "I"; widespread community support; and old-school work ethic.
No Section 4 football program has accomplished what the Blue Devils are two victories shy of achieving: Successful defense of a state championship.
They'll tote an 11-0 record into a semifinal against fellow unbeaten Hornell at 5 this evening in their Dome away from home on the campus of Syracuse University.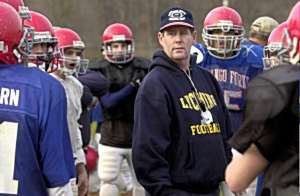 Kelsey Green's Chenango Forks High football teams have compiled an 81-15 record since 1996, including winning a state championship in 2003.
Rebecca Towns / Press & Sun-Bulletin
Student-athletes have arrived and departed during this overwhelming stretch of dominance, from three-year cornerstone Kelsey Jenks to backfield blur Roy Deyo to fullback/linebacker Joe Babcock to front-line stalwarts Juan Mendoza and Chris Pease to the quarterback platoon of Chris Spencer and Matt Juriga, to identify a handful of primary contributors.
This time around, the names Tim Batty and Zach Vredenburgh, Matt Faughnan and Jason Chier, Kevin Purce, Tim O'Branski and Alex Williams are among those at the fore.
The constant? K. Frank Green and Associates, the firm that has overseen production of 81 wins since opening kickoff of the 1996 season.
"A testament to Kelsey, 'Chick,' 'Hogey' and Petley was the state championship game last year against Rye," said Rick Spencer, transplanted Forker from Binghamton's East Side and father of junior fullback/tackle Tyler Spencer. "So many of the players from the previous two championship-game teams were right there in the Dome, in the first row behind the bench.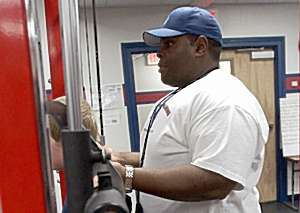 Trainer Trent Patterson's workouts have been credited by coach Kelsey Green with helping the Blue Devils' football team compete on the state level.
Diogenes Agcaoili Jr. / Press & Sun-Bulletin
"They wanted that championship for their school and their friends, but probably more so for coach Green and the rest of the staff."
Kelsey Green is the head man, Dave Chickanosky, Dave Hogan and volunteer John Petley varsity assistants. To watch a Forks practice session is to discern no head coach, no assistants -- rather, a staff coaching.
That nine-year record, mind you, has been churned out by a football program steeped in winning tradition, from the days of head coach Gerry Taylor to successor Dick Russ to the present regime. In fact, the season before the "The Green Machine" revved up, the Blue Devils closed a 10-1 season with a state-quarterfinal setback.
But since, it's been more than a cut above even Forks' standards.
There couldn't be a more fitting helmsman than Green (Forks Class of '70), a highly organized, what-you-see-is-what-you-get guy. He is an intensely competitive man of integrity, demanding yet compassionate. Above all, he is wholly and genuinely devoted to the student-athletes, to the betterment of the program.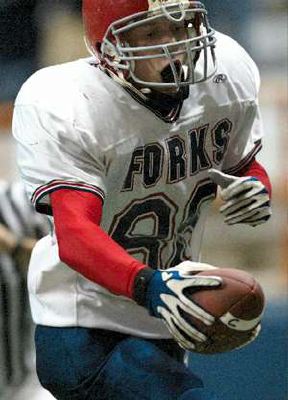 Senior Zach Vredenburgh, a key two-way player for Forks, has yet to be on the losing side during his varsity career.
-File photo
Upon starting his initial season as head coach, in '96, Green told a reporter:
"We want to learn something every day, not make the same mistakes we made the day before. I don't know who said it, but I heard a coach at a clinic one time say that a football team either gets better or gets worse, it never stays the same."
And so, Green and staff have made the program better -- year after year after year.
Forks has featured quality athletes -- "And anyone who says you can be very successful without a lot of talent, they've never coached. That's impossible," Green said.
However, talent is sprinkled about Broome County, about Section 4. In recent seasons, sustained success at the state level has been limited to one program: Chenango Forks.
THE VISION
Green, 52, calls it "absolutely imperative" for a varsity coach to monitor potential athletes in their pre-teen years. Thus, he considers it an advantage that he teaches in Forks' middle school, as does Hogan, as did former varsity assistant and JV head man Gail Wrighter.
They'll keep an eye open and an ear turned to goings on in physical education classes, the playground and modified-level games, and acknowledge youngsters' efforts in class the following day.
One particular group -- those who would accept high school diplomas in June of 2003 -- caught Green's eye when they were mere pups.
"That class with Jenksy and those guys, you could see that that was a very talented class," Green said. "Now, you don't know where you're going to go with it. At that point, you're thinking about winning the division, making it to sectionals."
And so, the architect set about designing the blueprint. To be the best is to first know what makes the best, and so Green studied those at the level he yearned for his program to reach.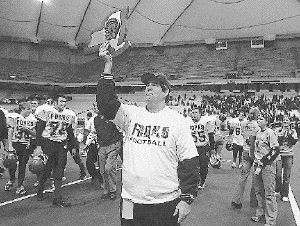 Kelsey Green celebrates Forks' 16-0 victory over Rye last season in the Class B state championship game at the Dome.
-File photo
"Quite frankly, I had gone up and watched the state tournament those years knowing that whoever won our section would go and we'd say, 'That's a heck of a football team,' " he said. "But very rarely would they get past the first game, the Syracuse team would beat us. And after that, you'd say, 'My God, the Syracuse team that beat us bad then got pounded.' And then that team lost in the state final.
"You know, how far are we away? Is this a dream?
"The things that just jump out at you are speed and quickness, and obviously, strength. The only way you get faster and stronger is through work.
"And, thank God, at about this time, a guy named Trent Patterson arrived at Chenango Forks."
T.P. POWER
Trent Patterson grew up in Syracuse, started at offensive guard for the University of Alabama from 1988-90, was in '89 the 'Bama football program's "Lifter of the Year" -- recognizing its strongest player.
But the line on his resume that reads "Certified Strength & Conditioning Specialist" is the one that links him to Forks' football success.
Patterson recalls pitching his services in about 1997 to, he said, every school in the area.
"Kelsey was the only one who said, 'Let's give it a go.' He was the only taker of my kind of vision," Patterson said.
Patterson's conditioning program accentuates strength, agility, stamina, speed enhancement, explosive training, plyometrics. Athletes who participate get stronger, run faster, change direction quicker, improve their overall balance and stability. It is a six-week summer program, beginning when athletes are eight-graders.
Forks had long emphasized off-season training. But, as Green said, "I could read a physics book and try to teach physics, but it's not going to work. This guy is incredible."
Patterson came aboard, and Forks' athletes bought wholesale into the program.
"Ninety percent of the team has done the six-week program," Patterson said. "Those guys know what each other is all about. One knows the commitment the guy next to him has put in.
"I know what a difference it makes. Everything I'm putting those kids through, I've been through."
THE SYSTEM
The Forks product seen on the field come game day -- supremely synchronized, well-disciplined and just plain better than the rest -- is the manifestation of a system that works.

Green With Envy
Chenango Forks' record under head coach Kelsey Green:
* 2004: 11-0
* 1999: 6-3
* 2003: 13-0
* 1998: 8-2
* 2002: 12-1
* 1997: 5-4
* 2001: 12-1
* 1996: 7-2
* 2000: 7-2
* Overall: 81-15
2001-present: 48-2 ... Average score: 31.8 to 7.2 ... Thirteen shutouts ... One state championship ... Two state runner-up finishes ... Four Section 4 championships.
It is about stability. From a long list of loyal, veteran coaches throughout the program -- Green, Chickanosky, Bill Ryan, Dennis Hovancik, former coaches Wrighter and Ed Fetzko among them -- to employment of the same X's and O's at all levels.
From 7th-grade through varsity, it's option offense, 5-2 defense, uniform principles through and through. When athletes debut on the varsity practice field, the basics have been long since instilled. Green does, however, encourage lower-level coaches to tweak as they see fit to best suit their personnel, knowing both the players and coaches will benefit.
From a preparation standpoint, all in Forks headquarters are confident that, come game day, the Blue Devils will not have been outworked. The players will have viewed film of upcoming opponents, with 15 or more tapes distributed, shared and popped in living-room VCRs. Coaches -- too accustomed to the site of vehicle odometers spinning and the sound of microwave ovens warming late dinners -- will have scouted so that they are acutely aware of foes' strengths, weaknesses and tendencies, and will couple that knowledge with the ability to adjust accordingly.
The coaching staff works as one. All have input, and all input is welcome. Occasional and momentary bickering occurs -- the boss is strong-willed, and first-lieutenant Chickanosky seldom one to bite his tongue -- but in the end the team thrives on the coaches' open-mindedness and interaction.
"I know I've got great people," Green said of his coaching staff, past and present. "I teach history, and I've always thought one of the better qualities of leadership is knowing that when you have good people around you, you let them be the good people they are.
"We are definitely a staff. We all coach offense, we all coach defense, we all coach special teams. It's our defense, our offense."
SUCCESS BREEDS SUCCESS
Two critical factors in the perpetuation of Forks' football juggernaut are byproducts of a) winning regularly and, b) winning big.
Chenango Forks seasons have begun in mid-August and extended beyond Thanksgiving each of the last three years. While so many teams have turned in the equipment following the ninth week of competition, the Blue Devils have had four additional games against quality competition, with accompanying bonus weeks of on-field schooling.
With spring football a no-no in New York, Forks has benefited greatly from the additional blast of late-fall ball. For example: Quarterback Tim Batty, three-year varsity man, will this evening suit up for his 38th varsity contest -- 11 more than the norm.
Too, the nature of Forks' superiority within Section 4 has led to an inordinate number of lopsided margins. Green is not one to pile on points, never will be, and to suggest otherwise is to flaunt one's ignorance. As a result, second- and third-teamers, many of them underclassmen, have experienced a wealth of game experience.
Not only does that provide those players seasoning for the following season, but, as Green said, "Does it ever make for a great atmosphere in practice every day.
"Because kids know. They're playing, they're on the film, and your No. 1 kid gets coached the same way as your No. 40 kid gets coached because they're all going to be out there for everybody to see."
THE RESULTS
When Rick Spencer did the math, he realized that sons Chris (Class of '03) and Tyler have, in their years playing JV and varsity ball at Forks, combined for a 70-6 record. Too, he said Chris' present path toward school teaching and football coaching is result of his experience in Forks' program.
"Do we have great players? I don't know," said Rick, formerly and assistant at Binghamton High, Susquehanna Valley and Harpursville. "But those coaches get the most out of them and they get the best out of them. And as good as they are as coaches, they're that much better people. I couldn't ask for better role models for the boys."
Vredenburgh, hugely valuable two-way player and noted big-game performer, is among those Blue Devils yet to swallow defeat at the varsity level.
"A lot of people know we have a great program, a lot of tradition. It feels like we've accomplished something," he said.
Upon conclusion of every game, Forks' players take a knee on the playing field and tune into post-game remarks from Green. He'll briefly address the good and not-so-good that transpired between the sidelines, but without fail will weave in a message about citizenship, wise decision-making, conducting themselves as quality representatives of the program.
Contrary to the credo of Oakland Raiders owner Al Davis, the Forks way goes deeper than simply, "Just win, baby."