Forks uses 98-yard TD jaunt as
springboard past Windsor

Blue Devils grind out 503 yards on ground

By Kevin Stevens
Binghamton Press & Sun-Bulletin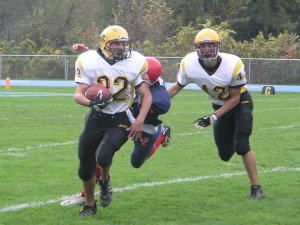 KATTELVILLE -- The best, it would appear, is getting better.
Chenango Forks' football juggernaut aced another test Saturday afternoon, dismantling a respectable Windsor squad that brought a winning record to the field and left on the short end of a 63-0 score.
Fifteen Forks ballcarriers had a hand in a 503-yard rushing total on a day New York's top-ranked Class B team won a sixth game in succession and posted shutout No. 2 of the season.
And this time out, there was a momentary splash of drama-- a relative term, for these defending state champions.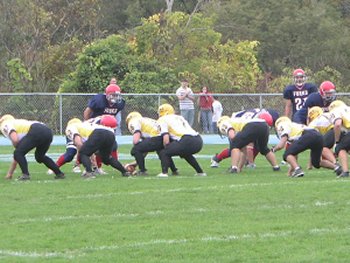 The Blue Devils held a 14-0, second-quarter lead when Windsor (3-3) moved 78 yards to the hosts' 2-yard line-- the pass-and-catch combination of Adam Good and Ryan Riley accounting for 54 yards on consecutive snaps.
But the Devils responded by stuffing Ryan Markham for no gain on third down (picture 2), and regaining possession of the football when a fourth-down pass dropped incomplete.



The next play, in essence, took what had been a decent ballgame and turned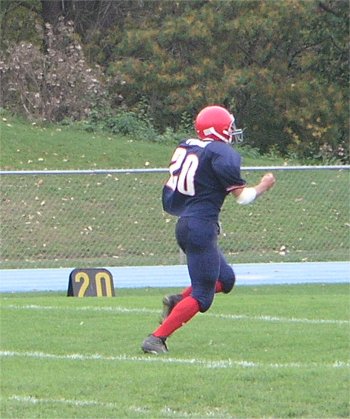 it the way of so many other Forks-versus-Whomever contests of recent vintage.
On first down from Forks' 2, running back Tim O'Branski accepted the football and headed toward the home sideline, zig-zagged through congestion until finding open ground near his 30 and racing the rest of the way (picture 3) to make it a three-TD spread with 5:16 to play before halftime.
From there, Forks proceeded to score on six consecutive possessions. In fact, beginning with O'Branski's 98-yarder, three Blue Devils "drives" required a combined five plays. It was a lights-out 35-0 at halftime.
Jason Chier rushed for the two TDs, and seven mates shared in the scoring load from there. Kickers Tim Batty and Ed Samson were 9-for-9 on PATs.
"(Saturday), we got tested a little bit," said Alex Williams, senior right guard on a sound offensive front. "We had the goal-line stand. We had that situation for the first time this season and we handled it the best we could. We shut them down."
Said Forks coach Kelsey Green: "I liked the way we responded when they got it down inside our 10, that was good to see because that really hadn't even happened yet.
"Then we come out of there and break a play, that was nice."
The stat sheet revealed Forks' 503 rushing yards coming on a 10 1/2 yards-per-carry average, in large part testament to the work done by Williams, fellow guard Brad Watson, tackles Matt Faughnan and Josh Cary, and center Brian Baxter.
Primary beneficiaries of the quintet's contributions were running backs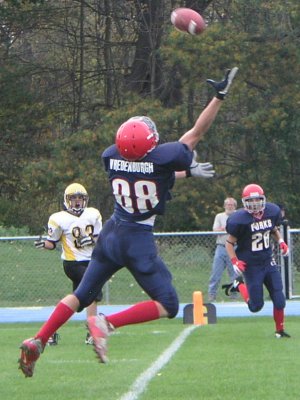 O'Branski, Chier, Ben Farnham and quarterback Batty. Together, they rushed 16 times for 293 yards and four scores before yielding to a deep cast of the most frequently called-upon reserves in Section 4.
Highlight-reel plays were numerous on Forks' end, beginning with the latest in the line of one-handed grabs by Zach Vredenburgh (picture 4). With right palm skyward and extended ahead of his body, he rescued a slightly overthrown ball from Batty and turned it into a 26-yard, second-quarter TD.
The final touchdown of the half, Tyler Spencer's 3-yard run, came a play after a 53-yard cutback delight by Farnham-- freed in no small part by lead-blocking Batty on the front end of the run near Forks' bench.
The sixth TD was a superb 48-yarder by Batty, who spun through a would-be tackler at about the 20. Closing things out was a 63-yarder by Dave Falcon with 5:37 remaining.
---
All photo's by Sean Faughnan