Forks rules the Valley
for 10th straight year
By Mike Mangan
Binghamton Press & Sun-Bulletin

HILLCREST -- It is a chant that by now has likely grown tiresome for the Chenango Valley faithful, but there were no more fitting words than those shouted by the Chenango Forks football players following the latest chapter in the two teams' rivalry:

"Forks rules the Valley!"

With their usual combination of a strong running game and stifling defense, the Blue Devils cruised to a 49-0 victory over CV in a Section 4 Division III football game Saturday.

Forks (3-0) piled up 326 of its 348 total yards on the ground, while its defense forced four turnovers and limited the CV offense to 142 yards in beating the Warriors (0-3) for the 10th straight time.

"This feels great," said Forks' Tim O'Branski, who had a pair of touchdown runs Saturday. "We know a lot of kids on (their) team, and it's a big rivalry, and they came to play.

"But the important thing for us was playing as a team and getting the job done."

Though its offense got past midfield just once during the game, CV's defense kept things reasonably close until a big play by Tyler Spencer late in the second quarter set in motion the lopsided outcome.

With Forks leading 14-0, Spencer ran up the middle and made a quick cut left on his way to a 31-yard touchdown run that increased the lead to 21-0 with 2:38 remaining.

Forks then scored a pair of touchdowns in a 39-second span late in the third quarter.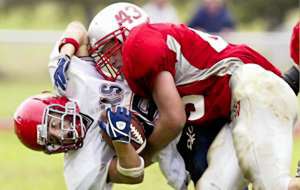 After Jason Chier's 34-yard touchdown run with 3:47 left in the third quarter made it 28-0, CV lost a fumble on the ensuing kickoff, giving Forks the ball at the CV 20-yard line.
Two plays later, O'Branski scored his second touchdown of the game, an 8-yard run, to put Forks up 35-0 with 3:08 remaining in the third quarter.
"For the first half, I thought CV played very well," Forks coach Kelsey Green said. "We really had good field position much of the game, and I think we may have worn them down a little bit in the second half."
Kevin Purce added a 54-yard touchdown run and Alex Sabo a 64-yard score in the fourth quarter for Forks.
Indicative of Forks' balance running the ball, Sabo was the team's leading rusher for the day despite his lone carry as 13 players combined for 32 carries.
John Cirba led CV with 66 hard-earned yards rushing on 17 carries, but collectively CV averaged just 2.9 yards per carry for the game (47 carries for 136 yards) and mustered just six yards passing as well.
Though CV was more than competitive in close losses to Oneonta (26-21) in Week 1 and Norwich (21-14) last week, it was evident going into Saturday's contest that it needed every conceivable break to end its nine-game skid against the reigning state Class B champions.
However, it was Forks that was the beneficiary of early miscues by CV, a pair of turnovers that led to quick scores.
CV started its opening drive on its 24 and got a first down before quarterback Greg Baxter fumbled, giving Forks the ball on the CV 27.
After a 1-yard run by Spencer and a 23-yard scamper by Chier, Ben Farnham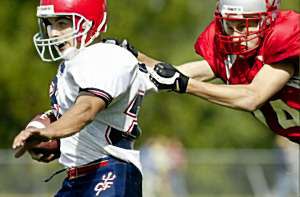 scored on a 3-yard run to give Forks a 6-0 lead with 8:12 left in the first quarter.
Then, on the second play of CV's next drive, Baxter's pass up the middle was intercepted by Tim Batty -- the first of two interceptions for the Forks senior -- that he returned to the CV 38.
After a 33-yard run by Batty moved the ball to the CV 5, Forks scored two plays later on O'Branski's 5-yard touchdown run, with Batty's pass to Nick Tarnowski for the two-point conversion giving Forks a 14-0 lead with 6:15 left in the first quarter.
"We got the early breaks, no doubt about it, and we were able to capitalize for a few early scores." Green said. "I think it set the tone early.
"We didn't talk much about the rivalry this week. It's always there, it doesn't have to be verbalized. What we're trying to do is get better as a football team."
---
Photographs by Thomas LaBarbera - Binghamton Press & Sun-Bulletin
Place mouse over photos to read caption