After coming home as state football runners-up in 2002 and 2001, Chenango Forks fans are confident the Blue Devils will walk off the Carrier Dome field Saturday with the program's first New York championship.
"Hopefully, they'll win. They've been there three years in a row," said Dave Zevotek, who played for Forks in the early 1970s. "They're good."
Zevotek and other Chenango Forks fans were abuzz Tuesday with pregame talk, leading up to the 10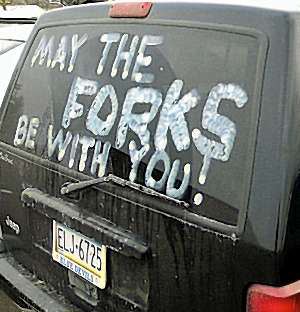 a.m. Saturday game against Rye High School. The undefeated Blue Devils earned another trip to the Class B final by beating Eden, 19-9, last Sunday in Rochester.
Inside the Quickway convenience store in Chenango Forks, the early morning coffee crowd has been drawing up a game plan all week, said manager Mary Vaninwegen.
"They're saying they're going to win," said Vaninwegen, about the pregame odds. "There's no doubt in people's mind."
If coach Kelsey Green needs a pregame motivational speaker, he could call upon the Blue Devils' self-proclaimed No. 1 fan, Kristine Hall.
"We're not an underdog," said Hall, a 1986 Forks graduate. "These boys have played hard."
After watching all 12 games this season, Hall wouldn't think of missing the finale. She'll cram into a van with nine others early Saturday for the familiar jaunt to Syracuse. When the final whistle blows, she hopes to erase the memory of last year's loss to Harrison, 22-12.
"They're going to get it," Hall predicted. "These boys are going all the way."
Among the morning crowd at Davy's Bar in Chenango Forks, owner Davy Dutcher led the cheers.
"We're very proud of them," said Dutcher, surrounded by a dozen fans bragging about the blue-and-red clad Blue Devils.
"They're better than the New York Giants!" a voice rang out, quickly followed by groaning laughter.
Despite being a small school, Chenango Forks consistently draws sizable crowds from its wide-spread fan base. The players notice the support whether the game is played in Rochester or Syracuse.
"It's nice having all the support," said Joe Babcock, a fullback. "You have the feeling that everyone is there and behind you."
The fans give lineman Chris Pease a reason to bring his A-game.
"Just having all the fans there gives you all the motivation that makes you want to win," Pease said.
Neither senior player wants to let down their fans, coaches, families or school.
"If we play our hardest game, I think we can do it," said Babcock.
"We really want to be the ones this time," Pease said. "The third time's the charm."