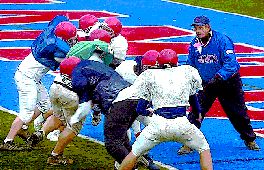 Dave Chickanosky was asked to imagine himself sliding over to the role of Chenango Forks football opponent and devoting the entirety of a scouting venture to analyzing the Blue Devils' defense.

Coach Chick's hypothetical impressions?

"Don't think you can trick 'em, because they know what to expect, and they react the way they're supposed to," said Chickanosky, veteran assistant and defensive coordinator. "So, that means you'll have to go right at them.

"I think I'd walk away feeling like, 'They're always there. Why are they always there?'

"Sounds like we're blowing our own horn, but ... "

It is hardly braggadocio when 35 Forks opponents over the last three seasons wouldn't likely utter a dissenting word, when defense, once again, has factored so greatly into this program competing for a 13th weekend in the Carrier Dome.

The Blue Devils (12-0) are to play fellow unbeaten Rye High for the Class B state championship at 10 Saturday morning. Should the Westchester County squad's scoreboard space at any time illuminate a two-digit figure, it would be a 2003 postseason first against the Devils.

Westhill High of Syracuse and Eden High, from Erie County, scored an aggregate 16 points against Forks in the state playoffs' quarterfinal and semifinal rounds, respectively. Each featured a running back who, had he called home a Southern Tier locale, would be heralded as far-and-away Section 4's best back.

Yet, Westhill mustered one touchdown against Forks-- with aid of a Blue Devils punt-return blunder. Eden followed with a one-TD outing and a nine-point total that fell nearly 25 shy of its pre-Forks average.

"We can step it up when we need to," said Chris Pease, 6-foot-1, 217-pound senior nose guard.

Indeed!

THE NUTS & BOLTS

Settle in for a session of Devils Defense 101, Prof. Chickanosky presiding.

Five down linemen, two linebackers, two cornerbacks and two safeties comprise the Blue Devils' base defense. They are the backbone of 12-0, of a squad that has surrendered 7.66 points per game this season.

They call it a two-gap defense, with the linemen -- Pease, tackles Alex Williams and Matt Faughnan, ends Steve Samson and Zach Vredenburgh -- each responsible to cover the gap inside them or outside them. That crew, particularly the middle three -- the "TNT," in Forks vernacular -- needn't feel compelled to make the majority of tackles.

Especially challenged in this scheme, in Chickanosky's opinion, are the ends. The ground they are required to cover extends from the inside gap to the sideline. Foremost, the ends cannot allow themselves to be hooked and thrown off-course by an offensive end.

Linebackers Joe Babcock and Matt Stephens are the two who stuff the stat sheet with tackles, because the defense dictates that they do so. The play-side 'backer is to be the aggressor. The back-side 'backer must call upon patience and discipline, for he has cut-back responsibility, yet still play with abandon.

Rule No. 1 for safeties Kevin Purce and Tim Batty: Never, ever give up the big play. Safeties must see to it that no offensive player gets between them and the goal line ahead.

Which leaves cornerbacks Ben Farnham and Jason Chier. When a rushing play is to the corner's side of the field, he is to meet the ball carrier at the line of scrimmage. If a pass is to his side, he must get to that pass. Should a play go to the far side, the corner becomes a safety.

"You talk about a scary position, being the corner away from the play, that's a tough one," Chickanosky said.

When the need arises, Forks shifts into its goal-line defense, with a six-man front charging in unison dead-ahead, frequently with Babcock coming as well-- "And Joe really delivers the mail," Chickanosky said.

Those are the basics. Many a mid-stream adjustment is made, further complicating what is far more cerebral than line-up-and-knock-'em-down football.

"Isn't that an awful lot to handle for a kid?" Chickanosky asked rhetorically.

WHY IT WORKS

If not for personnel, even the most brilliantly designed Xs and Os wouldn't be worth the ink used to draw them up.

Forks, once again, has quality personnel.

Early on, as Chickanosky will readily admit, all was not settled. In fact, in a rather startling disclosure, he said, "I remember praying, 'Just don't let us be embarrassed by EFA.' "

Chickanosky spoke of his outlook preceding the season opener against Elmira Free Academy's reigning Section 4 Class A champions. But that Saturday's final outcome was 19-0, and the next week's against Norwich was 14-0.

Gradually, Forks defenders began to progress. The Devils were hit up for a season-high 21 points in Week 6 at Elmira Notre Dame, but since have given up more than nine in just one contest-- that a 31-14 rout of Bainbridge-Guilford/Afton when the Bears' second TD was a fourth-quarter afterthought.

Worth noting, too, about Forks' program:The Blue Devils do not run up margins of victory.

Early, Chickanosky said, the defense was carried by the efforts of Pease, Babcock, Samson and Batty. "The other kids just needed some time," he added.

Presently, all the parts are in place.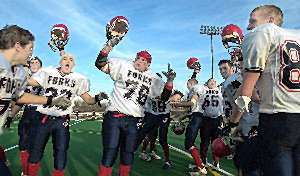 Against Eden, Farnham contributed a huge interception and 45-yard return of a first-quarter pass after the Raiders had reached Forks' 27-yard line. Vredenburgh, as he'd done in the Notre Dame game, picked one off and raced in for early points. Faughnan supplied the whack of the week, leveling all-everything back Keien Williams with a jarring smash that was replayed repeatedly on the VCR during the bus ride home from Rochester.
Babcock was ... well ... Babcock. He plays defense with passion, intelligence and consistency, and his efforts were acknowledged with a Defensive Player of the Game salute.
"They had the lead, had the momentum, they took it to us-- they kept doing what got them there," said Eden coach Doug Beetow.
PREPARATION AND PRIDE
The majority of 2003 Forks defenders were observers a season ago, when members of the program's Class of 2002 allowed 7.08 points per victory. The present cast has carried the torch ever-so-slightly lower, yielding .058-per-game more.
"I knew we had it in us," Pease said. "We want to be known as the great defense that we are."
To that end, these players have worked.
What is demonstrated on game day has been a byproduct of extensive film study, a proficient scouting eye by the coaching staff-- and notably, Chickanosky said, top-shelf work turned in by Dave Hogan, the coach in charge of the scout team.
The scout team simulates the upcoming opponent's offense during the week of practice, and to do so with anything short of game-day intensity is to risk sending out an ill-prepared defense. Last week, Tim O'Branski played the part of Eden ace Williams, with instructions to show the defense an array of cut-back runs that'd serve as preview of what was to come in the semifinal.
Chickanosky assigned a relative A-plus to the thankless season-long work of the scout team and to overseer Hogan, whose mid-week labor has paid regular Saturday dividends.
"They (the defense) will come off and say, 'Oh, man, Mr. Chick, we knew that was coming.' That's really nice to hear," he said.
That the defense has performed so effectively is in large part a tribute to the players' physical conditioning, as the majority are offensive regulars as well. While they may not care for the too-many practice field sprints, the reward has come in the form of a third consecutive state title game appearance.
Oh, and of that starting defensive 11? Seven are underclassmen.
Which is part of the reason head coach Kelsey Green, when asked how he'd have reacted had someone predicted in the preseason a state-final appearance for this squad:"Honestly, no way.
"But we had kids believing they can get there, and that's more important than me believing."