Forks notches another shutout
Blue Devils blank Norwich
BY KEVIN STEVENS
Press & Sun-Bulletin
Two weekends, two shutout victories and most all is well in Chenango Forks football quarters.
Forks made its way clear of a highly regarded Norwich squad on Saturday, 14-0, thanks in large part to a take-charge ground game, a slew of clutch third-down conversions and a defensive unit that appears to have the makings of this team's backbone.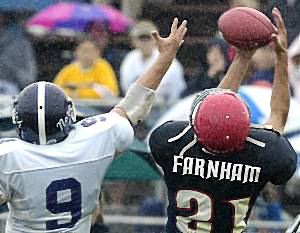 Ben Farnham struck first on a 15-yard touchdown reception from Tim Batty midway through the opening quarter of the non-league contest, and Tim O'Branski dashed 41 yards for a score on the opening play of the fourth for the Blue Devils.
Not since the 2000 season has a Section 4 opponent gotten the better of Forks. And it is rapidly becoming apparent that downing the Devils in 2003 will be no easily accomplished feat.
"The concern was certainly with (quarterback) Batty and their option game," Norwich coach John Pluta said. "They were better than we were up front. If you're better than we are up front, you're going to run the ball against us a little bit."
And run Forks did, to the tune of 274 yards.
Oh, and there was Forks' third-down efficiency.
The Blue Devils converted thrice on third down on their opening possession, which began at their 29-yard line and ended with Batty tossing a ball toward the home sideline that Farnham caught at about the 5 and carried across the goal line for a 6-0 lead.
To keep that drive going, Batty connected with Zach Vredenburgh for a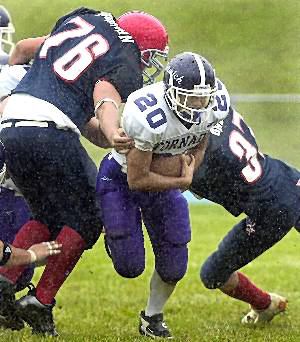 7-yard gain on third-and-6, and fullback Joe Babcock gained 10 on a third-and-1 from Norwich's 37.
The touchdown play? That was third-and-9.
The Tornado-quelling trend would continue in the second quarter, most notably following a brilliant defensive stop.
Norwich took possession on the second play of the quarter following a punt at Forks' 48. Six running plays set up first down from just outside the 10-yard line. But on fourth down from about the 5 1/2, Forks defenders Farnham, Chris Pease and Babcock answered the call to stop Justin Frink for virtually no gain.
Forks took over, but after a pair of 1-yard gains by Babcock, stared down third-and-8.
Enter Batty, who first looked to pass, then took off toward the Norwich sideline. He got past Eric Stratton after Stratton seemed to have headed off his path, and zig-zagged his way to the 34-yard line.
"A lot of that is Timmy," Forks coach Kelsey Green said. "We had a great goal-line stand and we had lost field position, then, there he goes. That's just God-given."
Later on that drive, with Forks looking at fourth-and-8 from the Tornado's 33, a Batty-to-Vredenburgh pass completion was good for 12 yards. Two plays later, Batty threw to the end zone for Farnham, but Norwich's Zakrevsky intercepted with 58 seconds to play in the half.
Forks' first possession of the third quarter began at its 37 and reached Norwich's 6 when, on fourth down, Batty converted a 24-yard field goal. However, Norwich was whistled for roughing the kicker, and the Devils opted to erase the points in favor of first down at the 3.
The move backfired when Forks lost a fumble on the next play, and Norwich's Mike Abbott returned to the Tornado's 35.
Norwich was called for roughing just moments later, with Forks in punt formation from its 44-yard line. Two plays later, O'Branski accepted a handoff in motion toward Forks' sideline. He sped through an attempted shirt tackle near the line of scrimmage, turned upfield, cut back toward the center and won a race across the goal line.
Batty hit Farnham with a two-point pass for the final points.
Norwich, playing without top running back Nate Farnsworth -- injured during the week in practice -- took its ensuing possession to Forks' 11-yard line. But a motion penalty, followed by Vredenburgh's fourth-down sack of Jordan Alger, ended that threat.
Babcock was the primary running threat for Forks, pounding away for the majority of his 106 yards between the tackles.
"Joe's a tough kid," Green said. "He got some nice blocking up front, with Steve Samson, Matt Faughnan, Adam Phoenix, Pease, Alex Williams and Jon Preston. Norwich had an eight-man front with good kids, yet we had some nice holes to run through sometimes."
---
1st photo caption & credit: The Forks' Ben Farnham has perfect position on Norwich's Eric Stratton on a third-and-9 pass from Tim Batty. Farnham hauled it in, a 15-yard scoring play on Forks' first possession, en route to a 14-0 victory Saturday over visiting Norwich. - , Jim Sanchez, Binghamton Press & Sun-Bulletin
2nd photo caption & credit: Norwich running back Justin Frink, who is 5-foot-8, 165 pounds, squeezes through the tackle attempt of Chenango Forks' Joe Babcock, right, and Matt Faughnan, who is 6-foot-2, 268 pounds, during Saturday's game. Frink had 26 yards rushing on seven carries. Forks won the game, 14-0. - Jim Sanchez, Binghamton Press & Sun-Bulletin