From the Binghamton Press & Sun-Bulletin - Dec 14, 2003

Feature articles followed by entire team...
all text by Kevin Stevens - Binghamton Press & Sun-Bulletin

---
State champion Forks places four on team

BY KEVIN STEVENS
Press & Sun-Bulletin

The most successful football team in Section 4 is also the most highly represented on the 2003 Press & Sun-Bulletin All-Metro football team.

Class B state champion Chenango Forks is represented by four players -- two of them underclassmen, all four worthy candidates on either side of the line of scrimmage. They are Player of the Year Joe Babcock, along with senior classmate Chris Pease and juniors Tim Batty and Zach Vredenburgh.

Also from Forks comes Coach of the Year Kelsey Green, so recognized for the second consecutive season -- a stretch that brought the program 25 victories in 26 ballgames.

The team was selected by yours truly following extensive consultation with area coaches. All players from schools within the Press & Sun-Bulletin's circulation area are eligible.

There are eight underclassmen on a 23-player unit -- or, six more than were selected for the 2002 All-Metro team. The lone repeat selection from last year's All-Metro team is running back Brian Soeffing, a Whitney Point senior who eclipsed the 1,000-yard rushing mark for a second straight season.

That Forks would have the greatest number of All-Metro players for a second consecutive season should come as little surprise, given the program's combined 37-2 record and back-to-back-to-back title-game appearances over the last three seasons.

"What a juggernaut that is -- and it's going to stay that way for another year," said Joe Pagano, who coached a Whitney Point squad that was beaten by the Blue Devils in Section 4's Class B title game.
---
Chenango Forks runner Joe Babcock is Player of the Year

Joe Babcock is the the Press & Sun-Bulletin's second ever Player of the Year, last seasons' first honor went to 2002 Chenango Forks fullback Kelsey Jenks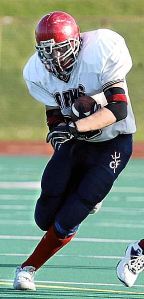 Driving force behind Forks

Blue Devils in good hands with senior Joe Babcock


Joe Babcock was an every-down performer at fullback and linebacker, and manned special-teams duties that included the role of personal protector for punter Tim Batty.

His 180 tackles established a Chenango Forks record, as did his 288 carries of the football, which brought him 1,396 rushing yards that factored greatly into Chenango Forks' 13-0, Class B state championship season.

But the most amazing statistic chalked up by Babcock, a senior and the Press & Sun-Bulletin's 2003 Player of the Year?

Zero fumbles.

Here was a young man who did the bulk of his running in the tough-sledding area of the football field, inside, where pad-to-pad and helmet-to-football contact is the norm, and where footballs are known to be jarred from the surest of grasps.

"No fumbles -- unbelievable! -- and we pounded that kid into the ground," Blue Devils coach Kelsey Green said, alluding to his fullback's offensive workload. "And you almost want to go back (on videotape) and see how many times he didn't fall forward. There weren't too many times, I know that."

Green added, "He's 175 pounds, has got legs like a chicken -- but, what do they say, a lion's heart? He's naturally strong, he just doesn't look it."

To start the season, expectations attached to Babcock as a linebacker were far greater than those from an offensive standpoint. But as the season evolved and the victories mounted, it became increasingly evident who it would be so dependably gaining tough yards when Forks was in need of movement of both game clock and first-down markers.

"He's incredible," Batty said. "He'd carry it 25, 30 times some games, and play every down at linebacker. He took a real beating. He's not really big, but just a very tough kid. And he never complained. He wants the football, wants to make that big hit, too.

"I knew he'd be good, especially defensively, because he's such a great linebacker. But I didn't think he'd have that kind of breakout year offensively."

"I think it was after about the Oneonta game (in Week 3)," Green said of when he gained a realization of Babcock's true offensive potential. "Late in that game, we just started pounding him with that stupid little lead play we run. And there he was, getting 3, 4, 5 yards play after play after play."

In the 10 games that followed the trip to Oneonta, just twice did Babcock rush with the football fewer than 22 times -- one of those a rout during which his services were not required.

In many ways, and with respect to quarterback/safety/punter/kicker Batty, Babcock was the single most valuable contributor to Forks' perfect season. Opposing defenses were forced to respect his ability as the Devils' first option. Opposing ball carriers came to know him on an up-close-and-personal basis with regularity.

At linebacker, he played a brand of defense that was cerebral and ferocious, patient yet attacking. He covered more than his share of the field, and the school-record total of tackles was a byproduct of his aggressive nature as well as the scheme employed by Forks. Especially valuable was Babcock's presence in the early going, when some of his less-experienced mates learned the ways of Blue Devil defense.

That Babcock was able to perform at the level he did for the entire season was testament to his diligence coming back from June knee surgery, which he said required removal of three-quarters of the meniscus in his right knee.

Babcock attributed the stunning absence of fumbles to his insistence on running with two hands protecting the football, and hands strengthened through a dozen or so years of wrestling.

"I'm surprised myself. I didn't really realize it, didn't worry about it," he said of the fumble-free senior season. "I just go out and do what I've got to do."

Presently, Babcock is in the early stages of a wrestling season he hopes leads to a berth in the state tournament. In fact, wrestling might just have gotten the nod had he been forced to choose one high school sport.

If in fact he has played his final game of organized football, Babcock will have gone out with a bang. He rushed for 107 yards in the state title game and was recognized as Forks' Most Valuable Offensive Back.

"He was just sensational this year," said Oneonta coach Art Rigas.
---
All-Metro Football: Green repeats as top coach
'Twas a vastly different challenge facing Chenango Forks'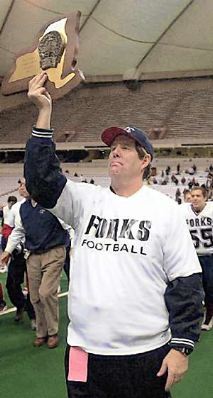 football brain trust to open the 2003 preseason, worlds apart from what presented itself a year before.
Absent from the sun-baked practice field in August were the majority of players who, in 2002, propelled the Blue Devils to a second consecutive 12-1 season and Class B state final appearance.
"Going into it a year ago, we had a slew of kids who were back. They knew where they were going and, I think, so did we," Forks coach Kelsey Green said. "You just wanted to help keep them on track, keep them a little hungry.
"This year, it was kind of the opposite in a lot of ways."
However, one vital ingredient was very much in evidence.
"These kids had those expectations," he said. "They definitely had the belief that they were good enough to get into the playoffs, and then, anything can happen."
Green, who steadily piloted his cast of believers to 13 consecutive victories and the state championship, is the Press & Sun-Bulletin's Coach of the Year for a second consecutive season.
Few outside Chenango Forks' inner circle believed in the early going that this year's Blue Devils had the makings of a state champion -- sensibly, given the fact just three players who made significant contributions to the '02 title chase returned.
But gradually, with equal parts preparation, effort and execution, the Devils demonstrated improvement -- and with it, confidence increased. The glue of the outfit throughout was Green, supplying a figurative pat or boot on the backside when necessary, teaching every step of the way and astutely sculpting weekly game plans that best suited his squad's strengths and camouflaged its deficiencies.
Neither Elmira Free Academy nor Norwich, Forks' first two opponents, produced a point. The Devils fell behind Oneonta early in Week 3 but scored a 30-14 victory. The record was 5-0 heading to Elmira Notre Dame, where a dominant second-half performance made for a 28-21 win.
After a 13-7 slip past Whitney Point in the Section 4 semifinal round, Forks was at peak form in a 35-7 rout of Norwich that landed the program a third consecutive sectional championship.
By that point, it had become apparent that this was, indeed, a unique squad.
Unique, too, was the Devils' state playoff success. In all three games, they fell shy of a 20-point total -- yet posted winning margins of five, 10 and 16 points.
"They did a great job preparing us," said Tim Batty, a junior quarterback/safety who was named Most Valuable Player of the title game. "They watched a ton of film and they knew the other teams' plays -- we knew what to expect half the time. And at halftime, they made some incredible adjustments -- they made it easy for us."
Green, 51, has in eight seasons as head coach compiled a 70-15 record playing in an enrollment classification that is generally considered Section 4's deepest and most competitive. He makes certain to credit the accomplishments of Forks' '01 and '02 state finalists for contributing to the perfection of this autumn.
"I don't see the team of '03 getting to where it did without the other two blazing the trail. It was the old 'Gotta walk before you run.' " he said. "This group believed, and a large part of that was because of what they saw the last two teams accomplish."
Equally swift is Green to doff his cap to fellow coaching staff members.
* Dave Chickanosky, defensive coordinator/offensive line: "He's the heart and soul of a lot of what we do. He has that unique ability to have the kids like him whether he's hugging them or giving them hell."
* David Hogan: special teams/prep team: "Every year, he takes on more and more responsibility, and more and more of his personality is put on our football team. He's another guy the kids really respond to."
* John Petley, volunteer assistant, offensive/defensive backs: " 'The Silver Fox.' (Athletic director Rick Perkins) and I call him the GM. There's nothing left to chance with John. He remembers things before I forget them -- and he wants no one to know he's doing anything."
Green added: "These guys are so important with what happens. Of course, none of it's going anywhere unless you've got athletes. And we've been blessed with the run of kids we've had here."
---
All-Metro Defense

Lineman
Steve Campbell
Vestal
5-11, 210, Jr.
Aggressiveness, strength and know-how made Campbell a consistent force at his end position. ... "He had a great year," said 'Tank' Anderson, Vestal's defensive coordinator. ... Campbell helped preserve 7-6 regular-season victory over Union-Endicott by blocking a PAT kick. ... Blocked two punts -- returning one for a touchdown -- in a victory over Syracuse Fowler. ... "He's very intelligent, and that's what helps make him the football player he is," Anderson said. "Our defensive ends are asked to do a lot of things, and he does all of them."
Lineman
Arthur Jones
Union-Endicott
6-3, 269, Jr.
Reigning New York state wrestling champion in 275-pound classification who was among the most frequently double-teamed linemen around. ... "Arthur Jones, you have to double -- and even if you get good angles on him, he beats the blocks," ex-Vestal coach Dave Williams said. ... A sideline-to-sideline defender whose athleticism belied his size and overpowering strength. ... "Jones definitely will frustrate you," Binghamton coach Doug Stento said. ... "Pretty darn good D-lineman. His instincts were much-improved," M-E coach Dick Russ said.
Lineman
Chris Shaffer
Union-Endicott
5-9, 221, Sr.
Tough and mobile member of a line that was perhaps the most difficult to run against in Section 4. ... "He's a great pass rusher from a down position," U-E coach Bart Guccia said. ... Quickness coupled with ability to read the play made him extremely difficult to ward off. ... "He just gave us fits, we couldn't block him to save our lives," Binghamton coach Doug Stento said. "He's a tough kid with good technique who always moved, moved, moved." ... Former Vestal coach Dave Williams said: "We kind of tried to run where he wasn't."
Lineman
Ben Tomaino
Oneonta
6-1, 225, Sr.
Two-way lineman who was named Oneonta's Most Valuable Player this season. ... "You could make a highlight film of what he did for us defensively this year," Yellowjackets coach Art Rigas said. ... Space would no doubt be reserved on that film for the Owego game, in which Tomaino made five tackles for losses. ... "He had an unbelievable year for us," Rigas said. ... Too, he willingly made the switch from fullback to offensive guard, following appropriate off season weight training. ... "Both ways, he's a good football player," Forks coach Kelsey Green said.
Lineman
Luke Visingard
Maine-Endwell
6-4, 220, Sr.
Slowed at the start of the season by a shoulder injury, he came on in a big way and became a standout end on a quality Maine-Endwell defense. ... "He's tough on that edge, and he's a fierce hitter," Spartans coach Dick Russ said. "When he smacks 'em, they get smacked." ... Used his speed to cover a great deal of ground, and finished plays in authoritative fashion. ... "He was a natural," Oneonta coach Art Rigas said. ... "Tough kid, tough kid," U-E coach Bart Guccia said.
Linebacker
Bryce Gulley
Binghamton
5-8, 180, Sr.
An active, intelligent and aggressive performer who was the focus of the Patriots' defense. ... "Our defense was built around Bryce's ability to make most of the tackles," Patriots coach Doug Stento said. ... Two traits of Gulley that stood out: Speed to the football and ability to stop the ballcarrier's forward momentum in a hurry. "He was rarely out of position," Stento said. ... As fullback, led Binghamton rushers with 729 yards (7.1 per carry). ... "He's a quality kid, I think one of the better players in the area," U-E coach Bart Guccia said.
Linebacker
Mike Paolucci
Vestal
5-8, 200, Sr.
Captain of the Golden Bears' defense who started at middle linebacker for the last two seasons. ... "He's got instincts, he's got that football mind," said 'Tank' Anderson, Vestal's defensive coordinator. "He reacts extremely well. Give him an idea of what to do and he goes and plays football." ... Said U-E coach Bart Guccia: "He played extremely well when we saw him. He's a very tough kid and he goes to the ball. I'd take those two (U-E's Jeremy Riley and Paolucci) at linebacker."
Linebacker
Andy Reid
Norwich
5-10, 205, Sr.
An impact performer on both sides of the line of scrimmage. ... Led the Purple Tornado in tackles each of the last two seasons. ... Norwich awards a "Purple Hammer" each game to the player who makes the hardest hit. Reid was the recipient in eight of 10 games this season. ... "He's a real football player," Tornado coach John Pluta said. "He loves to play, loves to hit, and he's got a great nose for the football." ... Doubled as fullback, and he gained 837 rushing yards (4.7 per carry), with two games over 150 yards.
Linebacker
Jeremy Riley
Union-Endicott
5-10, 197, Sr
Golden Bears captain and strong safety -- or, "Grizzley Back" -- who was the leader of one of Section 4's finest defensive units. ... "He's a complete football player," Vestal defensive coordinator Tank Anderson said. ... Equally adept in pass coverage or chasing down a ballcarrier out of the backfield. ... "He's instinctive in that he'd read a play, and then come up and make the tackle," Anderson said. ... Highly effective blitzer whose plusses include strength, mobility and tenacity.
Defensive back
Shane Connolly
Maine-Endwell
6-3, 195, Jr.
A big, strong and aggressive athlete who made an impact on both sides of the line of scrimmage. ... "I thought he was just awesome defensively," ex-Vestal coach Dave Williams said. "He played with tremendous intensity and a great sense of the game on both sides of the ball." ... Made his way to the ballcarrier with regularity and finished the play. ... "A heck of a safety, and he's a smacker," M-E coach Dick Russ said. "He's laid some hits on people." ... As quarterback, passed for about 100 yards per game.
Kicker/Punter
Tim Batty
Chenango Forks
6-0, 174, Jr.
A well-rounded athlete who brought to the Blue Devils a combination of speed, aggressiveness, poise and ability to make the big play. ... Was named Most Valuable Player of the Class B state title game -- in which he figured into all of Forks' 16 points -- and offensive MVP in the state semi. ... "As far as DBs go, Batty might be the best in the whole area," M-E coach Dick Russ said. ... Booted a 36-yard field goal for the first points of the state final, and field goals of 23 and 21 yards in the semi. ... All-Metro caliber player on offense, defense and special teams.
Defensive Back
Chris Hand
Whitney Point
6-1, 175, Sr.
Made a significant impression on most every opponent with his play in the secondary. ... Returned two interceptions for scores against Oneonta, after which Yellowjackets coach Art Rigas said, "He was a one-man show, a superstar." ... Said Norwich coach John Pluta: "He's a tough kid, makes great plays on the ball and he's a sure tackler." ... "He's very athletic, has a ball awareness and made big plays," Chenango Forks coach Kelsey Green said. ... "He was the best shut-down corner in the section," Point coach Joe Pagano said.
---
All-Metro Offense

Quarterback
Jordan Alger
Norwich
6-1, 175, Sr.
The classic drop-back passer he is not, because Norwich's offense is not cut from that mold. What Alger is, is everything else -- tough, intelligent, competitive and a playmaker. ... "He throws the ball well and he's an outstanding runner," Purple Tornado coach John Pluta said, "and he goes after people when he runs it." ... Started at quarterback for the last 2 1/2 seasons. ... "He just has that thing you can't coach; he's a winner," Oneonta coach Art Rigas said. ... Passing ability was on display against CV, when his six completions went for a 25-yard average.
Running Back
Joe Babcock
Chenango Forks
6-0, 183, Sr.
His ability as a linebacker had been established, but what was not known was that Babcock would have the makings of an offensive workhorse. ... He carried the football 22 or more times in 10 of 13 games -- including the last six -- and closed with a 107.4-yards-per-game average. ... His season highs of 154 rushing yards and three touchdowns came in the regular-season finale against Bainbridge-Guilford/Afton. ... "Joe's not the flashiest thing, but he's one tough kid running the football," Blue Devils coach Kelsey Green said.

Running Back
Brian Soeffing
Whitney Point
6-1, 230, Sr.
Lone repeat selection from the 2002 All-Metro team, and a primary force behind the Golden Eagles' Section 4 Class B playoff berth. ... Big, physical back seldom felled by the first contact. ... Rushed for 1,259 yards and 17 touchdowns in nine games. ... Two biggest yardage days were a 240-yard outing against Delhi and a 255-yard performance against Ithaca. ... Closed with a 7.4-yards-per-carry average. ... Rushed for three or more TDs in four games. ... "He might have been the best running back we saw this year," Oneonta coach Art Rigas said.
Running Back
Tosh DeMulder
Unatego
5-8, 170, Sr.
Topped Section 4 Football Conference rushing charts with a 1,633-yard total in 11 games -- 148.5 per game, 7.4 per carry. ... No. 1 threat on an offense that averaged 40.4 points per game during a seven-game win streak beginning in Week 4 and ending with a victory over Sidney that brought the program its first Section 4 football championship. ... Four games of 215 or more rushing yards featured a 241-yard season opener against Moravia. ... His running style called upon equal parts speed and elusiveness, and made him a threat to score on most any snap.
Wide Receiver
Mickey Pompeii-Mott
Windsor
5-9, 153, Sr.
Though the Black Knights spread the football around in their passing game, their go-to receiver was Pompeii-Mott. ... "A short receiver has to prove himself to me, and he's the best little guy I've had out there," Windsor coach Dan Hodack said. ... Biggest statistical output was turned in against Chenango Valley, a three-reception, 116-yard, two-touchdown performance. ... "He goes up and gets the football," Hodack said. ... Doubled as cornerback and was a key component of a secondary that kept big plays to a minimum.
Wide Receiver
Zach Vredenburgh
Chenango Forks
6-2, 190, Jr.
Similar to battery-mate Tim Batty, Vredenburgh was a big play waiting to happen-- and on either side of the line of scrimmage. Examples: A 23-yard reception for the first TD of the state final; a 29-yard interception return for the first TD of the state semifinal; TD receptions of 42 and 41 yards in the quarterfinal against Westhill. ... For the season, his 20 receptions went for 445 yards and nine TDs. ... Also returned an interception for a score against Elmira Notre Dame. ... "He'd catch anything around him," Forks coach Kelsey Green said.
Lineman
Ben Amorese
Maine-Endwell
6-2, 270, Jr.
Size, strength, quick feet and a firm grasp of technique enabled Amorese to stand out at his offensive tackle position. ... "Nobody could beat him," Spartans coach Dick Russ said. "He handled his guy every play, every game, and did it all year long." ...Brute force as a run blocker and mobility in pass protection were two key assets. ... "He's a good one, and he wants to play (collegiate) football at the Division I level very badly, and he's willing to work for it." Atop it all, Russ said, "He's a young man of exemplary character."
Lineman
Sean Kelley
Walton
6-7, 295, Sr.
The standout performer on an offensive front that helped the Warriors to averages of 32.2 points and 345 yards a game -- a 303.5-yard standard on the ground. ... "A great blocker," said coach Jim Hoover, who has seen his share in 28 seasons heading Walton's program. "When we needed yardage, we ran behind him." ... " 'The House,' " is how Norwich coach John Pluta referred to Kelly. "Quick feet, strong, he's a good football player." ... Said Windsor coach Dan Hodack: "He's very big, and did a great job blocking against us."

Lineman
Corey Puckey
Whitney Point
6-3, 220, Jr.
The Golden Eagles' top lineman on both sides of the line of scrimmage. ... "This kid is a man," Point coach Joe Pagano said. "He's probably the best pulling guard in the area -- he led everything for Brian (Soeffing)." ... Doubled as defensive tackle, and made a team-high 72 tackles with seven quarterback sacks and four batted passes. ... "We thought he was an excellent offensive lineman," Norwich coach John Pluta said. "He's fundamentally sound, gets off the ball and stays on people. He just straps it up and plays." ... "He moves very, very well for a kid that size," Pagano said.
Lineman
Zach Stratton
Norwich
6-0, 215, Jr.
In Norwich's offensive system, the center spot is absolutely a "skill position" -- and Stratton has performed there admirably for two seasons. ... "He's very explosive off the ball, and very bright," Purple Tornado coach John Pluta said. "Part of his job is recognizing defenses, which he does very well." ... "He's an outstanding kid with excellent fundamentals," Pluta said. ... "He's a good one," said Kelsey Green, coach of a Chenango Forks squad that defeated Norwich twice this season.
Lineman
Chris Pease
Chenango Forks
6-1, 217, Sr.
The Blue Devils started the season needing to replace an All-Metro center and an All-Metro nose guard. "Chris had to be both of them, and we didn't change much," Forks coach Kelsey Green said. ... Pease served as a steadying force on both the offensive and defensive lines, performing at a consistently high level in both roles. ... "With Chris, we didn't have to double-team or block down, he could get the blocking angle," Green said. ... As center, Pease's efforts helped pave the way for an average of 219 rushing yards per game.
Coach Of The Year
Kelsey Green
Chenango Forks
8th season
Perhaps the most obvious selection for inclusion in this season's All-Metro cast. ... Since taking the head coaching position at his alma mater, Chenango Forks has played to a 70-15 record, and no school in New York has participated in more games than Forks has (39) over the last three years. ... 51-year-old Green was a member of Forks' Class of '70. ... Varsity coaching staff includes Dave Chickanosky, David Hogan and John Petley. ... "It's something you'll always have. You can be 100 years old and you'll always be able to say, 'We won that state championship,' " Green said.
To view the 2002 team, head here
---
---