Unselfish attitudes of players has team vying for championship Forks rides team concept to title game
BY KEVIN STEVENS
Press & Sun-Bulletin
November 29, 2002

Twenty-five times over the last two football seasons, Chenango Forks' players have padded up, suited up, warmed up and formed their familiar 'U' on the sideline, the configuration opening toward midfield as the captains stride out hand-in-hand for the coin toss.

Twenty-four times, Forks has celebrated victory. More often than not, they've been victories sewn up with nary a drop of perspiration born of fourth-quarter concern.

Come high noon Sunday, the team will set for kickoff in the Carrier Dome for a fifth time over the last two postseasons, and for a second time with Class B state football supremacy at stake.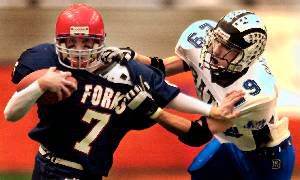 Chenango Forks' Chris Spencer, left, was called on to work as a running back instead of a quarterback in last Saturday's 28-14 victory over Bath in a Class B semifinal. Forks coach Kelsey Green credits the Blue Devils' unselfishness with helping them back to defend their Class B state title this year.
From a purely between-the-sidelines perspective, the most noticeable constant has been defense, the likes of which has been matched by fewSection 4 programs in back-to-back years in recent memory. On the other side of the line, points have been generated in large quantities, the vast majority by virtue of a running game that has simply overwhelmed opposing defenders and is rooted in superior line play.
Yet, those within the inner circle will tell you, that which transpires between the sidelines on game day is merely a byproduct of the many intangibles that have contributed to separating Forks' program from the rest.
"We've talked about this season since Dec. 2 of last year," said Juan Mendoza, senior center/defensive tackle and one of Forks' captains. "It's a huge part of our lives.
"It's a common interest that brings you close together. You develop this strong trust in the guy next to you. You do your job and you know that he'll do his."
Coach Kelsey Green said, "It's the chemistry within the group, their passion for the game. They truly like each other and they truly like the game."
Other teams have been known to profess as much.
The Blue Devils play the game as if they genuinely subscribe to the "We before Me" philosophy.
Absent on game day is any indication of a crack in the team concept. The finger-pointing, head-shaking and gum-flapping that too often accompany a play gone awry or disagreement with a coach's decision on high school fields and courts do not enter the mix.
No doubt facilitating the cohesiveness is the fact Forks has had the luxury of regularly involving so many players, given the one-sided nature of numerous outcomes over the last two seasons. The starters do their part and willingly yield to those who've put in equal practice-field hours, the reserves who've developed painful bruises that are the badges worn by scout team members.
"It's a total team, from 1 through 35," Green said. "The last two games, when we weren't able to get everybody in to play, that bothered all of them."
As is the case with any successful football team, Forks has its "stars," the lads whose names elicit the heartiest cheers when announced through the public address system. On this squad -- and deservedly so -- heading that group is Kelsey Jenks, three-year standout who is widely acknowledged as the premier football player within Section 4's boundaries.
"No one has a big head, they all rip each other -- in a good way," Green said. "No one is immune. Not one of those 34 guys wouldn't dump on Kelsey as quickly as they would anybody else."
Too, the Blue Devils have sidestepped potential troubles begotten of the more visible team members -- i.e., offensive backs -- dominating the acclaim that goes hand in hand with consecutive state-title chases.
Within this group, the presumed Big Men on Campus know the real score.
"I applaud the guys on the line," quarterback Matt Juriga said, and proceeded to rattle off the cast, prominent reserves as well as his first-unit protectors. "That takes a lot of motivation on their part to sit back and let us, the backs, get all the glory for what is basically all their work."
Said Chris Spencer, a senior and two-way mainstay:"Everyone works together and no one cares who gets the interviews. Nobody's selfish on this team."
A prime example would be Spencer, one-half of a quarterback platoon with Juriga for all of last season and most of the present one. Green opted to go exclusively with Juriga behind center in the semifinal round, deeming Spencer's talents a better fit at halfback against the large, physical opponent.
The result? A 28-14 Forks win, contributions from Juriga and Spencer alike on both sides of the line of scrimmage -- and not a dissenting peep from Spencer, last season's hero in the Section 4 title game and state semifinal.
"I'm perfectly fine with it," Spencer said. "I'll do whatever it takes just to be on the field. If it helps the team, me moving to halfback, I'll definitely do it."
It is with that prevailing attitude that Forks is, for a second year in a row, a win shy of the state championship.
"What we have is what every program has to have in order to be any kind of a program at all," Green said.
---
From the Westchester County Journal News
November 29, 2002

THE JOURNAL NEWS

(Original publication: 11/29/02)
Who: Harrison (11-1) vs. Chenango Forks (Section 4) (12-0)
When: Sunday, noon
Where: Carrier Dome, Syracuse
Key Players: Harrison — Rudy Arcara (5-11, 185), Sr. HB/LB; Steve Burton (5-10, 190), Sr. HB/DB; Peter Kohlasch (5-8, 165), Sr. QB/S/PK; Luigi Rogliano, (5-10, 205), Jr. FB/LB; Ricky Alvarado (6-0, 210), Sr. TE/DE. Chenango Forks — Kelsey Jenks (6-1, 229), Sr. FB/NG; Matt Juriga (6-3, 202), Sr. QB/S; Steve Tronovitch (5-10, 183), Sr. FB/LB; Zach Tarnowski (6-3, 236), Sr. TE/DE; Drew Batty (5-9, 162), Sr. HB/CB.
Key matchup: Harrison running backs Rudy Arcara and Luigi Rogliano against the Chenango Forks defense.
When Harrison has the ball: Arcara has only gotten better in the postseason, pounding Lansingburgh for 218 yards on 32 carries in his most recent game. Opposing teams know Harrison relies on the run, but have been helpless to stop it. Arcara has racked up 1,444 yards, and Rogliano has complemented him with 1,136 yards this season. Quarterback Peter Kohlasch has run and passed for more than 500 yards.
When Chenango Forks has the ball: The Blue Devils are primarily a running team and have one major threat, senior fullback Kelsey Jenks, who has gained 1,361 yards and scored 26 touchdowns since moving from tackle last season. Quarterback Matt Juriga is the team's second-leading rusher (555 yards), and is capable of throwing when needed. In last week's semifinal win over Section 5's Bath, Juriga completed 3 of 5 passes for 131 yards and three touchdowns.
Outlook: In a matchup of teams with similar tools and styles of play, the chances of a close game are very good. Both are running teams that will pass if necessary, and both are adept at stopping the run. The Blue Devils' defense has allowed an average of 100 rushing yards per game, and their offense has gained an average of 305. Chenango Forks enters the Carrier Dome having lost in the state final last year, just like Harrison did in 1999 when the Huskies won their first and only state title.
---
Stopping the run is Forks' priority
BY KEVIN STEVENS
Press & Sun-Bulletin
Saturday November 30, 2002

The offense grinds out hefty quantities of yardage via the option game. The base defense is 5-2, with large bodies up on the line and an aggressive, active cast in the back.

It is a program that has experienced the pressure and thrill that is the experience of competing in a state championship football game.

That team is Chenango Forks.

And that team is Harrison, a Westchester County powerhouse that will oppose the Blue Devils in the Class B title game beginning at noon Sunday at the Carrier Dome in Syracuse.

Chenango Forks (12-0) brings the New York Sports Writers Association's No. 1 ranking into the contest, having advanced to the final for a second consecutive year.

Second-ranked Harrison (11-1), winner of 11 in a row, won the 'B' championship in 1999 and was state runner-up in '98.

"Execution," said Forks senior Juan Mendoza, identifying that which he believes will determine the outcome. "What they do is similar to what we do, so it comes down to execution."

Harrison advanced to the final with a 31-21 semifinal victory over Lansingburgh, an Albany-area school that began the state tournament having outscored its first 10 opponents by an aggregate 618-79.

The Huskies feature not only two 1,000-yard-plus rushers and a quarterback that has generated better than 1,000 all-purpose yards, but a huge senior lineman who will play his collegiate ball in the Big Ten Conference.

"Our work is cut out for us -- big time," Blue Devils coach Kelsey Green said.

Harrison's rushing leader is Rudy Arcara, a 5-foot-10, 185-pound senior who has 1,444 yards and 20 touchdowns for the season. He blew through Lansingburgh for 220 yards last Saturday at Dietz Stadium in Kingston.

"He's not incredibly big, but he's pretty smooth and shifty," Mendoza said. "And he's strong, too."

The No. 2 rusher for the Huskies is Luigi Rogliano, a 210-pound junior who has averaged 9.3 yards per carry on his way to a 1,136-yard, 14-touchdown total. Quarterback Peter Kohlasch is also Westchester County's leading kicker, 6-for-6 on field goals and 34-for-40 on extra points.

The two-way lineman who has accepted the University of Wisconsin's scholarship offer is Andrew Weininger, 6-foot-5 and 300 pounds. Recruiting analysts are taken with not only his size and strength, but by his quick feet and agility.

"Harrison hits you with the running game in a variety of ways," Green said. "They'll spread you out a little, hit you with the option three or four ways, and they'll also hit you with power out of their spread set."

Said Forks' Chris Spencer, a two-way back: "Harrison will come right at us like Bath (the Blue Devils' semifinal victim), but they'll come right at us with option. These guys will try to get outside on us a little more."

For Harrison, that will mean getting outside Jake Frisch on one end or Zach Tarnowski on the other, a feat few Forks opponents have accomplished.

Asked if Harrison figures to pose a greater threat than Bath, Green replied, "I don't think there's any question about that, though I hope I'm wrong. I hope I'm dead wrong.

"We'll have to play our A-plus game."
---
Forks counting on experience in championship
Players feel they learned from last year's loss to Peru
BY KEVIN STEVENS
Press & Sun-Bulletin
December 1, 2002

For a two-hour-or-so period beginning at noon today, the agony of year-old defeat may just prove to be a valuable ally of Chenango Forks' football players

When the hands on the clock meet at 12 in the Carrier Dome, either the unbeaten Blue Devils or once-beaten Harrison will be -- provided overtime is not required -- 48 minutes worth of game time from the Class B state football championship.

The many seniors up and down Forks' roster were in the same spot last Dec. 2, a night when things did not go at all according to plan.

This time around, they're bent on building more pleasant memories.

Last December, on the same Carrier Dome turf, what had been a perfect Forks season to that stage was spoiled by a 14-7 loss to Peru, a school located just south of Plattsburgh which claimed its first state championship.

"You have that focus year-round on that one game," said Juan Mendoza, a two-way lineman and of of those 24 Forks seniors. "There is that lingering thought in the back of your mind -- what could have been?

"Fortunately, we have a second chance, and not often do you get a second chance at something like this."

Forks' undoing in last year's title game came in the opening quarter, when Peru struck for two touchdown passes and a 14-0 lead. From that point, the Blue Devils' defense tightened, but their offense mustered only one score in response.

Today's challenge is likely to be vastly different for Forks.

As opposed to Peru, which did its damage through the air, Harrison -- a perennial football power located in Westchester County -- is known for its productive running game.

Be that as it may, the Blue Devils will have just one thing in mind today.

"Win the ballgame," said Matt Juriga, a two-way back. "We don't need a blowout, we don't need a close game. Just win, and any fashion of a win would be fine with me."

Said Chris Spencer, another senior and two-way back: "After last year, we know what it's like. We told ourselves in the locker room after the (loss to Peru), 'We're going to be back here.'

"We know what it was like to see the seniors who'd worked so hard to get to that point and lose the game."
---
Emotions run high for Forks football followers
Family, fans confident about today's Class B championship
BY SCOTT ROCKEFELLER
Press & Sun-Bulletin

CHENANGO FORKS -- For football fans, Sundays usually conjure up thoughts of a day in front of the tube watching the big guys in the National Football League games. But not in Chenango Forks today.

Many will be more interested in their high school varsity team, the Blue Devils, as they go up against the 11-1 Harrison Huskies in a Class B state championship game.

Fans could hardly control their emotions the day before the celebrated contest. On Saturday, residents took the opportunity to praise their local powerhouse as well as watch some college games.

"I think it will be a tight game," said Kyle Voorhis of Chenango Forks, who watched the Miami Hurricanes give a licking to the Syracuse Orangemen at the Carrier Dome, where today's championship contest will be played.

Voorhis, whose younger cousin, Rob Voorhis, is a senior on the unbeaten squad, said he plans to travel to Syracuse to root for his home team.

"This is a pretty small town," he said. "That's why it's so exciting that we're doing good."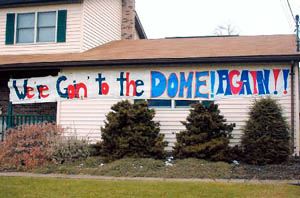 A banner hangs in front of the house of a Chenango Forks football player in the Town of Chenango. Chenango Forks will play in its second consecutive Class B title game today at the Carrier Dome in Syracuse
And they certainly did well this season. The 12-0 Blue Devils, who beat Bath, 28-14, last week, enter today's game holding New York Sports Writers Association's No. 1 ranking. Last year Chenango Forks lost by one touchdown to Peru in the state title game.
Dean Knapp, also of Chenango Forks, declared his town "home of the state champs."
Knapp, who said he played on Forks' last unbeaten team in 1973, joked that the team needn't come home if they lose against Harrison.
"They'll win this game, guaranteed," he said. "They've got no choice but to win."
And the support for the Blue Devils was evident throughout the town. Banners wishing the team well hung on the front of the homes of team members Steve Tronovitch and Matt Juriga. Co-captain Tronovitch said he expects the biggest show of support just before the team heads to Syracuse.
"I'm not sure what our parents will do," he said.
Tronovitch said encouragement from his fellow townspeople hasn't been hard to find either.
"Last night I was at Grande (Pizza), and people came up to me saying, 'You're going to win,' " he said.
Juriga agreed.
"Everywhere you go, you hear about it," the senior quarterback said. "It's been really exciting."
Support for the Blue Devils has even made its way out of the town. Binghamton resident Mike Marsh, who knows coach Kelsey Green through softball leagues, will be rooting for Chenango Forks.
"They have a powerful team. I hope they do well," he said.
Marsh said he has no problem supporting a team outside of his own community.
"Hey, it's a local team," he said. "If they do good, that's just fine with me."
---
Syracuse Post-Standard
December 1, 2002

Today, No.1 state-ranked Chenango Forks (12-0) is facing a noon kickoff against No.2-ranked Harrison (11-1) in the Class B state final. One year ago this weekend, Chenango Forks lost a 14-7 to Peru in the state title game.
Thus, coach Kelsey Green's Blue Devils are eager to avenge that showing, though they know beating Harrison will likely prove to be a difficult task. The Huskies are multi-faceted on offense, led by quarterback Peter Kohlasch, plus the rushing of Rudy Arcara and Luigi Rogliano.
Chenango Forks is led by all-state 229-pound fullback-linebacker Kelsey Jenks, among the favorites to be named the state's Class B player of the year.
---
5th Quarter: This year's success will be hard to repeat for Forks
Team that went 24-2 over two seasons loses 25 seniors
BY MIKE MANGAN
Press & Sun-Bulletin

CHENANGO FORKS -- Just one day after his team's hopes for a state football title were vanquished by the foot of Harrison kicker Pete Kohlasch, it was evident to Chenango Forks head football coach Kelsey Green that it's going to take quite a bit of time to get over this season's painful ending.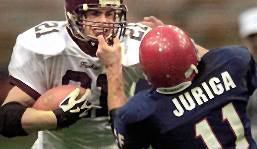 Matt Juriga is one of 25 seniors who helped contribute to the Blue Devils' successful season. Forks will rely on a strong contingent of junior varsity players to fill the holes next season.
"I think what we felt up there Sunday is going to stay with us for a while," Green said. "How can you not be hurting for those guys? You can't find a better group of kids, and that's not just talking about talent.
"These kids have worked so hard and showed much loyalty over the last three years."
It appeared that hard work and loyalty would reap the ultimate reward -- a Class B state title -- Sunday at the Carrier Dome in Syracuse.
That is, until Kohlasch booted a 30-yard field goal as time expired to give Harrison a 22-21 victory.
It was the second straight year that CF lost in the state finals. Last year, the Blue Devils lost 14-7 to Peru.
Green said that this loss was no different from any season-ending loss in regards of how he felt about his departing seniors.
But he acknowledged that the heightened expectations for this year's team made this year's title-game loss a little tougher to swallow.
"Last year, we knew we had a nice squad but to get to the state finals wasn't something we envisioned," Green said. "This year, from day one we anticipated being in the mix and having a great chance to win it. And when we got there and didn't realize that goal, it really hurt, no doubt about it."
Senior Steve Blackman, a starting lineman on offense and defense, lamented his team's lost opportunity.
"I thought we played a great game, and we won the game numbers-wise, even though the scoreboard didn't indicate it," Blackman said. "It's a lot tougher than last year. Last year, the better team won, but this time I don't think the better team won."
While it's not wise to underestimate Green and his highly-regarded coaching staff, earning a third straight trip to the state playoffs will be extremely difficult.
There were 25 seniors on this year's squad, most of whom played played a significant role in the Blue Devils' 24-2 record the last two years.
Included among those seniors are standouts such as nose guard and running back Kelsey Jenks, quarterbacks Matt Juriga and Chris Spencer, and cornerback Drew Batty to name just a few.
However, Green will get an infusion of players up from this year's junior varsity team that went 7-1, and he does return Tim Batty, who will be the starting quarterback next year, and Joe Babcock and Chris Pease, key cogs on the offensive and defensive lines.
"We're going to be very, very young and inexperienced, but that's the way it works in high school," Green said. "There is some talent, and you know that these kids saw what our guys did this season to get to this level."
"They know they have to work to get it. It's our job to convince them."
Batty, a sophomore, knows things may be different next year.
"It will be very hard to repeat the success of this season," Batty said. "We'll be all right, but it will be hard.
"Me and the other guys, we'll just have to take the leadership role and give the best we've got."